Ring Spotlight Cam Battery Review
Product Name: Ring Spotlight Cam Battery
Offer price: 199.99
Currency: GBP
Availability: InStock
Summary
If you already have a Ring Doorbell then the Spotlight camera makes a superb addition, the subscription costs are an issue for small systems, but overall this offers excellent performance with easy installation and a great app.
Features -

95%

Performance -

80%

Ease of Use -

80%

Price -

65%
I am a huge fan of the Ring Doorbell 2, as someone that gets a lot of deliveries, I get notified by my watch, phone, Alexa, and Chimes when someone is at the door whilst letting me see who it is when I am away. In the future, I will hopefully integrate this with a smart lock so I can accept deliveries or have parcels picked up even when I am away.
I have recently reviewed a lot of outdoor surveillance cameras, and they have all been great, but that has left me running four different systems with Ring, Blue Iris, Netatmo Presence and Anker Eufy. I then also have Reolink cameras I occasionally use.
Ideally, I will reduce this down to one app based system and the local network cameras recording to BlueIris. So Ring is the sensible choice, and the Spotlight camera is one of the outdoor options available from Ring which comes in wired and battery versions.
To start with I opted for the battery version, as installing the wired Netatmo was difficult so didn't want to commit to a wired option just yet. If I do commit to a wired option, the Floodlight cam looks like the superior choice.
The Spotlight Cam Battery is quite unique for the market, being the only battery powered spotlight camera on the available from a known company. In fact, there are not many spotlight or flood light options in general, Ring has three options then Netatmo, Arlo Ultra and the Yale Smart Living All in One Outdoor Camera are all the other choices I am aware of.
[content-egg module=Amazon template=list]
Design and Features
Physically this is a huge camera, Ring has designed it to accept two batteries allowing you to extend the battery life and also keep the camera recording while you charge a battery. Then there is the PIR sensor which bulges out of the bottom increasing the footprint further.
The camera has a familiar ball and joint mount which makes attaching it and adjusting it on your wall quite easy.
The Spotlight Cam Battery has an IP55 waterproof rating which gives it a water rating against jets of water, which should be more than adequate even in the UK. The battery compartment has a fiddley design, it quite often wouldn't latch shut when I was setting it up, so when you install it and swap batteries, you will need to make sure that it is properly closed.
Set up
In theory the set up is simple, I had quite a lot of issues, and I suspect this is as much my phones fault as it is Ring. I already have the app, so I just needed to add a new device. The process is similar to most other cameras, you scan a QR code, it searches for the camera and connects to its wifi where it then passes over the details.
The issue I had was that when I manually swapped over to the Ring network my phone did not like staying on it, at first switching back to mobile data, or switching back to the working Wi-Fi. This is mainly the software on the Huawei P30 Pro which has a proactive approach to maintaining a data connection. In typical scenarios this is wonderful, ensuring you are not connected to a Wi-Fi network with no Internet, but for setting up devices it can be problematic. I tried to disable all these features, but still had issues. Eventually, I got it to work via my Black Shark 2 which I am currently reviewing. Once I was able to reliably connect to the Ring network it took a few seconds to set up. Some other devices, including Netatmo, or even mesh Wi-Fi systems, use Bluetooth for the pairing mode which eliminates these issues.
Physically mounting the camera is easy, and Ring continue to be the best company for this. They provide you with both a drill bit and screw driver so you have the exact sized tools you need to mount the camera. The drill bit was good enough quality to get through my acrignton brick when I mounted the doorbell.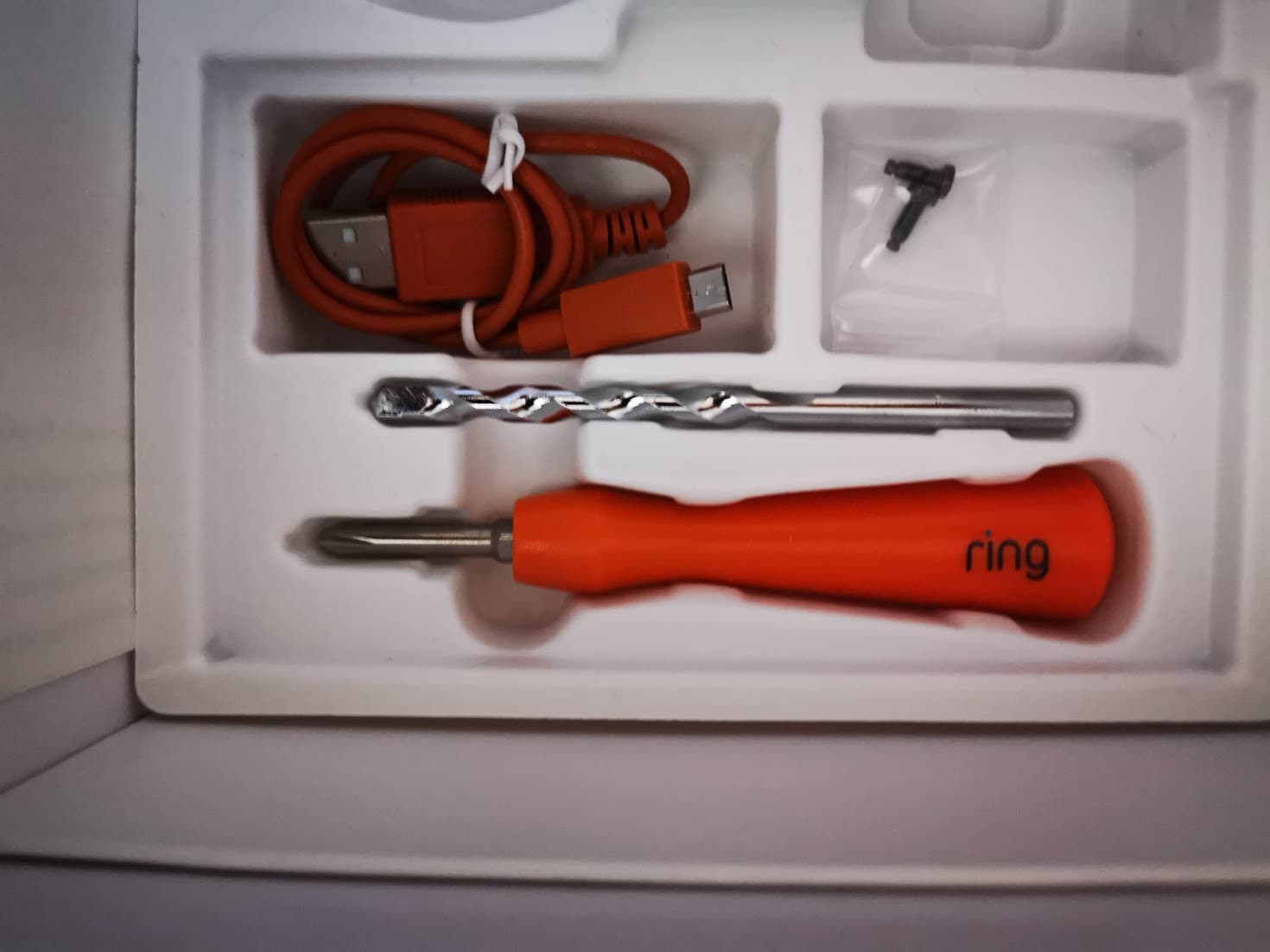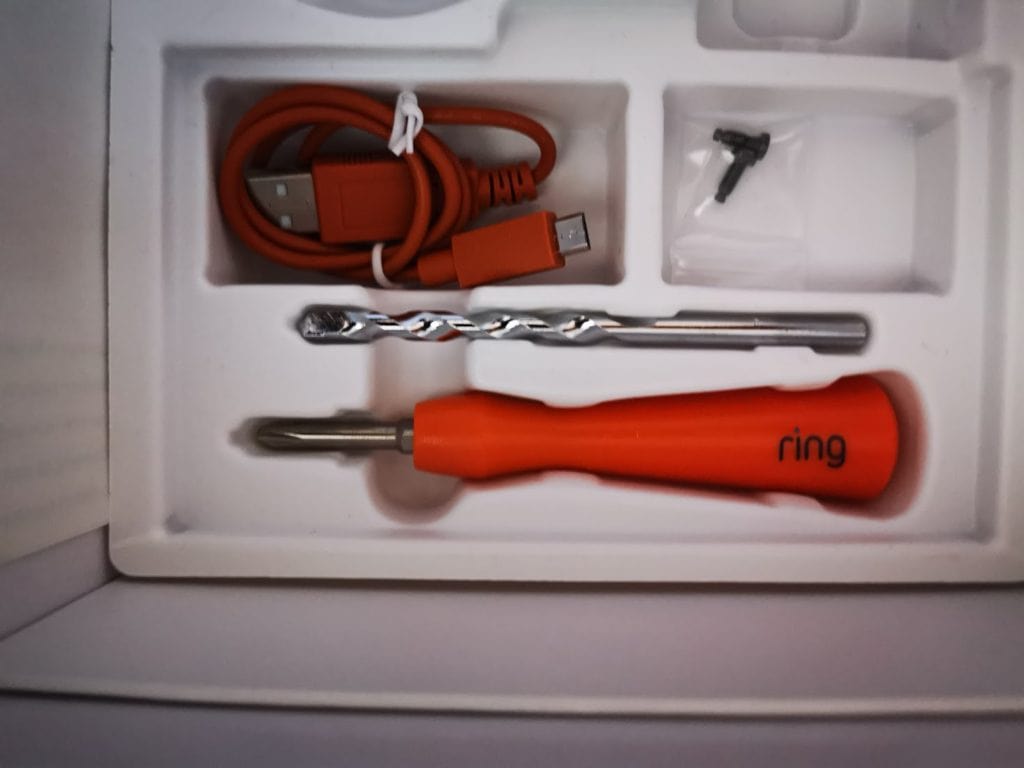 With the camera working with my network you have all the usual options you would expect, in particular, you will need to experiment on the motion zones to improve the accuracy of the system.
With the motion settings, you can alter the detection range, but then also the angles of detection, so you can have 180 degrees of detection or you can limit it right down to facing just in front of the camera. This is not as good as assigning a specific zone by manually drawing the zone areas, but I suspect this is a limitation of the battery, with advanced zoning options requiring more processing power. As well as the zones you can reduce or increase motion frequency, so if you get a lot of false positives you can try and reduce it to light. Then there is a schedule too, which does as you would expect.
If you have chimes linked to your account, then you can opt to have these notify you when motion is detected, which is a feature that none of the other brands will be able to offer.
App
The Ring app is one of the better solutions on the market, it is well designed and easy to use. You are able to have multiple locations allowing you to manage work and home locations for example.
It offers clear and concise access to all your alert, allowing you to filter them based on activity, such as missed doorbell rings or motion alerts. It doesn't have the object identification and thumbnails that the Netatmo Presence has, which is a superior solution for getting an overview.
As all your recordings are cloud-based, viewing the recordings is extremely quick dependant on your internet access. Some of the videos feel like the load instantly, whereas Netatmo, Reolink, and Eufy with their local storage can be much slower and sometimes fail the first time.
Cloud-based systems come with a cost though, and this will set you back £25 annually for one device, or £80 for multiple. Unfortunately, there is no middle option, so for me, with two devices, my cost jumps up from £25 to £80.
I like how event videos get loaded up onto your screen, they automatically load up into full screen giving you a clear view of the event captured. Alternatively, there is the new timeline feature which offers a user-friendly way of reviewing motion recordings.
Performance
If you can optimise your placement, performance is superb, however, depending on your placement there can be a lot of false positives. As this lacks any smart features, it is quite trigger happy with motion alerts. To avoid drilling more holes into my house, I trialled it near my garage side door which has a wooden beam I could screw it into. This is also where the washing line is, so as soon as I hung any washing out, I had to disable the alerts as even the lowest motion settings would trigger it. All cameras like this suffer from the same problems. However, if it is in a location that triggers a lot of alerts, you don't necessarily need to keep them on. I don't need an alert for my garage, more just a recording if someone has broken in, and the videos get recorded whether notifications are on or not. The main downside is that it will kill the battery a lot faster with regular recording.
If you do locate it somewhere that doesn't have a lot of moving objects, due to the wind, then it is relatively easy to get accurate notifications. I would say it is not as good as the doorbell due to the way the cameras point. The doorbell faces horizontally so things on floor level like animals or litter being blown around never alert it, I get zero false positives with the doorbell.
When it does record footage it is superb, downloading events is extremely fast and easy, daytime recordings are superb and clear. The wide-angle camera covers the full width of my back garden so I would capture anyone accessing the garden from either the street or via my neighbour's house. This also means you don't need to obsess too much about where the camera is pointing as it covers such a large area.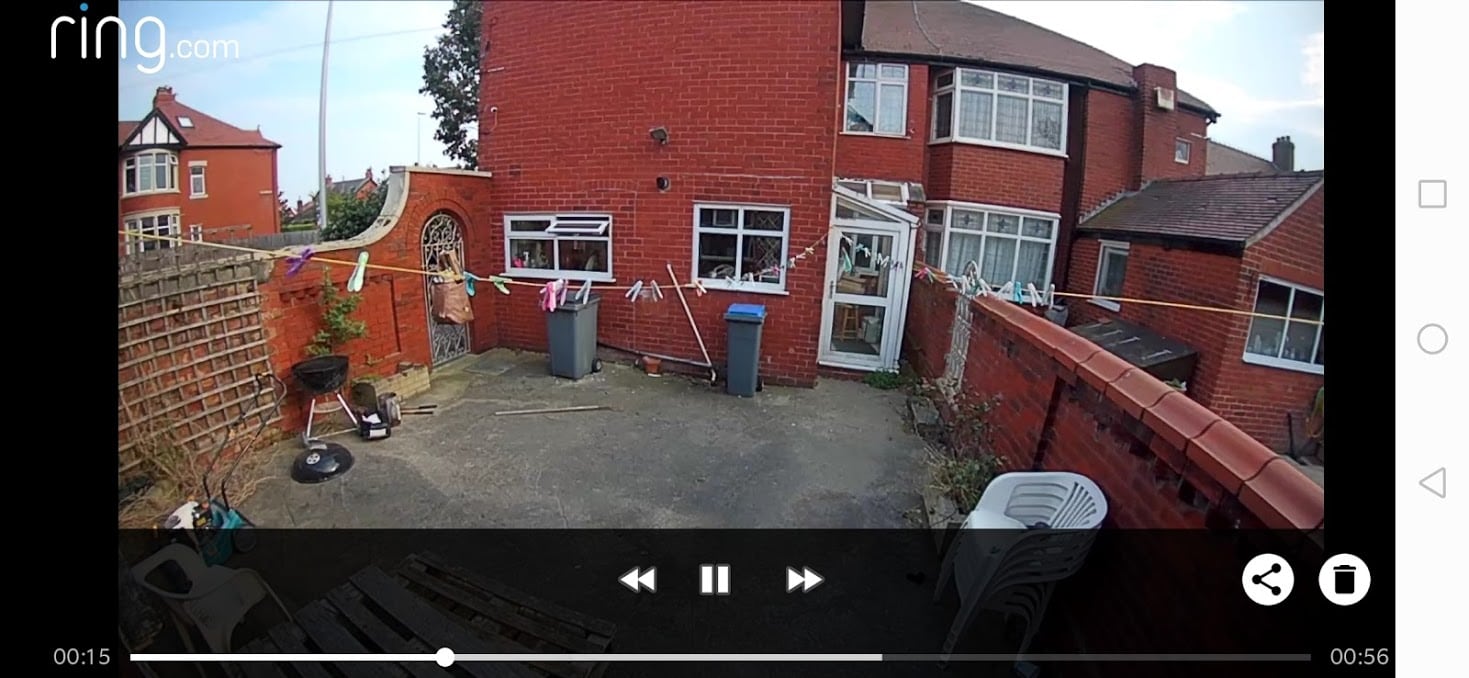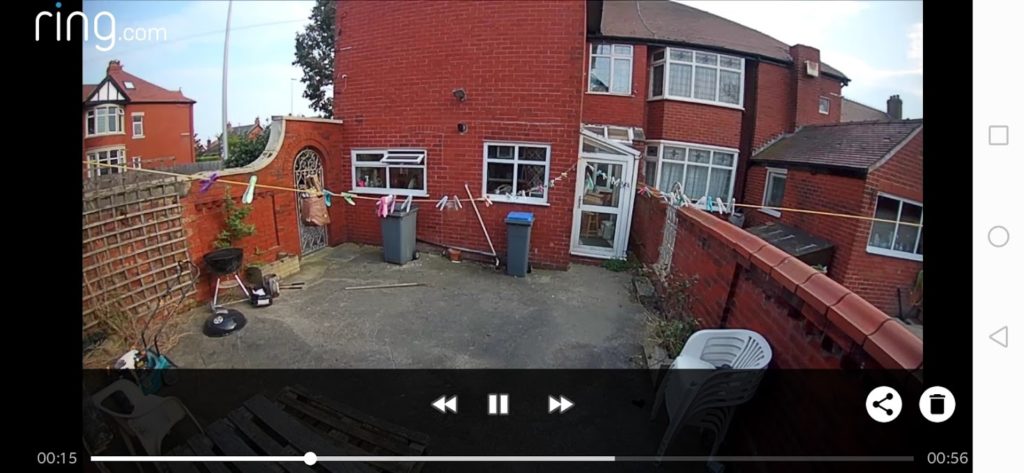 As you would expect, night-time recordings are superior to normal outdoor cameras due to the spotlight. This provides plenty of light to enable colour recording of footage and will act as an excellent deterrent for potential intruders.
The biggest issue I have with my Doorbell is that it intermittently says the Wi-Fi is weak, there is little sense to it too. I have a chime pro, and that hasn't helped much, I even created a completely separate 2.4Ghz network using a Zyxel access point just for the camera, but even then, I still have issues some of the time. The doorbell just appears to be very sensitive to interference on the crowded 2.4Ghz network and this can cause delays with notifications, it is not all the time, but I would say 20% of the time there can be a 5+ second delay with someone arrives and chimes going off. I can't say if the spotlight camera has similar delays, but it has spent several days saying the Wi-Fi is good, and at the time of writing it has now decided it has a high-level interference. It doesn't appear to have affected performance that I am aware of though, but your mileage may vary. Having access to the 5Ghz network would probably solve a lot of these problems, but I don't know of any battery cameras that have this, and therefore I assume it causes a lot of battery drain.
I have only been using this a couple of weeks so I can't comment too much on battery, at the moment it is down to 74% so it should last a minimum of a month between charges. Due to my placement, it has been recording a lot, so a more sensible placement should extend the battery considerably and I would expect over two months normally.
Overall
Overall, I like the camera, being a battery powered spotlight cam makes it unique for the market, so it stands out in that regard. Video performance is superb and helped with the spotlight function during night time. Motion detection works well but is more aggressive than the Eufy E. The doorbell and camera work well together too, and I can see myself slowly migrating all my app-based cameras to Ring eventually.
You pay a premium for the spotlight though, it is £199 on Amazon, £60 more than the newly launch Stick Up Cam, and the same price as the new Arlo VMS3230 system which includes two cameras.
The price is made worse by the protect plan, which at £80 is quite a bit more expensive than Arlo, and I would say very expensive if you only plan on having 2-3 Ring devices. However, with four devices or more the Protect Plus Plan becomes much more reasonable. I think a middle plan for up to 3 or 4 devices would be beneficial for a lot of people.
While the battery option does make this unique, and gives you considerably more flexibility with mounting, if possible, you will be far better off with the wired version. The wired option of this just needs plugging into a socket, so as long as you can get the cable in the house mounting it will be less maintenance having to swap and charge batteries. However, the current Floodlight option would offer the best performance overall, and it is the same price as the spotlight version at the moment. As well as superior lighting it has dual sensors with object and person detection, the main downside is that it needs to be wired into your mains. I hope to review the floodlight in the future so I can see how much better it is.