Zyxel Nebula Review
Product Name: Zyxel Nebula
Offer price: 177
Currency: GBP
Availability: InStock
Features -

99%

Performance -

95%

Noise -

60%

Price -

80%
As someone that works from home and has dozens of devices connected to the network, I have found myself getting frustrated with consumer networking equipment. I long ditched WiFi in favour of Ethernet for any machine that stays in one spot such as all my media streamers, and PCs.
I initially used multiple Netgear GS108Ev3 smart switches, with the hope the web interface would help diagnose network issues. However, the daisy chain of switches combined with intermittent issues with some of the GS108Ev3 switches dropping down to 100Mbit from 1Gbit became too annoying to handle.
My first business class purchase was the excellent Cisco SG 200-08 8-Port, it is about as low as you can go for business class but it works well. I later picked up the 24-port version for £70 used on eBay.
Since trialling some of the Meraki devices, I have always been fascinated with cloud managed switches. I needed a POE switch for my CCTV cameras and Ubiquiti was the obvious choice for high-end consumer use, but a deal came up that allowed me to test the new Netgear Insight POE switch. The Netgear is good but not great; it is okay for my use, I like the email and push notifications if there is an issue and being able to manage things via my phone is very handy. It has had issues, and I wasn't aware that after 2 devices there is a fee to use it, which was very disappointing.
Since then Zyxel has sent me 2 of their devices to review. While I am familiar with Zyxel and their consumer products I had no idea about the web managed networking gear they have so was quite excited to try it out.
I was sent two devices to test; a Nebula Cloud Managed 10-Port Gigabit PoE+ switch and the Hybrid Cloud Wireless Access Point (NWA1123-AC-HD).
The switch specifications include:
Layer 2 Cloud Managed PoE+ Switch
10 x Port GbE Switch with 2 x Combo (SFP/RJ45) uplinks
180W total PoE budget
Zero-touch deployment
Limited Lifetime warranty including advance replacement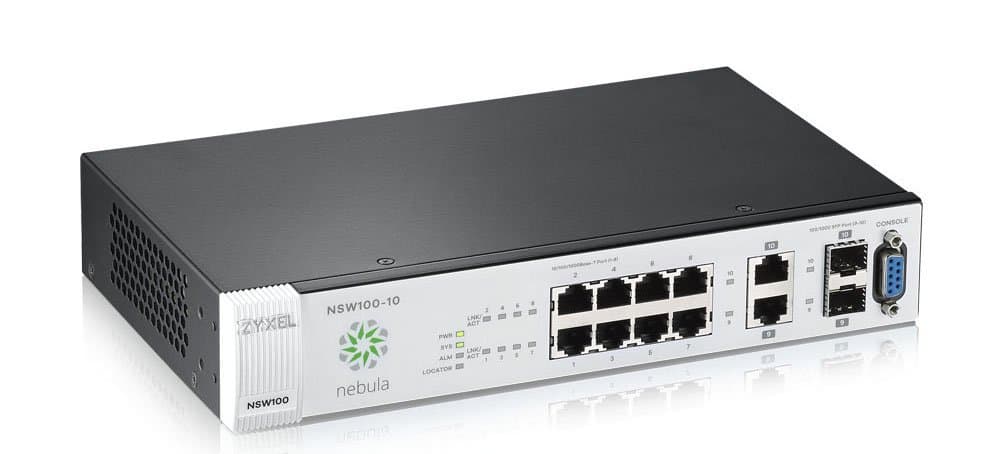 When I bought the Netgear, one of the appealing aspects of it was that it was quite small and fanless. This is not the case with the Zyxel, it is very much a business switch and is quite large for the small number of ports and with some loud fans. Initial spin up is extremely loud, they do than settle down, but the switch is louder than my tower server, though I use an ARCTIC Freezer i32 and quiet fans on my server case, so it was quieter than your typical server. With the door closed to my server room (box/storage room), I can just about hear the fans.
A fanless 130W 8G+2SFP PoE switch is launching in September.
The Access point specification includes:
Dual-band Wi-Fi simultaneous 2.4GHz & 5GHz wireless.
3×3 SU-MIMO 1.6 Gbps (802.11a/b/g/n/ac)
Supports standard PoE (802.3af) / External Power Supply
Power Consumption: 9W
Centralized management without the need to install software or a controller via Zyxel Nebula
Flexible operating modes (Cloud, Standalone, root-AP/ repeater mode) via Latest Firmware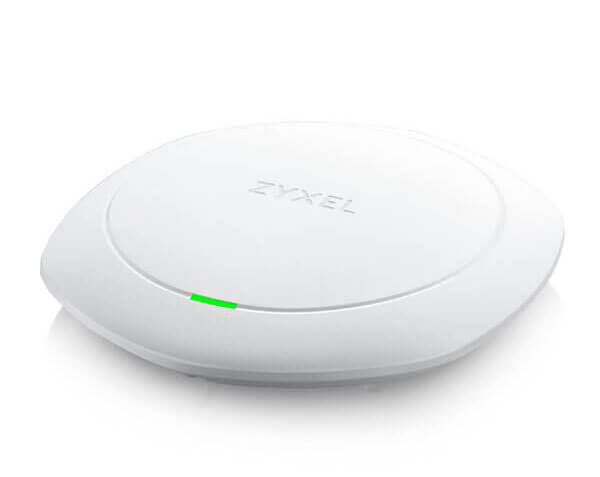 With the access point, this is a hybrid device, so you can use it independently from the Nebula system if you wish. I logged into the built-in web management portal when I first used it, it is good, it offers everything you could want from an access point. For a commercial environment, it has some nice features such as the option to have several SSIDs as well as guest networks that can use captive portals or sign on with options such as Facebook.
When the AP is in the Nebula system you still have access to it via the usual local web portal, but with very limited settings.
As I was most interested in the Nebula management, my testing didn't go very far with the normal web interface.
Nebula Cloud
This is where all the fun happens, it has been a long time since I tested Meraki, and I only played around with it, but from memory, the Nebula system is quite similar but considerably cheaper. There are so many things to manage I will probably miss a few bits or just cover them briefly, from my limited networking experience this is a comprehensive system.
You need to sign up via nebula.zyxel.com, and this is where you manage everything, once signed up you can manage your organisation, and location, you can have multiple of each. So, for an IT company, you can unify the management of all your clients.
During the set-up process, I had to set up the Wifi settings even though I hadn't added the AP yet. When you add the AP later, the settings get pushed through automatically. You can apply settings for everything on the network before you add a single device and everything will be pushed out automatically when added, this is a huge selling point for businesses.
Once the basic settings are done, you can begin registering your devices; this is done by inserting the mac address and serial number. The process is quick and painless as long as you have the details to hand. You can also optionally use the Zyxel mobile app to add devices. I was hoping this would offer more functionality allowing management similar to the Netgear, but sadly not. Zyxel have confirmed they will be launching a new app in September with more functionality.
Under general settings, you have the option to set the local credentials for devices, set up SNMP access and you can enable reporting to a syslog server.
Similar to the Netgear you can get alert settings sent to you, though with Nebula you can customise what and when they get sent. As I have had issues with things going down in the past I love this feature and have it enabled if the AP or switch goes down, then also if any port on the switch goes down. This should allow me to quickly fix any issues when they occur, it is great for my use, but would be amazing for someone managing a large network or multiple clients.
As you would expect there are some good reporting features, you can access a site-wide summary report which shows all your devices, their usage as well as power used for the POE switch. Similar to Meraki you can view a topology of your Nebula devices and a floorplan of the network layout. Using two devices doesn't provide the most exciting topology, but it is obviously a great feature for managing a larger network.
Switch Management
The extensive settings and reporting are found in both the devices I have used. Within the switch options, you can select each port and name it for easy management, then diagnose its utilisation, power consumption. You can also run tests on the cable to identify faults.
Within the port settings, you can enable or disable multiple settings including the POE, link speed, and allowed VLANs
You can see all the devices that are currently connected or have been connected to the switch and name them appropriately.
There are various scheduling features which are great for POE devices in an office environment. I have a single POE phone and generally just leave it on, but if I was in an office with multiple devices, it could help cut electricity costs.
Access Point Management & Performance
Some of the Amazon reviews are a bit negative, and this appears to relate to the range, from my experience I have had no issues with it. I had it placed in my server room so I could easily connect it to the switch, and I was able to get signal through most of my house and then outside in my garage. It wouldn't be adequate as the main access point for the entire house, but I need multiple APs to get a good signal anyway.
Similar to the switch there are extensive reporting and configuration options. You can view the clients and their usage, as well as name devices for easy management.
As mentioned previously you can have up to 8 different SSIDs, assign a VLAN to each ID, rate limited them, and use different authentication methods. You can have the SSID use each band concurrently or select which one you prefer.
If you use a captive portal option for guest users, you can customise the look or it or assign a custom portal URL.
Under the radio settings, there are options to change your country which will then affect the possible maximum power output. With some countries being more lenient than others. Alternatively, you could reduce the power to reduce crossover talk. For example, Taiwan has a maximum power of 30dbm.
Licence
Zyxel has an interesting way of dealing with the licences, it uses a point system and will share the points across devices. So the switch I was sent had a 1-year licence with it, but the AP did not, so I get six months use out of it. A 2-year single device subscription costs £74.06, so about £1.50PCM per device, which is quite reasonable.
However, you can run them without a licence. In this mode, the reporting functions are limited to 7 days vs 365. You lose out on the ability to do user audits, notifications, topology and several other features. None of these appears to brick the core functionality of the device. Losing out on notifications could be a good reason to keep the licence if you are a business user though.
A detailed comparison is here
Overall
I have to admit I do love the Nebula system, the functionality is well beyond what I need or understand, but it offers a level of management significantly above and beyond what the Netgear Insight can do. While it is not a particularly advanced feature or uncommon for routers, I love being able to name all my devices and ports for easy management.
While my limited setup didn't make the most of the zero-deployment settings, I can appreciate the time and money it would save when setting up a new network in an office. Once set-up, the process took a few minutes and required zero intervention on my part.
I have had zero issues with performance or stability (unlike Netgear), and it has worked perfectly for me.
That being said, how great it is will be use dependant. I think I have gone a bit beyond the realms of what is needed for my home/office business use, and the loud fan will be off-putting for any advanced home users considering it. Pricing isn't too expensive, but again, more expensive than a home user needs at £177.49 for the switch, though the AP is only £74.99.
If you are a small business, or even larger, and the cost plus licence fees of Meraki are off-putting, then this could be a fantastic alternative. I would say the main downside for some business would be the limited range of devices available. The largest switch is the Zyxel NSW200-28P which has 24 copper ports and 4 10Gbit SFP ports. Though at a price of £682.13 inc VAT and a 375-watt high power budget it seems like an affordable solution for an office. With this being a relatively new ranger of networking gear, there are new products coming and Zyxel say a 48-port model will be launched in September.
The product range isn't just limited to switches and access points. They do have a firewall gateway in the form of the NSG100 which has dual WAN ports for failover and four Gigabit LAN ports, and the firewall throughput is 450 Mbits/sec UDP packets or 300 Mbits/sec TCP packets. I didn't have a chance to use this, but the level of management features appears to be excellent, similar to the other devices.
While the system is a bit more expensive the Ubiquiti and Netgear Insight, it is vastly superior to the Netgear at least. The system is much more comparable to the Meraki offering, and to put the price into perspective, the cheapest Meraki switches with no licence, eight ports + 2 SFP costs £559 which is over three times the cost of the Zyxel equivalent. Without a licence the Meraki devices are useless, and the cost of the licence varies depending on the device with many of them costing over £100 per year.