EasyAcc 20000mAh Type C Power Bank
Product Name: EasyAcc 20000mAh Type C Power Bank
Offer price: 38.99
Currency: GBP
Availability: InStock
I have reviewed many power banks now, functionally they are all the same, they are big batteries with one or more ports to charge your devices on the move. They are all good from my experience, but each one differs in size, ports and pricing.
The EasyAcc 20000mAh Type C Power Bank as the name suggests is one of the larger models out there with 20000mAh so in theory, it will charge a standard 3000mAh battery in a phone from flat to full over 6 times. Thanks to physics and also the quality of batteries, it is likely it will do less than this, but you should be able to keep a couple of devices going for a long weekend without going near a plug socket.
[button link="https://amzn.to/2LSxeO2″] Buy from Amazon[/button]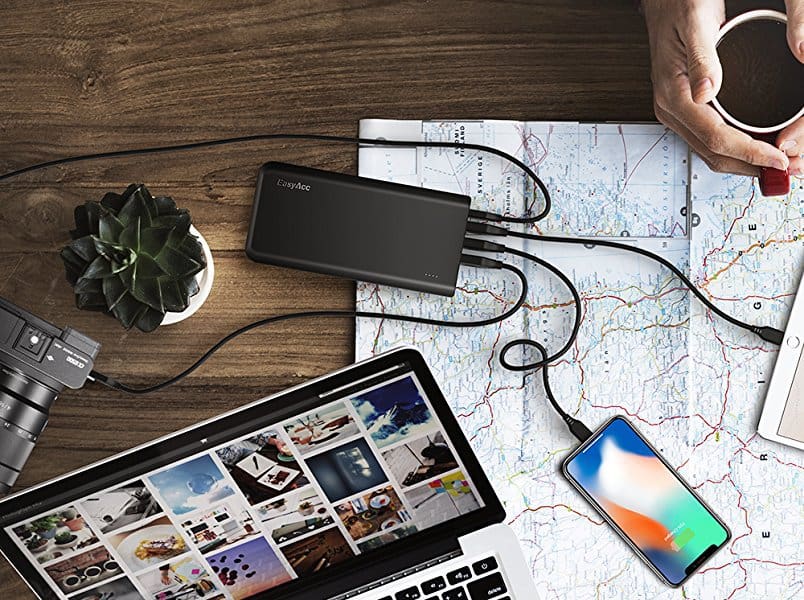 The new trend for these larger devices is more ports, and this is a welcome addition. This one can be charged via Micro USB or USB C, functionally there is no difference between the two methods, but it is a convenient feature due to USB C gaining popularity.
You get 3 normal output ports and one Type-C Port. You can charge devices simultaneously with a total 6A (33W) Output (up to 3A per port). The green smart port supports Quick Charge 3.0 up to 18W.
You also get an LED light, not a great deal of use most of the time, but it is a nice feature that could come in handy for camping trips.
Overall it works as advertised, it is thicker and less wide than the  AUKEY USB-C & Lightning Power Bank 20000mAh which may be preferable to some. I quite like the thin nature of the Aukey as it slips into bag pockets with less bulge. The Aukey is rated at 435g versus the 369g of this, and this is £1 cheaper. So from a price and weight point, this is a better option.
[button link="https://amzn.to/2LSxeO2″] Buy from Amazon[/button]