AUKEY USB-C & Lightning Power Bank 20000mAh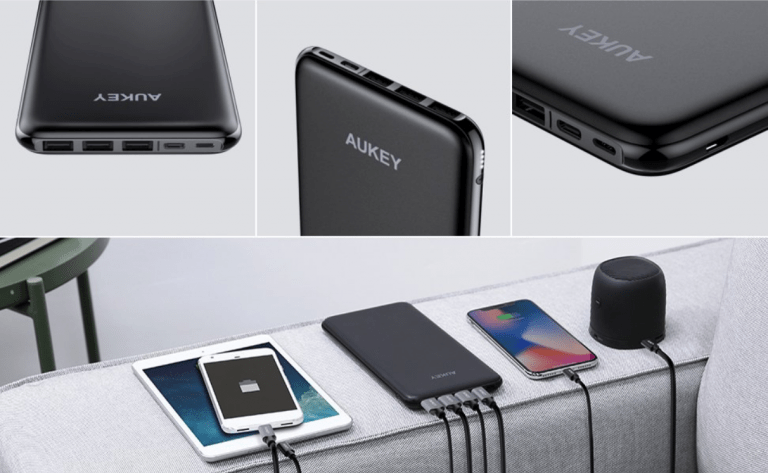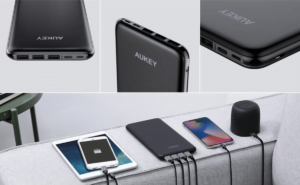 Product Name: AUKEY USB-C & Lightning Power Bank 20000mAh
Offer price: 34.99
Currency: GBP
Availability: InStock
Another power bank from one of our favourite accessory companies Aukey on Amazon. I have found they always make reliable, well-built products at a decent price.
There isn't a massive amount of variation or innovation with power banks; a battery is a battery after all. However, this one does have a few stand out features compared to some of the others I have reviewed in the past.
This Power Bank is a massive 20000mAh which should be more than enough to keep a couple of devices going all weekend. For example, nearly all phones have 3-4000mAh batteries, so you, in theory, will get 5 full charges out of this, assuming 100% efficiency in charging.
The stand out feature of this device compared to others is the number of ports available. There is 3 USB type A ports, 1 USB type C for input/output a Lightning port for input and MicroUSB for input. So, you can comfortably charge 3 devices at the same time, while also being able to recharge the power bank using any cable standard currently available for smartphones or tablets.
Being a 20000mAh battery, this thing is large and heavy as you would expect, it weights 435g with dimensions of 200 x 96 x 14mm. Those dimensions make it thinner than many other large capacity batteries but with an overall larger surface area. It is quite a good shape for carrying around in a laptop bag or small bag as it slots in nicely rather than bulging out.
Regarding performance, it works as expected. It kept me going all weekend without needed to use a mains supply once. This is an excellent option for holidays or camping.
It is priced at £34.99 which does make it a little more expensive than some other packs. For example, you can get the stockier shaped Aukey with 2 outputs for £22.99. I prefer the shape of this one, and the extra output is handy, so I think it is worth the extra £12.
I will be giving this power bank away, so look out for the competition post later today.