Nokia Beacon 1 Mesh WiFi System Review
Summary
A decent dual bad wi-Fi system with a good range from the main router. It is easy to set up with a user-friendly app, however, the settings are a little limited.
I have reviewed quite a lot of mesh Wi-Fi systems, and somehow the existence of the Nokia Beacon has eluded me.
The Nokia Beacon 1 launched at the start of July and is currently only available in the US. The Nokia Beacon 3 launched at some point this year but appears to have had so little marketing done that I can't find a press announcement with its release date. The Beacon 3 is, however available in the UK from Amazon.
Following the Beacon 1 launch, I was sent a sample, as it is currently US only, I received a model with US plug sockets so for the time being this review is not that relevant to UK readers. The units themselves use a 12v 1 amp socket so finding compatible power supplies is easy, alternatively a US adaptor.
Nokia Beacon 1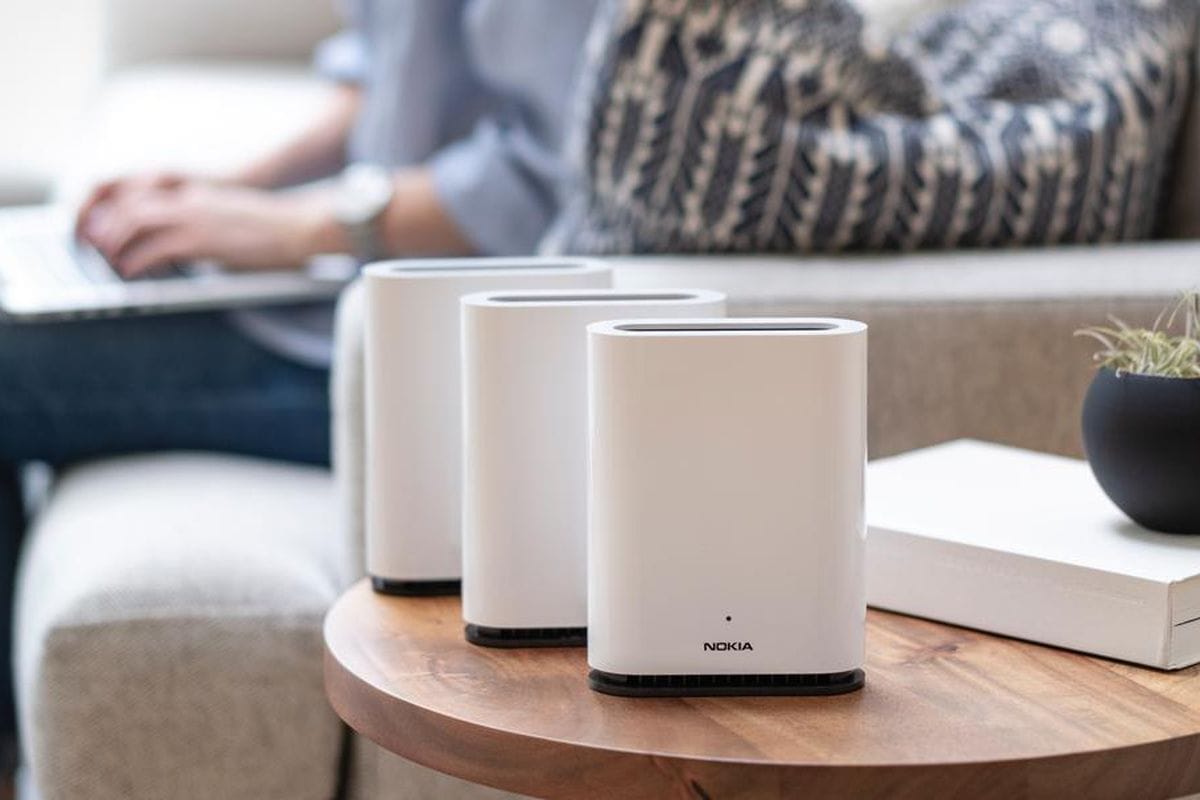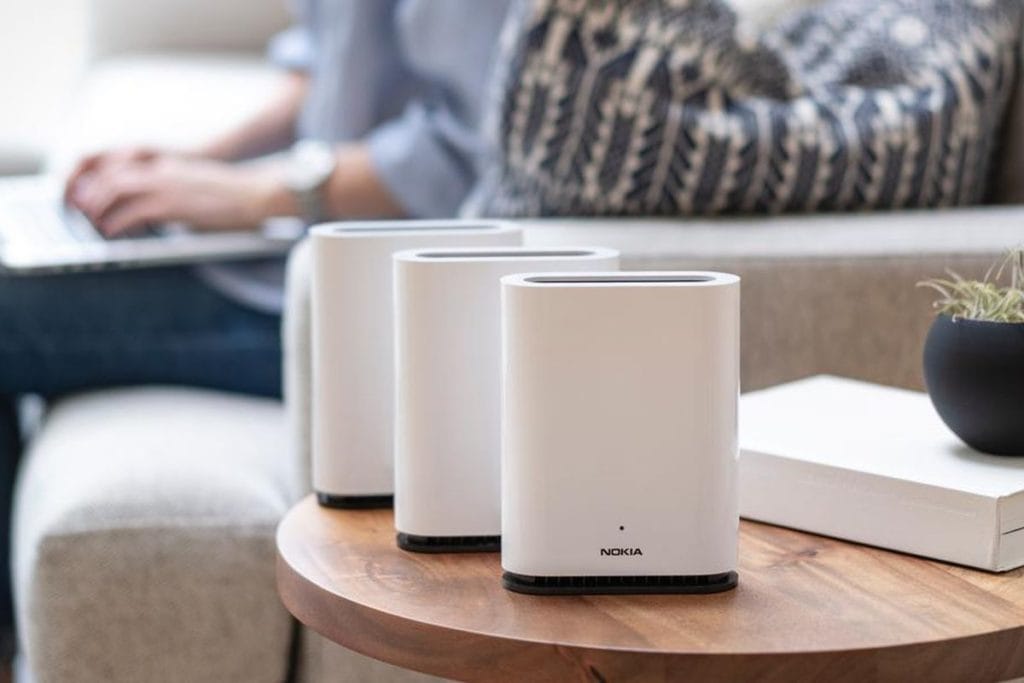 The Beacon 1 is the affordable model from Nokia and uses Dual-band WiFi with a WiFi capacity of AC1200 across 2.4Ghz (2×2 MIMO) & 5Ghz (2×2 MIMO).
It is available either in a 1 or 3 pack though oddly no two-pack options. The pricing in the US is $129.99 for a single Beacon 1 or $299.99 for a triple pack, so it isn't really worth buying two single units if that's is all you need.
Similar to other brands each Beacon can work as the primary router or the satellite nodes as they all have a WAN in port and a single ethernet port.
Nokia claims that that the Beacon 1 can cover up to 1500sqft per Beacon, so 4500sqft for all three. That's 140m2 and 418m2 for anyone, not American.
You can operate the Beacon as a mesh router, or put it into bridge mode working as access points for your current system. The Beacon also supports ethernet backhaul.
Nokia Beacon 1 Full Specification
WLAN:
Supports 2×2 802.11b/g/n 2.4 GHz wireless LAN (WLAN) interface
Supports 2×2 802.11ac 5 GHz WLAN interface
Maximum effective isotropic radiated power (EIRP) on 2.4 GHz up to 500 mW and 5 GHz up to 1 W
64-bit and 128-bit Wired Equivalent Privacy (WEP) support
WiFi Protected Access (WPA) support including Pre-Shared Key (WPA-PSK) and WPA2
Media access control (MAC) filters
Router:
IPv4 and IPv6 connectivity: Dual stack and DS Lite, stateless and stateful auto-configuration, DHCPv6 prefix delegation
Point-to-Point Protocol over Ethernet (PPPoE) and IP over Ethernet (IPoE)
Network Address Translation (NAT), port forwarding, demilitarized zone (DMZ) and firewall
Dynamic Host Configuration Protocol (DHCP), domain name system (DNS) proxy and dynamic domain name system (DDNS)
Internet Group Management Protocol (IGMP) v2/ v3 proxy Multicast Listener Discovery (MLD) proxy
Virtual private network (VPN) pass through for Point-to-Point Tunneling Protocol (PPTP), Layer 2 Tunneling Protocol (L2TP) and IPSec
Nokia Beacon 3
In comparison to the Beacon 1, the 3 bumps up the WiFi capacity to AC3000 using 2.4Ghz (3×3 MIMO) & 5Ghz (4×4 MU-MIMO) then there is also apparently a Real-Time Dual Band WiFi Spectrum Analyzer – which I assume just automatically switches channels to the optimal choice.
This model increases the ethernet ports available to 3 per node and based on the spec this would make it a direct competitor to the popular Netgear Orbi RBK53 system which currently sells for £372.95.
The Beacon 3 is available in the UK and currently sells for £399 so a little more expensive than the Netgear
Set up
It is possible to set up the Nokia via an app or the web interface. As most people use mobiles nowadays, I opted for the app.
Set up was very quick, going smoothly with no connection issues. Once you download the app and set up your account, you scan the QR code, let it do its thing then connect to the WiFi. The default password and SSID are printed on the bottom of each Beacon.
As you need to be using the WiFi to use the app, the requirement for login is a little redundant, unlike Orbi there is no option for remote management, but I guess this could change in the future.
Once you have everything set up the app is quite basic you can check on the status of each Beacon and what it is connecting with it.
This appears to suffer from the same issues as Netgear Orbi for ethernet backhaul. On my overly complex/messy home network, it is not able to establish a wired connection. There are at least two managed switches between each satellite, in the case of the Orbi it does not like switches that use the IGMP protocol, so I would guess the same is true here.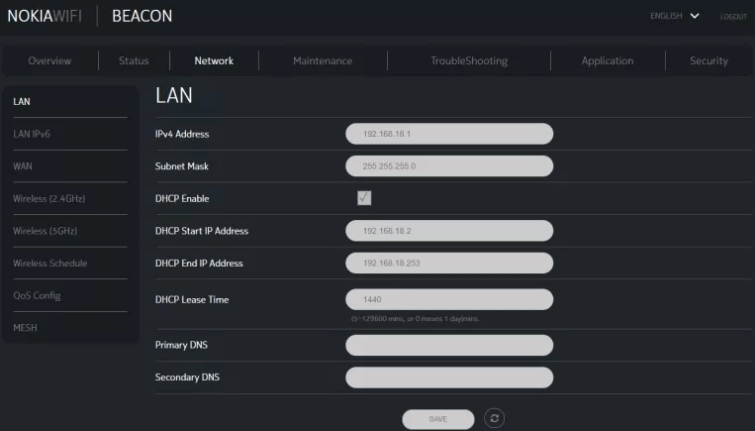 Performance
The AC1200 rating using 2×2 MIMO for 5Ghz means this was never going to break any records for speed, but it does perfectly well for the vast majority of people and depending on which WiFi module your laptop or phone use, there is often little difference in performance.
With iPerf over short distances, I was able to achieve around 510Mbps on my Dell XPS using the Killer WiFi AX1650 module.
Using a simple file transfer, the speeds of a large ISO typically were around 70MB/s with some peaks and troughs.
My house is a typical but reasonably large 4-bedroom Accrington brick semidetached. So the thick walls and large rooms can cause issues with Wifi performance across the house.
With the main router in the centre of my home it was able to provide a reliable connection throughout most of the property. In particular, the spare bedroom struggles to get a solid connection with my Netgear RBK23 router, but the Nokia had a strong signal, albeit with a fair amount of speed loss. Using a speed test on my phone, I was able to get 51Mbps on my 350Mbps Virgin connection. Similarly, in my office, I was still able to achieve 318Mbps whereas the Orbi drops down to 250mbps.
When connecting to the satellite nodes performance does drop off quite a bit, this will likely be a limitation of the dual-band system with each beacon having to share its 5Ghz backhaul channel. In my office, I found that the performance was better than without the mesh system due to it connecting directly to the router. When connecting via one of the satellite nodes speeds dropped from 318Mbps to 278Mbps.
Overall
I am pleasantly surprised at the performance of the Beacon 1, it is not the fastest overall router, but it appears to offer a range that is superior to more expensive systems, and this is the main thing mesh WiFi is trying to solve. The main caveat is that the satellites don't perform very well compared to a tri-band system, however, with some careful placement, you should be able to increase the range as much as possible, while still having your main devices connect to the primary Beacon.
Set up is extremely simple, and during my use, I was able to set it and forget it, with no problems with downtime.
The system is not that feature-rich in terms of settings, for most users, this is probably not an issue, for others you may want to run this is bridge mode, which is what I did most of the time.
With a price of $299 it is not quite as affordable as Nokia make out, for example, the TP-Link Deco M5 is more than $100 cheaper has a similar specification but also includes a built-in antivirus using Trend Micro with 3-years licence.