TP-Link Deco P7 Whole Home Wi-Fi Hybrid Mesh Review
Product Name: TP-Link Deco P7 Whole Home Wi-Fi Hybrid Mesh
Offer price: 189.99
Currency: GBP
Availability: InStock
Summary
Easy to use with much more flexibility for satellite locations and superb performance when you have a reliable backhaul make this well worth considering for a mid-range Mesh Wi-Fi system
Features -

85%

Wi-Fi Performance -

80%

Ease of use -

85%

Price -

80%
Launched in October 2018 I have finally had a chance to test the new TP-Link Deco P7 Hybrid Mesh system that uses powerline to establish a connection between the satellites.
Currently priced at £189.99 on Amazon, the Deco range of products are some of the best reviewed on Amazon, and this pricing puts it at around the same price as Netgear's mid-range Orbi RBK20 system.
[content-egg module=Amazon template=list]
It is the powerline feature that makes this stand out from every other model on the market, rather than relying on a wireless connection between satellites, either dedicated or shared, this establishes its backhaul over your homes electrical cabling. I have reviewed several powerline systems in the past and was always a big fan of them, they are often a perfect middle ground between the inconsistent performance of Wi-Fi and the difficulty of wiring your home with ethernet.

Powerline appears to fallen out of favour due to all these new mesh systems, but the Deco P7 uses this to eliminate one of the biggest issues of a mesh system, getting a reliable backhaul.
With it using the powerline as the backhaul, TP-Link has kept this as a dual channel system with a theoretical 867 Mbps at 5 GHz or 400 Mbps at 2.4 GHz giving it a rating of AC1300.

The sample I was sent is a two satellite system, but you can expand it as much as you want, and you can also mix and match products, so you could potentially upgrade the system to the M9 in the future, using these as satellites in the less important areas, or there is the TP-Link Deco M5 which can be bought as one unit for £69.99.
Most of the Deco systems have a similar design opting for a disc rather than a cylinder or other shapes. Each disc has two ethernet ports, and they all can be used as either the primary router or satellite.
You get all the usual features of a router, this includes things like DHCP, port forwarding, address reservation, QOS and even some basic VLAN features. On top of this, the system comes with an Antivirus built in, something that has become increasingly popular in recent years, so all your home security is done at router level rather than relying on software on your PC/Laptop.
If you already have a router and want to continue using it, you can switch to access point mode which will disable most of the advanced router features.
Furthermore, if the powerline isn't quite good enough for you, you can use ethernet backhaul to achieve that maximum possible speeds between devices.
In terms of the hardware specifics, the P7 comes with a quad-core Qualcomm Atheros IPQ4019 chipset, 32MB of flash memory (WINBOND 25Q256JVFQ), 256 MB of RAM and two U&T UTG24P05 1814T 100/1000M Base Single & Dual Port Transformers. The units also comes equipped with a CSR 8811 A12U 80GN5N Bluetooth 4.2 chip.
The Deco P7 is also compatible with IFTTT and Alexa, making it a bit easier to control the devices on your network. With IFTTT you can have it do things like send an email when a new device connects.
Set up
Setting up the Deco P7 was one of the easiest Mesh systems I have used. I didn't follow the instructions exactly, but that didn't appear to bother it. As always you will need to download the dedicated Deco app, sign up and then start the set-up process. Unlike Orbi, these are not pre-paired but adding each disk to the system is very quick.
These are the first networking product that I have used that uses USB-C for the power, the plug sockets provided will be an essential part of the powerline connection so you should always use this, but in theory you could get them powered up without powerline using a regular USB-C cable and adaptor (I have not tested this).
The app uses Bluetooth to detect the Deco and pair then from there you follow the basic instructions such as assigning an SSID and password. Once the first Deco is paired, you can continue to add more.
The app advises you to disconnect the router handling your Internet, but I was too lazy to get up and do this so just risked it, and it worked without an issue.
This system does not appear to have a web interface, which I normally prefer when it comes to managing a network, but thankfully, due to the simplicity of set up, I didn't miss it.
Powerline, Ethernet and Wi-Fi backhaul
The TP-Link uses all three forms of backhaul ensuring you can connect each satellite.
The preference of the units is Ethernet first, then powerline, and finally Wi-Fi. Wi-Fi is important as some homes may not have the same ring circuit for all the sockets, and if this is the case, the powerline wouldn't work.
If there is no Ethernet cable between the Deco P7, the Wi-Fi backhaul and the powerline backhaul will take effect. When there is an Ethernet cable between the Deco P7, the Ethernet backhaul and the powerline backhaul will take effect at the same time. So the powerline will always be in effect assuming the devices are on the same circuit.
Most of my testing was done using the default powerline connection. I have had mixed results getting it to work on Netgear Orbi, and with the TP-Link, it isn't very clear if Ethernet backhaul is enabled when wired up, from my testing it appears that the LED on top of the Deco will blink red then go back to green when you plug an Ethernet cable in. I noticed significant speed improvements so it was clearly working.
You can identify if the powerline is working via the LEDs on the power adaptor. If the indicator is solid red, means the powerline backhaul connection is bad or even failed to connect. If it is green everything is good.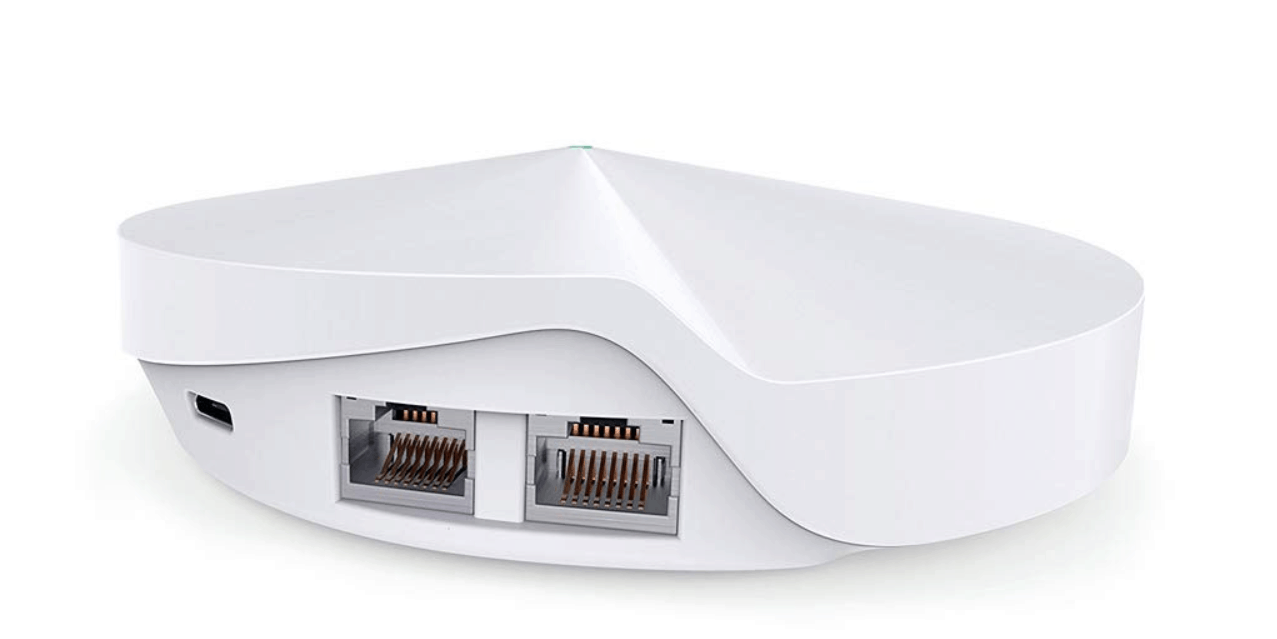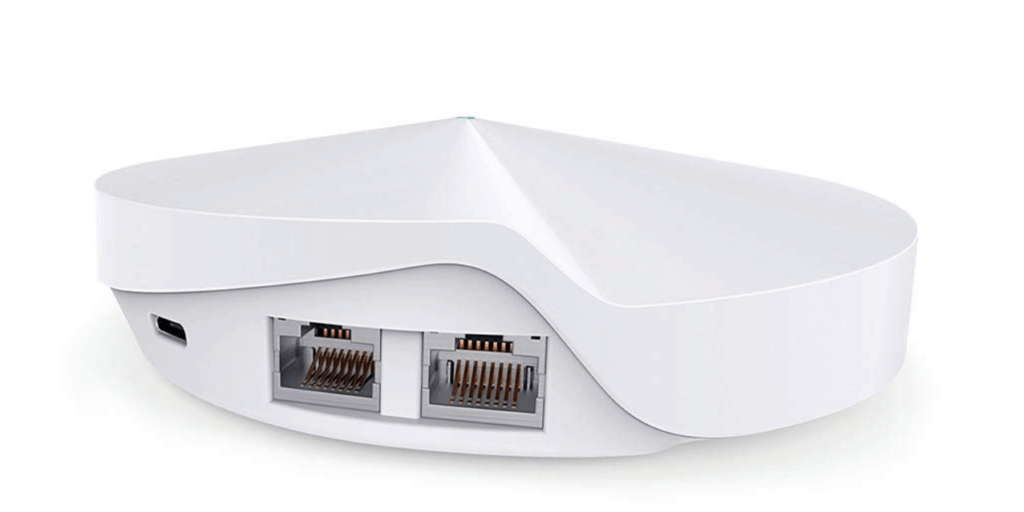 Performance
The powerline features appear to be both the biggest strength and weakness of this mesh system. I have a reasonably old house, and the wiring is dated at best, so when using the powerline, I get worse performance than I do with the dedicated backhaul of Netgear Orbi. However, the powerline has far greater range than the wireless backhaul. For the sake of testing, I had the primary router in my front room, then tried the satellite in my garage, which is three rooms, a garden then the garage wall away and I was still able to get a decent Wi-Fi connection being able to achieve speeds of 40.1/18.2Mbps up and down for my internet test. In comparison, the Netgear will not get its wireless backhaul that far, and I need a router in the middle room so they can daisy chain connections.
When the Deco does get a good connection, it appears to offer superior performance than the Netgear RBK20 system I have for my personal use. In the front room where the primary router is, it can comfortably max out my Virgin connection at 372/22Mbps, and when doing internet speed tests using an HTML5 script on my server, it would reach peak speeds of over 630mbps. These are all within a few meters of the unit.
Things did not go quite as well when I located the satellite in my main TV room, where the other RBK20 is located. With the powerline connection, the speeds dropped down to around 90Mbps on Virgin and similar for the internal test. Clearly the quality of the internal wiring will be affecting the performance.
Switching to Ethernet completely changes the results again. The Deco connects to Ethernet within a few seconds, and as you would expect, once on ethernet, it has identical results to the primary router, achieving peak internal speeds of over 630Mbps. Netgear Orbi can also connect via Ethernet, but I have had a lot of issues with getting it connected, in particular, it does not like having to go through multiple switches.
Overall
While some of the results have been a little mixed, the TP-Link Deco P7 is a very appealing mesh system and depending on your home and usage you could get superb performance out of it.
An older home may not get the best performance out of the powerline, but it does offer considerably more flexibility in positioning than its Wi-Fi backhaul counterparts. If for some reason you need to place the units a significant distance apart, this is the system to go for. Most consumers just want to get reliable Internet throughout the home, and this system was able to achieve this regardless of the backhaul used.
With a reliable connection to the primary or satellite router, performance is superb, just as good as competing brands and I would say punching well above its price point.
I have also found this to be one of the best systems to date for using an Ethernet backhaul, and once this is established the performance across all the satellites is superb.
I also found it particularly easy to set up which is always a bonus.