Netgear Nighthawk AX8 Wi-Fi 6 Router Review
Summary
A superb router for enthusiasts or even small businesses that is well priced compared to other models with Wi-Fi 6 but the lack of a multi-gig port holds it back a little
Wi-fi 6 or 802.11 ax is the most significant thing to happen to wireless networking in years, routers have been available with the technology for around a year now, but until the Samsung Galaxy S10, there has been no device that can use it. Wi-Fi 6 claims to alleviate most of the issues we face with wireless networking currently. It doesn't just focus on pure speed, it also reduced latency by 75% as well as a large focus on improving high-density performance. So more users connecting faster with lower latency.
Intel announced their Wi-Fi 6 AX200 module in April, and we will likely see many OEMs integrating it over the next few months. In particular, there is a large number of X570 motherboards coming out with Wi-Fi 6, and most likely many more laptops this year.
Shortly after the Intel announcement, Killer announced their AX1650 module. Dell is the first company to use it, but you can now buy it from Amazon and upgrade your existing hardware. Recently I did a review of the AX1650 module, and this was done with the Nighthawk AX8 as the router. So the performance results will be the same on this post as it was on hat review
Netgear Wi-Fi 6 Routers & Pricing
In a lot of my reviews, my final opinion is heavily influenced by the price, a lot of bloggers conveniently skim over pricing, but as a stereotypical tight-fisted northerner, it is hard to ignore. There is no denying that Wi-Fi 6 is expensive, but this is a brand-new technology, and as always you get stung with an early adopters' tax, just like 5G foldable phones are costly compared to their counterparts. That being said, while expensive, you don't change your router that often, so if you need a premium router right now then it may be worth spending a bit extra and stay future proof for the next few years.
Netgear currently has three 802.11 AX routers available, and one for pre-order and prices range £196.67 to £482.66. The lower priced options fall in line with the upper tier of the Netgear AC models, so I'd argue that these new AX routers are a more sensible choice.
[content-egg module=Amazon template=list]
The RAX80 sits in the middle ground with a current pricing of £283.96, though a few days ago Amazon had it on a daily deal for £239.99 so this model, while expensive, isn't too bad. The big things that differentiates this and the more expensive models is the lack of a multi-gig port, depending on your home network, this is quite important as Wi Fi 6 can go beyond gigabit.
The Nighthawk AX4 RAX40 is the cheapest model sitting just below £200 with a max speed of 2.4 Gbps over 5Ghz it could be the sensible buy for many users as it should saturate a gigabit wired network.
10Gbe is becoming more popular, especially with X570 motherboards, so for enthusiast users, it could be worth moving up to the RAX120 or the soon to be released RAX200.
The RAX120 has the same Wi-Fi speeds as the RAX80 I have reviewed, but a 5-gigabit ethernet port will avoid bottlenecks on your network. This pushes the price up to £360.
Competing Wi-Fi 6 routers from Asus and TP-Link all cost £300+ so Netgear is very competitively priced and have a more comprehensive selection of routers.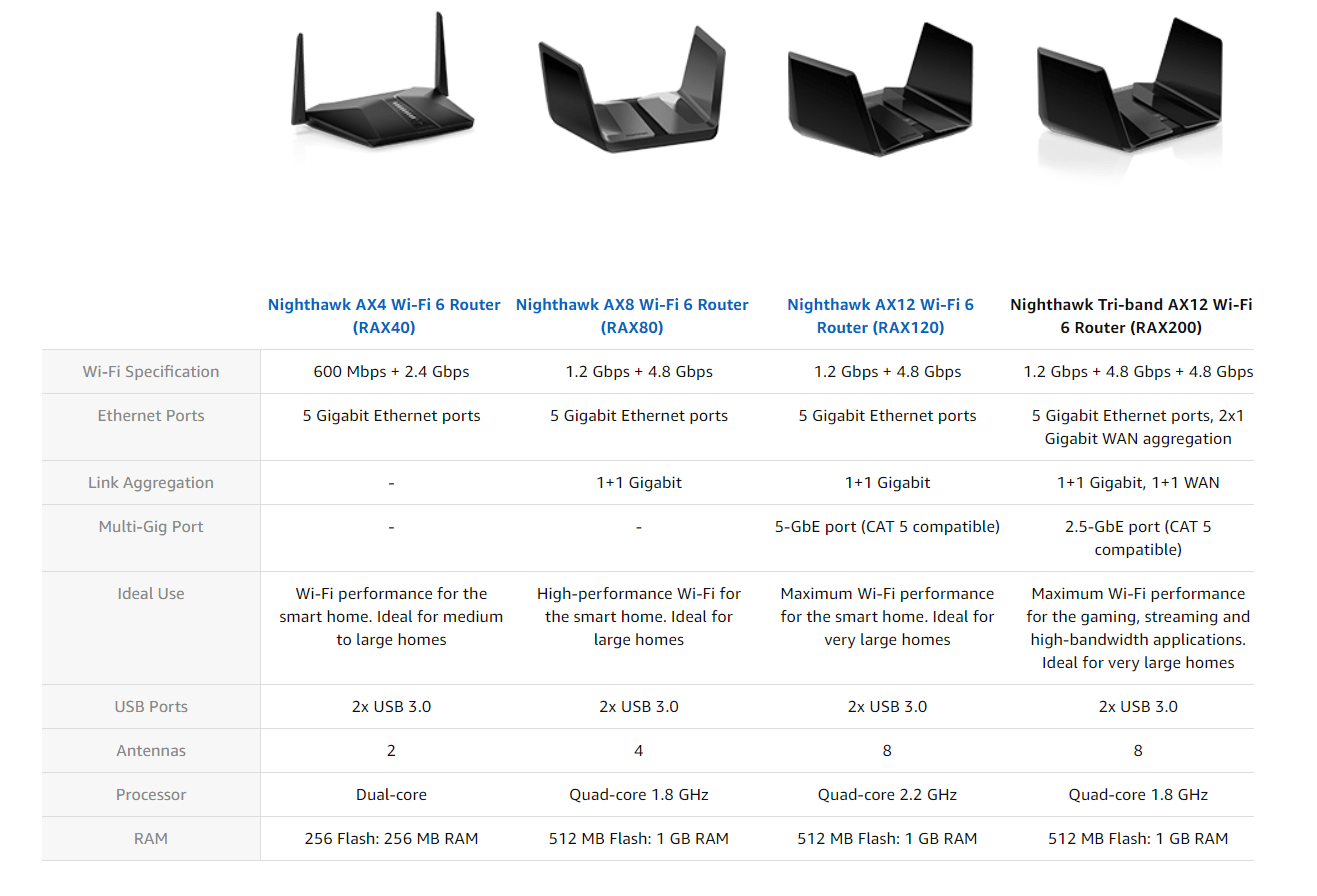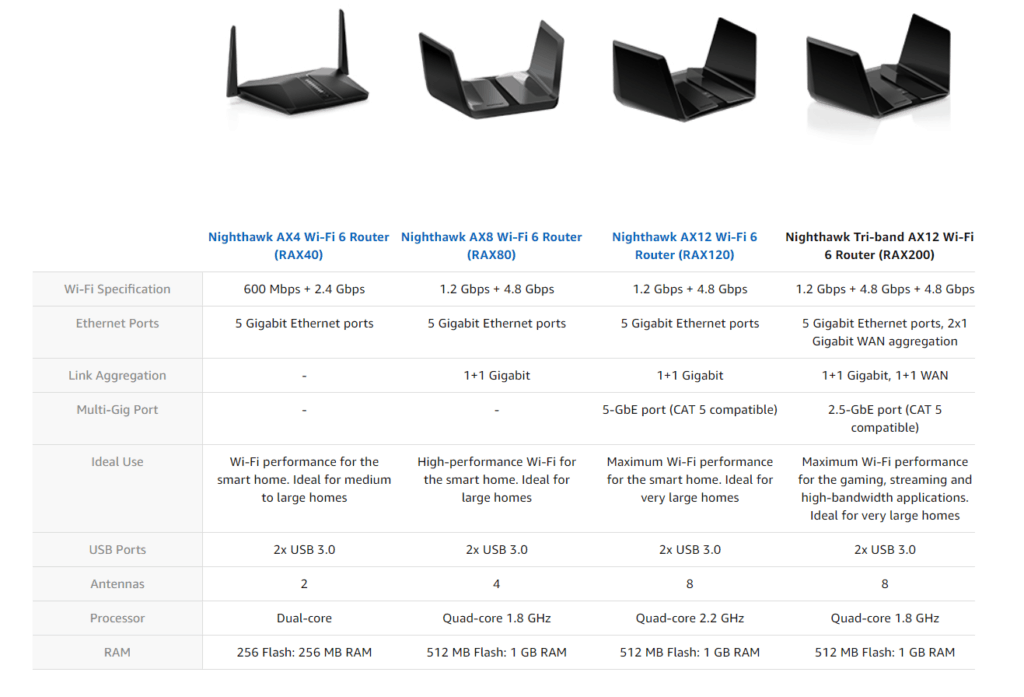 Nighthawk RAX80 Review
Netgear Nighthawk RAX80 Features
The most important features are the Wi-Fi specs, which include:
802.11ax Dual Band WiFi (AX6000)
2.4GHz AX: 4×4 (Tx/Rx) 1024 QAM 40MHz, up to 1.2Gbps
5GHz AX: 4×4 (Tx/Rx) 1024 QAM 160MHz, up to 4.8Gbps
Backwards compatible with 802.11a/b/g/n/ac WiFi
8 simultaneous connections with OFDMA
160MHz channel bandwidth
Beamforming
The RAX80 is powered by a quad-core CPU running at 1.8GHz, 512MB of RAM, and 25MB of flash memory.
The router has six-gigabit Ethernet ports and dual port ethernet aggregation. While not applicable to many UK users, people in the US and other countries may appreciate the WAN port aggregation, which allows for combining two gigabit Ethernet ports and deliver more than one gigabit of Internet speed to your home. Pair with compatible NETGEAR cable modems supporting Multi-Gig internet speeds.
Beyond that, you get all the usual features you find on Netgear routers and other brands. There is DHCP, QOS, guest networks, access control, emailed alert notifications, Dynamic DNS, VPN, UnPnP, VLAN/Bridge.
There are also basic NAS functions via ReadSHARE storage. This includes DLNA streaming and a ReadCLOUD function allowing remote access to your files. The ReadySHARE Vault is probably is a feature that could be useful for many providing scheduled backups for devices on the network
Set-up
When I first plugged this in, I was shocked to hear a fan spin up, this was a cause of concern at first as I loathe fan noise and an audible fan in a living area is a big no from me. However, once the Netgear is fully booted up, the fan is completely inaudible for me.
With most routers, I prefer to use the browser set up, but I have done a couple of Netgear Orbi reviews now, so opted to use the app this time. The app shares a lot of the design features from the Orbi app. Set-up is straightforward and similar to most other routers, with my Virgin model plugged into the WAN port the router detected the internet connection and allowed me to go through the usual set up options such as changing your WiFi etc.
The two main settings that make this different from other routers are the Wi-Fi 6 options and link aggregation
Link aggregation is in theory very easy to set up if the connecting devices work with it. With this router, you plug the ethernet into ports 1 and 2 then enable port aggregation in the advanced settings. Getting link aggregation to play nicely between switches is another question, my initial testing was done with the ports joined on my Mikrotik switch which has 10gbe SFP to my main PC and server, it appeared to work fine, but there was not really any difference in performance. I then tried to get it set up with my Zyxel Nebula switch, and they didn't want to play together at first, regularly causing the switch to lose connection. I finally managed to get it to work with a little experimenting and rebooting of devices. However, during my testing, there was still no notable improvements in speed. There appears to be some mixed messages online with some people claiming aggregation improves speed (including Netgear), while others it does not. I assume the devices need to work in perfect harmony to work properly, and often this may not be possible between different brands.
With the Wi-Fi 6 settings, there is not much different from the usual options, you can enable/disable AX features, though I am not sure why you would switch them off. Smart Connect will allow you to combined the 2.5GHz and 5Ghz channels into one SSID. You can then select the speeds for the two channels, with 2.4Ghz now going up to 1200Mbps and 5Ghz going up to 4.8Gbps. To achieve that speed you need to use 160 MHz wide frames which can be tricky to get and won't work properly if you live close to an airport or another radar installation.
Wi-Fi Performance
During the Wi-fi testing, I used this router in access point mode, so I could place it on my main network without the worry of anything getting too broken.
The Netgear RAX80 has a Broadcom BCM43684 4 stream an/ac/ax radio and has a maximum theoretical speed of 4800 Mbps. The RAX80 has port aggregation but does not have a multi-gig port, and for my initial testing, I enabled port aggregation plus enabled it in my MikroTik switch. My main PC and my server both use 10Gbe SFP
When I reviewed the Killer module, I had some issues with Lan Speed Test getting the speeds I would expect. So after a lot of experimenting, I ended up using two laptops with jperf to get some more accurate results.
It is worth noting that my laptop reports a link speed of 2402Mbps, while the Netgear supports up to 4.8Gbps the Killer network model only goes up to 2.4Gbps.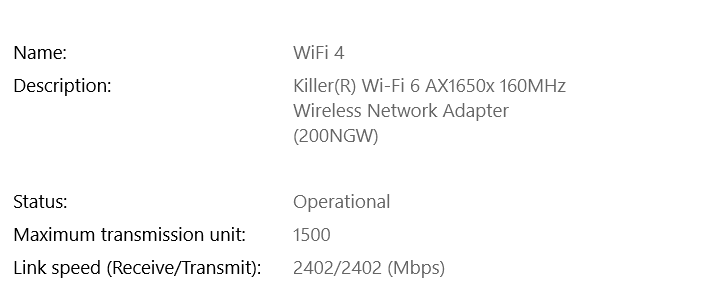 Transferring the ISO file capped out the gigabit connection with speeds peaking 115MB/s in both the room where the router was located and in my living room. I experienced this with all setup variations.
With jperf the peak speeds I achieved were 940Mbps though the speed does vary more than a wired connection typically jumping from 850Mbps to 900+Mbps
For comparison, I also tested the Intel AC 9260 and this achieved rates of 728Mbps with the file transfer peaking at 87MB/s. I then also tested the file transfer speed on my Netgear Orbi RBK50 with this reaching a peak of 50MB/s. Wired LAN speeds were 500MB/s which is around the peak speed of the SSD.
Switching to the 2.4Ghz network with its claimed theoretical speed of 1.2Ghz was not very positive, the network card reported a connection of 287Mbps and file transfer speeds peaked at around 24MB/s. To be fair, this is not too bad for a congested 2.4Ghz network but it is a quarter of the theoretical speed.
Router Features
App
The app is suitable for day to day management, and it is more convenient than getting your laptop out to make simple changes. You can view the devices on the network, connecting or disconnecting them if required, alter your WiFi settings and enable the guest network. There is also a traffic meter option which may be useful to identify network issues.
Under the settings menu, you can enable remote access and issue reboot commands.
Beyond that, there is not a great deal of other functionality within the app.
Web Interface
While the app does a good enough job of for basic management, the web interface has many more settings for you to tweak. There is nothing notably different on this than any other router, you get all the functions you need, including VPN, dynamic DNS etc. The below screenshots cover most of the functionality.
The NAS features are basic, but sometimes that is all you need, in particular, if all you want is a network connected backup drive then this is a nice addition saving you buying a NAS. File transfer speeds over a wired connection are decent, achieving around 90MB/s read and 70MB/s write, it is not far off the maximum read speed and should be adequate for backups and basic storage.
Overall
The Nighthawk AX8 is a fantastic router providing all the benefits of Wi-Fi 6 without being too expensive. I started this review expecting to recommend this one as the best option of the three currently available; however, with the ability to saturate a gigabit connection, depending on your home network, the RAX120 could end up being the better options. This is obviously usage dependent, most households have no use for multi-gig networks, but this will obviously appeal to enthusiast users/prosumers, with so many people being content creators nowadays, the demand for multi-gig speed is growing, and the RAX120 is a great choice for transferring large files like 4K videos across your network wirelessly to a 10gbe NAS or sever.
For regular users that just wants superb Wi-Fi then this is a great option, I was able to double my file transfer speeds compared to my Netgear Orbi system, and the speed increase between AC and AX on this router was about 33% with this being limited due to the gigabit connection being saturated.
It is particularly useful for PC gamers that can't use a wired connection thanks to the reduced latency compared to AC. With the AD based routers which are often aimed at gamers, you pretty much need line of site, so you may as well use wired. With this router, I was able to get almost the same performance over the wireless network as I could via the wired. This scenario is also what would make this perfect for a small office environment, with the high-density benefits of Wi-Fi 6, you should, in theory, be able to run all the PCs in the office on wireless which with very little difference between wired performance, which should significantly reduce installation costs and complexity.
The big caveat of this system, for me at least, is that is is one device, and living in a large home I have become accustomed to the range a mesh system provides. This router does have a good range, and if you place it in a sensible position, it will work in a moderately large home, but it will never compete with the range of mesh. You will have to wait until later in the year for the AX base Netgear Orbi RBK50 system.
Overall, this is a great router, and an excellent investment to ensure your home stays future proof.