Reolink Argus Pro Review
Product Name: Reolink Argus Pro
Offer price: 96
Currency: GBP
Availability: InStock
Build & Accessories -

85%

App -

70%

Video Performance -

80%

Price -

100%
I previously reviewed the Reolink Argus 2 and found it was a very appealing option for home security. At £120 it is cheaper than many other brands, it is entirely wire free and has no hub, there is also no subscription required, and it stores all its content on a microSD card.
I have now been sent the Reolink Argus Pro which on the face of things is an identical product but at a lower price point of £96.99.
The two cameras are so identical I had to go to the Reolink website and open up each product page side by side so I can compare the specification.
Assuming I have not missed something the only 3 differences appear to be that the Argus 2 uses something called a Starlight CMOS Image Sensor whereas the Pro uses a none Startlight CMOS Image Sensor. The Argus 2 is also 30 grams heavier and has a magnetic wall mount.
The Starlight sensor could be worth the extra money for some people as it is designed to improve night-time recording.
[button link="https://amzn.to/2zpTz2j"] Buy from Amazon[/button]
From the Reolink website:
The starlight camera uses larger size sensors, wider aperture and reduces the shutter speed to collect enough light for human face and plate number identification, even when human eyes couldn't see anything.

Compared with the IR cameras which rely on the IR light reflection to produce images, the starlight cameras make use of the natural lights come from other objects even in low light conditions.
It certainly seems like the starlight option is worth the extra money but depending on your set-up you may find it more cost effective to go with the regular sensor option on the Argus Pro, or perhaps mix and match the cameras depending on placement.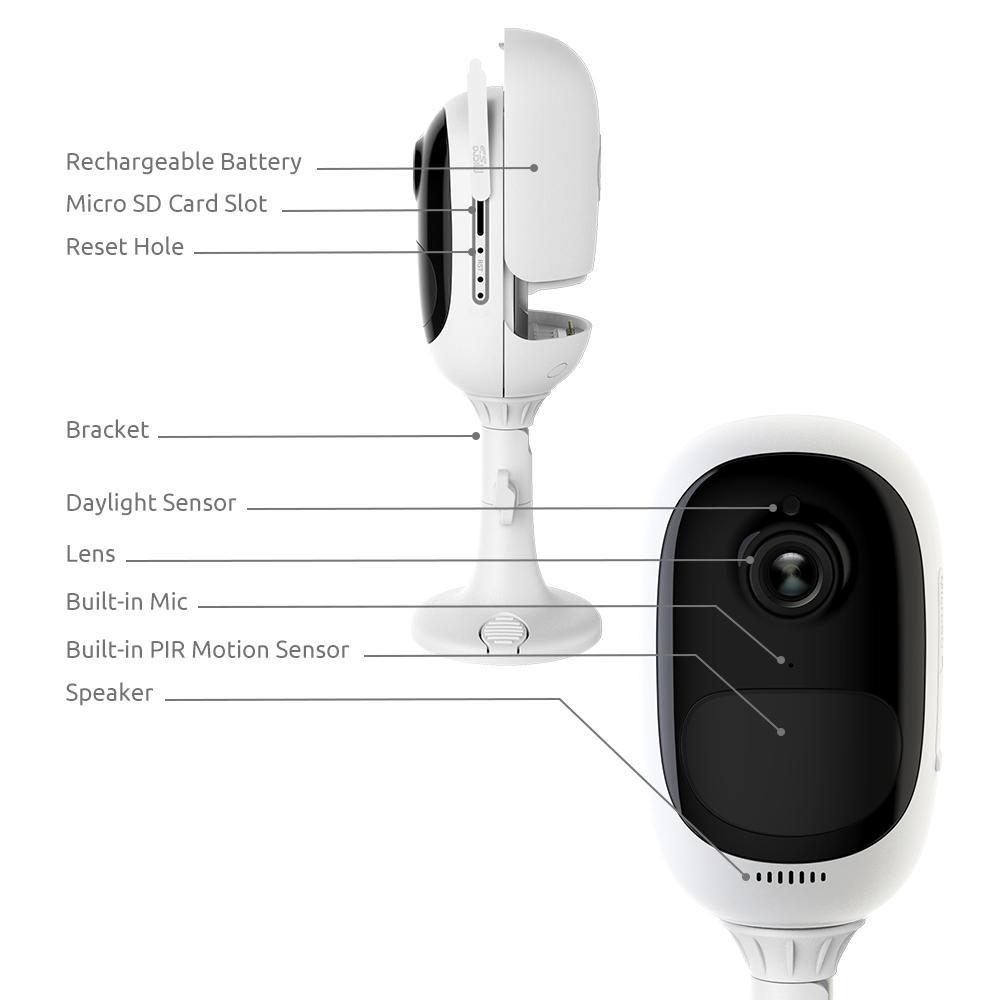 Looking at the Reolink Argus Pro, you get the following specification:
I have previously praised Reolink for the build quality and accessories included with the camera. Within the box, you get a rock-solid screw mount, with screws to mount to a wall. You also get a nylon tie-down strap, and the base of the bracket has slots in it to run the tie down through, this will then allow tool-free installation on posts or tree branches. In comparison, if you opt for the much more expensive Arlo system, you will have to pay for a decent screw mount, and the Blink camera has a very fragile plastic mounting system. There is also an all-weather rubber cover to provide some added rain protection, a useful feature for me living in the North.
You can also buy an optional solar panel which will keep your battery going for much longer dependant on how sunny where you live is.
Set-up and app
Setup is the same as last time, once you download the app and sign up you plug the battery in and follow the guide on screen and the vocal queues from the camera. You need to be connected to a 2.4Ghz network, for some reason the app doesn't tell you that this is a requirement, then you point the camera to the QR code on the screen which passes your WiFI information over.
Once set up you can view live streams, view the event activated recordings and set up push notifications.
Within the alarm/event settings you can tweak the sensitivity settings to reduce false alerts, and you can have the camera email notifications to you as well as have it make a siren noise when it is alerted to movement.
With the email settings, you will need to use your own SMTP settings, you can generally do with Gmail, but I have known them to block it if you send a massive number of automated emails. Services such as SendGrid are good for SMTP too, but they have a limited number of emails per month, and if you have an oversensitive PIR it can trigger a lot of emails.
Performance
I decided to try and use the nylon strap to mount the camera on my fence pointing down my front garden path. The strap is a nice idea, but getting a firm fitting is not easy or even possible. I was hoping I couldn't mount it around a vertical post but it was far too loose, I ended up having it stand up on a wooden beam and use the strap to keep it roughly in place. The strap would be good if you are mounting it to a shelf or something flat in a garage or somewhere, making sure the camera does not get knocked over and meaning you don't need to mess around with a drill and screws.
In terms of performance it is very similar to the Argus 2, daytime performance appears to be identical, and I find the night time recording to be more than adequate.
I find the motion detection and notifications to be not quite as good as the Arlo or Blink, but I think with enough experimenting you should be able to get the notifications as accurate as possible. Where I live and with my garden, rain and wind moving branches or blowing leaves about are common causes of false triggers. The only camera I have that doesn't give false alerts is the Ring Doorbell as it is horizontally recording so doesn't see the floor, and I have limited its motion zone so it doesn't get triggered by branches.
I have found the Wi-Fi signal to be decent enough for my needs; there are not really many places around my home with a very poor signal. The camera is located outside and across the garden from a router located on the 1st floor, so there is a reasonable distance between them.
Conclusion
My opinion is almost identical to the Reolink Argus 2, if you want a budget easy to install security camera this is an excellent option. It is £20 cheaper than the Argus 2, and I am not sure if the improved night-time performance is worth the extra. If it is located somewhere that is a high risk then, by all means, opt for the more expensive model, but for general monitoring, I think this camera works just fine.
I still think the app for Blink, Arlo and Ring are more user-friendly but all three of these options are much more expensive.
You can buy the Reolink Argus Pro today from Amazon for £96
Reolink Argus Pro product page: https://reolink.com/product/argus-pro/
Reolink battery powered security cameras overview: https://store.reolink.com/battery-security-cameras/
[button link="https://amzn.to/2zpTz2j"] Buy from Amazon[/button]