Following on from my previous post, comparing the MediaTek Helio G88 vs Helio G85 & G80, we have the new Helio G96.
The MediaTek Helio G88 is a largely forgettable chipset, prolonging the life of the existing G85/G80, but the Helio G96 offers some decent upgrades from its own predecessors.
Key Features of MediaTek Helio G96 include: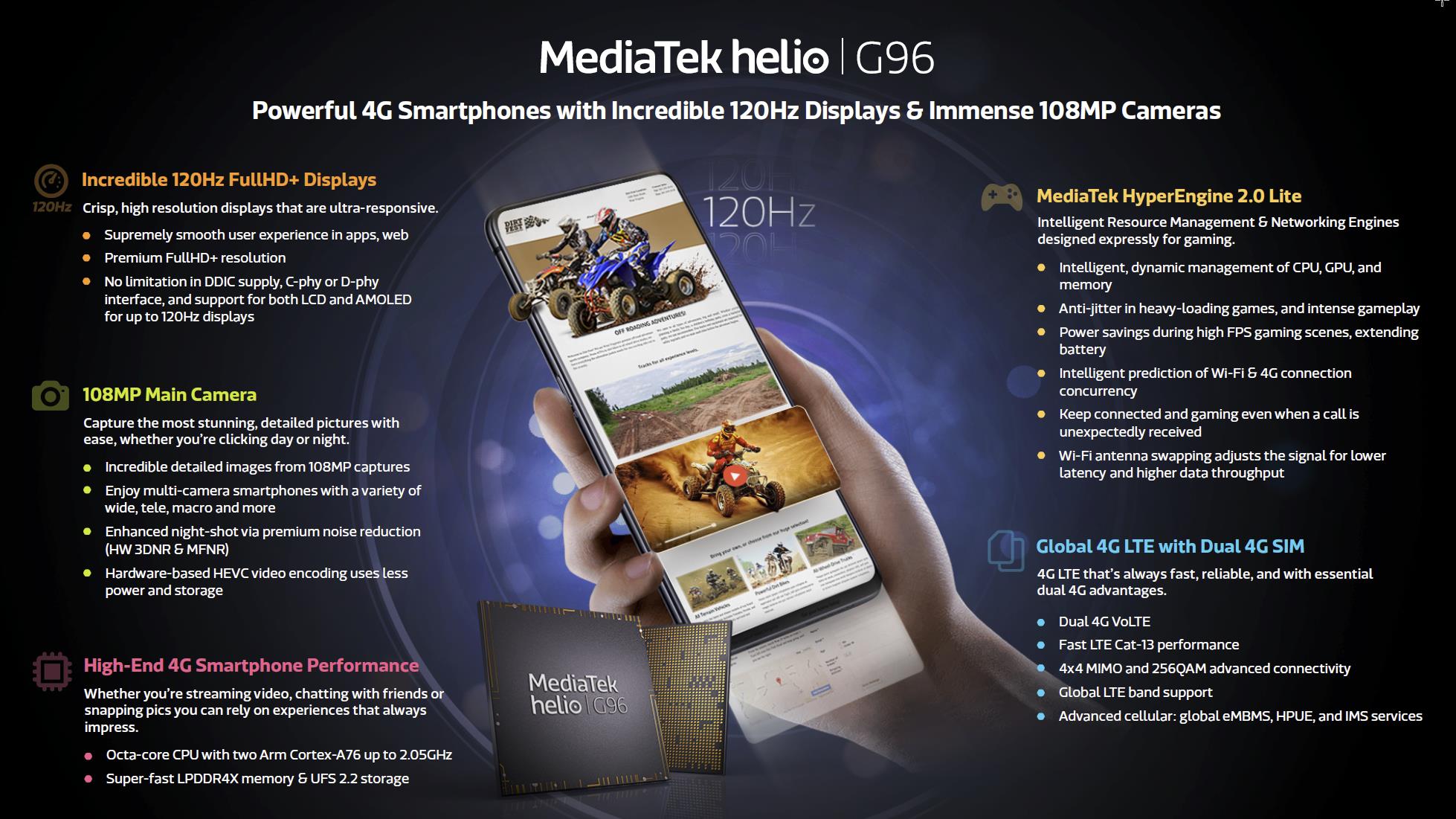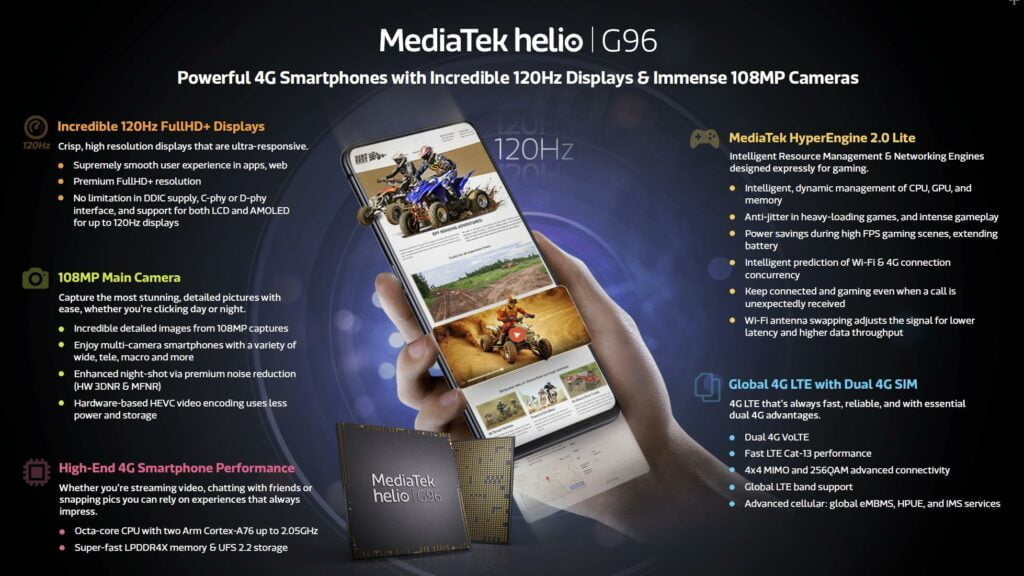 Incredible 120Hz FullHD+ displays
Supersized 108MP main cameras
Fast 4G LTE with Dual 4G SIM
MediaTek HyperEngine 2.0 Lite game technology
High-end 4G smartphone performance
What's the same?
Quite a lot. The fabrication process and CPU specification, memory and Wi-Fi specification are all identical.
What's changed?
The Helio G95 and Helio G90T were effectively the same chipsets, but the Helio G95 bumped up the GPU frequency by 100Mhz to 900 MHz. It is worth remembering that the Helio G90T was launched two years, so it is quite old now, but it was the first chipset that I can remember putting decent pressure on Qualcomm for its performance.
The Mediatek Helio G96 swaps out the older four-core Mali-G76 with a newer dual-core Mali G57. How much difference this offers in performance remains unknown.
The Mali-G76 was launched 3 years ago, so it is a little long in the tooth.
The ARM Mali-G57 was first seen on chipsets like the Kirin 820, which was used on the Huawei P40 Lite. The GPU on the Kirin 820 used 50% more cores/clusters than the Helio G96, but it offered incredible performance with significantly higher GPU scores in Antutu than devices equipped with the Snapdragon 765G.
There have been a few other minor hardware upgrades too. You now get Bluetooth 5.2 vs 5.0. Storage is UFS 2.2 vs UFS 2.1, which gives you a new Write Booster (write accelerator) function. This feature improves the writing speed of the UFS 2.2 over that of its predecessor.
The LTE modem is upgraded from Cat 12 to Cat 13.
Then the camera support has been bumped up to 108 MP for a single camera, and the display resolution can now support 120 Hz @ 1080p+.
Mediatek Helio G96 vs Helio G95 & Helio G90T Specifications
| | | | |
| --- | --- | --- | --- |
| Mediatek | Helio G96 | Helio G95 | Helio G90T |
| Fabrication Process  | 12nm FinFET | 12nm FinFET | 12nm FinFET |
| Big cores | 2x Cortex-A76 @ 2.05 GHz | 2x Cortex-A76 @ 2.05 GHz | 2x Cortex A76 @ 2.05GHz |
| Small cores | 6x Cortex-A55 @ 2.0 Ghz | 6x Cortex-A55 @ 2.0 Ghz | 6x Cortex A55 @ 2.0GHz |
| GPU | Mali G57 MC2 | Mali-G76 MC4 @ 900Mhz | Mali G76 MP4 @ 800MHz |
| Display | 120 Hz @ 1080p+ | 90 Hz @ 1080p+ | 90 Hz @ 1080p+ |
| RAM | LPDDR4X @ 2133 MHz | LPDDR4X @ 2133 MHz | LPDDR4X @ 2133 MHz |
| Storage | UFS 2.2 | UFS 2.1 | UFS 2.1 |
| Max camera resolution | 108 MP | 64 MP | 64MP |
| Video capture | 4K @ 30 fps | 4K @ 30 fps | 4K 30fps |
| LTE modem (downlink) | Cat 13 | Cat 12 | Cat 12 |
| Wi-Fi | Wi-Fi 5 (a/b/g/n/ac) | Wi-Fi 5 (a/b/g/n/ac) | Wi-Fi 5 (a/b/g/n/ac) |
| Bluetooth | Bluetooth 5.2 | Bluetooth 5.0 | Bluetooth 5.0 |