As a movie aficionado, I always pick up DVDs as the souvenirs when I travel around the world. However, I do have some headaches when I play them with my DVD player. Since I live in the USA, the DVDs purchased in the UK, Japan, HongKong and other regions cannot be played successfully. This problem is caused by the DVD region code protection, which disables people watch DVDs in different regions. I don't get the point of this DVD code variations but I must face the reality. So, is there a way to play DVD without decoding the DVDs?
Luckily, the answer is YES! Currently, the best solution is to digitalize my DVD discs to videos. This not only bypasses the process of DVD decoding, but also helps to create DVD backups to avoid potential DVD damage, scratches and rot. There is lots of software that claims to have the capability to rip DVD to video. Among all the candidates, WinX DVD Ripper Platinum is the best one that I'd like to recommend. I've tried several Windows DVD ripper before making a conclusion. In my opinion, an excellent DVD ripper should perform well in DVD processing/decoding and produces videos that have the same quality as the original DVD. WinX DVD Ripper Platinum satisfies my requirements pretty well.
As I mentioned above, I have tons of DVD collections including the 1990s Hollywood DVD movies,  workout DVDs and the newly released Disney for my boys. WinX DVD Ripper handles all of them very well. Thanks to its DVD analysis kernel & title check mechanism, it rips all types of DVD disks effortlessly. My DVD collections were produced in different countries and encrypted by their regions codes. WinX DVD Ripper Platinum bypasses all of them during the process of DVD ripping. What's better, for those DVD movies which are encrypted by CSS and other DVD protections, WinX working as a free DVD decrypter  to decode them in a very quick way, making it possible to digitalize the commercial DVDs to videos.
The second merits of WinX is the lossless output video quality. You'll never encounter the dilemma of getting an SD video from the HD DVD. The maker of WinX takes advantage of the high-quality engine & deinterlacing tech to guarantee 98% original DVD video quality reserved.
If you are not a tech geek and donnot have enough knowledge of DVD ripping, just turn to WinX DVD Ripper Platinum for help. In most cases, the ripped DVD movies will be played on our iPad, iPhone, Android, computer and TV, which are all preset in WinX profiles. Of course, if you prefer to choose the output video format by yourself, WinX can also helps to rip DVD to MP4, MKV, MOV, FLV, AVI, MP3 and many many more video/audio formats.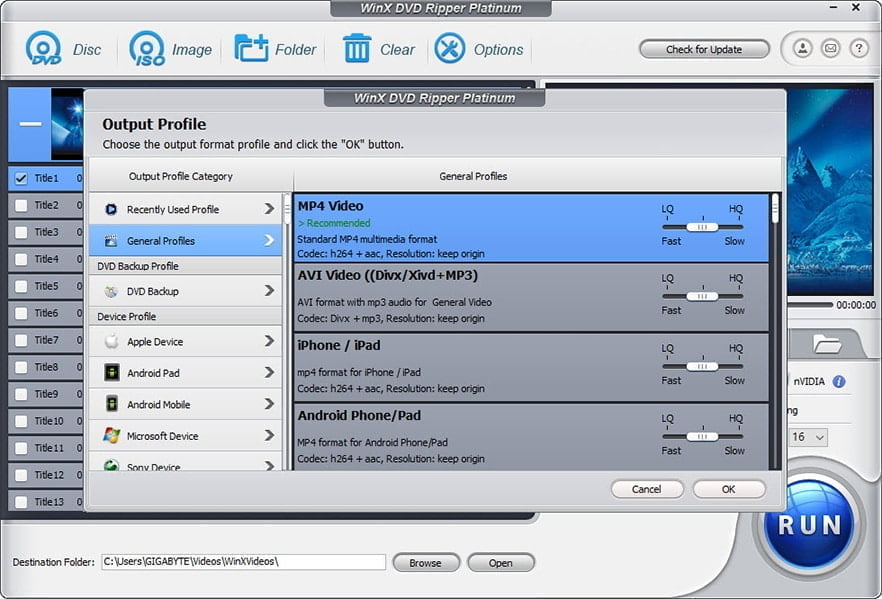 The last but best highlight of WinX DVD Ripper Platinum is the lightning speed. Ripping DVD is a very time-consuming task if the DVD ripper is not powerful enough. Some guys even spent five hours ripping a two-hour long DVD movie. The developer of WinX creates the unique Level-3 Hardware Acceleration tech to boost the DVD processing speed. Can you believe that it only takes five minutes (the time of drinking up a cup of coffee) to finish ripping a whole DVD disk? I have no idea of how this miracle happen but it saves lots of time for me to digitalizing my hundreds of DVD disks.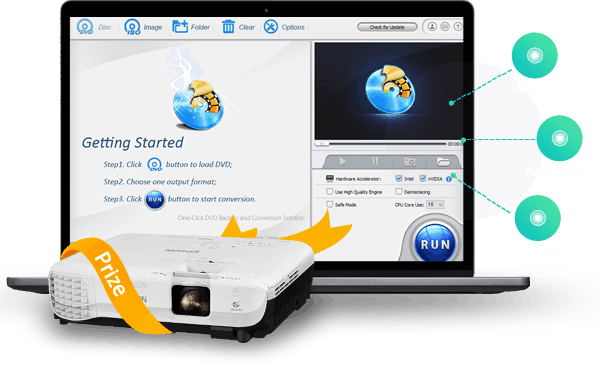 I guess that you just can't wait to rip DVD with WinX DVD Ripper Platinum now. But the good thing always has a price. It is not free. This may be the only drawback. Don't be discouraged, you now have a chance to get this $67.95 value DVD ripper for FREE ! Click here to enter the time-limited giveaway campaign held by its developer, all participants can get a copy of the latest version at no cost. Better yet, the participants have a chance to win a projector with which you can watch DVD movies on a large screen.
---