EPOS GTW 270 Hybrid Wireless earbuds Review Rating
Summary
The EPOS GTW 270 are decent-sounding earphones and one of the few options on the market that support aptX LL. The pre-paired dongle makes these a great option for anyone looking for low latency audio for mobile, PC and consoles.
Pros
aptX LL support
Pre-paired dongle with support for PC, mobile and consoles
Good quality sound 
Cons
Some gamers may find this a little too bass-forward 
Launched at the end of January, the EPOS GTW 270 wireless earbuds are the first in-ear option from the gaming orientated audio brand.
What differentiates these from regular TWS earbuds is that they feature the aptX LL codec reducing the latency from 170 – 270 ms found on typical SBC Bluetooth connections down to 40 ms.
aptX LL is about the best low latency option there is at the moment. LLAC/LHDC LL is the main alternative. It is based on the high definition wireless audio technology from LHDC, but designed for low latency and features an auto-detect gaming mode. Savitech claims LLAC has end-to-end latency of around 30ms.
Specification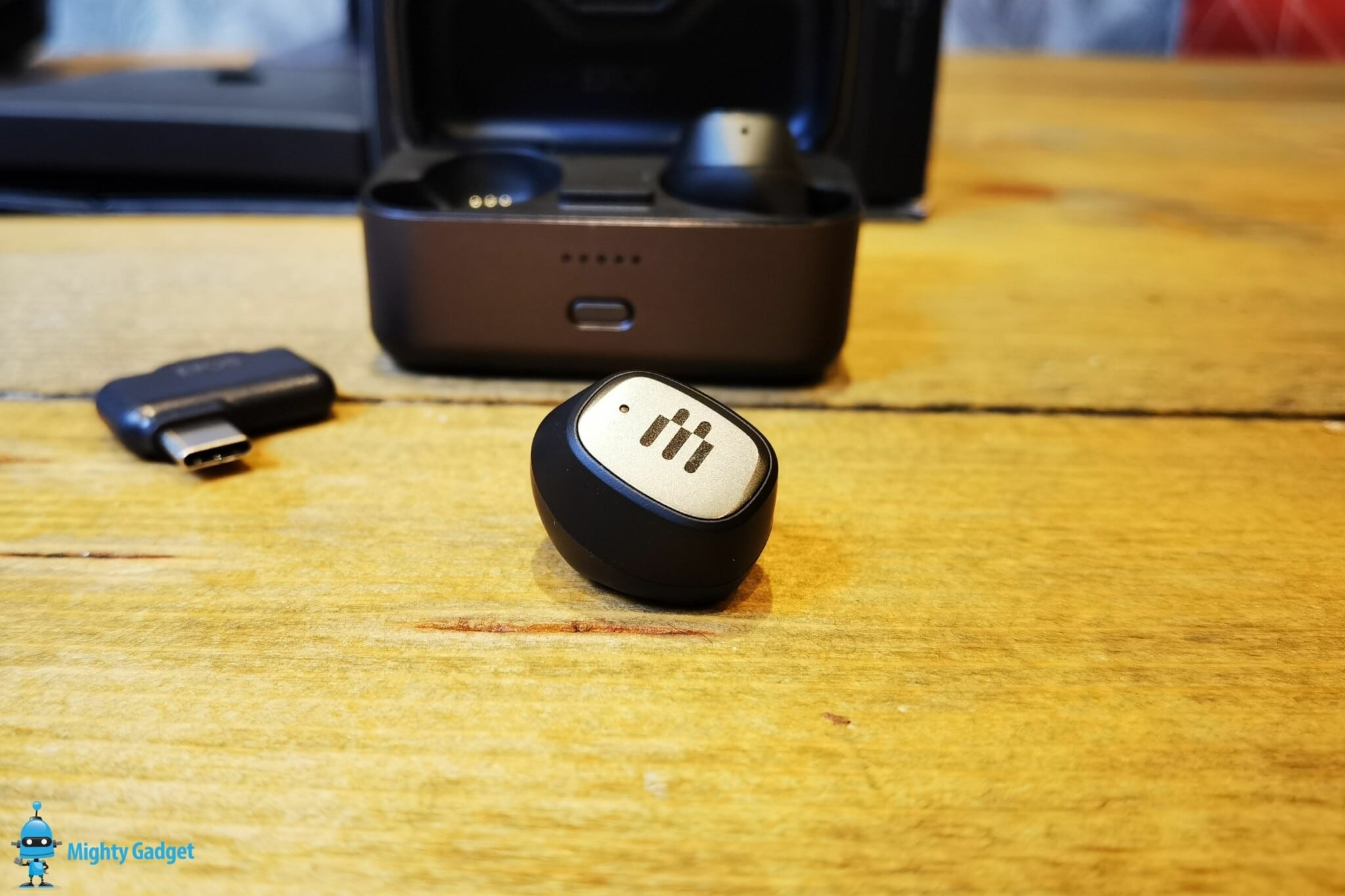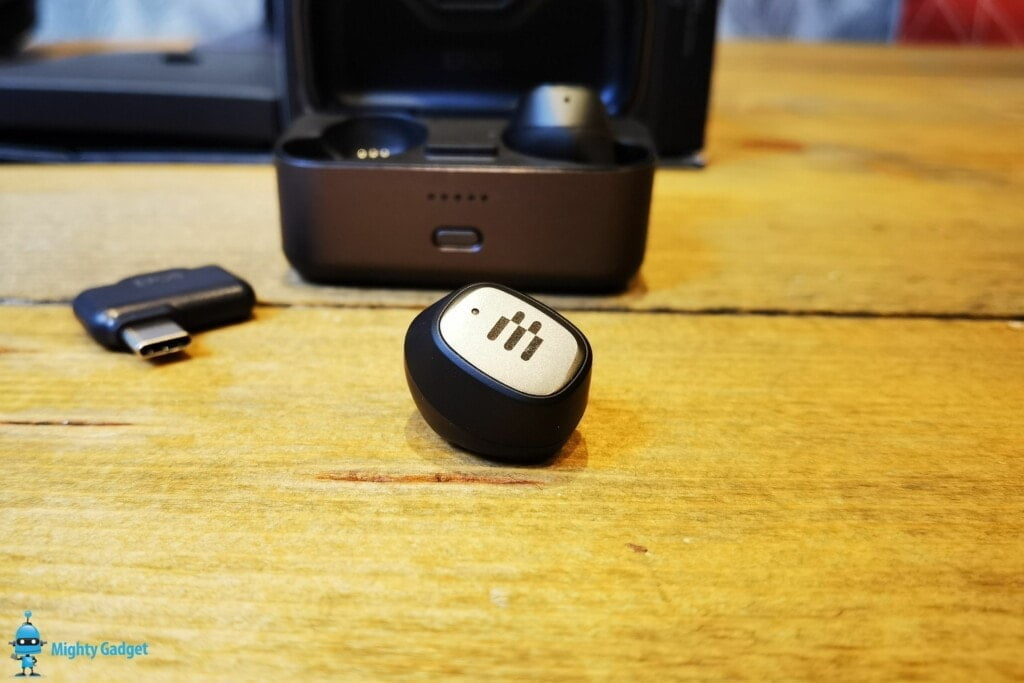 Connectivity – Low-latency and Bluetooth 5.1
Frequency response – 20-20,000 Hz
Battery – 5 hours per charge – 20 total with case
IP Rating – IPX 5 water resistance
Included: aptX low latency USB-C dongle + USB-C to USB-A extension cable
2 year warranty
Compatible Devices
PC
Phone (via Bluetooth or Dongle)
PS4 / PS5 – EPOS seem confused about PS5 compatibility, some parts of the site say it does have it, others make no mention. I am led to believe it works without a problem though
Nintendo Switch
Set-Up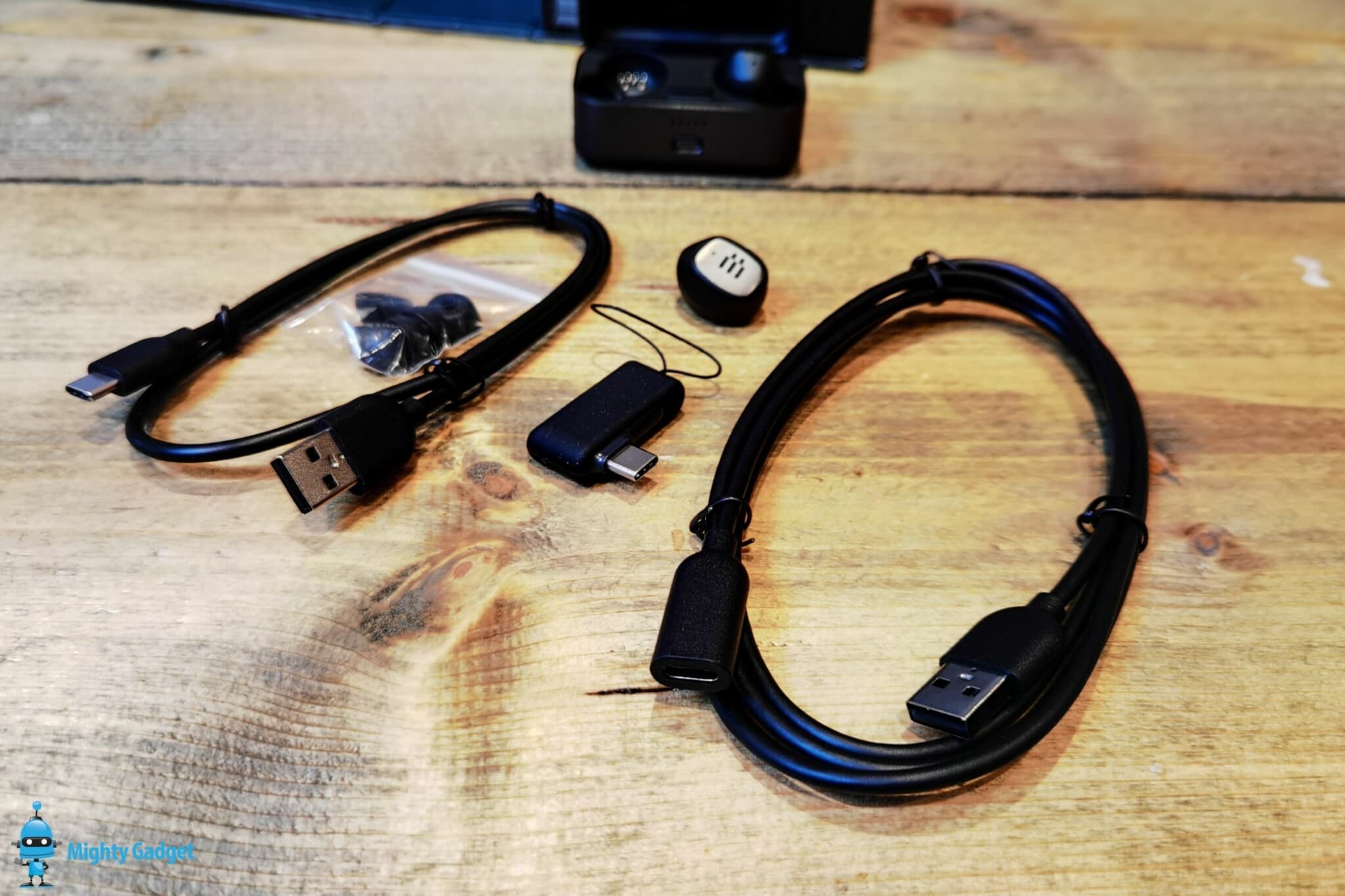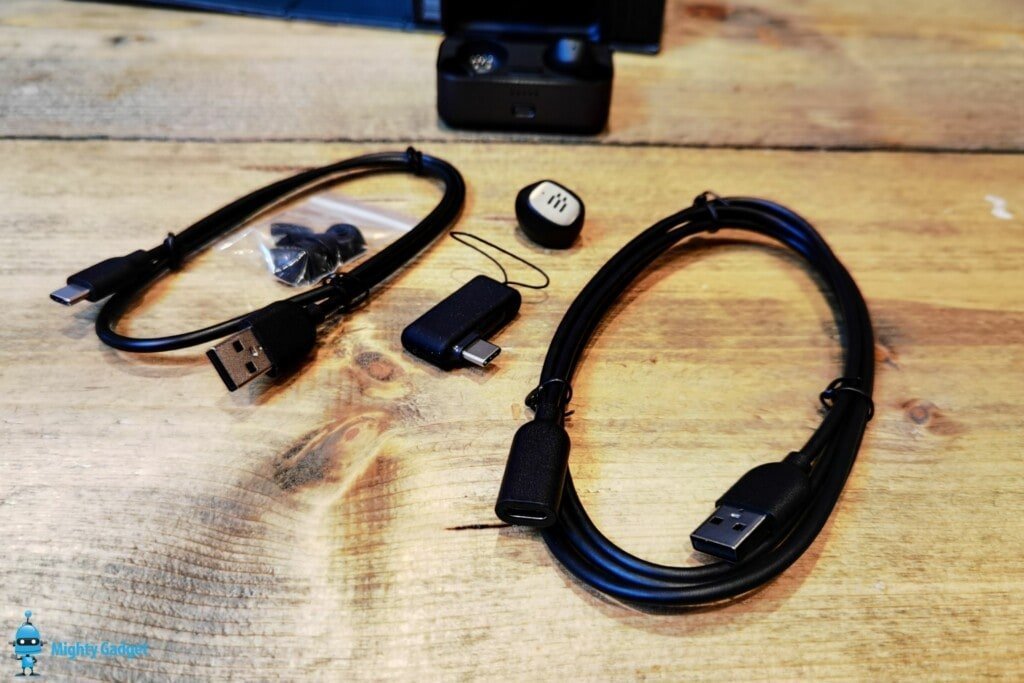 One of the best things about these is that they are pre-paired to the USB dongle. Plug the dongle in, take out the earphones and away you go. No drivers, no pairing, nothing to be done.
The USB dongle comes with a little rubber keyring case allowing you to carry it around easily. However, the charging case is physically quite large, I feel like EPOS missed a trick by now having the dongle mount inside the case.
For Android, at least, the dongle will work on that too, allowing you to gain the benefits of aptX LL on phones that don't support it (which is most of them).
Within the packaging is a male-USB-A-to-female-USB-C extension cable allowing you to plug this into things that don't have a USB-C port, such as a PS4.
It is worth noting that when using the dongle, the microphone won't work. This is because the low data rate of aptX LL does not support audio input.
Pairing them up the old-fashioned way turned out to be a little more confusing. They don't enter into an auto-pairing mode when you take them out of the case, nor does pressing the button on the left earphone. Pressing the button on the case didn't immediately work either, you have to hold it down for 3 seconds. Not exactly difficult, but when I pair so many Bluetooth earphones, it confused me for a couple of minutes.
EPOS Gaming Suite
When plugged into the PC, you can then use the EPOS Gaming Suite. This will allow you to update the firmware of both the earphones and the dongle. You can then take advantage of the various audio enhancements the software offers. This includes the ability to switch to 7.1 virtual surrounds or tweak the equaliser to your preference.
Fit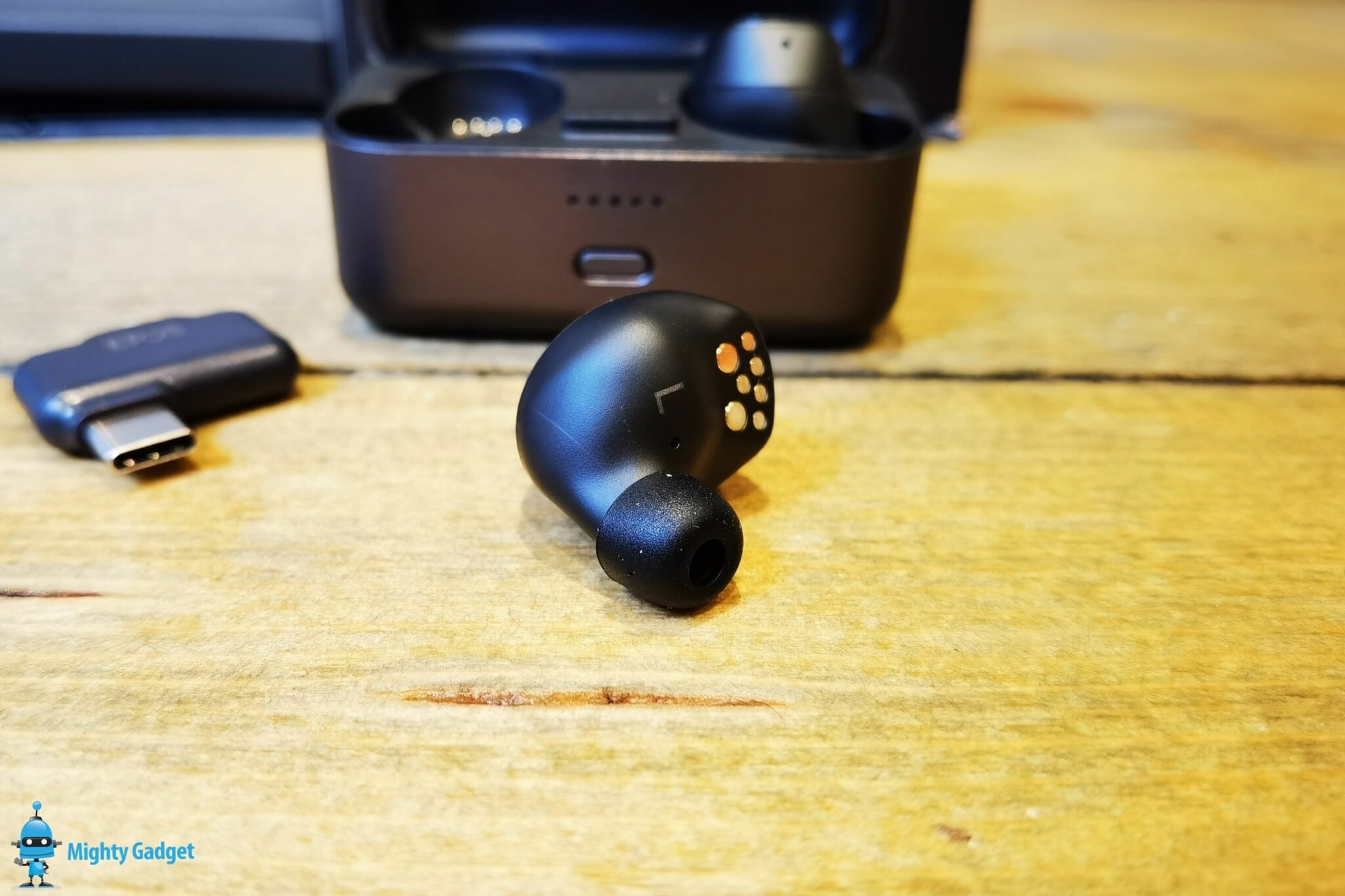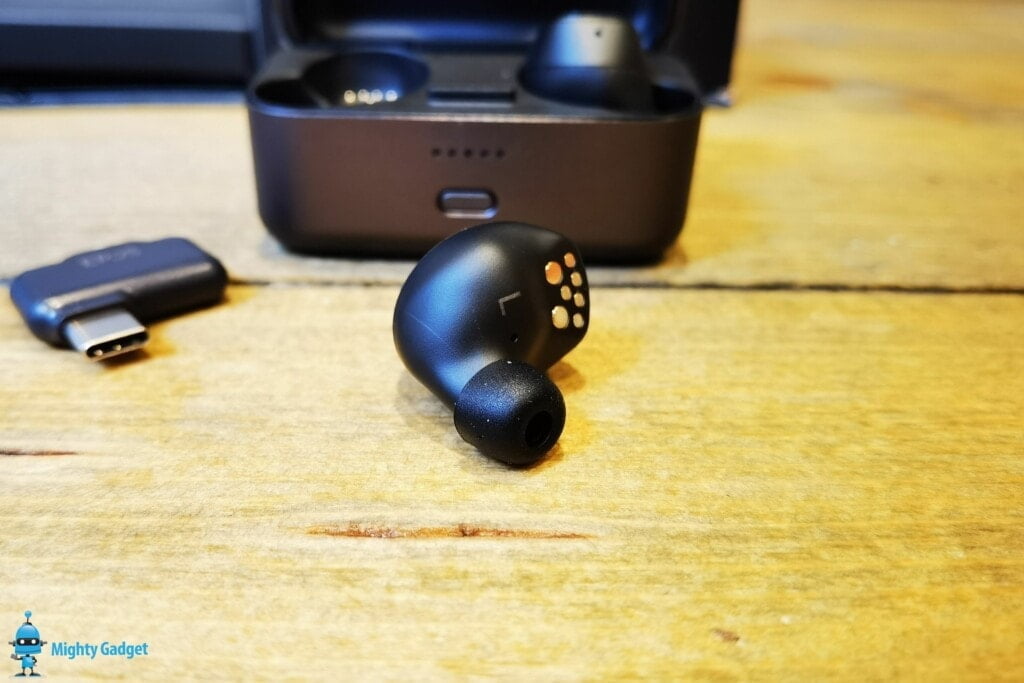 As always, with earphones, getting a tight seal and secure fit is essential. These fit me well; using the largest tips, I get a tight seal with no risk of the earphones falling out. The earphones themselves are medium to large in size but fit in snugly within the concha of my ear. I personally prefer this design and fit to stems design found on many other options, as I am less likely to catch them.
Due to the comfortable fit of these and IPX5 rating, I have found they work quite well with exercise. Not exactly the target market, but it is worth considering.
Performance
Sound quality
Having recently reviewed the Final Audio VR3000 Gaming Earphones, these provide a different approach to gaming audio. The Final was tuned to offer a more flat sound profile allowing gamers to experience in-game sounds without the finer details being drowned out by bass.
The GTW 270 offer a more mainstream tuning with a relatively deep level of bass. The gaming features of these is the low latency provided by the aptX LL.
Audiophiles and competitive gamers may prefer the way the VR3000 does things, but I think most people will prefer the sound that is on offer here.
Mids and highs are represented well with decent clarity, something that's obviously good for music but will be important for gaming too.
Sound stage is about as good as you can have with closed-back in-ear headphones, but this can be dramatically improved if using the PC with 7.1 virtual surrounds.
On the PC, switching the EQ to music, emphasises the bass, even more, making these incredibly bass-forward but managing it well with no obvious distortion or overwhelming the other frequencies too much.
The PC also has an esports option, so you can then dial down the bass and significantly increase the treble.
aptX LL performance
As far as the aptX LL performance goes, it works well. When plugging it into my PC, I regularly suffer from cracking and what sounds like connectivity issues, but this always clears up after a few seconds.
As far as latency goes, this is as good as you will get from wireless earphones, I can't tell the difference between these and wired alternatives, I am sure some people will claim they can.
aptX LL benefits more things than just gaming. Many people get frustrated with lip-sync issues when watching media on Bluetooth headphones, and aptX LL is the best solution to this.
Battery Life
Battery life is OK; these are rated at 5 hours with 3 full charges from the case giving 20 hours in total. In the past year or so, TWS battery performance has improved considerably, so while 4-5 hours used to be standard, we are starting to see a lot of earphones claim to double this.
Price and Alternatives
These are priced at £179 and are available from Amazon now. The none-dongle model is £149, so you pay £30 for the pre-paired dongle.
The Creative BT-W3 is technically a superior aptX LL dongle price at basically the same as the dongle price you pay here. With that, you have the option of aptX LL and aptX HD, and it comes with a little 3.5mm microphone. I liked it, but online reviews are mixed, with some people complaining about compatibility issues and regularly having to repair it.
Creative also have the Creative Aurvana Trio Wireless earphones, which are aptX HD and aptX LL triple driver earphones which I thought were superb and are a bargain at £73. However, they use a neckband design that has fallen out of fashion.
There are then just two other TWS options that offer aptX LL
Optoma NuForce BE Free8 priced at around £70, which has some mixed reviews.
Then the Sennheiser MOMENTUM true wireless. This is only on the original MOMENTUM, not the newer MOMENTUM 2 model with ANC.
Sennheiser and EPOS used to be in partnership together, and the EPOS GTW 270 don't look that much different to them. They cost the same at £149.95 (not including a dongle), but the EPOS have better battery life and IP rating.
Overall
As earphones, the EPOS GTW 270 are good; they are comfortable to wear and have a great sound quality with a mainstream sound profile. The IPX5 rating makes these work well both for gaming but out and about in the rain or when exercising. Battery life could be better, but it is certainly not bad.
From my limited product knowledge, the EPOS GTW 270 looks to be the best option for aptX LL TWS earbuds on the market. This may seem like a niche market, but anyone that plays games or regularly watching TV or movies while wearing TWS earbuds should consider these.