I am sure many lucky people received one of the latest next-gen consoles for Christmas, though not me.
These new consoles make lots of big promises with the Sony being able to go up to 8K 60fps or 4K 120fps. Both consoles also feature advanced audio formats with Dolby Atmos on the Xbox or the proprietory 3D audio from Sony.
So you already have a fancy console, now you may wake sure the rest of your set up can handle all the features it offers.
Soundbars are always the most convenient and popular option, and I will always recommend upgrading your audio from the terrible built-in speakers on every TV.
So what are the best options that support the new advanced surround sound audio formats on these consoles?
Best Soundbars for the PS5 and Xbox Series X
I have provided more information on the specs that the consoles use and the things to look out for a bit further down.
In brief, ideally, whatever you buy will support Dolby Atmos and use HDMI 2.1. If the console is plugged into the TV and you run an HDMI cable back to the soundbar then both the TV and Soundbar need to support eArc (which is a feature implemented in HDMI 2.1).
Also note, there seems to be a disproportionate number of Sony options on the list. I genuinely tried to find other brands, but often they don't support eArc. For example, the LG Sound Bar SN7Y ticks most of the boxes you need including Dolby Atmos & DTS:X and the spec does state HDMI 2.1, but they only say Arc for audio, so it missed the list.
Sound: Dolby Digital 5.1, Dolby Atmos, Dolby True HD, Dolby Digital Plus
Connectivity: 1 x HDMI eARC, 1 x optical digital, Wi-Fi, Ethernet
Not cheap, but not expensive. The Sonos Arc is possibly the best all-round soundbar at the moment, providing you multi-room audio, and a modular system allowing you to add in surround sound speakers and a subwoofer.
Sale
Sound: Dolby Atmos, DTS:X
Connectivity: 1 x HDMI (eARC), 1 x HDMI input, Bluetooth
While some people(me) criticise the effectiveness of soundbars for their ability to create surround sound, at £300, a soundbar is always going to be the best upgrade you have.
The Sony HT-G700 ticks all the boxes, eArc, Dolby Atmos and you have a dedicated subwoofer to provide you with some rumbling lows during gameplay or movies.
Sound: Dolby Atmos, DTS:X
Connectivity: : 3x HDMI In, 1x HDMI Out (eARC), Wi-Fi, Bluetooth, Ethernet
I have some mixed feeling about the Sennheiser Ambeo Soundbar. On the one hand, it's the best soundbar on the market if money is no object. On the other, if you have over £2K to spend, you should really opt for a decent surround sound system with a receiver.
However, I appreciate that some people are strongly opposed to lots of speakers and wired (including my partner), so for them, this is the best you can get.
Sound: Dolby Digital 5.1, Dolby Atmos, Dolby True HD, Dolby Digital Plus
Connectivity: 1 x HDMI eARC, 1 x optical digital, Wi-Fi, Ethernet
A good upper mid-range option cheaper than the Ambeo, and offering the benefit of a subwoofer vs the Sonos, I feel like if you have this cash to spend, you'd be better with a 5.1 system. However, this features 7.1.2 Dolby Atmos, you get a dedicated subwoofer which will be excellent for movies and gaming. Surround sound is virtual and created by firing the audio at the ceiling and bouncing it back down. It works, but it will never be as good as physical rears.
PS5 Surround Sound -Tempest 3D AudioTech
Sony 360 Reality Audio is a new audio format that uses Sony's object-based spatial audio technology to deliver a full 360-degree audio experience.
The format has been built using the open MPEG-H 3D Audio standard, which itself has been optimised for music streaming. It supports up to 64 speaker channels and allows audio coding to be done in different ways.
Unfortunately, at launch, it is only headphones that support this feature. The technology will adapt to most headphones so there doesn't appear to be much of a restriction on what you can use. So it seems likely the same will apply to soundbars and speakers.
However, for a speaker to offer surround, you ideal want actual surround, sound speakers. Alternatively, you can opt for a soundbar that offers surround sound features. The quality of the surround sound from a soundbar varies a lot. Ideally, you will opt for something with physical rear speakers and also a subwoofer.
Xbox Series X Surround Sound – Dolby Atmos
The Xbox series X keeps things more simple with 5.1 or 7.1 speaker configurations and Dolby Atmos support.
Use HDMI 2.1 & eArc for the best audio quality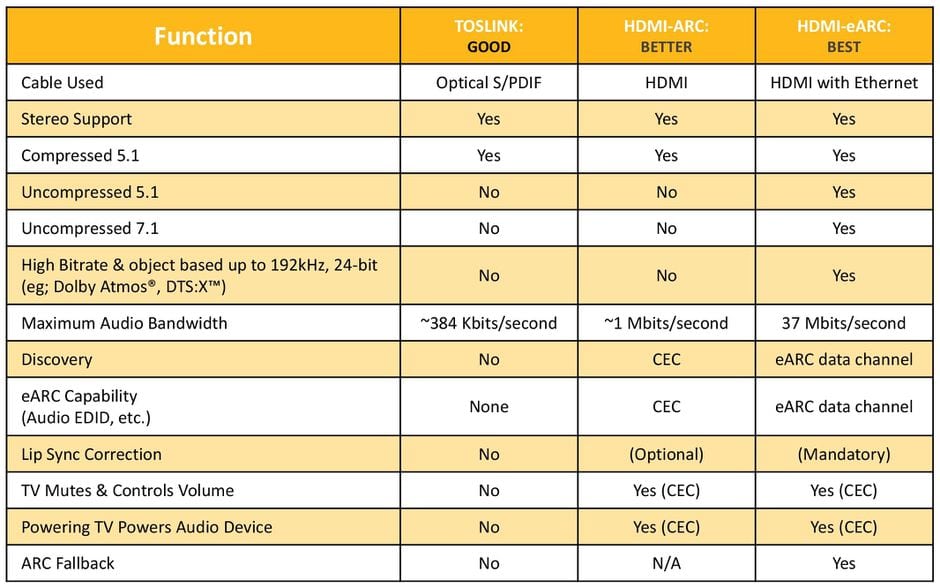 Both the Xbox and PS5 use the latest HDMI 2.1 port, this allows the consoles to transfer much more data at once to the TV/Soundbar/Reciever. In theory, it will allow the PS5 to output in 8K at 60fps and support games in 4K running at 60 or 120fps.
It will also allow you to output the audio uncompressed to your sound system.
If you have the PS5/Xbox plugged into the TV directly and the soundbar plugged in via HDMI using Arc, then you will want a TV & soundbar that support eArc. This, again, allows the speaker to receive the best possible audio quality that is available.
It is worth noting that eArc is a feature implemented in the most recent HDMI 2.1 specification.
HDMI 2.1 Cables
You have probably read articles before on how the HDMI cable doesn't matter, and people spending hundreds on specialists cables were wasting their money.
Well, that's not totally true anymore. You still don't have to buy expensive cables, but you want to make sure it is compatible with HDMI 2.1.
Last update on 2022-05-16 / Affiliate links / Images from Amazon Product Advertising API