Vilfo VPN Router Review Rating
Summary
The Vilfo VPN router offers a user-friendly solution for people wanting to connect all their devices (or selectively) through a VPN.
Like most OpenVPN routers it suffers from a significant drop in throughput compared to connecting directly from your computer, so it is not the perfect solution.
However, with no superior solution (factoring in usability) this is the best option for anyone wanting to have specific devices or all their devices running through a VPN 100% of the time.
Pros
Superb user-friendly UI
Easier to set up VPNs than any other router I have used
Different devices or groups can use different VPNs 
Cons
WiFi is not much use
Analytics needs to be disabled 
A significant drop in throughput speeds vs Windows/Android app
The Vilfo VPN Router is designed to allow you to take full control of your network, circumvent geo-blocking & browse safely online.
Vilfo is an offshoot from OVPN, started by them, but independent from them. Originally things started with the development of OVPNbox, which was a router based on pfSense.
They later found that pfSense didn't quite suit their needs and migrated away from it. The new OVPNbox software (which is what the Vilfo VPN Router uses) is now based on OpenWrt/LEDE
The Vilfo offers an extremely user-friendly way of managing your network and more specifically, which devices connect to which VPN. You have the option to group devices connecting them all to the same VPN; you can bypass specific devices and the built-in VPN providers will list all the different end point options allowing you to connect to any location in the world.
It is a clever solution; you can easily have your streaming devices located in the US to make the most of US streaming services while keeping your main PC/laptop on a local server for improved speeds but maintaining privacy. I have set this up so that Kodi works with VPN while other devices such as the PS5 and may gaming PC don't, allowing me to keep ping times down. 
Specification
Intel Celeron 3215U processor
WiFi: MT7612E
WAN: 1 x 1000 Mbit/s
LAN: 3 x 1000 Mbit/s
2 GB DDR3 1600 Mhz RAM
8 GB SSD
Wi-Fi
802.11ac (Max 867 Mbit/s)
8 dBi antennas (2T2R)
2.4Ghz or 5Ghz WiFi
I separated the WiFi spec off because it is important to point out that the radio in this is only capable of handling one frequency at a time. The internals of this router are basically a mini PC, so while you have far more functionality and a much more powerful CPU, the WiFi card inside is the Mediatek MT7612U only capable of connecting to one frequency at a time.
I would strongly advise that you don't buy this specifically for its WiFi functionality, unless you have very basic requirements.
You are already forking out $500 for a router, so you may as well buy a mesh system or even just a decent access point (the new Ubiquiti WiFi 6 is just £100).
Set Up & Settings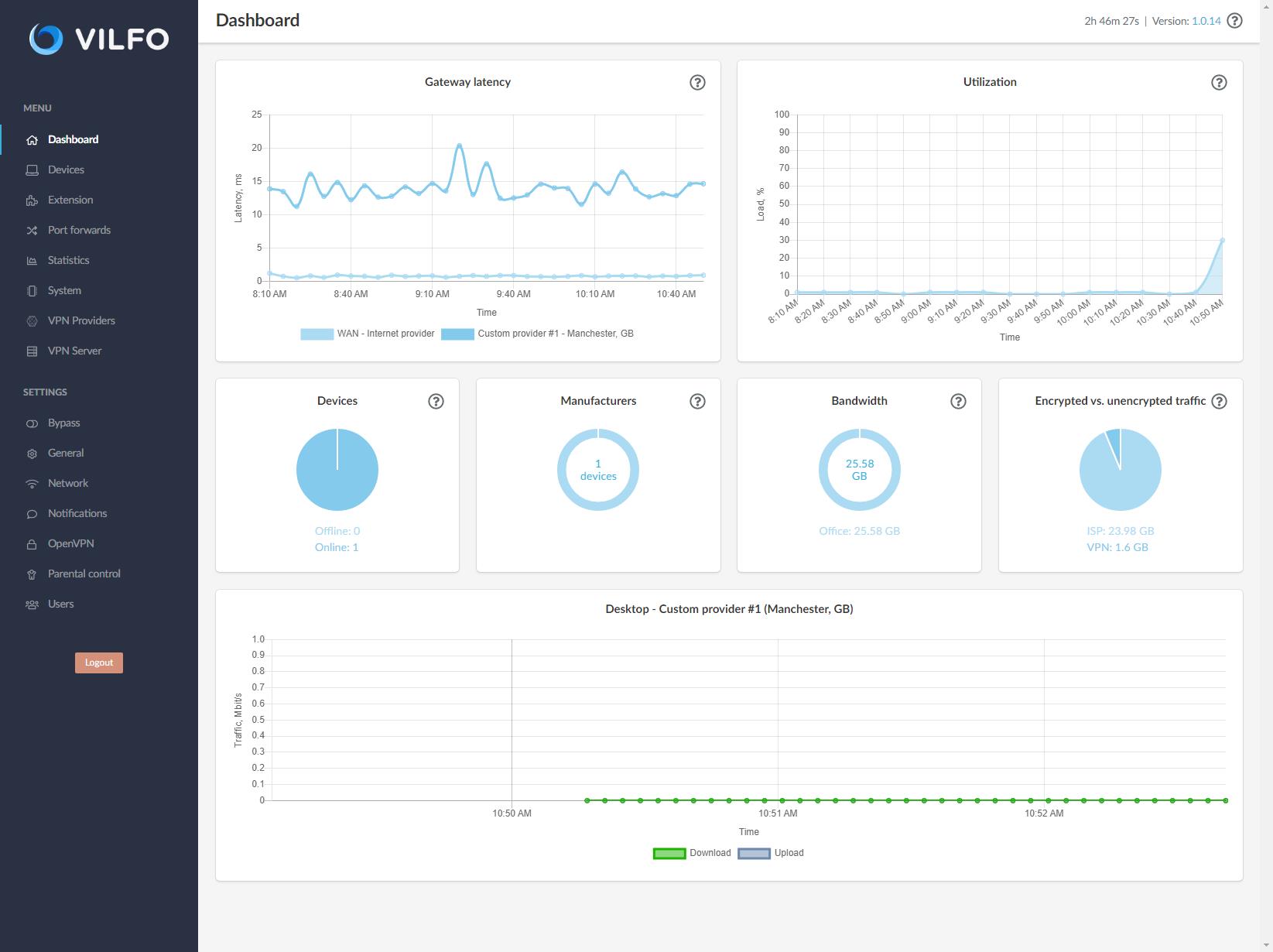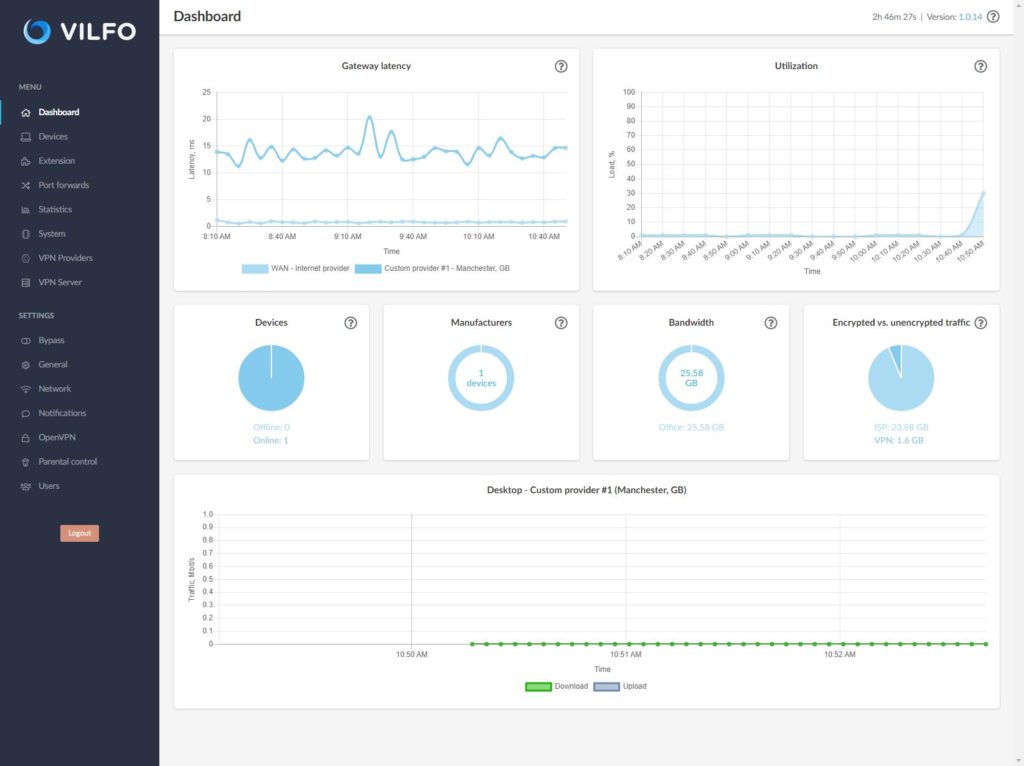 The highlight of this router is the OVPNbox software that it is based on OpenWRT. It is extremely user friendly, possibly easier than most mainstream consumer routers I have used and orders of magnitude easier than setting up pfSense/OPNsense
The initial set up can be done via WiFi or Ethernet. The WiFi is open by default, and the web interface lacks any option for an SSL. It's not a huge issue for me personally, but you definitely need to secure or disable the WiFi.
Intercom & Google Analytics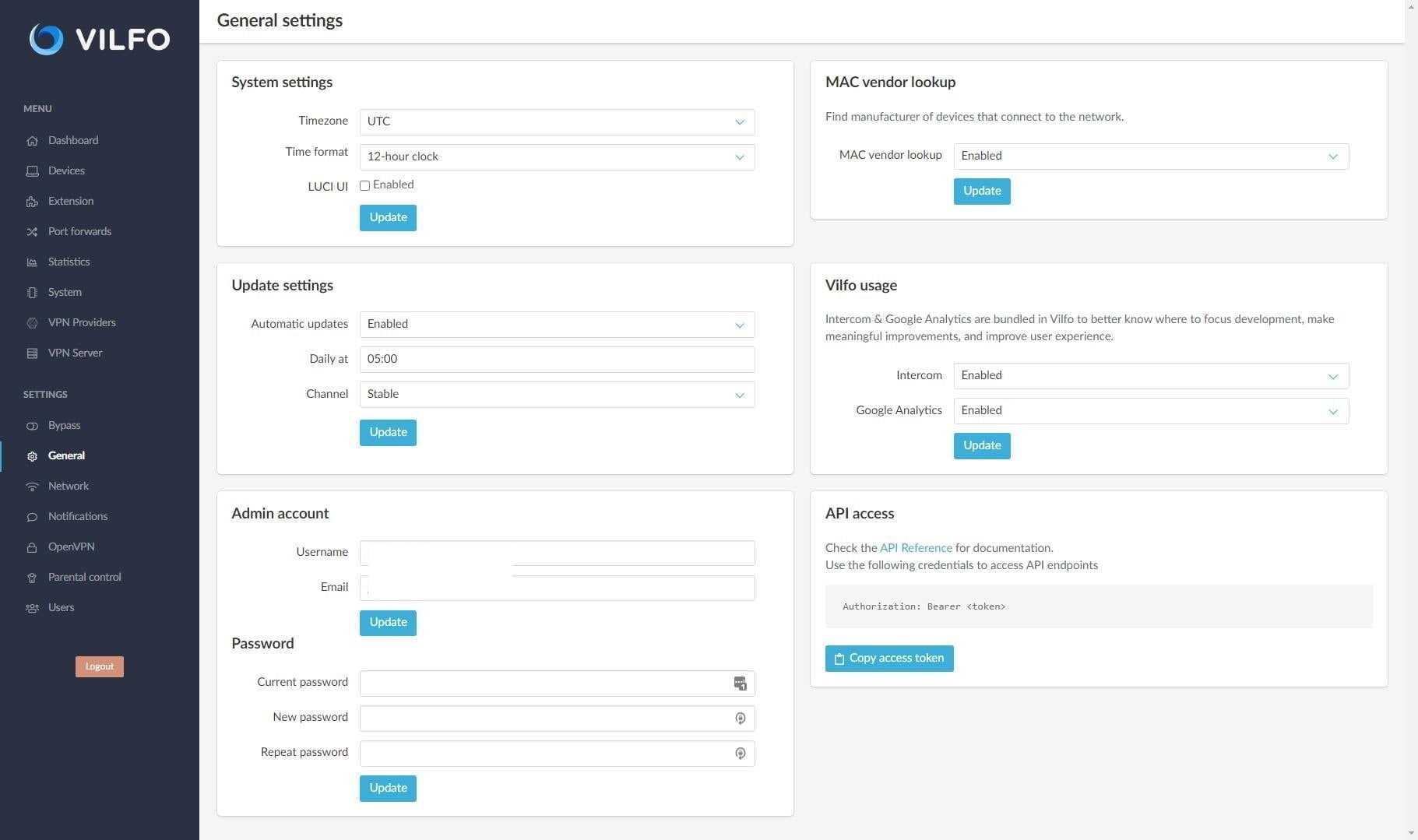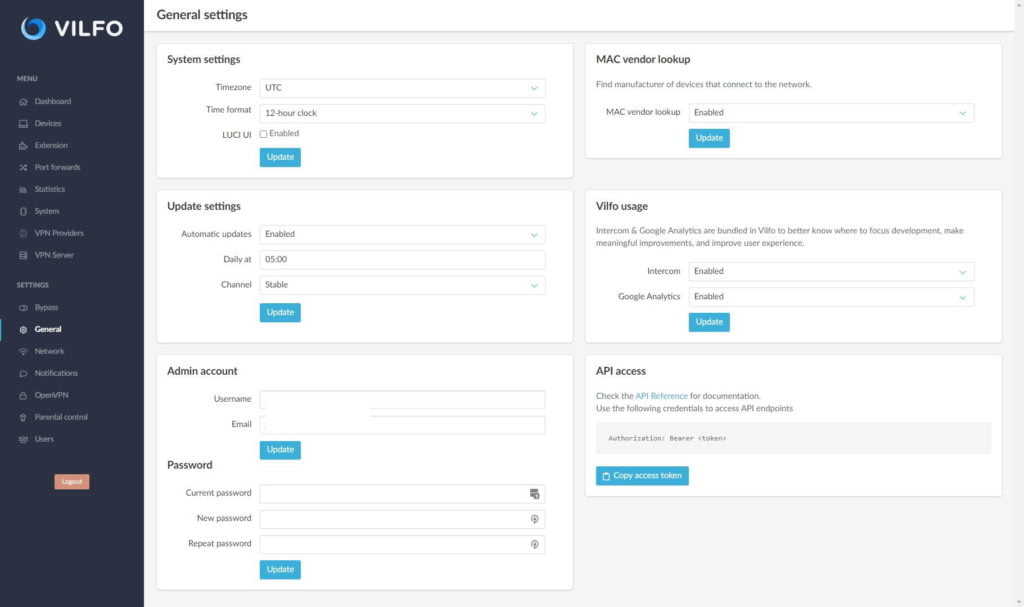 It is worth noting that Vilfo has two forms of analytics built into their router, this is not particularly a rare thing; many devices provide analytical data back to a company (my Netgear Insight cloud-managed devices pingback to Netgear every minute or so).
However, if you are buying a VPN router, I would have thought the privacy benefits are one of the factors that took you down this route.
Intercom is particularly concerning as it passes over the email address of the logged-in user.
So, I would strongly recommend switching Intercom & Google Analytics off in the general settings (you may get asked during the setup but I can't remember now).
Built-in VPN providers and Setting up the VPN(s)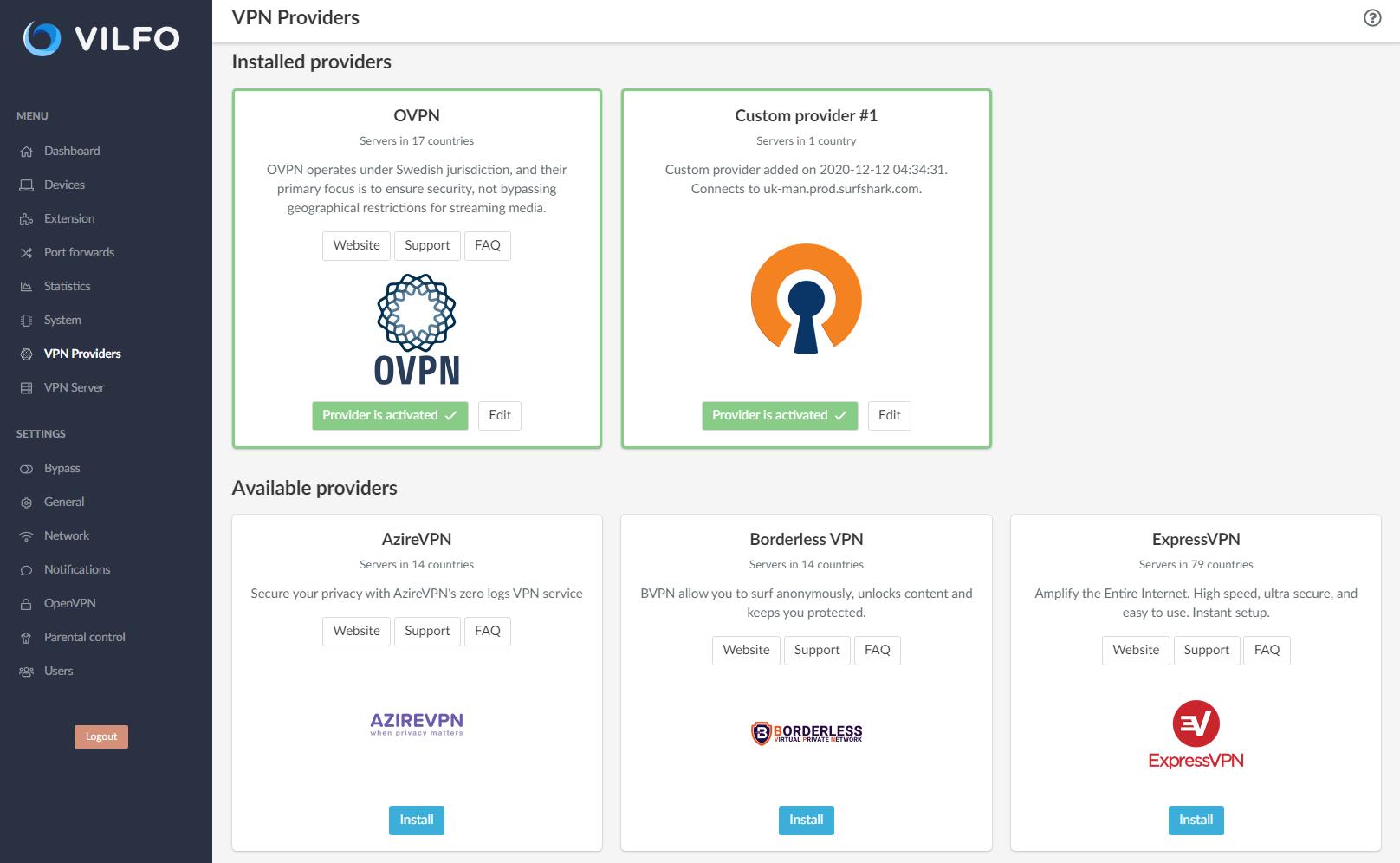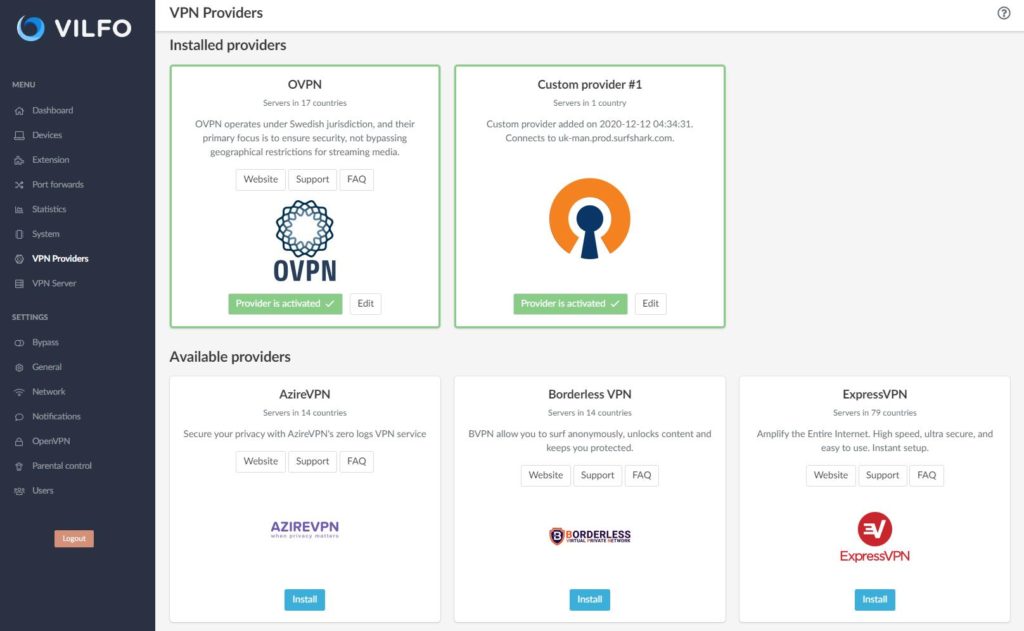 There is an extensive list of VPN providers that are built into this router. Using these reduces set up time, and they will import all the different endpoints automatically for you.
Currently, there is:
AzireVPN, Borderless VPN, ExpressVPN, Flashback VPN, FrootVPN, Hide My Ass!, Hide.me, IbVPN, IPVanish, Ivacy, IVPN, Mullvad, NordVPN, OVPN, Perfect Privacy, Private Internet Access, PrivateVPN, ProtonVPN, PureVPN, SaferVPN, SwitchVPN, VPNArea ,Websecuritas, Windscribe, ZoogVPN.
I was provided with an OVPN account, and all I had to do was provide my username and password, it then pulled in all the country options.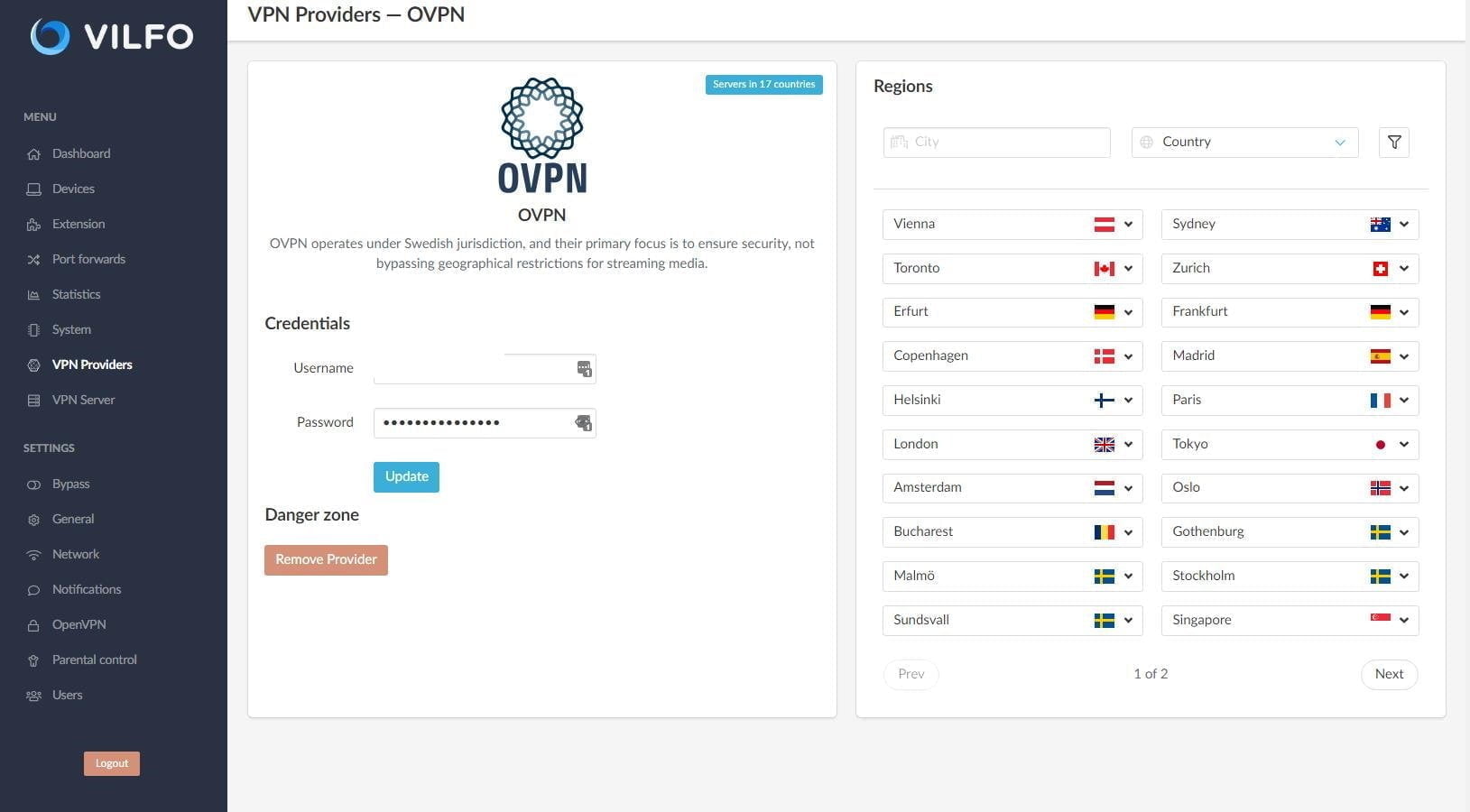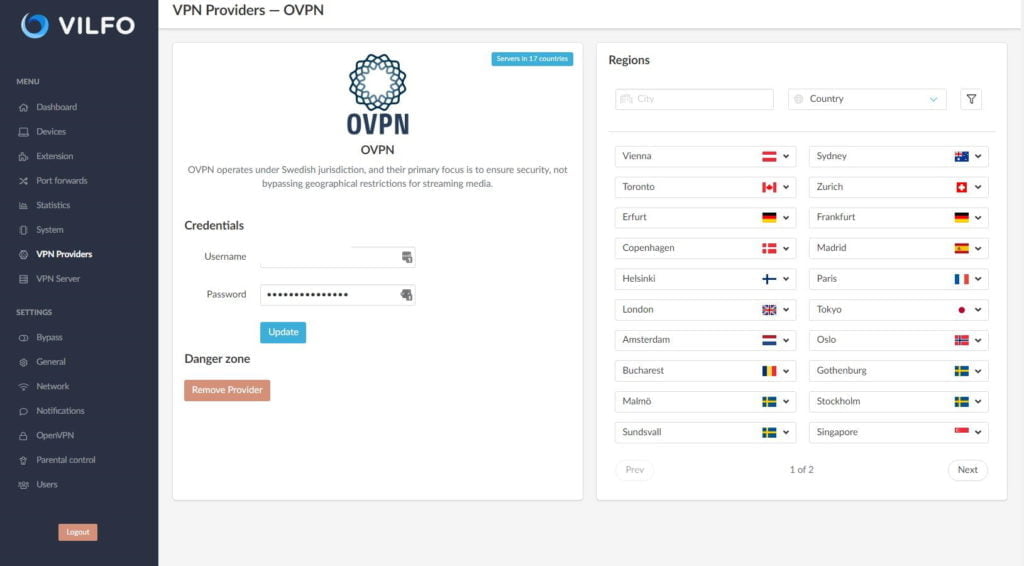 Manual VPN Set up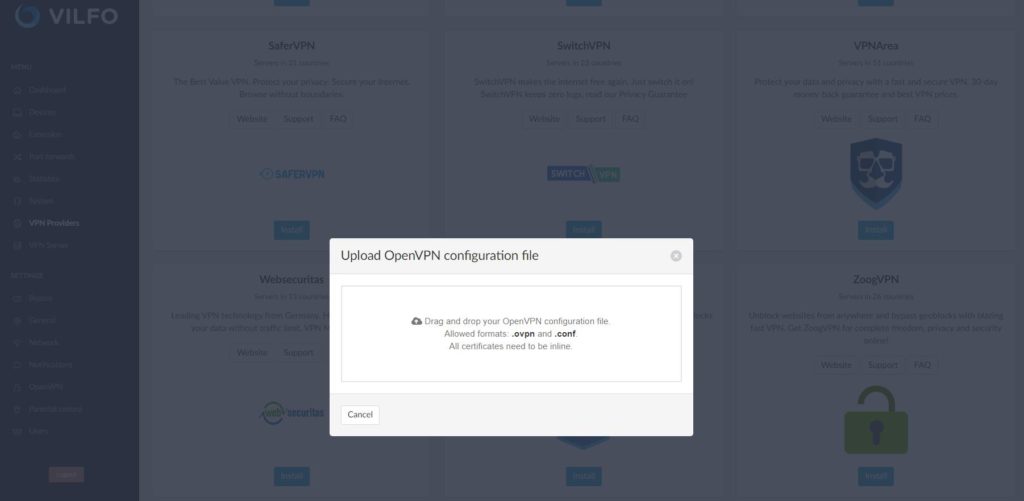 If not of the built-in providers suit your needs, it is quite easy to manually set up a VPN. Though this may vary between providers depending on how easy they make it for you on the VPN end.
I use SurfShark who have lots of options and guides.
Unlike pfSense which requires me to manually type out all the settings and get everything right, with this I dragged and dropped a .ovpn file to set up the VPN, then just provided the API username and password for that server.
Vilfo will accept either ovpn or conf files but there is no option to manually fill out the details.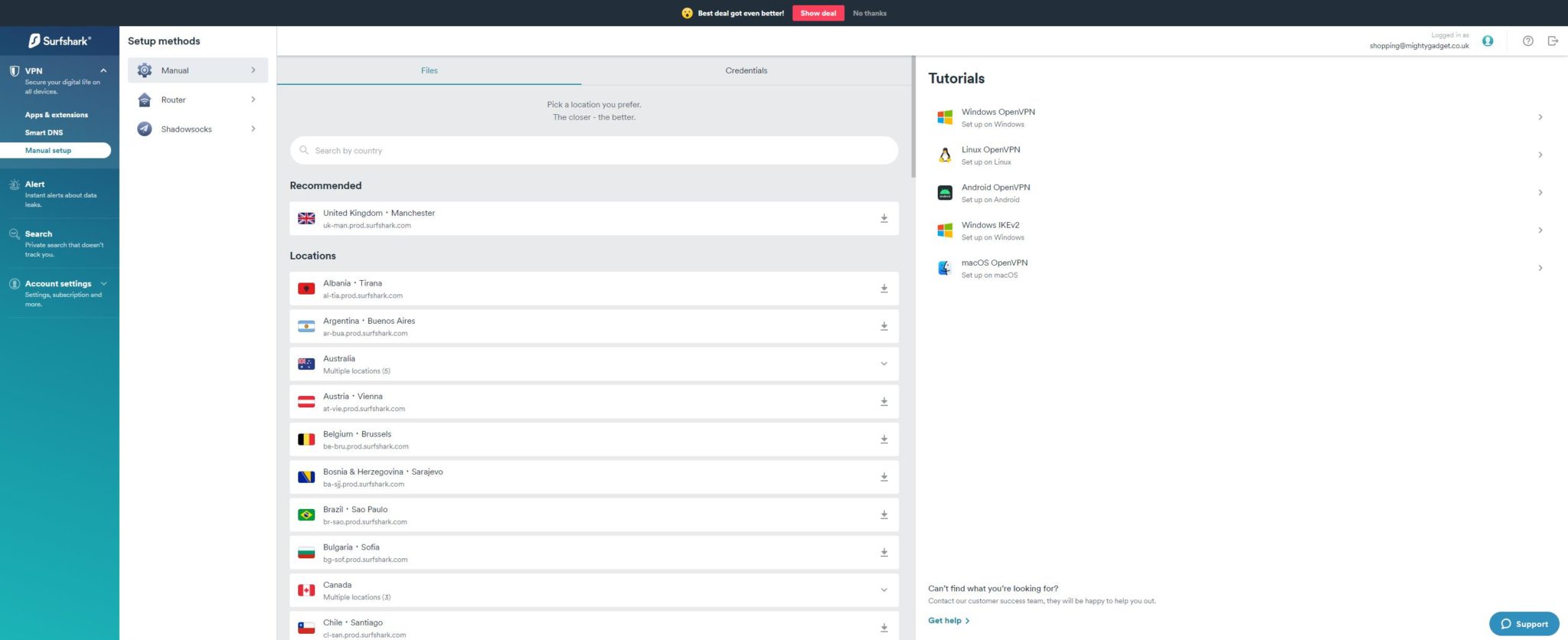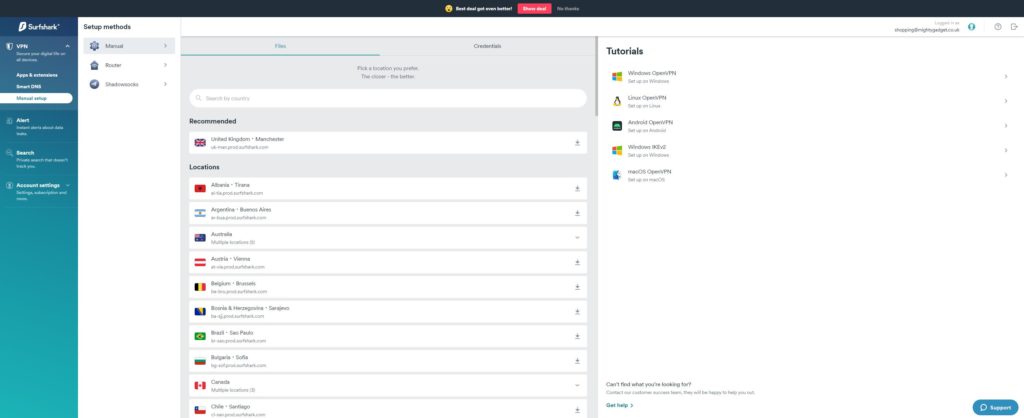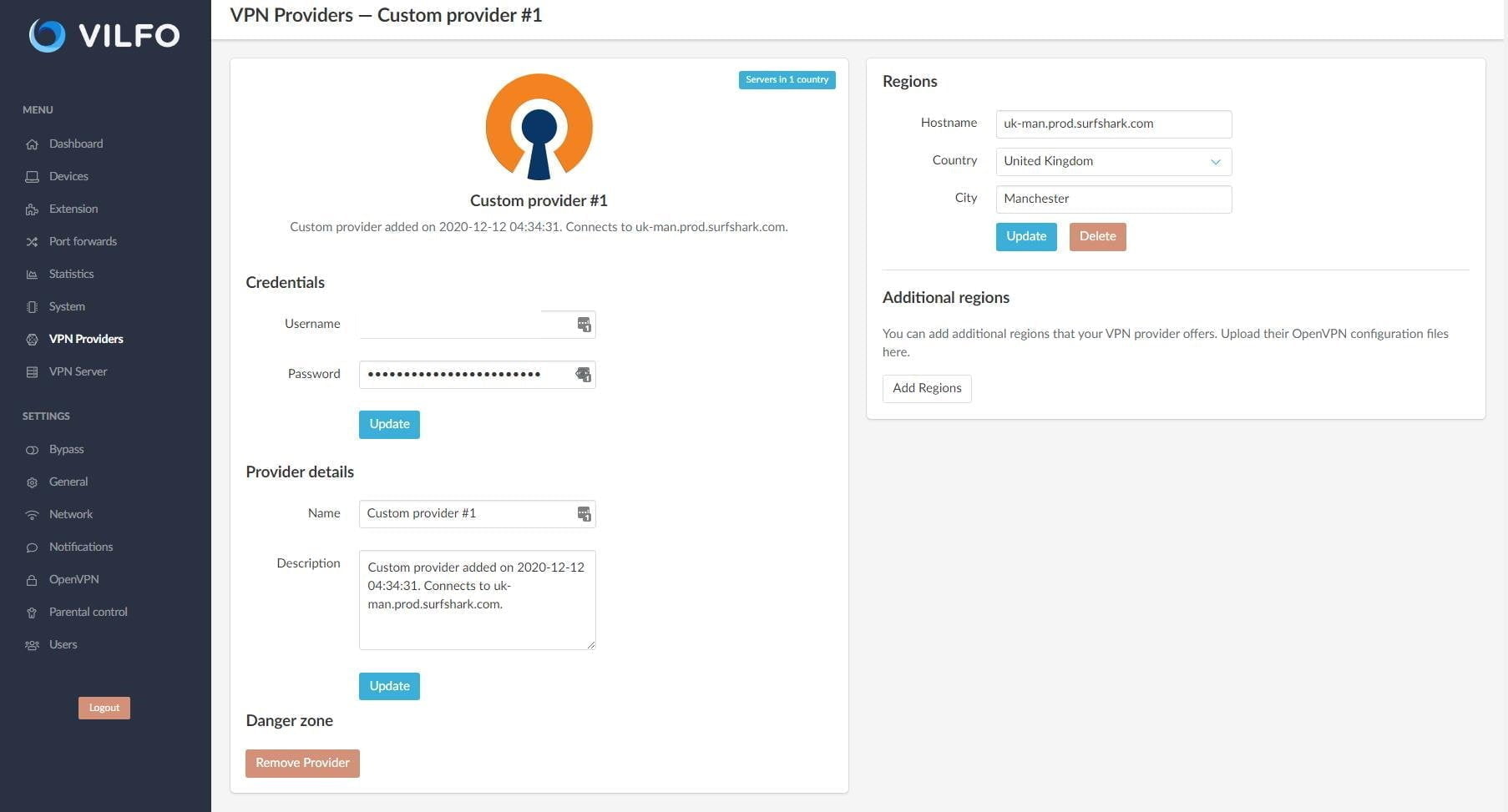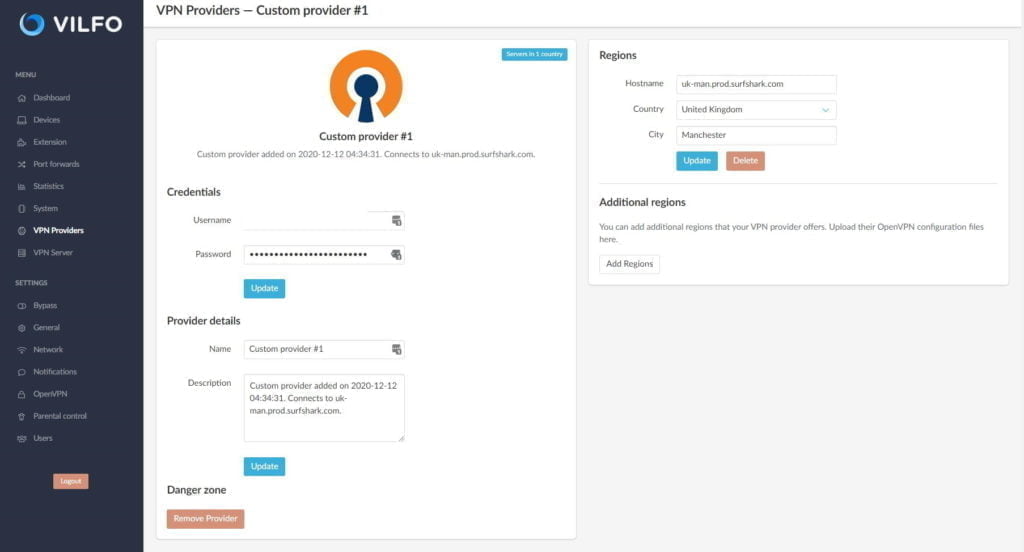 VPN throughput testing
For testing, I used both SurfShark and an OPVPN which Vilfo kindly provided me temporarily.
Vilfo state:
Vilfo has powerful hardware tailor-made to speed up VPN connections. This allows you to stay secure online while still reaching speeds up to 600 Mbit/s fully encrypted.
I have not found this to be the case.
Depending on your internet connection speed and requirements for Internet connectivity, the VPN throughput performance was a little disappointing.
It looks like the Vilfo caps out at around 140Mbps, providing similar speeds when using my nearest server for both SurfShark and Vilfo.
When using VPNs enabled on the router connected to the most local/fastest server I achieved: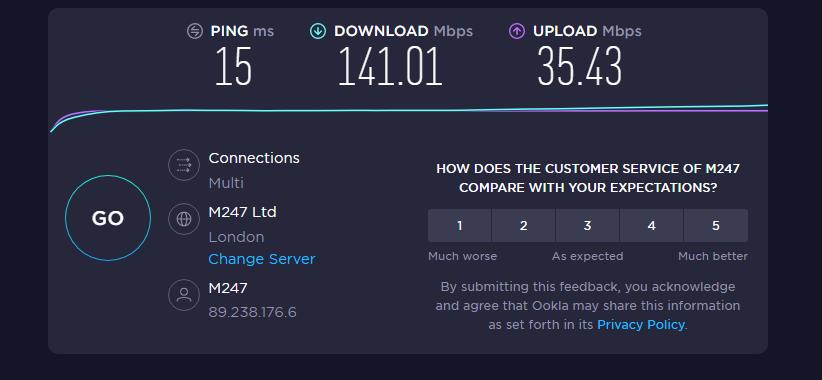 SurfShark: 114.22Mbps / 34.85Mbps and 14ms Ping
OVPN: 141.22Mbps / 35 Mbps and 15ms Ping
I retested these across multiple days. Initially, my findings were consistently around 100Mbps or under, so I can't say if the router will go faster or not, but there is absolutely a large reduction in the speeds when connecting via the router.
Hitting the bypass button within the router settings then connecting to the two VPNs via their respective Windows app, I achieved:
For Surfshark – almost identical to my Virgin speed using the Manchester server. 8ms ping, 527Mbps download, 35Mbps upload. At the time of writing, I re-did this test multiple times, because I am sure it is not that good, normally.
For OVPN – this connected with a 22ms ping, 364Mbps download and 35Mbps upload. While this is a reduction is speed compared to not connecting to a VPN, it is a speed I could happily live with.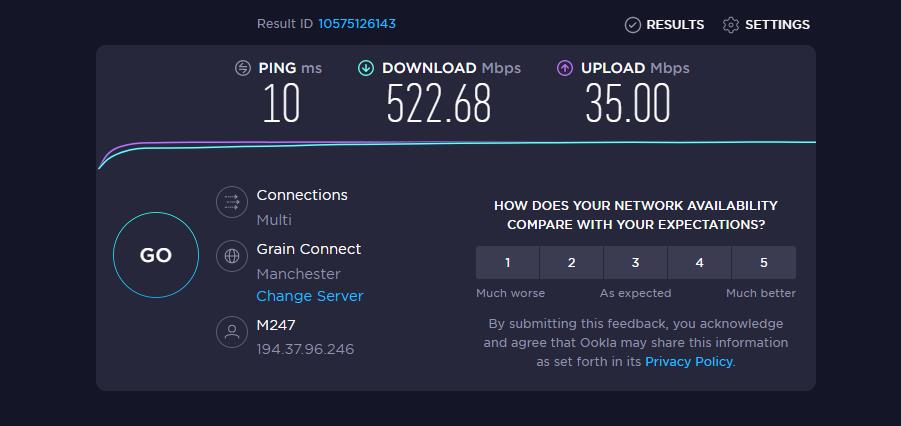 Price and Competition
The Vilfo VPN Router is priced at $379 with $99 VAT and $20 shipping. So, UK buyers will pay just shy of $500 or around £375.
I am not aware of any like for like alternative. Most decent routers will offer you OpenVPN connectivity, but this is often not device-specific, and throughput will be low.
Unfortunately, it looks like OVPNbox is strictly limited to the Vilfo router, so you can't buy your own mini PC with better hardware and use this OS.
If you don't mind a more complex solution, setting up a mini PC with pfSense or OpnSense will likely be the best alternative. In theory, this should be cheaper and offer a higher throughput, but it is considerably less user friendly. I tried setting up OpnSense, and it made my brain hurt. Surfshark does provide a detailed guide of how to set up a pfSense VPN, but the guide doesn't work for OPNsense which I was running at the time.
More advanced routers such as the Ubiquiti USG-PRO-4 UniFi Security Gateway also suffer from throughput issues once you get past 100Mbit+.
Overall
There is a lot to love about this router. The interface and overall usability are superb, orders of magnitude better than my brief experience with pfSense and OPNsense.
I love the way you can visualise your data, then, of course, the primary feature of multiple VPNs, split VPN and grouping devices is superb.
Unfortunately, there is a big caveat to that. VPN throughput is low compared to using a VPN directly on your device. This is a problem you will find on most router-based VPN connections, depending on the hardware you a running.
The performance is better than you would likely get on most modified routers, and I am not aware of any other solution on the market that offers such a user-friendly and feature-rich way of connecting to multiple VPNs.
For a lot of devices on my network, this isn't the end of the world, I don't always need 500+Mbps download.
There are a few other issues. I don't really see why they have bothered to include WiFi, there is just no point having it, I guess maybe to facilitate the initial set up, but it is not useful for anything else. Then you have Intercom & Google Analytics, which is easy to switch off, but a lot of people that use VPNs tend to be very privacy concerned, bordering on paranoid, and having this on the router, at all, will no doubt be a problem for those.
While the throughput doesn't appear to offer me the 600 Mbit/s fully encrypted traffic they claim and some minor issues with privacy/security there is no superior solution I can recommend.
Last update on 2022-05-16 / Affiliate links / Images from Amazon Product Advertising API