I have recently been on a mission to improve air quality in my home. It is a health factor many of us neglect, and it can have quite significant effects on people.
For anyone with breathing difficulties such as COPD, asthma or allergies, the quality of the air, your breath within your home will have a serious effect on your health and general well being.
I have already covered how to monitor your indoor air quality, the best dehumidifiers to use, which can help reduce mould and damp, and the best cordless vacuums that reduces allergies.
Air Purifiers have grown in popularity in recent years, in areas that suffer from a lot of outdoor pollution they can make a significant difference with the quality of your indoor air.
They can also reduce the harmful gasses and particulate matter from cooking, chemical products (such as cleaning), pollen during the summer, and even smoking.
It can be a bit of a minefield, and it depends on your needs. If you want a proper full room or even full home air purifying, things can get pricey. Hopefully, this guide will help you find the best solution possible, or at least point you in the right direction.
Pick the correct air purifier for your needs
One consideration when buying an air purifier is how you intend to use it and the day to day air quality within your home. For me, living in Blackpool with not much traffic or pollution I only really need to worry about the poor air quality I cause myself (predominantly cooking).
In the centre of London, your needs will be different. There is quite a useful website called Smart Air dedicated to clean air. They are based in the east where air quality is very poor such as China and India.
This website criticises some of my recommendations because the automatic functions of most air purifiers are not great. Their usage recommendation is leaving a purifier on constantly at medium/high. This is generally not needed across the UK with the exception of city centres, and probably then, only London.
So if you do live in a very polluted area, you may need to accept that you need to use something like the Philips Series 3000i or one of the Blueair models all day at medium/high.
Smart Air actually make their own purifier which claims to outperform all of my options, but sadly this is not available in the UK.
Best Air Purifiers available in the UK
Best Overall: Philips Series 3000i Air Cleaner
Particle CADR:393m3/h
Wi-Fi control, built in air quality monitoring
Replacement HEPA filters – around £50 (4600+ hours, 6 months 24/7)
Replacement Nano filters – around £40 (2400 hours, 3 months 24/7)
Washable pre-filter
I think the Philips Series 3000iis the air purifier I see recommended most in the UK, they do smaller models going down to the 1000ai, and there is a new more advanced and more expensive Expert Series 3000i for around £450.
One appeal of the 3000i is that it drops in price on Amazon semi-frequently, during Prime day it hit £267 which is a fantastic price for a Wi-Fi-equipped air purifier that can filter such a large space.
It has two filters, which can mean the ongoing running costs add up. You could be looking at well over £100 per year if you use it for large portions of the day.
By all accounts, the Philips Series 3000i offers the best air purifying performance for the price on the market and can compete with much more expensive brands.
Runner Up: Blueair Classic 205 Air Purifier
Particle CADR: 340m3/h
HEPA filtering 99.97% down to 0.1 micron
Has Wi-Fi and can connect to air quality monitor
Replacement filters – around £37 (6 months 24/7)
Blue Air seem to be the most reputable name in the business, and their products are priced accordingly, which is likely beyond the means of your average home user.
They have lots of options, the Classic models are a bit ugly, but they have Wi-Fi functionality and a large CADR value.
Filters appear to be sensibly priced, so the long term running cost could work out cheaper than the Philips.
There is also the BlueAir Sense+ which has a built-in smart indoor air quality monitor and looks a little more aesthetically pleasing, but it has a lower CADR and a higher price it is less appealing from a cost/performance point of view.
Best Multi-Function: Dyson Pure Cool Tower Purifier or Dyson Pure Hot+Cool Link
Certified asthma & allergy friendly
HEPA filtering 99.97% down to 0.3 micron
Replacement filters – around £65 (12 months)
I previously reviewed the Dyson Pure Cool Tower Purifier and loved it, it completely converted me to the idea of using an air purifier and improving indoor air quality.
It is an odd on this list though, it is not just an air purifier, it is a fan also. They also don't state the CADR value, because Dyson doesn't believe it is accurate. However Chinese listings state a CADR of 164m3/hr, and a formaldehyde CADR of 56m3/hr. This is lower than competing brands, but I have to admit, I have not noticed much difference in performance between this and the Philips. However, it does get very loud when the air quality is bad.
Quite likely a placebo effect, but I feel my breathing is better with this because it throws clear air directly at me when pointing the fan my way, rather than just recirculating the air.
Best Budget Option : Xiaomi Mi 3H Air Purifier
Particle CADR:380m3/h
Formaldehyde CADR:60 m3/h
HEPA filer : 99.97 % 0.3μm
Wi-Fi control, built in air quality monitoring
Replacement filters – around £40 (3-6months)
Xiaomi air purifiers are insanely popular in other regions, and no wonder considering the price/performance. It is worth noting that it has been reported that the performance of this is not the best when in auto mode, and after 3 hours it always switches back to auto. So it may not always be the best buy if you want 24/7 use.
The other downside here is that they don't officially sell it in the UK, so you instead have to buy it from Amazon Market Place sellers
Best Premium: Airvia Aero 100 Air Purifier
Particle CADR: 503.1m3/h
Formaldehyde CADR: 162.2 m3/h
Photocatalysis and UV sterilisation
H13 HEPA filtering 99.97% down to 0.1 micron
Monitors air quality for automatic adjustments
No Wi-Fi/smart features
Replacement filters – around £70 (12 months)
While I have not personally used this, it has one of the best specs on the market for the price, but it is a massive investment at £699.00. It is perhaps more suited for small commercial use, but anyone serious about their air quality will benefit from it.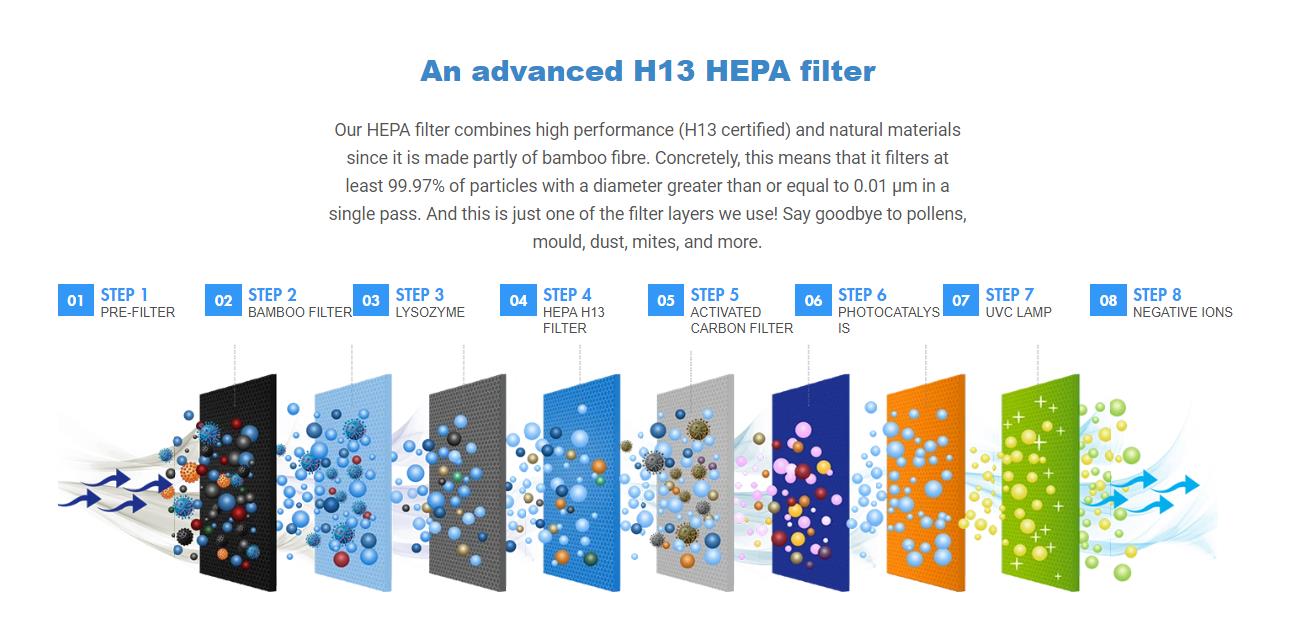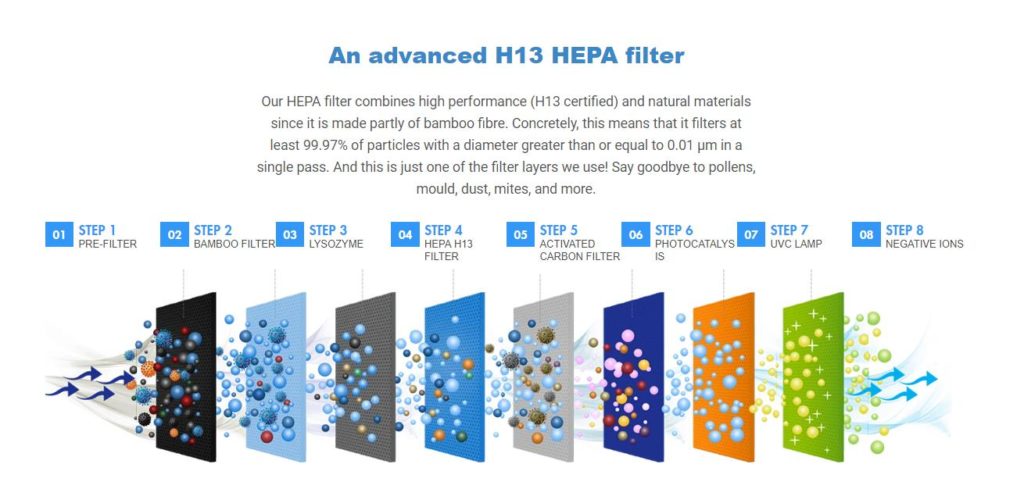 Certified asthma & allergy friendly?
On my list, the Dyson Pure Cool Tower Purifier and Dyson Pure Hot+Cool Link are both certified asthma & allergy friendly. This is a certification program that confirms the performs of certain products .
In the case of air purifiers, it needs to meet specific performance levels for:
Reducing allergens from the air
Monitoring allergen levels after use to ensure reduction of allergens is a result of removal, not just redistribution
Monitoring ozone levels to ensure they remain within the Code of Federal Regulations Guidelines.
CADR – Clean Air Delivery Rate
Clean Air Delivery Rate (CADR) is a figure of air that has had all the particles of a given size distribution removed.
It is typically the most important aspect of an air purifier, but it is also important to keep an eye on what the CADR is for. Typically this is just for particulate matter filtered through a HEPA filter so it should filter out 99.97% of particles down to 0.3μm.
Some companies claim smaller particulate matter filtering, down to 0.1μm. However, this could be a somewhat misleading marketing claim, no filter can specifically filter out 0.1μm particles due to the way these particles behave. I discuss this further under the virus/COVID section.
You can then have different CADR values for different aspects. BlueAir quotes Pollen, dust and smoke figures; then some companies also offer formaldehyde CADR.
Some companies just state air flow rate; this will typically be a higher number than the CADR value. From my limited knowledge airflow will be the performance of the fan, but it still then has to shove all that air through a HEPA filter and possible multiple pre-filters before you get your clean air.
Dyson, being deliberately contrarian, doesn't believe in CADR values, stating the artificial nature of the testing does not reflect real-world usage.
Dyson does their own tests which claims to be much more thorough than the CADR test, but they don't really give you an insight into the performance of their air purifying. They just state airflow rates.
So, CADR is imperfect, like many numbers quoted for different products. But it's the best we have for identifying how a product performs.
Can air purifiers protect you from the Coronavirus (COVID-19)?
Yes and no. It depends on the size of the virus and the strange way small particles move around.
So with COVID-19, each SARS-CoV-2 virion is approximately 50–200 nanometres in diameter.
A HEPA filter needs to filter 99.97% of particles down to 300 nanometres. So, in this case, COVID-19, you would think that the virus would happily fly through.
Some companies claim to filter down to 100nm which would filter out some of the viruses.
However, likely one of the reasons HEPA numbers don't go below 300nm, is that particles start to behave differently at smaller sizes, they move around randomly through Brownian motion and will randomly stick to things. This, therefore, should mean that any HEPA filter will filter out viruses to a certain extent.
However, with droplet infection, the concern is the wet droplets landing on things which you then touch and get infected from. An air purifier may reduce some of this, but not all.
Please note, I am not a Doctor or qualified in any way, so don't hold me to the above statements.
Why are there no cheap recommendations?
There are a huge number of small air purifiers on Amazon all with HEPA filters. They will all offer some benefit, but when the air quality declines, they will struggle to clean the air properly.
Levoit has several models that may be worth considering. Their cheap Vista 200 model is just £64, but they don't state a CADR value.
However, the Levoit Vital 100 states 221 M³/H, and the Levoit LV-H133 claims an impressive 400m³/h though this is not cheap at £199
Reducing smells and second-hand smoking hard from cigarettes
With my focus being on improving health overall, I obviously disapprove of smoking and even worse smoking indoors.
However, if you do smoke indoors and air purifier would be a strong recommendation, it will reduce particulate matter within your home and filter out many of the harmful chemicals that are emitted during smoking. While this may not help your health that much, it will reduce the smells in your home and significantly reduce the harm for anyone else withing your home.
Last update on 2022-05-17 / Affiliate links / Images from Amazon Product Advertising API