Unlike filter machines, an espresso machine tends to be quite expensive, but give the best results allowing you to create a wide range of drinks and replicate that Starbucks/Costa/Nero experience.
Following the first lockdown, many of use realised how expensive a takeaway coffee habit is, instead switching to home made.
I have already covered the best vacuum travel mugs allowing you to get your freshly brewed coffee to work piping hot, but what is the best machine to make your coffee?
First up, while I know it is nowhere near the same, filter coffee is a great middle-ground for people wanting good coffee that is cheap, quick and easy to make. It is also better than the pod machines that are very popular.
The AeroPress is an amazing and affordable coffee maker that many people use to make a sort of fake espresso, it is the coffee maker I would recommend most people buy first before committing to something much more expensive.
That being said, if you have your heart set on an espresso maker, here are the best reviewed options on Amazon.
Note that there are two styles of machine, barista and bean to cup. A barista machine has the potential to produce better results, but only if you are willing to put the effort into learning make the perfect espresso.
Best Espresso Machines on Amazon in the UK for all budgets
4.2 out of 5 with 889 reviews
15 bars of pressure (probably can't produce 9 bars)
Includes milk frother
Home barista style
There seem to be two good cheap espresso makers, the Amazon Basics Espresso Coffee Maker is a bargain at £59.99. I chose the Swan because it is far more aesthetically pleasing.
4.5 out of 5 with 10,472
15 bars of pressure
Milk frother
Home barista style
While Amazon review can be a little bit questionable, this machine has to be the best-reviewed coffee machine of Amazon by a significant margin. It does the things an espresso machine needs to do and nothing else, but it does it well, in a compact size and looks professional too.
If you are wanting to get into barista made espressos, this is the best starting point by far.
As an alternative option, the De'Longhi Scultura is currently just £139.99, it has a larger capacity and can make two drinks at once, but it is not quite as well-reviewed.
4.5 out of 5 with 4,080 ratings
Bean to cup with 7 adjustable coarseness levels for the grind
If you are looking for a quick to use, low effort machine to replace your Starbucks, this is probably the best option out there. Being bean to cup there is no skill required, it may not produce perfect barista results but it is probably comparable to many chain store coffee shops.
4.7 out of 5 with 129 ratings
Barista style
Automatic micro foam milk texturing
3 second heat up time
This would be my sweet spot for a barista machine, a touch under £400 is reasonably affordable, it is small, looks good and with a bit of practice you will be able to make better than coffee shop espressos.
4.7 out of 5 with 1342
Barista style
Inbuilt grinder
Low pressure pre-infusion
At this price point and being the more hands-on barista-style, you need to be quite serious about your coffee. I'd recommend this if you have already perfected making espresso, and if you have already done that, you probably don't need to read my list of the best espresso machines.
You can of course, spend a lot more on machines, but beyond this I think I would be teaching grandmother to suck eggs.
4.0 out of 5 with 29 reviews
Best option for barista-like quality while still being bean to cup
Low pressure pre-infusion
There are two options, the cheaper Oracle at around £1700 has better reviews but is semi-automatic, so it does most of the work for you, but not all. All the hard bits at leat.
The Oracle Touch at nearly £2000 doesn't get quite as favourable results, but if money was no object it is what I would buy because I am too lazy to use a barista machine.
The normal Oracle machine offers a wider range of coarseness than other bean to cup machines, so this offers the closest performance you can get to a well-brewed barista coffee.
The Oracle Touch takes this up a notch with the ability to select different drink styles via the touch display.  You can customise drinks to your taste then save it to the machine to replicate it every time.
While it is crazy expensive, how much money have you spent on takeaway coffee over the years? If you are lucky enough to now be able to WFH full time, maybe treat yourself with one of these with all the money you save on commuting? (this is how I am trying to justify the cost).
What is an espresso? And do cheap espresso machines really make a true espresso?
An espresso isn't just a strong coffee, a dark roast is not essential to an espresso.
Espresso is a brewing method, and it makes you question if your coffee machine can really produce a true espresso.
A shot of espresso is a concentrated form of coffee created by forcing hot water through super-fine coffee grounds at 7-10 atmospheres of pressure(9 is the sweet spot). An espresso machine is a technology that can achieve the required environment for espresso.
So with all the pod based coffee machines, are the really making an espresso? For this reason I have omitted the capsule base models that advertise espresso.
Similarly, the cheap espresso machines all advertise 15 bars of pressure, which is technically true, but it is unlikely they can achieve the exact bars of pressure a good cup requires.
I will admit, I don't care that much, as long the end result tastes good I am happy, and my taste buds are not quite as refined as some coffee aficionados.
Bean to Cup Semi vs Auto vs Home Barista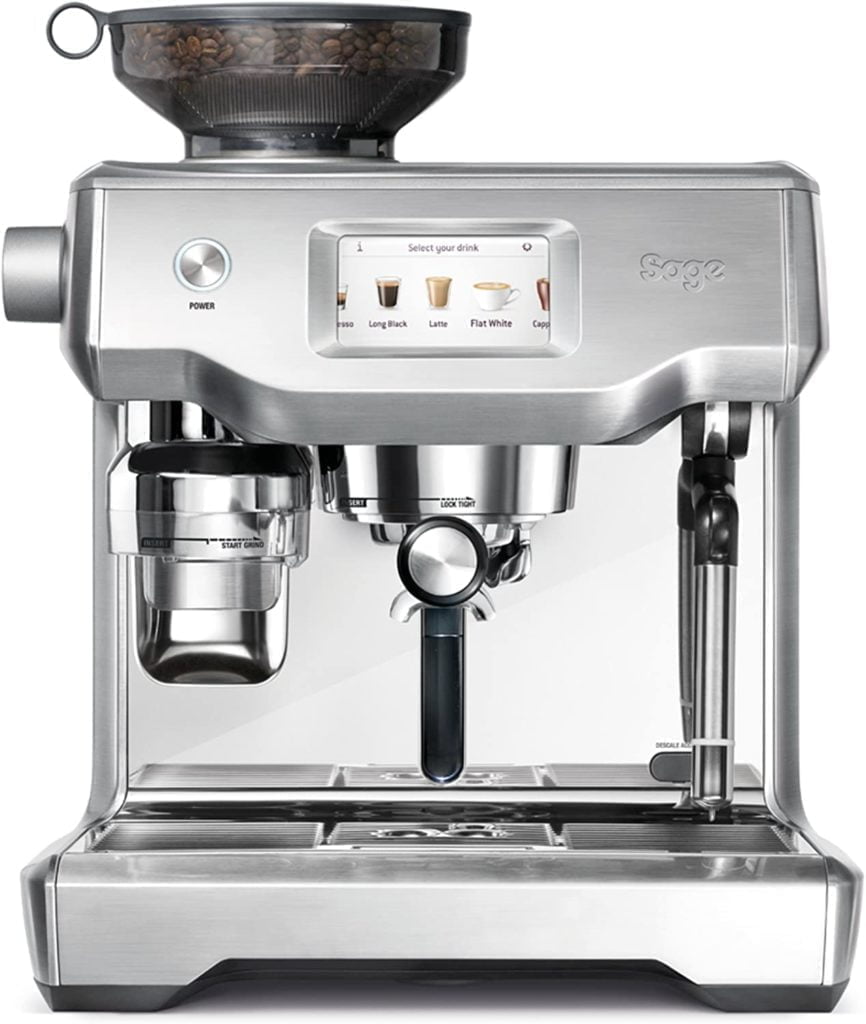 There are lots of different styles of espresso machine, and I won't cover every single variation. The main option to consider is if you want an automatic bean to cup machine or a home barista machine.
Technically, any machine with a built-in burr grinder would be bean to cup, but some require you to put some effort in, with these being semi-automatic.
If you are new to home made espresso, it is not just a case of one is more expensive than the other.
A barista machine will give you greater control over the brew and allow you to get the closest to coffee shop quality as possible. Depending on where you buy it from, you could easily surpass the quality many chains offer.
However, barista machines require you to spend time learning how to make an espresso properly so there is quite a bit of a learning curve, they then obviously take a little more time and effort actually making the coffee. If you are a big coffee fan and want a new hobby they are a great idea. For me, I am a little too lazy and short on time to commit to one.
Last update on 2022-05-17 / Affiliate links / Images from Amazon Product Advertising API