During the stay at home period many of us spending a lot (more) time gaming and if you are looking to upgrade your gaming experience, the HyperX Pulsefire Raid mouse and Fury Ultra RGB mousepad are well worth looking at.
The HyperX Pulsefire Raid is aimed at MMO gamers due to the large number of keys, but with its sensible key placement I have found it quite pleasant to use in all scenarios, this is then, of course, complemented by the attractive RGB elements of the mousepad.
HyperX Pulsefire Raid
Features & Specification
Lightweight 11-button programmable mouse
Premium Pixart 3389 Sensor up to 16K DPI
Advanced customisation using HyperX NGENUITY software
Ergonomic design with comfortable side grips
Split-button design for extreme responsiveness
Customizable RGB lighting
Large skates and flexible braided cable
Multi-platform compatibility
Braided cable
95g without cables
Software
Most of the HyperX peripherals (and RGB Ram) can be customised through their Pulsefire Surge which is on the Windows store and still technically beta.
Installing it, I found there were conflicts with the Sennheiser Gaming Suite, which is was used on the Sennheiser GSP 370 headset, beyond that I experienced no issues you may associate with beta software.
This is used to control both the mouse and mousepad I also received and if you have one of the Alloy keyboards will also be able to customise that (with the exception of the Core RGB and FPS Pro).
The software is nicely designed, looking much more professional than affordable options such as the Sades Scythe and it offers all the customisations you would need.
This includes the RGB settings of the mouse, brightness, polling rate, the DPI sensor settings, and mapping the buttons.
With 11 buttons, being able to map commands to them will likely be essential. This includes being able to map a macro to a specific button too, the macro recorder is simple to use and maps the time between presses too.
Overall, apart from the software conflict, the software does everything I want it too, is easy to use and well designed.
In use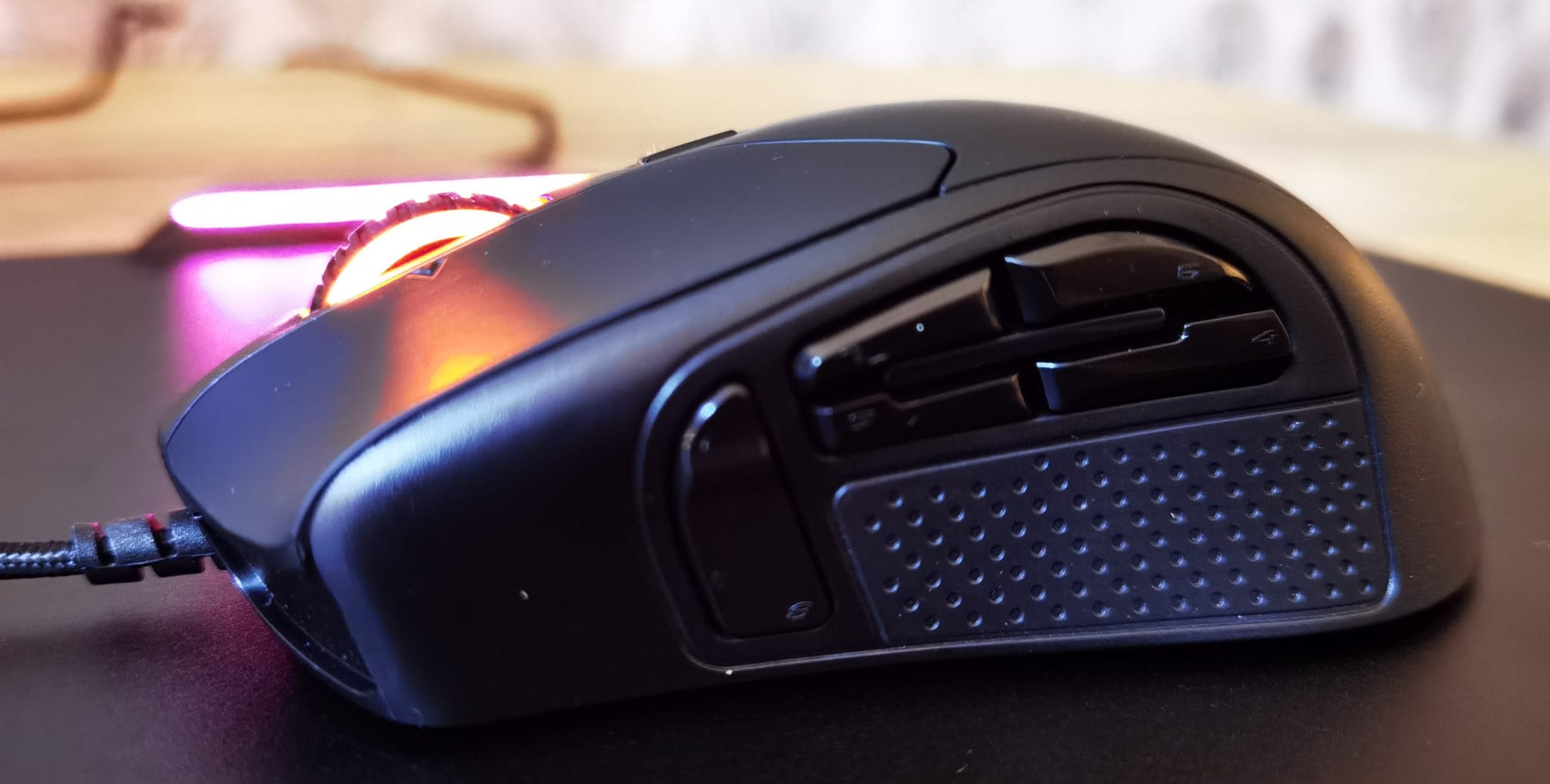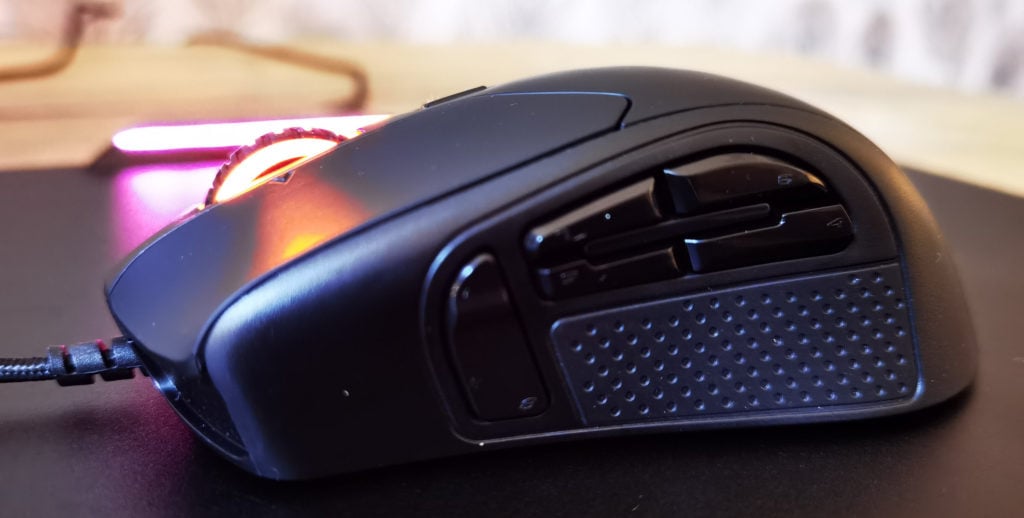 I don't game as much as I used to, let alone MMO games or anything requiring 11 buttons, but overall, this seems to be excellent.
On my most recent Sades Scythe I thought 7200dpi was way more than enough but experimenting with this I cane happily go beyond that and use the most comfortably. Even at 16k, the mouse is quite usable, maybe not ideal for day to day work, but I can see how it will be beneficial in gaming.
I ended up having the mouse set to 10K for office use then upped it a little to 12K for gaming, and I would expect serious gaming will appreciate being able to go higher. The sensor itself is the Premium Pixart PMW 3389, I am not quite geeky enough to appreciate the different sensors. However, this is generally regarded as the best sensor on the market, offering superior performance to the PMW 3360.
I also thought 11 keys would be more annoying than useful, but it doesn't feel much more crowded than a regular mouse. At first, I was confused about how this is 11 buttons, as there are only 9, but then realised the mouse wheel goes left and right.
On top of the left/right mouse button, you get two additional side buttons sat below the standard buttons, then one more button sat at the front of the mouse. So this is nothing like Corsair Scimitar PRO where you have a considerable number of buttons jammed on the side of the mouse.
The mouse wheel itself is on a textured roller with a little more resistance on it than the Logitech Pro that has served me well the past 4 years.
The mouse buttons have a nice click to them, and they use a split button design to avoid misclicks if you click to high up the button. The switches themselves are made by Omron and are rating for 20 million clicks.
Fury Ultra Gaming Mouse Pad
Features & Specification
Dynamic 360° RGB lighting and effects
Micro-textured hard surface for performance and speed
Stable, anti-slip rubber base
Customizable with HyperX NGENUITY software
Braded cable
Software
Just like the Pulsefire Raid, you can control this via the NGENUITY software. When I first installed it, the mousepad was not recognised, but the next day following a reboot it was recognised without issue.
There is less customisation to be done here as it doesn't do anything other than light up.
With this you have a limited number of effects with just four options, can also manually select each light section and customise it.
What would have been nice to see is some sort of synchronisation with your mouse settings or even integration with motherboard software to synchronise the RGB in your case with your peripherals. Not a massive issue for me, but some PC gamers can be quite anal about their aesthetics.
In Use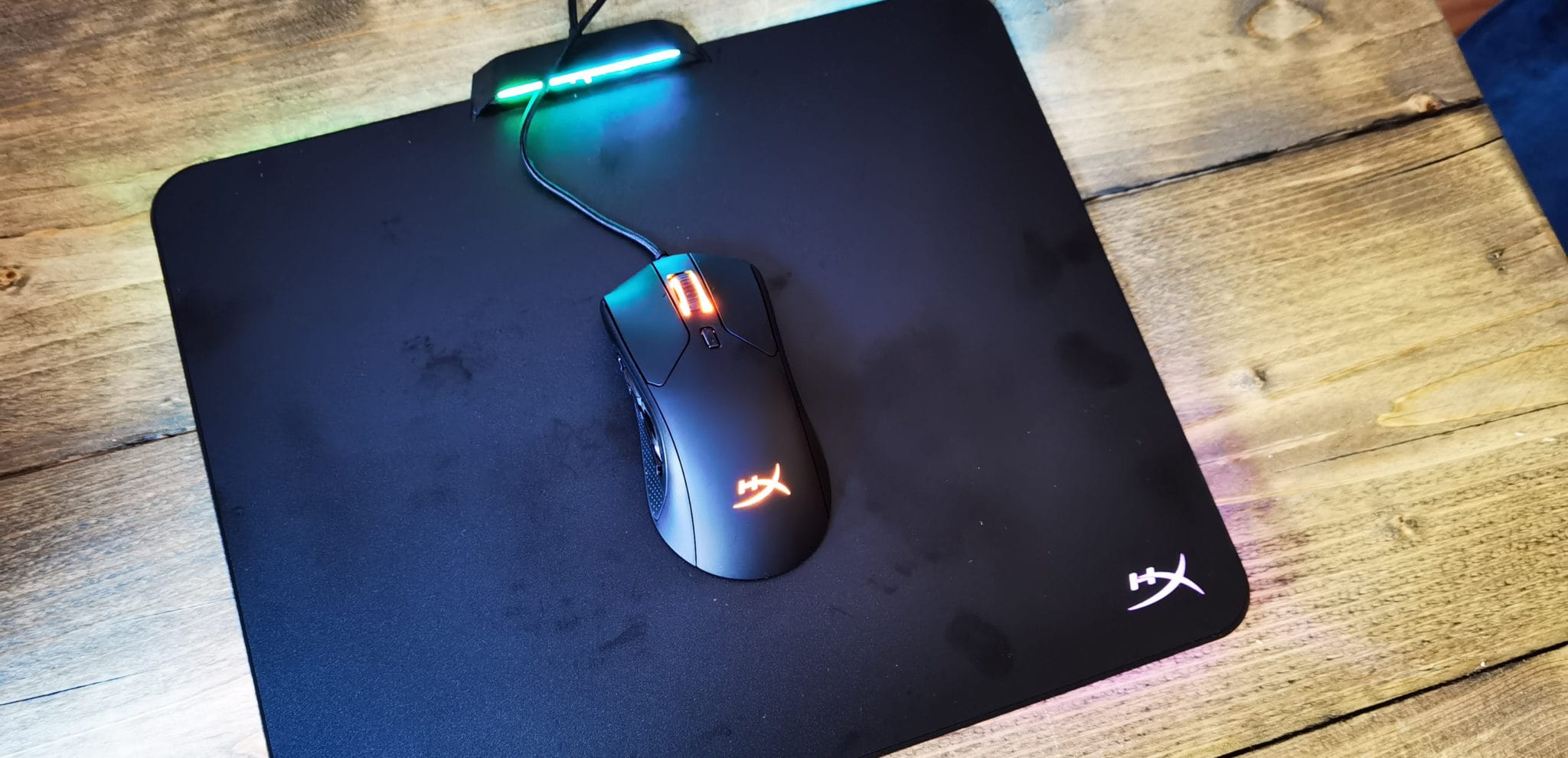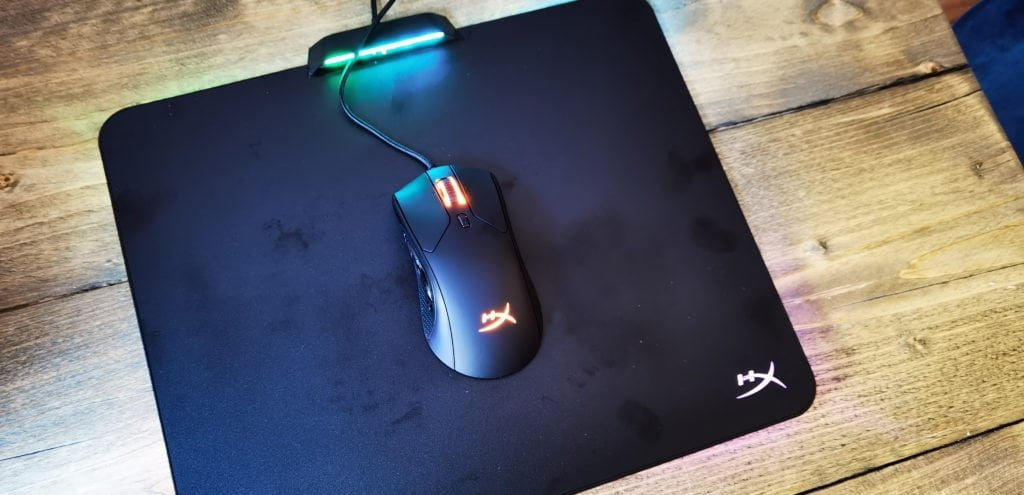 Not too much to say here, it is a mouse pad. This is a hard surface mouse pad, there is a very slight grain to it, but less so than other plastic pads I have used in the past. This gives you quite a smooth motion without too much resistance. Moving from my cloth pad to this, there is noticeably less resistance, so I can imagine certain gamers will like the increased responsiveness it may offer.
Price and Competition
The HyperX Pulsefire Raid costs £59.99, which sits in the middle ground of gaming mouse pricing with an extensive number of options above and below it.
If you are looking at this it is likely due to the 11 programmable buttons, which therefore reduces the options considerably. There are a lot of 8 button options from as low as £35 such as the Corsair M55 PRO RGB, but beyond that, not much choice.
For 11+ button options you have:
I have not used any of the above, and each has different layouts to suit different tastes, but the Pulsefire Raid is undoubtedly an attractive option based on its price.
As for the Fury Ultra, this costs £44.99, which is not the cheapest option on the market, CoolerMaster has both cloth and hard RGB mouse mats for as low as £25. Then SteelSeries, Thermaltake and Razer all having options around the same price.
In general, it is best to try and stick to the same brand so you are not running multiple pieces of customisation software. So if you are already with HyperX or plan to buy the Pulsefire Raid then the Fury mouse pad is definitely the best option.
Overall
The HyperX Pulsefire Raid is excellent, it seems to be well priced considering its features. You get one of the best mouse sensors on the market, RGB customisation, and plenty of customisable buttons for gaming without it being too crowded for daily use.
You only get RGB on the mouse button and logo, which is less than some options, including the 6-button Pulsefire Surge. It is enough for me, but if you love lots of RGB, it is worth noting.
This was the first time I have tried out an RGB mouse pad, and it is excellent, providing a pleasant effect in a dark room with a nice responsive surface.
It is a little more expensive than some of the competing options (though far from the most expensive), so if you just want an RGB mousepad, it may not be the best choice. However, it is certainly something I would buy if I already had HyperX gear using the NGENUITY software.
Last update on 2022-05-16 / Affiliate links / Images from Amazon Product Advertising API