Following the Qualcomm Snapdragon 865 announcement, several journalists were let loose on reference devices allowing them to benchmark the new chipset.
As you would expect from a brand new chipset, it offers significant performance improvements from the previous generation.
In recent years though, Qualcomm has fallen behind Apple and their Bionic chips in a wide range of metrics and benchmarks, but can they compete this year?
All the tests were done of reference devices so it is quite likely they will underperform compared to OEM devices released to the public.
The reference device featured the SD865 combined with 12GB of RAM, 128GB of storage, and a display with a 2,880 × 1,440 resolution.
Antutu Benchmarks
Accurate or not, Antutu seems to be the reference benchmark people use to decide if a phone or chipset is good or bad. So Qualcomm and Android fans will be pleased to hear that the new Qualcomm Snapdragon 865.
Android Authority and Digital Trends have the reference device scoring 545,000 and 556,281 respectively. They did not give a break down of the score, so we can't see where Qualcomm are making the biggest gains.
This score puts the Qualcomm Snapdragon 865 just out in the lead for all the current chipsets:
| | Chipset | Total | CPU | GPU | MEM | UX |
| --- | --- | --- | --- | --- | --- | --- |
| Qualcomm Reference Device | Qualcomm Snapdragon 865 | 556281 | | | | |
| iPhone 11 Pro Max | Bionic A13 | 549717 | 168176 | 225299 | 82199 | 74034 |
| Mediatek Dimensity 1000 Leak | Mediatek Dimensity 1000 | 511363 | 161266 | 196097 | 84463 | 69537 |
| OnePlus 7T | Snapdragon 855+ | 487050 | 144155 | 199255 | 70043 | 73597 |
| Realme X2 Pro | Snapdragon 855+ | 473329 | 142596 | 190964 | 799966 | 59803 |
| Xiaomi Mi Mix 3 5G | Snapdragon 855 | 429859 | 144036 | 172351 | 56044 | 57428 |
For reference, I used the official Antut result for the iPhone, I assume that is on the high side of results. Digital Trends reported they only got 455,778 for the iPhone 11. Pro. Android Authority reported 506k for the iPhone 11.
Furthermore, a benchmark for the new Mediatek Dimensity 1000 leaked online recently, and this shows that the Qualcomm SD865 will likely be the best Android chipset for 2020.
GeekBench 5 Benchmarks
Apple has always done well with Geekbench and they continue to dominate here.
The Snapdragon 865 scores 925 for a single core then 3,455 on multi-core.
The iPhone 11 Pro scores 1,323 and 3,503.
The current cream of the crop with Android is the Samsung Galaxy Note 10 Plus scored an average of 700 in its single-core score, and 2,534 in its multicore score.
For the Snapdragon 855+, I was able to achieve 622 and 2660 with the Realme X2 Pro. So we are looking at a 48% improvement with the single-core, and 30% for multi-core.
3D Mark Benchmarks
As usual, Anandtech has done the most comprehensive test of benchmarks, which goes beyond the comprehension of a layman such as myself. The 3D mark results are often cited when it comes to how good a chipset is, after all, mobile gaming is massive now, and Android has numerous gaming phones.
In these benchmarks, things are a little bit mixed, because there are quite a few of them.
In the 3DMark Physics tests, which is CPU intensive, the Snapdragon 865 comfortably beats the iPhone 11 Pro Max but actually falls behind the SD855 in many tests, and the Kirin 990 5G comes out top.
In the 3DMark Graphics, we see moderate improvements compared to the previous generation with a 4.7% lead over the ASUS Rog Phone 2 (SD855+) and 19% over the OnePlus 7 Pro (SD855), with a total score of 8218. It falls a touch behind (-5%) the iPhone 11 Pro Max which has 8677. The iPhone is not very good with the sustained performance, almost halving in some cases, but with these tests sustained performance wasn't tested with the SD865.
n the GFXBench Aztec High benchmark the SD865 again shows great gains from the last generation with roughly a 26% improvement, but fails to hit the sustained performance of the iPhone hitting 10% lower, and nowhere near the peak performance (-65%).
Power Efficiency Benchmarks
An interesting one with the GFXBench Aztec High benchmark is power efficiency. We always hear about great gains in power efficiency, but in reality, most of the time it stays flat due to the increase in performance.
The SD865 shows that it draws around the same power as the SD855 but does this while offering superior performance.
However, Qualcomm is nowhere near apple in terms of power efficiency, and it is something that all the Arm-based Android chipsets need to work on.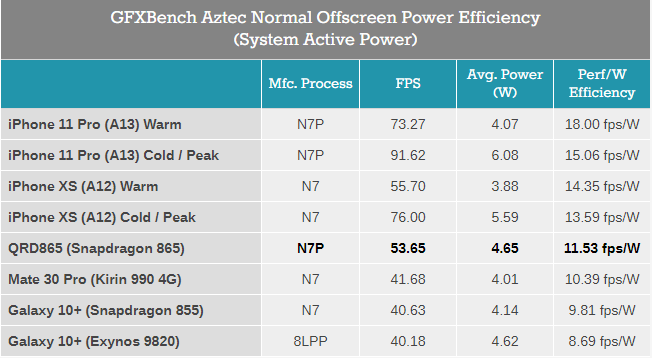 Overall
The Qualcomm Snapdragon 865 promised to delivery 25% improvements with performance, and it seems to do this. It will no doubt be the most popular Android chipset for flagship devices in 2020.
While Qualcomm can't beat Apple in many tests, it is comparing apples to oranges, many people are committed to either Apple or Android, so performance differences will not factor into a decision.