Huawei/Honor has been stuck in the middle of a trade war between the US and China for well over 6-months now. The Honor 20 launch was overshadowed by the problem causing a delay with its release. That was the last proper new phone to launch with Google Play Services. The flagship Huawei Mate 30 Pro launched without them, and it still has not officially launched in the UK. Yet, Huawei and Honor managed to launch the Huawei Nova 5T and the Honor 9X, both with Google.
They managed to do this by effectively releasing a new phone that has already been launched. With the Nova 5T, they used the Honor 20 hardware, with the 9X you get the base hardware from the Huawei P Smart Z. Unlike the Huawei Nova 5T, there are a few tweaks to make this different
Just like my Nova 5T review, I don't blame them, it makes sense, maintaining phone launches gives the perception that nothing is wrong, and keeps the brand in front of people's eyes. Nor is it a bad thing for consumers, two phones with a similar spec allows you to buy whichever fits your budget and has the best offer currently.
Honor 9X vs Chinese Honor 9X vs Huawei P Smart Z Specification
So what are there any differences between the two phones and also the Chinese 9X? Unlike the Honor 20 and Nova 5T, things are a little more confusing here, Honor has gone to the effort to make some hardware changes, and they could be enough to make this a better phone than the Huawei P Smart Z.
| | Honor 9X | Huawei P Smart Z | Honor 9X (China) |
| --- | --- | --- | --- |
| Dimensions | 163.5 x 77.3 x 8.8 mm (6.44 x 3.04 x 0.35 in) | 163.5 x 77.3 x 8.8 mm (6.44 x 3.04 x 0.35 in) | 163.1 x 77.2 x 8.8 mm (6.42 x 3.04 x 0.35 in) |
| Weight | 196.8 g (6.95 oz) | 196.8 g (6.95 oz) | 206 g (7.27 oz) |
| Display Size | 6.59 inches, 106.6 cm2 (~84.3% screen-to-body ratio) | 6.59 inches, 106.6 cm2 (~84.3% screen-to-body ratio) | 6.59 inches, 106.6 cm2 (~84.7% screen-to-body ratio) |
| Resolution | 1080 x 2340 pixels, 19.5:9 ratio (~391 ppi density) | 1080 x 2340 pixels, 19.5:9 ratio (~391 ppi density) | 1080 x 2340 pixels, 19.5:9 ratio (~391 ppi density) |
| Chipset | HiSilicon Kirin 710F (12 nm) | Hisilicon Kirin 710F (12 nm) | HiSilicon Kirin 810 (7 nm) |
| CPU | Octa-core (4x2.2 GHz Cortex-A73 & 4x1.7 GHz Cortex-A53) | Octa-core (4x2.2 GHz Cortex-A73 & 4x1.7 GHz Cortex-A53) | Octa-core (2x2.27 GHz Cortex-A76 & 6x1.88 GHz Cortex-A55) |
| GPU | Mali-G51 MP4 | Mali-G51 MP4 | Mali-G52 |
| RAM/Storage | 128GB/4GB | 64GB/4GB RAM | 128GB/4GB |
| Camera | 48 MP, f/1.8, 27mm (wide), 1/2.0", 0.8µm, PDAF | 16 MP, f/1.8, PDAF | 48 MP, f/1.8, (wide), 1/2.0", 0.8µm, PDAF |
| | 8 MP, f/2.4, 13mm (ultrawide) | 2 MP, f/2.4, depth sensor | 2 MP, f/2.4, (depth sensor) |
| | 2 MP, f/2.4, (depth sensor) | | |
| Selfie | Motorized pop-up 16 MP, f/2.2, 26mm (wide), 1/3", 1.0µm | Motorized pop-up 16 MP, f/2.0 | Motorized pop-up 16 MP, f/2.2, 26mm (wide), 1/3", 1.0µm |
| NFC | No | Yes | No |
| Battery | 4000 mAh | 4000 mAh | 4000 mAh |
| Charging | 10W | 10W | 10W |
So, with this, you get a much better camera spec, with the primary camera being bumped up to the Sony IMX586 48MP sensor, and in my opinion, more importantly, the addition of an 8MP ultra-wide camera. Annoyingly this comes with a trade-off of losing NFC which both the Honor 8X and P Smart Z had.
Currently, the Huawei P Smart Z 4GB/64GB is £199.95 and the Honor 9X 4GB/128GB is £239.99. So, you pay £40 more for 64GB more storage and a superior camera specification.
Design and Build

The immediate thing you will notice about the Honor 9X is the lack of a notch, this is thanks to the motorised selfie.
Even though you get a motorised selfie, the 9X then uses a rear-mounted fingerprint scanner so it is a sort of mix of new and old phone tech. However, I am indifferent towards fingerprint scanner location, rear-mounted options tend to be quicker and more accurate.
At 6.59 inches this is quite a large phone which some people may find unwieldy. It is about the same size as my P30 Pro, so I found it felt normal in my hands.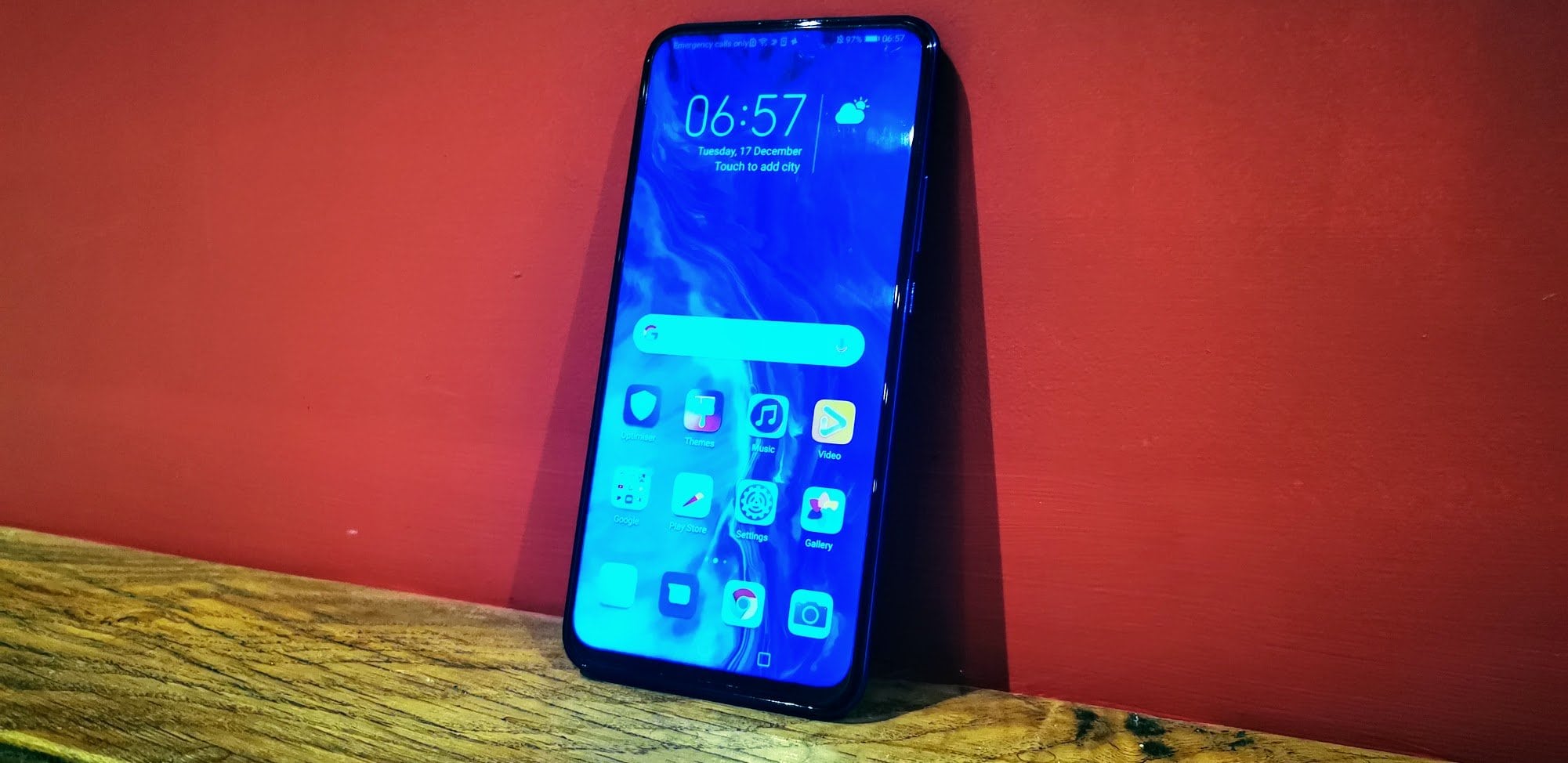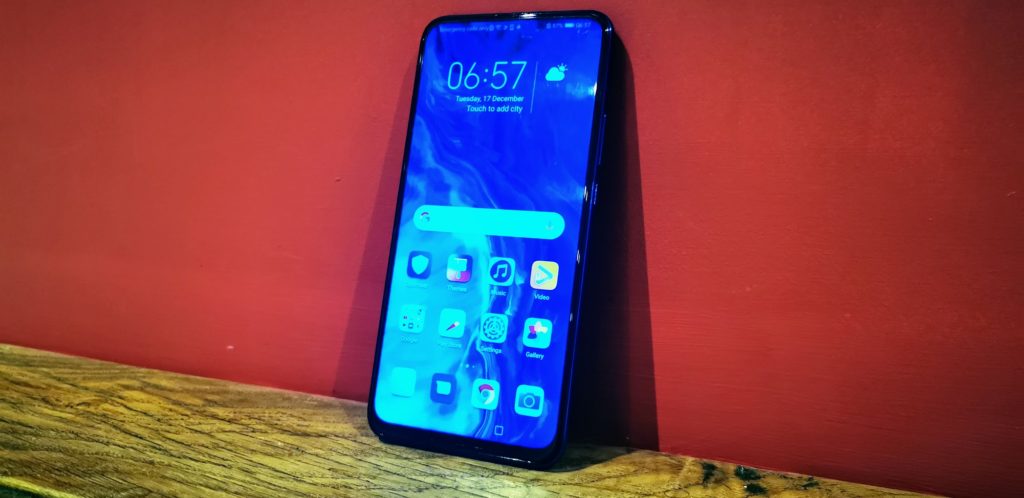 This 9X has a lot of similarities to the Realme 5 Pro, which has been my budget recommendation for the past few months. One thing I noted with this phone is that it feels much nicer in the hand than the Realme, both phones use a plastic rear but the Honor feels more robust and weighty.
The rear of the phone has a new 3D multilayered glass back providing a glimmering textured look, and there is a clear case included so you can show off your good looking phone without breaking it.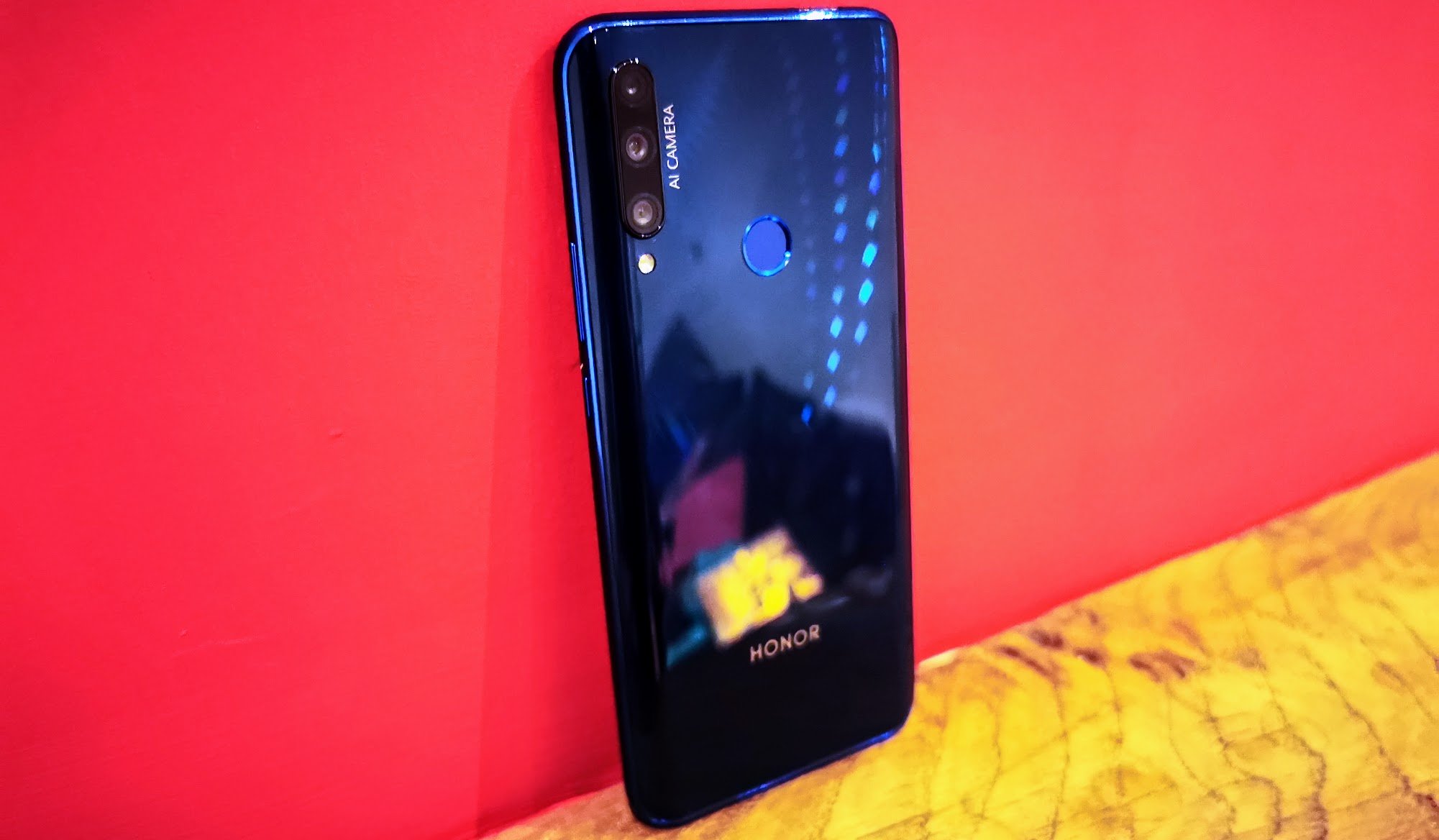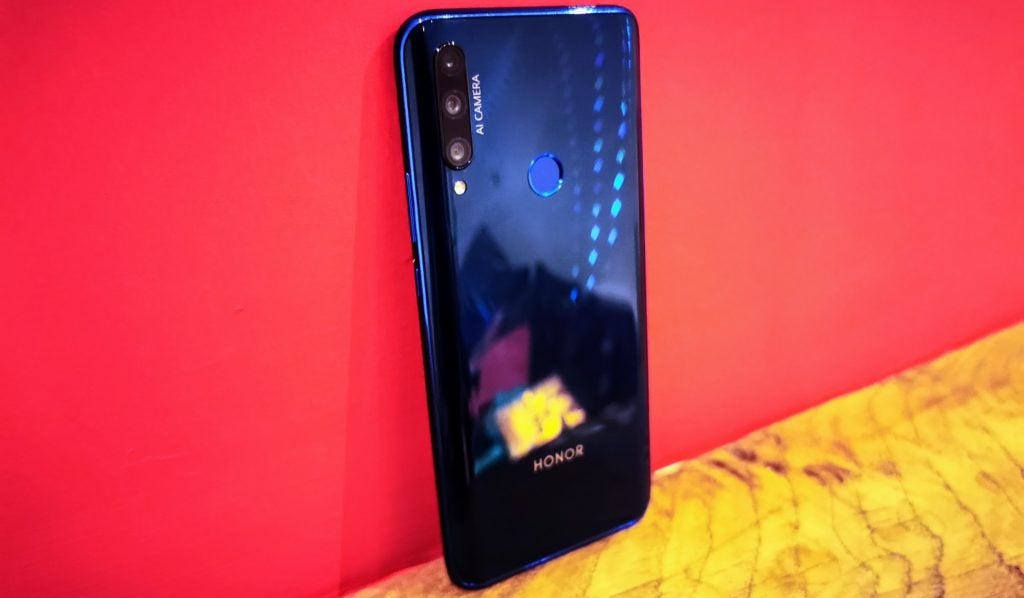 One big improvement with the phone is the switch to USB-C. Honor/Huawei have dragged their feet with this for their affordable phones, but it looks like they have finally committed to the new standard.
The Honor 9X audio output doesn't use the earpiece at the top for a stereo effect. Phone calls on speaker and audio playing will only use the loudspeaker at the bottom.
Display
Being a budget phone this has an IPS display which runs at 1080 x 2340 pixels, the best bit is the lack of a notch thanks to the motorised pop-up selfie, which was previously restricted to high-end flagships.
The lack of a notch gives you an impressive-looking screen with a full notification bar.
The IPS display deliver great colours, sharp images and deep blacks. Testing this in December meant I couldn't test how well it works in bright sunshine, but I experience no significant issues with the semi-sunny days I used it. Cracking the brightness up next to my P30 Pro does indicate it can't get as bright as an AMOLED display found on premium phones.
Camera
The triple-lens camera specification makes this a better-specced phone than average for the price and the combination of Huawei's excellent AI and camera software allows the camera to perform better than other similar phones. In particular, I am inclined to say that it has a better camera than the Realme 5 Pro. One omission you will find is a lack of a telephoto lens, meaning you must rely on digital zoom.
For video, the phone tops out at 1080p 60fps but if you want any form of image stabilisation you will need to drop down to 720P.
Ultra-wide
At this price, there are not many phones with ultra-wide-angle lenses, and for me, this is the big thing that differentiates this phone from the Huawei P Smart Z and previous Honor X phones. It doesn't perform as well as the primary 48MP lens, but it is still excellent.
Night Mode
While this does not have the snazzy RYYB sensor found in the Huawei P30 Pro, the underlying software used for the image processing is similar and it is the long exposure night mode of these phones that outclass many other brands. At this price, I wouldn't be surprised if many other phones can compete here.
Example Shots
Performance and Benchmarks
Real-world performance is good, I never experience any drops in performance such as the phone lagging or apps freezing up. This performs perfectly well with most games too.
However, when we look at synthetic benchmarks it is evident that the Kirin 710F is starting to show its age, falling behind all of the Qualcomm offerings I have reviewed recently including the cheaper Realme 5 Pro with the SD712.
In Antutu it falls quite far behind alternative chipsets with a score of just 172710 against 216501 with the SD712.
In Geekbench it fares a little better, with the single-core test it outperforms the Snapdragon 712 but then drops back again with the multi-core.
Just to rub it in, if the trade ban weren't affecting Honor, this would likely have had the Kirin 810 found on the Chinese version. That chipset reportedly scores 237437 in Antutu taking it past the SD712 and placing it just being the Snapdragon 730G found on more expensive phones.
Battery
I can't think of an Honor or Huawei phone with a bad battery life, at 4000mAh you have more than enough to see you through a day or more even with high use. The 1080p screen combined with low powered Kirin 710F chipset also aid with the prolonged battery life.
Honor has finally ditched microUSB for their affordable phones, but sadly this phone has just 10W charging, which is quite poor by modern standards. Most basic power delivery options are 15W while the budget Realme 5 Pro has VOOC 3.0 with 20W. It is not the end of the world especially if your charge overnight, but if you are caught short on a day out or on holiday it can be frustrating.
Software
This model uses EMUI rather than the MagicUI you will find on some of their flagships, some people love it, some people hate it, I am mostly indifferent towards it, it works well, and that is all that matters. In this case, you get EMUI 9.1 based on Android 9.
The most important part of this phone is that it has Google Apps and Honor have started the beta recruitment for Android 10 (EMUI 10) so we should see this get upgraded within the next few months.
Overall
The Honor 9X is a decent, affordable choice with an impressive design and superb camera performance compared to other phones at this price. The price difference between this and the Huawei P Smart Z is justified by the improved storage and camera specification.
On the flip side of this, the lack of NFC is a big issue for me and especially frustrating when both the older Honor 8X and the Huawei P Smart Z have it. While the HiSilicon Kirin 710F is still an excellent chipset it has been superseded by the far better HiSilicon Kirin 810 which is used on the Chinese Honor 9X, but couldn't be used here due to the trade restrictions.
If you can live without NFC (which I couldn't), this is a great phone, offering flagship-like features, a decent camera all while being extremely affordable.
Last update on 2022-05-20 / Affiliate links / Images from Amazon Product Advertising API