One of the big problems with outdoor security cameras is all the false alerts. A gentle breeze will set off some cameras. You can generally tweak the settings to find something to minimise alerts such as motion zones and sensitivity levels, but it is never perfect.
The one exception I have found is the Netatmo Floodlight Camera, which I still use and is superb at detecting people and only alerting me when it detects them.
bluerams (with a lowercase b, much to my frustration), is a new company to me, and they have a range of affordable cameras with their Pro models offering facial recognition.
The blurams Outdoor Pro is their first outdoor camera to offer such technology. While it is classed as wireless, it has a USB cable to provide power. This is a requirement due to the processing needed for things like smart detection and 24/7 recording, and from my experience, cameras with wired power are superior to their wire-free counterparts.
Specification
Video Streams: 1080P
Viewing Angle: 129° wide angle
Night Vision: 2*high-power infrared LEDs (850 nm) with IR cut filter & >7m distance & Super LoLux 0.1Lux/F2.0(COLOR), 0.01Lux/F2.0(BW)
Image Sensor: 1/2.8″ 2MP CMOS Sensor
Image/Audio Enhancing: 3D Noise Reduction, 4X digital zoom, Distortion correction
Microphone/Speaker: Hands-free Two-Way Audio
Cloud Storage: 1 month 7 days all-day plan for free then Standard and Premium plan available ($4.99 per month or $49.99 per year)
Local microSD storage but without smart features.
Supported App: Mobile: Android/iOS (Windows Phone not supported) in 1 integrated app and PC Web App
Set up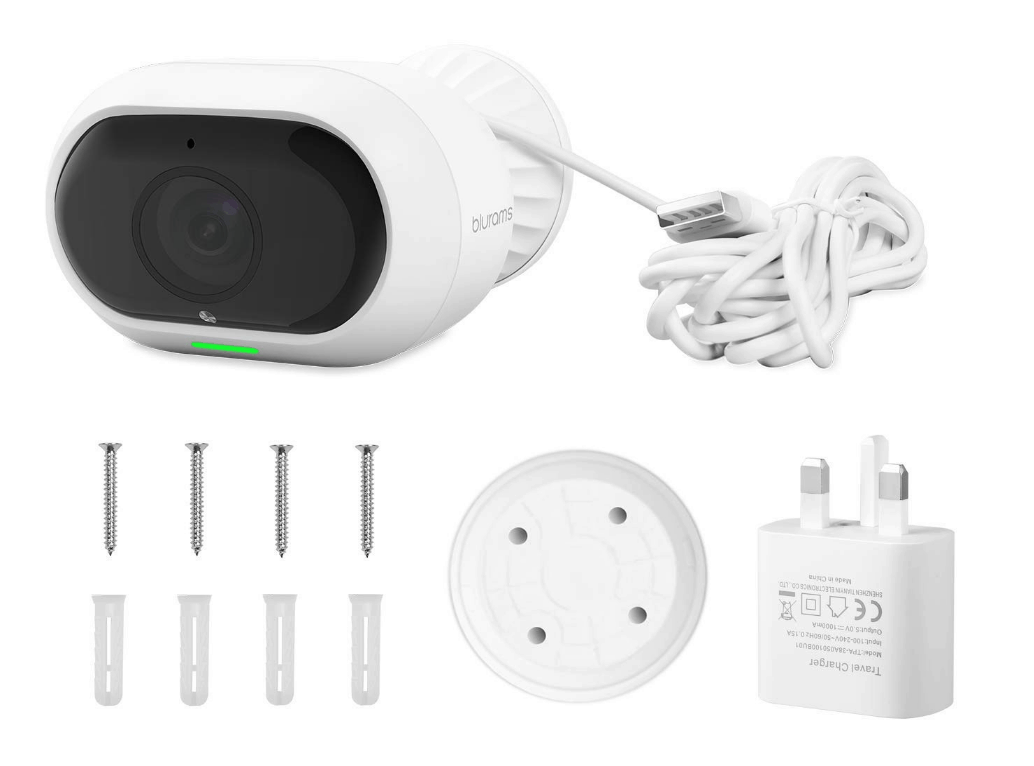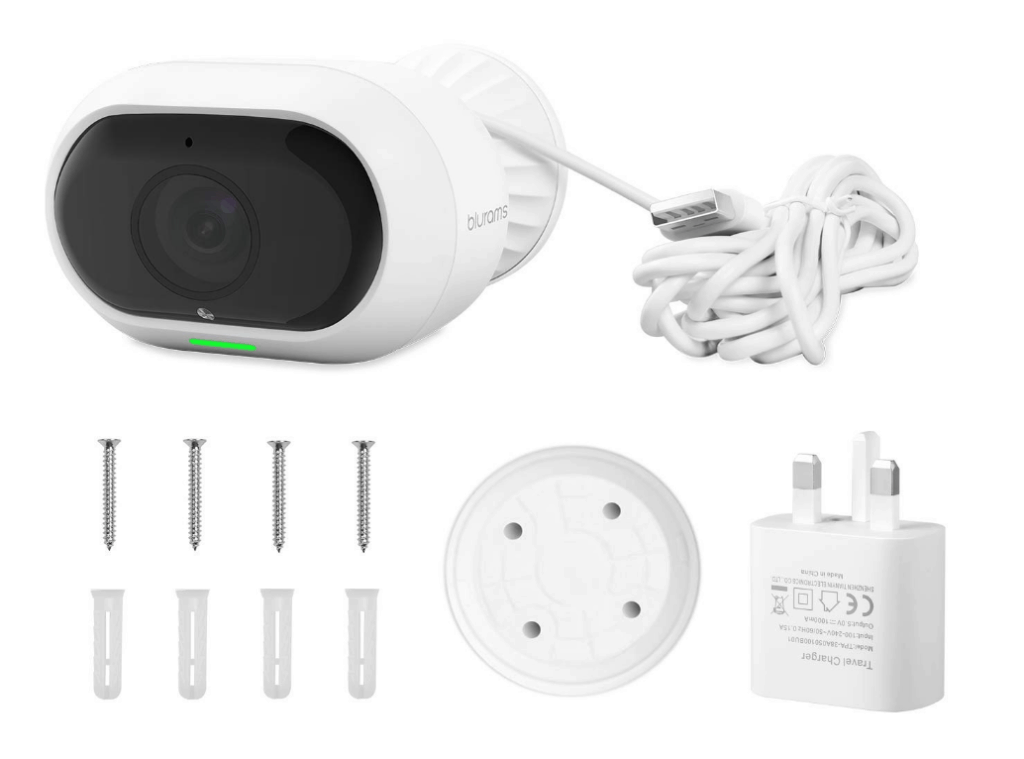 Like most other cameras, you will need to download the app and go through the registration process. From here, adding the camera was quick and smooth, due to the aggressive way my Huawei P30 Pro handles data it didn't work at first so the app gave me the option to pass my Wi-Fi details over to the camera via a QR code, which worked straight away.
The camera features a privacy zone which allows you to zone out one area and this will fuzzy out the image. With a growing concern for privacy, this could be a useful feature but I can't think of many practical applications for an outdoor camera.
Assuming you have a subscription, you can opt-in or out of facial recognition and also select to delete all date — another privacy benefit of the system.
For storage, you have an option of microSD and cloud. I am always a fan of having an option for local storage, so this is good, but it comes at a cost. Local storage does not have smart features such as facial recognition, as this is done server-side.
You have a lot of notification options, which is a big plus for me. Due to the smart features, you have facial recognition, but you also have human body detection, motion detection and sound detection. With motion detection, you have the usual settings of activity zone and sensitivity.
The camera itself has a built-in ball and joint mount which is then clipped into a backplate and screwed to your desired location. The design means that the camera will not stand by itself, so you definitely have to screw it into something. The mounting mechanism seems to be OK, much better than cheap alternatives such as the Blink XT, but the backplate is a bit small and plasticy so not as sturdy as others.
Subscriptions Costs
With the camera added you have the option to record to cloud or microSD. With the cloud option, this is $4.99 per month or $49.99 per year, so £38. That is cheaper than the per camera licence for Ezviz but more expensive than Ring which is £24.99/year for 1 device or £80/year for unlimited.
Similarly, Arlo is £2.11 per month or £6.77 per month for five cameras.
24/7 Cloud Streaming Bandwidth
Unlike the others, this has 24/7 recording, you can optionally have this with Arlo, but at an extra cost. While this is good, it also means you are streaming data continuously to the cloud. A 30-second clip with no events appears to have a bit rate of 29.7 kb/s so it is not too bad for your bandwidth that was running at 2FP.
A 5min with multiple events (when it was located outside) was 31MB with an overall bitrate of 807 kb/s this varied between 8FPS and 30FPS with an average of 15FPS. So not the end of the world, depending on what broadband you have. My virgin connection uploads at about 36MB/s so I have plenty of wiggle room, but a few of these cameras running in cloud mode could start to eat into your bandwidth badly, especially if you are on ADSL still.
Performance
I located the camera indoors for this test, my partner is sick of my drilling holes into the wall to test cameras. Since using it, I have been quite impressed, I placed it in our kitchen which is mid-build and the accuracy of facial recognition has been superb. It eliminates the chances of missed events by having motion alerts, human shape alerts and facial recognition. It is similar to the Netatmo Smart Indoor Camera (Welcome) where it will list detected faces and you can then categorise them. With a face categorised, you can then cut out notifications for that person.
As mentioned above, I am unsure how to access the 24/7 so there is no easy way to track back to specific times, this is common with cloud-based devices though.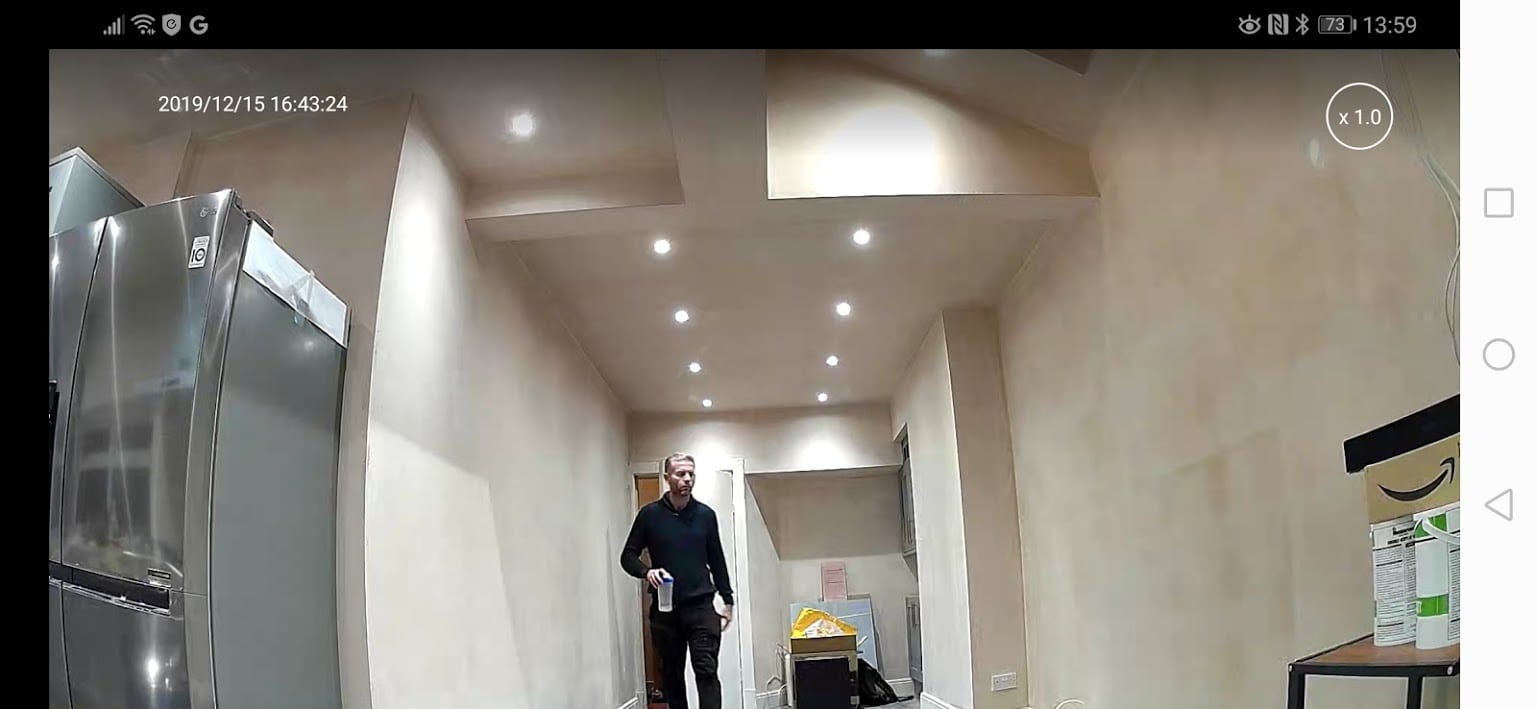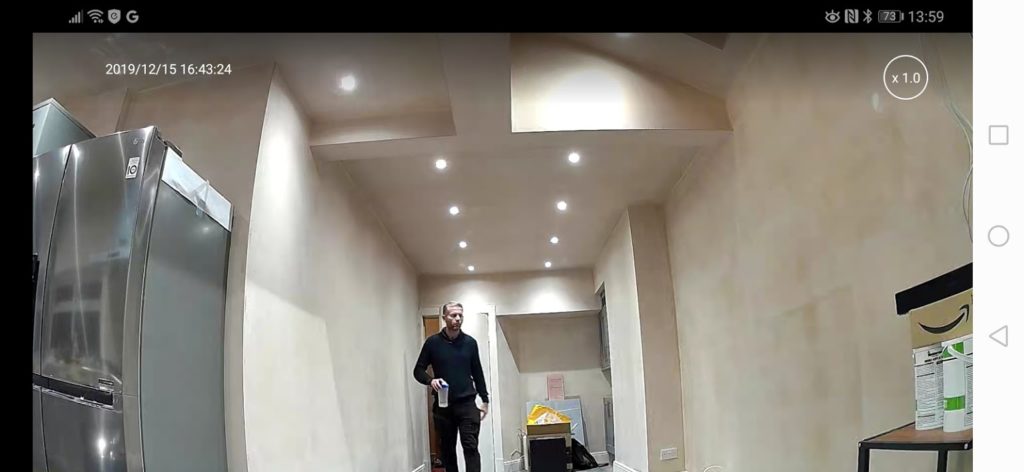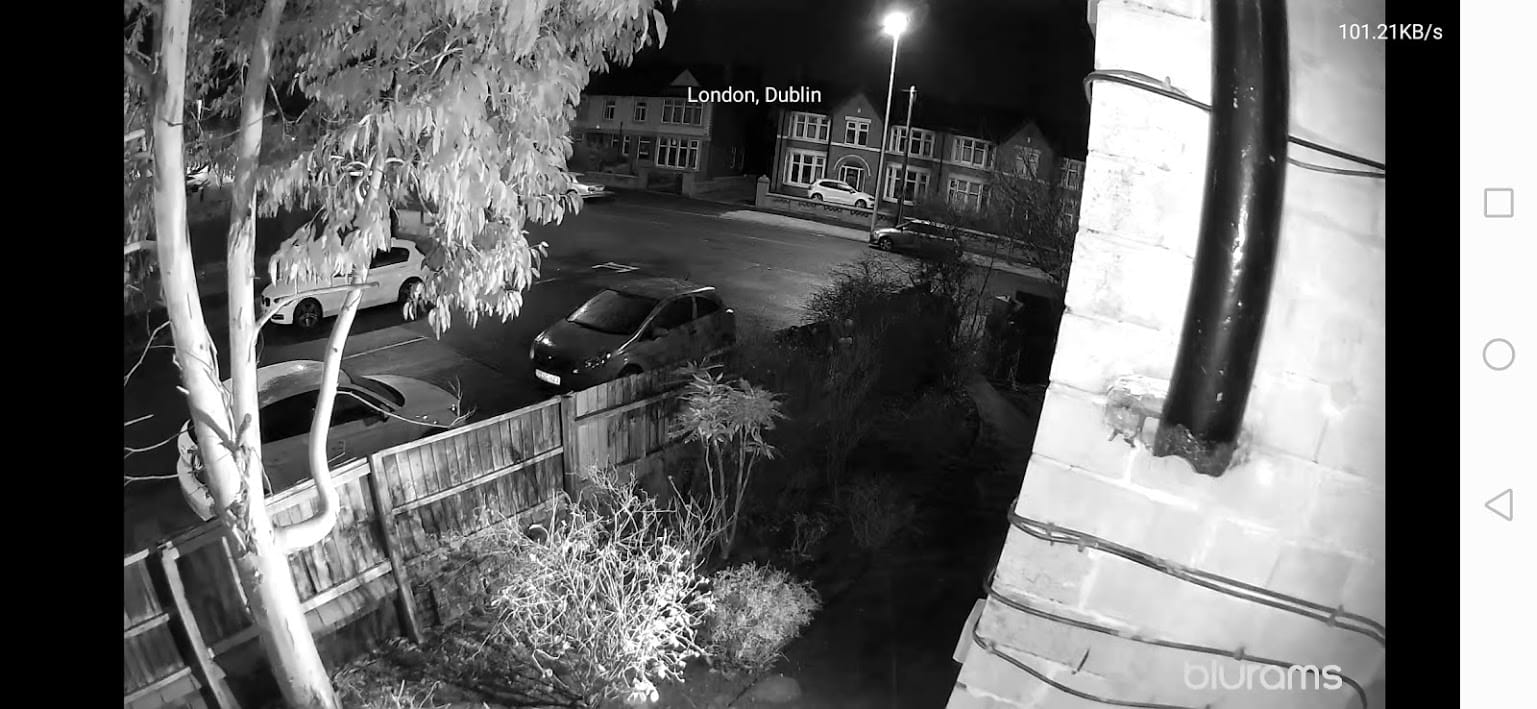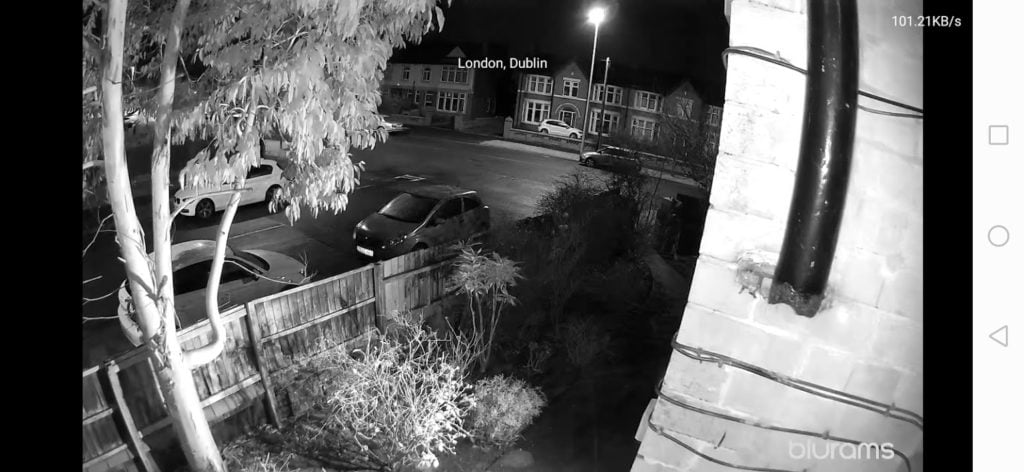 Video quality in decent light is excellent, like most cameras nowadays. In this case, good quality video will be critical for accurate facial recognition.
To get a better idea of outdoor performance, I placed this on my windowsill temporarily while it was dark. Performance is good, better than average I would say. While there was not much going on outside when I tested it, it was possible to zoom into the registration plate of the car on the road and read it. So more than adequate for a security camera in my opinion.
Overall
The blurams Outdoor Pro costs just £69.99, and at the moment there is a 20% off voucher with Amazon taking it down to £55.99. I am not aware of a single camera that is anywhere near that price that offers facial recognition as accurately as this.
The caveat is that you need a cloud subscription to make the most of it, and this costs more than big named brands. Long term you are probably going to pay more for this than Arlo with a premier plan, though that only has person detection, not facial detection. Then there is the issue of the constant data connection for the facial recognition, and I probably wouldn't want to run several of these cameras all at once in this scenario.
However, I assume you could have one camera with the cloud recording and facial recognition in an obvious access point such as a gate or your front door while having other cameras running off microSD. In this scenario, you should be able to build both an affordable and accurate surveillance system.  
Last update on 2022-05-18 / Affiliate links / Images from Amazon Product Advertising API