Azulle Byte4 Mini PC Review Rating
Summary
The fanless durable design and dual-port Ethernet with POE sets this mini PC apart from the competition. You pay a slightly higher price for it, but not significantly so, and it gives you a more versatile PC that is perfect for a hobbyist wanting to experiment with different applications, or for work from home users wanting something small, lower-powered and quite.
Pros
Intel Celeron J4125 offers enough power for many scenarios
Very easy to upgrade RAM and storage
Dual ethernet with optional POE
Fanless
Loads of USB ports 
Cons
RAM & Storage could do with upgrading, adding to costs
Intel Celeron J4125 will struggle in some scenarios
The Byte4 Mini Desktop PC is a highly versatile and affordable fanless mini PC with dual ethernet ports (optional POE) and plenty of ports making this an appealing, affordable PC for many uses.
Specification and Features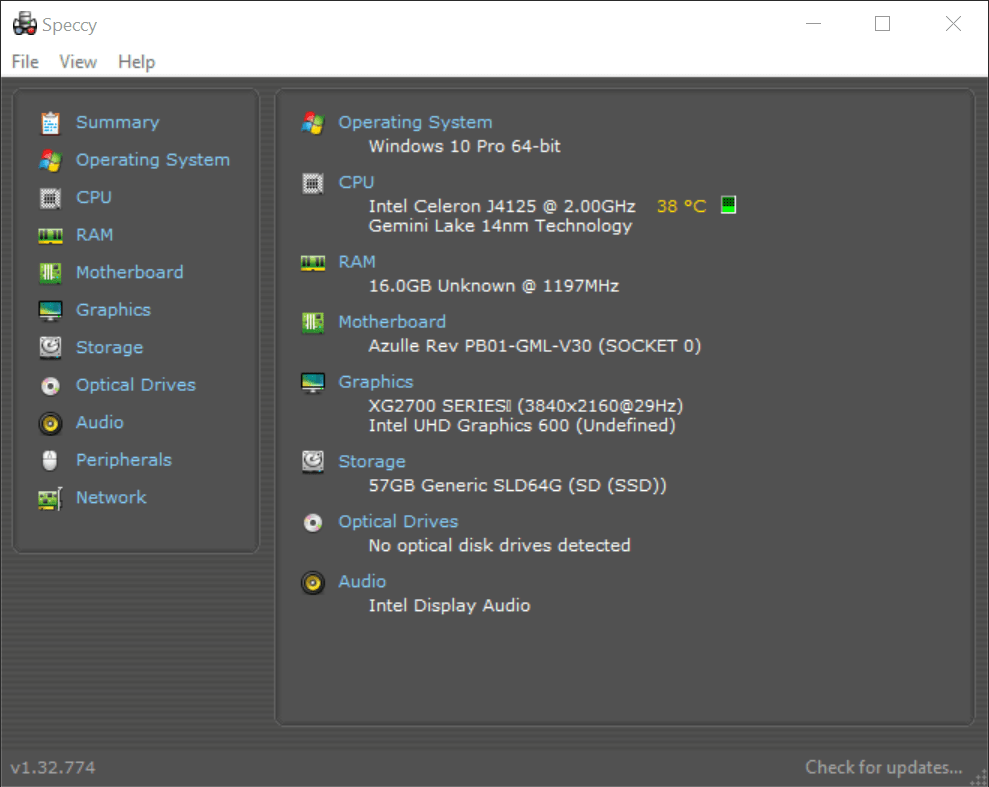 Processor: Intel Celeron J4125 4 core, 4 threads 2.00 GHz base 2.7Ghz burst with Intel UHD Graphics 600
OS: Windows 10 Pro
RAM: 4GB
Storage: 64GB
Internal Storage:
Display Output: HDMI, Display Port and VGA up to 4K @60FPS
Ports:
Wi-Fi: 802.11 AC Dual Band
Ethernet: Dual Gigabit LAN (POE Optional)
Build


The build and design are impressive; this uses an aluminium chassis which acts as a heatsink allowing it to function flawlessly.
The fanless design and POE Ethernet gives the ability to mount this in places you wouldn't normally try with a regular PC. This could be for industrial applications, or for the home it could be in the loft or somewhere not typically too hospitable for devices running fans. I had it set up in my garage for Zwift, and in this scenario, it would work well as a sort of offsite backup.
There are plenty of ports too, enough to run multiple external disk drives and have a multi-monitor configuration.
Upgradability – RAM, SSD, NVMe and Wi-Fi
A couple of the weak spots of this mini PC are the 4GB of RAM and the 64GB eMMC storage. However, you can fix both of these easily and cheaply.
The chassis is relatively easy to open up, just a few Philips head screws. Inside the chassis is easy to access to the SODIMM RAM slots, cables for SATA SSDs and a slot for an M.2 NMVe drive.
Performance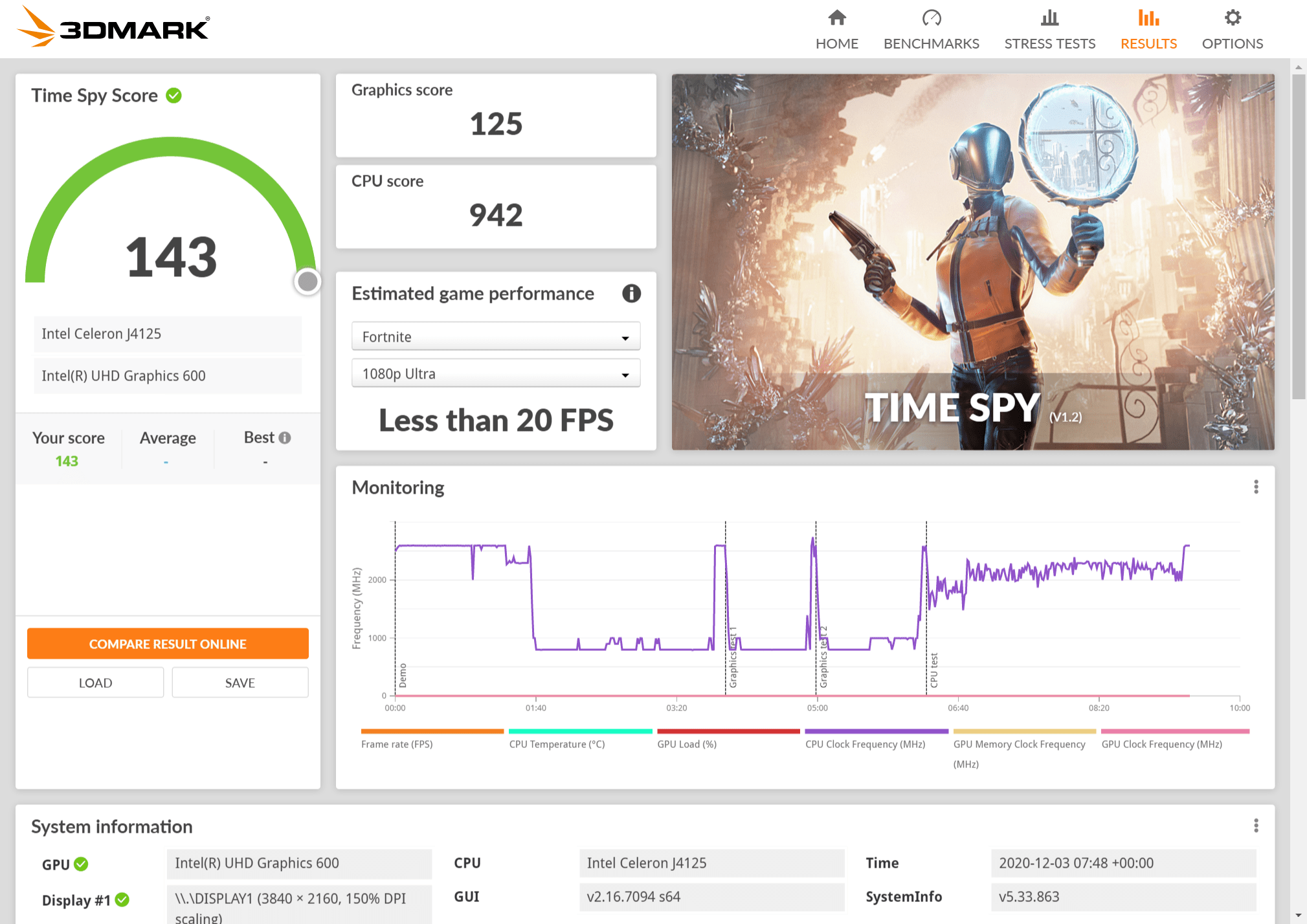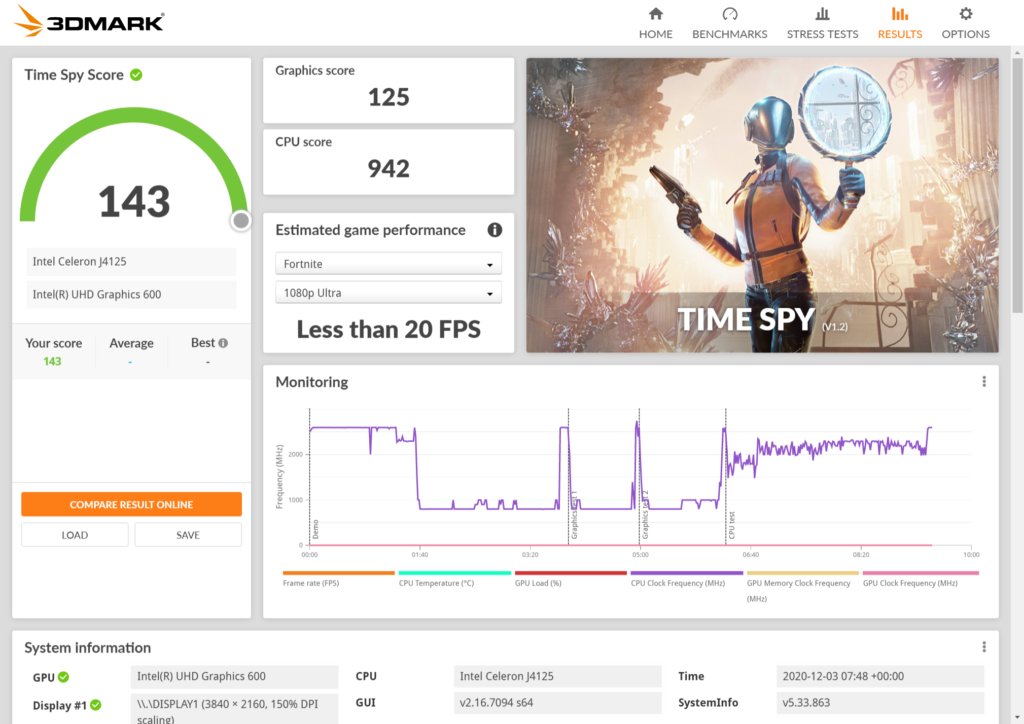 The CPU on this is quite low end, the Intel Celeron J4125 is a four-core chip but lacks multi-threading and has a base clock of 2.00 GHz. It is the same CPU you will find in the latest Synology NAS boxes, so designed mainly for low power computing.
With realistic expectations, it is good, though. The fact that this is used in the likes of Synology devices makes this a decent option for various home networking projects, either as a NAS, some sort of server or even a router (which will benefit from the dual Ethernet).
You can forget about any serious gaming, though.
The eMMC drive provides acceptable performance but it is considerably lower than an SSD or NVMe drive.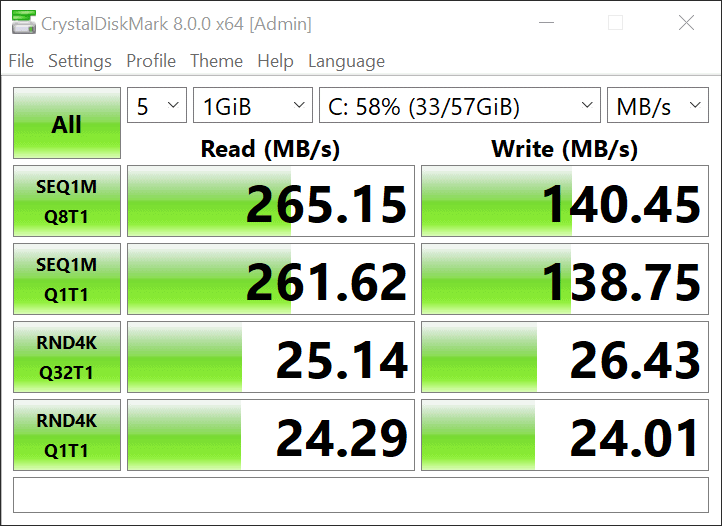 Testing possible usage scenarios
Work From Home
There is not much testing to be done here. This has enough power to happily handle all the office apps I use as well as browsers and video calling. Its tiny form factor and no noise mean you can set up a home office as discretely as possible and not have to worry too much about how much electricity it is using.
Testing in Zwift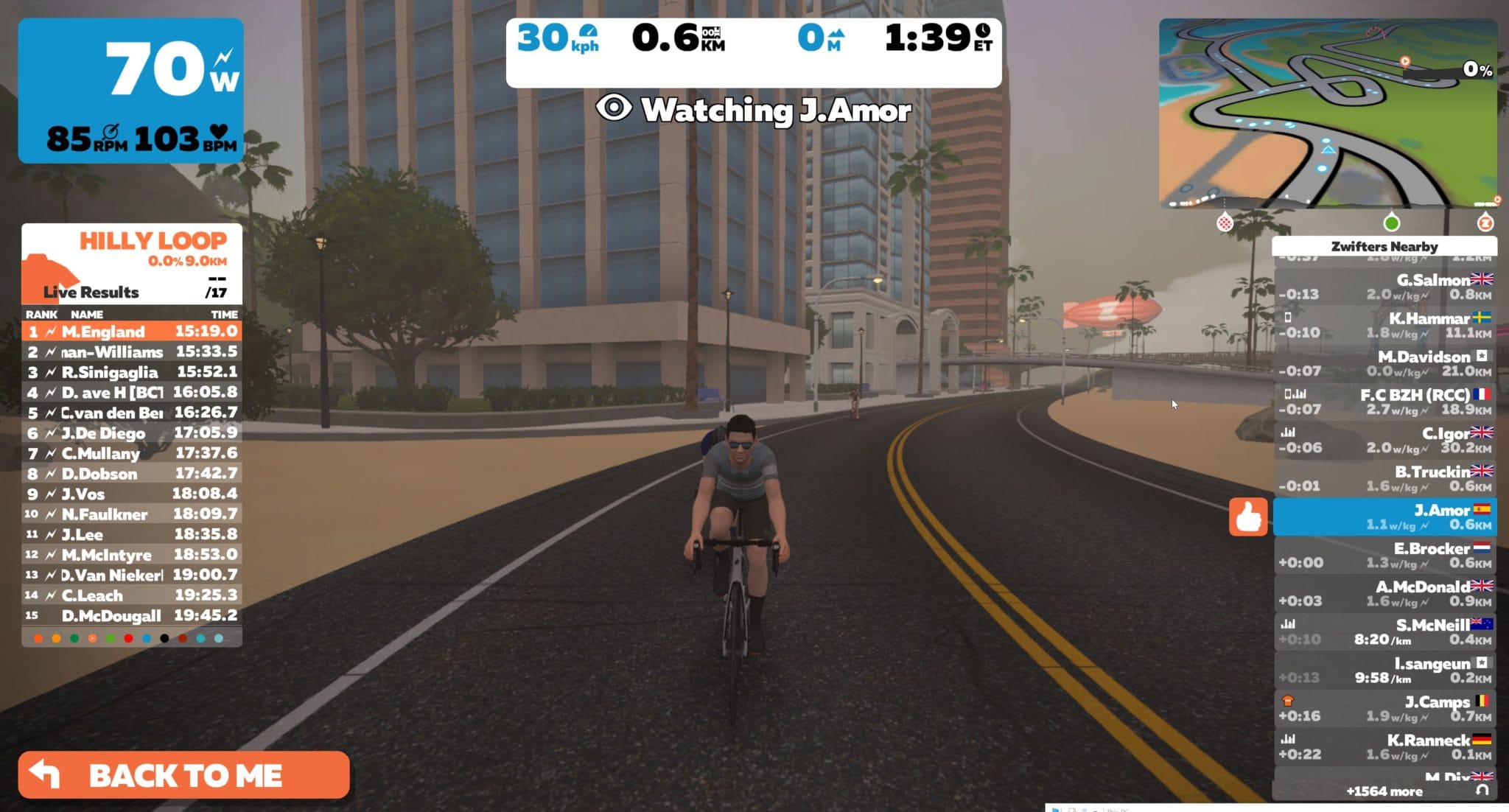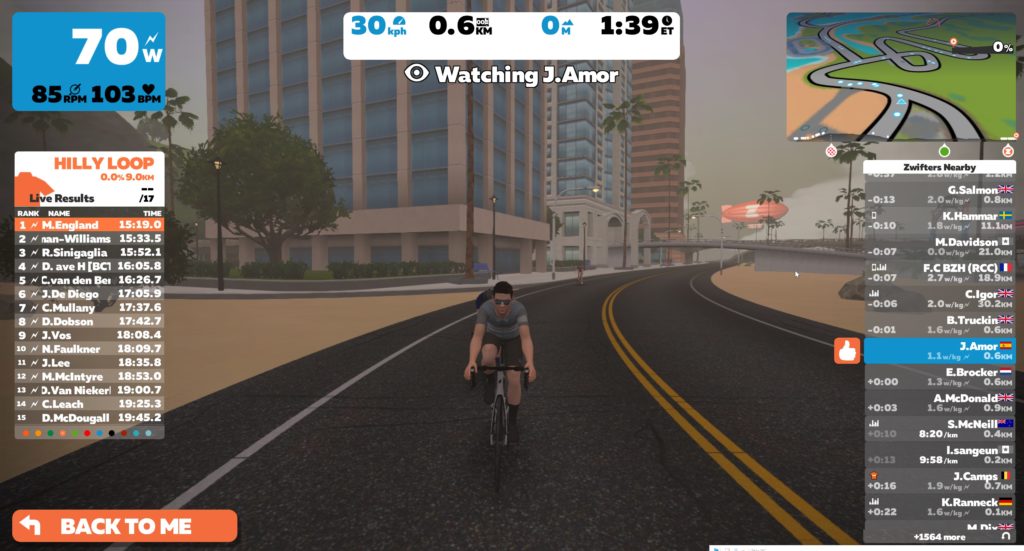 With lockdown I have become an avid indoor cyclist, using Zwift several times a week. I currently use a laptop, but it is a bit of a chore taking it to the garage/gym every day and setting everything up. So I have been considering setting up a dedicated PC, then this came in.
Zwift is not the most demanding of games, so it runs OK on this little PC, I am able to set the graphics to high (1080P). The animations seem a little clunky, but I have ridden one ride with it and have had no issues.
The fanless design of this is appealing for Zwift as my home gym was converted from our garage and its not finished off to the same standards as indoors. It is not completely sealed, so dust will still be a factor, but less so than a PC with lots of fans. The tiny form factor is very convenient compared to an ATX desktop case too.
Kodi / Plex – 4K media playback
An affordable low powered PC is begging to be turned into a home media player. Ideally, you would run this with some form of Linux, but as Windows 10 Pro was pre-installed, I stuck with that for testing.
My first test was to see how this handled 4K files, a quick install of VLC. Playing a 4K video using HEVC Main 10 HDR and TrueHD 7.1 the footage played smoothly with no jitteriness.
Installing Plex and playing the same file through that was less successful with the footage being almost unwatchable.  However, placing through Kodi worked significantly better with no noticeable jumpiness.
Docker with PiHole, Sonarr, Radarr, NZBGet & Plex Server.
Some form of home server is another perfect scenario. You will be restricted to a single internal 2.5″ drive, M2 drive, or external USB. Apart from that, this has more processing power and more versatility than comparatively priced NAS devices. The cheapest NAS that uses the J4125, is the two disk Synology DiskStation DS720+ at around £420.
During my testing, I set up Docker in windows then installed PiHole, Sonarr, Radarr, NZBGet and Plex Server, and it worked perfectly.
Plex server won't be able to handle much transcoding, so it would be best with local direct streaming.
pfSense / Router
I have never set up pfSense or any other open-source firewall/router and have not had a chance to test this on this mini PC yet. However, the dual ethernet ports and low power make it an excellent candidate.
Looking at some of the official pfSense hardware, the Netgate XG-7100 uses an Atom C3558, 8GB RAM and 32GB eMMC and will set you back $899.00. The XG-7100 has a lot more ports, but the actual processing performance should be similar.
I am currently leaning towards using this as a pfSense router, even if it is just for testing and to gain experience with it.
Price and Competition
No products found.
The Byte4 is priced at $224.99 with no availability in the UK and backorder for the US.
Looking at Amazon.com so I can compare options in USD, this seems to be sensibly priced.
There are a few options at $220 which offer more RAM and large SSD storage, but they lack dual either, POE and have fewer ports.
A lot of these also appear to have inferior and less durable designs, the Coofun Mini PC at $230 caught my eye at first costing a little more but have 8GB RAM and 128GB SSD, but it is not fanless.
In the UK, you are looking at around £200 for a mini PC with the J4125, but these are not fanless and lack multiple Ethernet ports.
Overall
The small fanless chassis combined with a wide range of ports and connectivity makes this an incredibly versatile mini PC. So much so I am struggling to work out what I want to commit using it for
The Intel Celeron J4125 CPU helps keep this affordable, but it is quite limited in performance depending on what you want to achieve with it.
It is possible to significantly upgrade the RAM and storage, and while relatively cheap to do, it will start to add up quickly. However, you can pick up a 4GB stick for of RAM for £15, taking it to a more usable 8GB, Amazon regularly has NVMe drives for under £50, I bought the 500GB Kingston A200 on Prime day for £48.
If you were to set this up as a basic NAS the Western Digital drives go on sale regularily; the WD 12 TB Elements often drops down to around £165.
Overall, as long as you have realistic expectations of what the Intel Celeron J4125 is capable of, this is a superb mini PC.
Last update on 2022-05-22 / Affiliate links / Images from Amazon Product Advertising API