In the UK, mobile data has been improving faster than our wired connections. The average speed of the Internet in the UK is 22.37MB/s placing us 34th in the world, behind economic powerhouses such as Madagascar, Portugal, Malaysia and Andorra.
As of 2019, the split for technologies connecting to the 24.8% using ADSL/ADSL2+, FTTC (54.5%), G.fast (0.1%), Cable (17.2%), FTTP (3.1%) and wireless (0.3%).
ADSL2+ caps out at around 24Mb/s quickly dropping down to close to 8Mb/s if you are 3km away from the exchange. So it is not unusual for people in the centre of London to be using Internet that is sub 10Mb/s.
Depending on the 4G coverage in your area the theoretical top speeds are 150Mb/s down and 50Mb/s up. On Vodafone in my house, it is not uncommon for me to hit over 100Mb/s down.
Then for 4G LTE Advanced which is available from EE, Three and others in major cities, this number goes up to 300/150Mb/s.
So many people are ditching their wired connections in favour of 4G. This normally requires an expensive 4G modem, which then people often combine with expensive mesh Wi-fi systems.
Netgear Orbi 4G LTE Advanced WiFi Router (LBR20)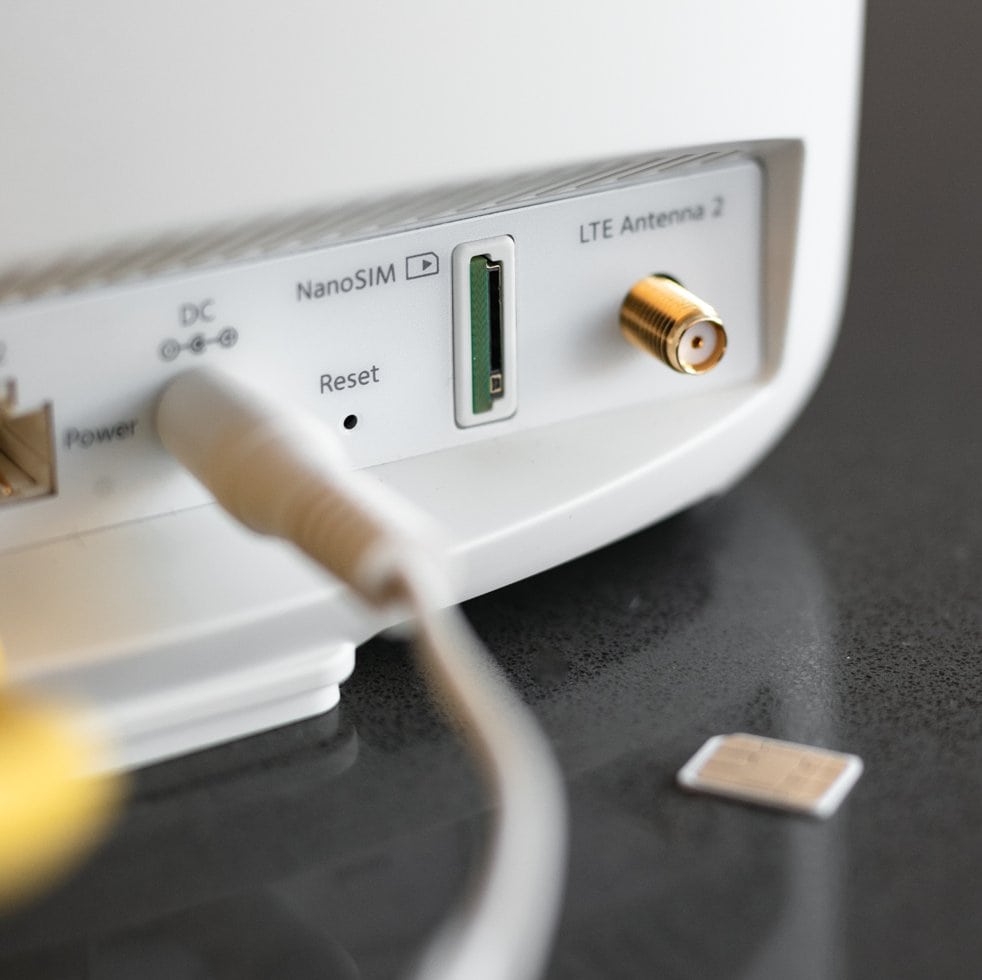 Netgear are now merging all this into one with the Netgear Orbi 4G LTE Advanced WiFi Router (LBR20) for a suggested retail price of £369.99 GBP, €399.99 EUR and $399.99 USD.
This is the industry's first tri-band mesh system with LTE-A Cat 18 modem technology, which is perfectly suited for those who experience limited or no access to traditional wired broadband or require a network connection for limited time frames. It offers an opportunity for reliable network access for rural areas and mountainous regions with limited options for traditional wired internet connections. Also, ideally suited for those who have vacation homes in remote locations where year-round connectivity is not a requirement, the Orbi 4G LTE Advanced WiFi Router (LBR20) has the flexibility to provide internet access when needed.
Additionally, the Orbi router can be used in conjunction with an existing wired service to provide a fail over to ensure internet connectivity is consistent and uninterrupted. With 1.2Gbps over 4G LTE Advanced and the high-performance tri-band AC2200 WiFi, this new Orbi Mesh WiFi router is powered to provide an uninterrupted network connection for the smart connected home or small business.
With an integrated Cat 18 cellular modem, the Orbi LTE router will work with a SIM card from major 4G LTE Advanced cellular network providers. The sleek and modern design with its high-gain internal antennas will reach up to 2,000 sq. ft. of WiFi coverage and can be easily extended by pairing with any Orbi Tri-band WiFi 5 (802.11ac) satellite to create a mesh WiFi system. The Orbi LTE Tri-band router features a patented dedicated wireless backhaul between the router and satellites to provide a robust uninterrupted data connection to extend the reach by an additional 2,000 sq. feet for each satellite added to the system. With the benefit of a single WiFi network name (SSID), uninterrupted seamless connectivity is supported while roaming from room to room.
You need to buy additional satellites to create a mesh Wi-fi system
While most mesh Wi-Fi devices come in packs of two or three, this is a pack of one, with the LBR20 acting as the primary router and model. You will then need to buy the separate satellites to create a whole-home mesh system
The Orbi LTE router can also be paired with additional satellites such as Orbi Voice or Orbi Outdoor to gain greater coverage and additional features, like a smart speaker with Alexa voice assistant. The Orbi app makes it easy to get started with a quick installation providing access from anywhere to manage and monitor your Orbi home network.
The Orbi LTE router also includes the option to add NETGEAR Armor™ powered by Bitdefender and Circle Smart Parenting Controls to your network.
No 5G though
Disappointingly there is no word on a 5G version. This would no doubt add quite a bit to the cost, but 5G could realistically displace traditional wired connections for our home Internet. It has a lower latency and much faster speeds, assuming you can get 5G in your area.
Price and Competition
The LBR20 is available now from Amazon for £369.99. While that may seem quite expensive when you don't get the additional satellites with it, it is in the middle of pricing when compared to the excellent Netgear MR1100 or the super-fast MR2100.
Very few (if any) 4G routers offer the 1.2Gbps model Netgear has too.
The Huawei B818-263 White Router 4G+ is the best alternative at £250, but then you would still need to buy a separate tri-band mesh system if you want all the features the Netgear offers.
Last update on 2022-05-16 / Affiliate links / Images from Amazon Product Advertising API