Edifier TWS 330 NB Review Rating
Summary
As usual for Edifier, these provide a superb level of performance for the price. Sound quality is better than average and few, if any, earbuds have decent ANC for around £50
Pros
Good sound quality
ANC performance similar to earbuds costing twice the price
Cons
Difficult to get out of the case
Poor battery
The TWS 330 NB are the latest pair of affordable earbuds from Edifier in their ever-growing product lineup.
With an RRP of £59.99, these are an impressive feature-rich pair of earbuds
Specification
Bluetooth version: V5.0
Bluetooth Protocol: A2DP,AVRCP,HFP
Audio codecs: AAC, SBC
Playback time:

ANC on: about 4 hours (earbuds) + 12 hours (charging case)

ANC off: about 5 hours (earbuds) + 15 hours (charging case)

Charging time: about 1 hour (earbuds)/1.5 hours (charging case)
Battery capacity: 32mAh (earbuds)/350mAh (charging case)
Charging port: USB Type-C
Frequency response: 20Hz-20kHz
Sensitivity: 92±3dB SPL (A)
Impedance: 24Ω
Driver unit: Φ8mm dynamic drivers
IP Rating: IP54
Effective Distance: 10m
Edifier Connect companion app
Design and Fit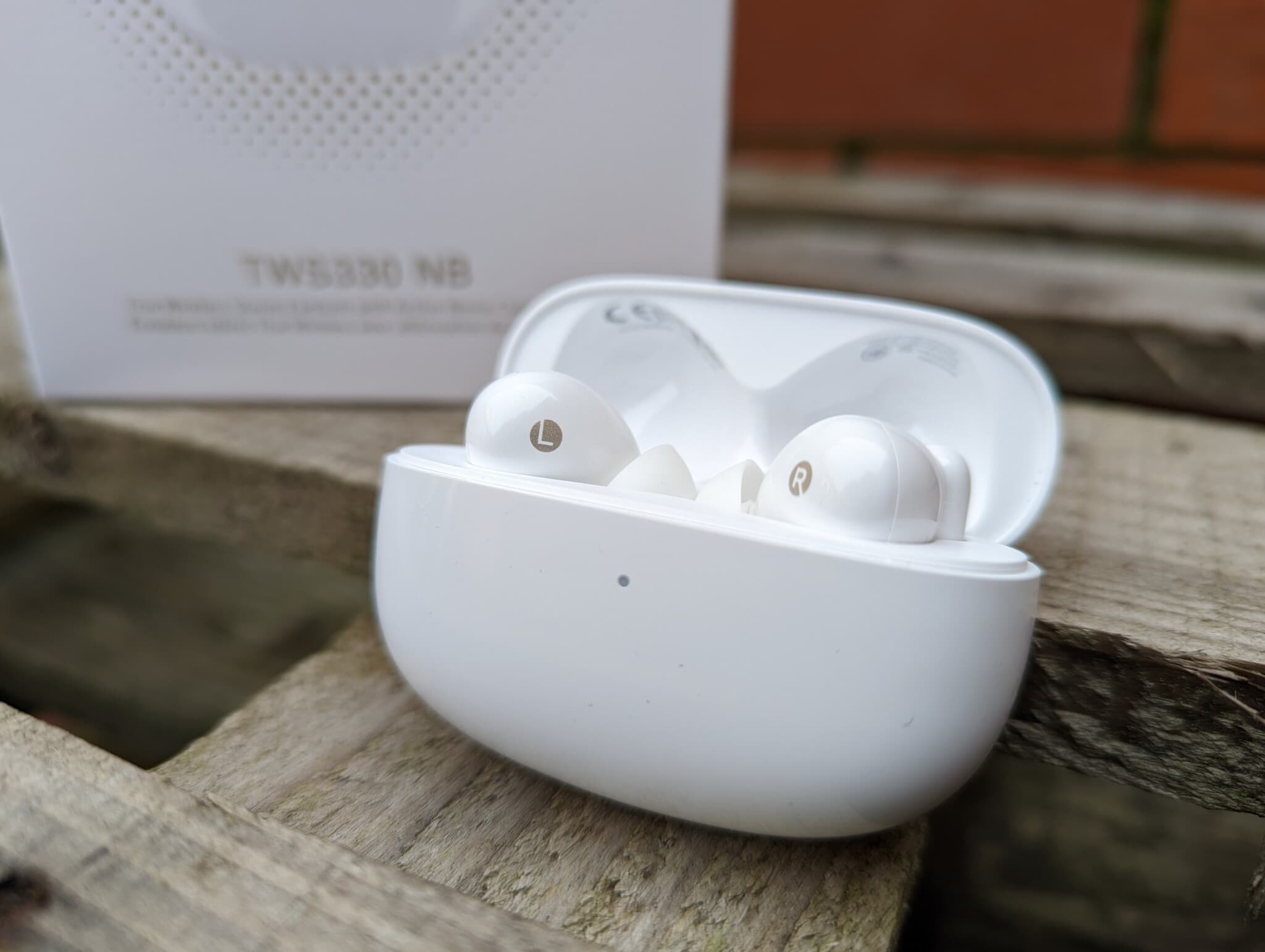 Edifier have clearly been inspired by the AirPods Pro when designing these. Just like the AirPods they have a fat angular earpiece with a relatively short stem. I have no strong feelings about how earbuds look; the important thing is the fit.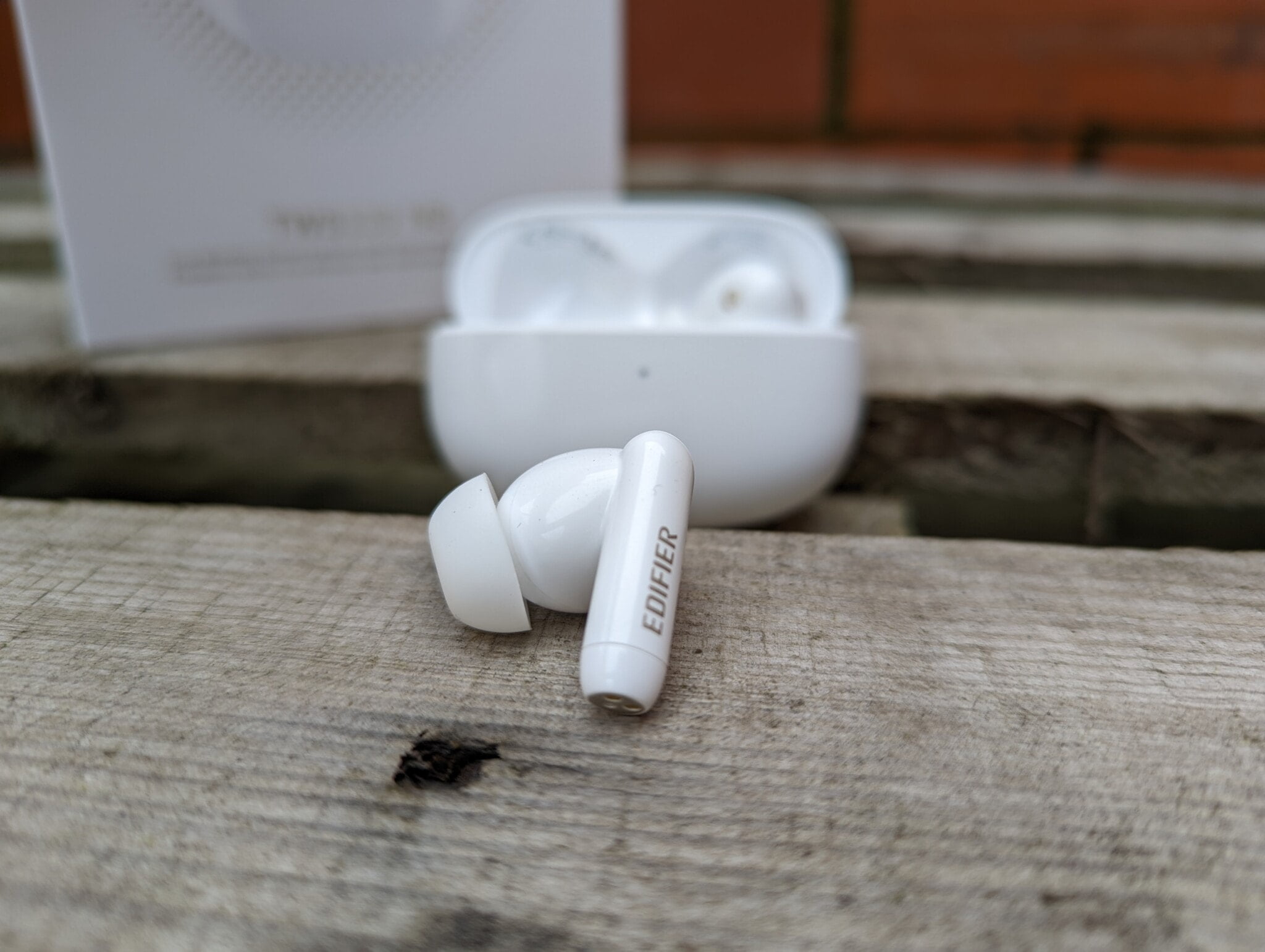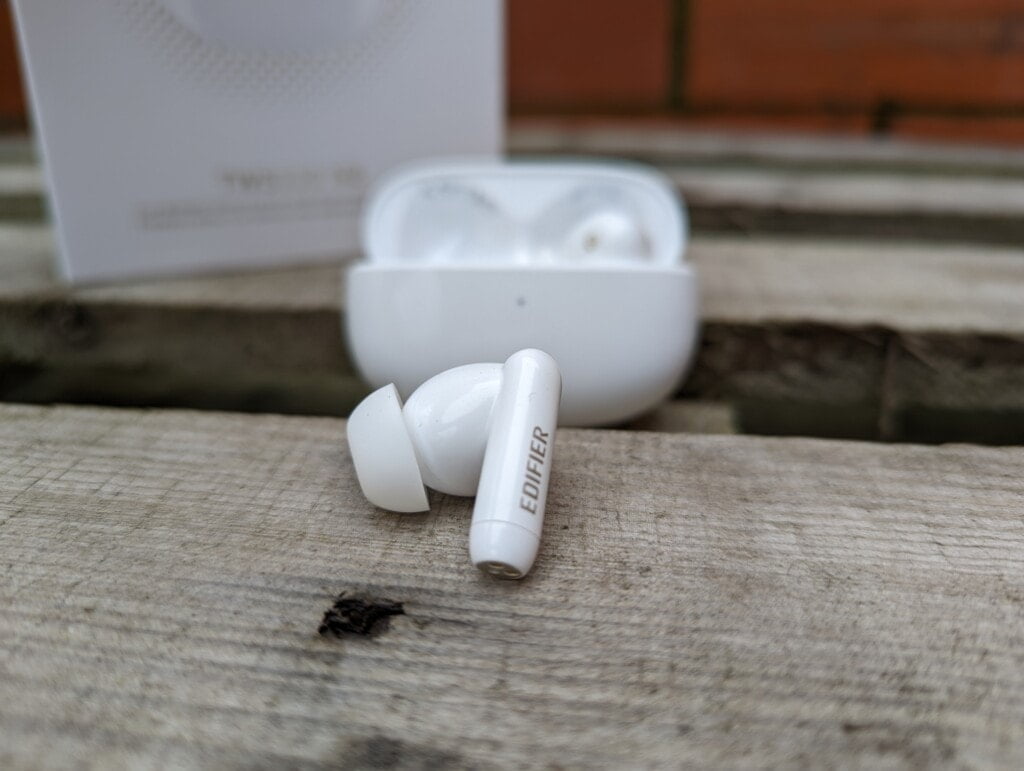 For me, they fit very comfortably. The bulk of the weight is in the earpiece part itself and this sits snugly in my concha with the angular design allowing the ear tip to slot easily into place. The overall earbud sits close to my head which seems to avoid any movement, and I haven't experienced any issues with them nearly falling out. Even during running and weightlifting, I haven't felt the need to adjust them.
The only minor gripe with the design is that the earbuds are fiddly to remove from the charging case. They slot quite deeply into the case and the plastic is shiny and slippery.
App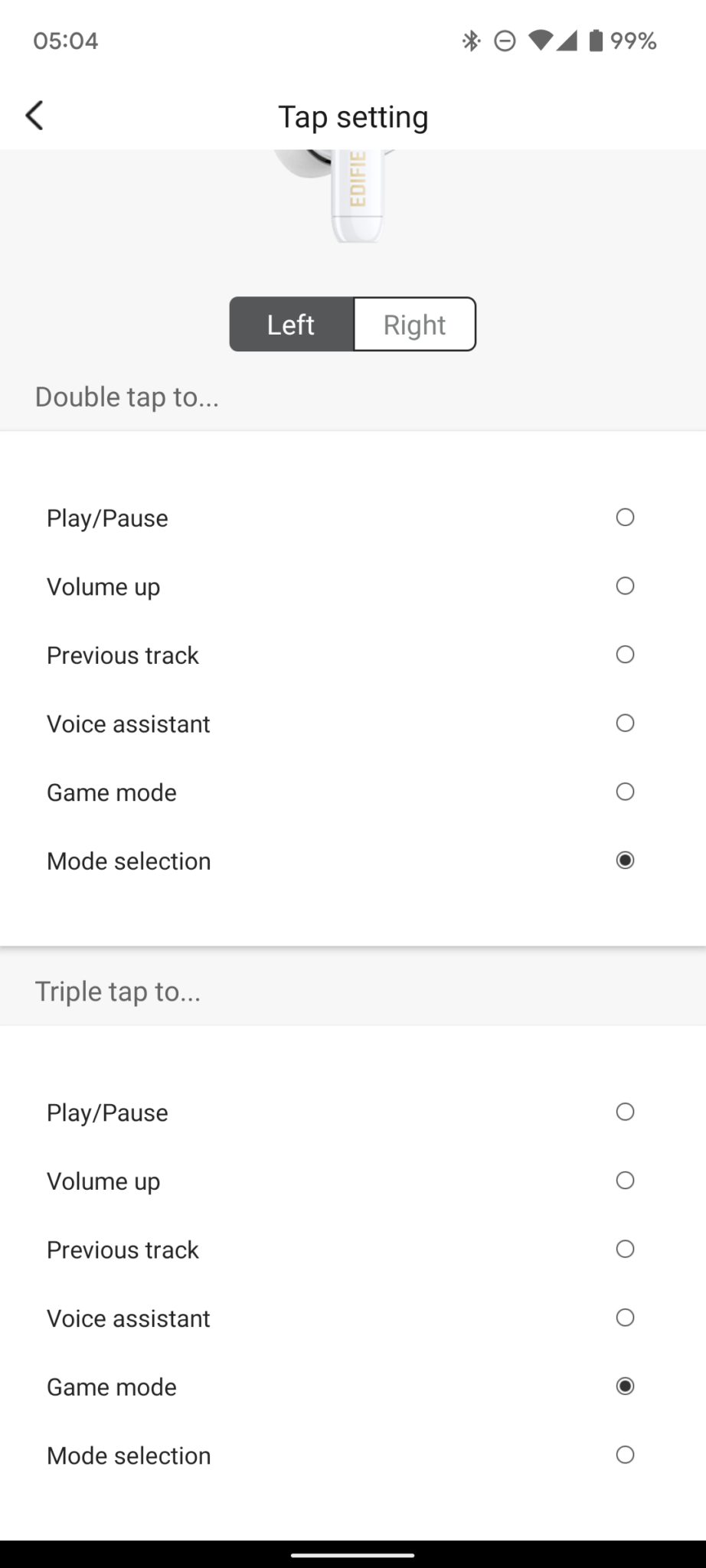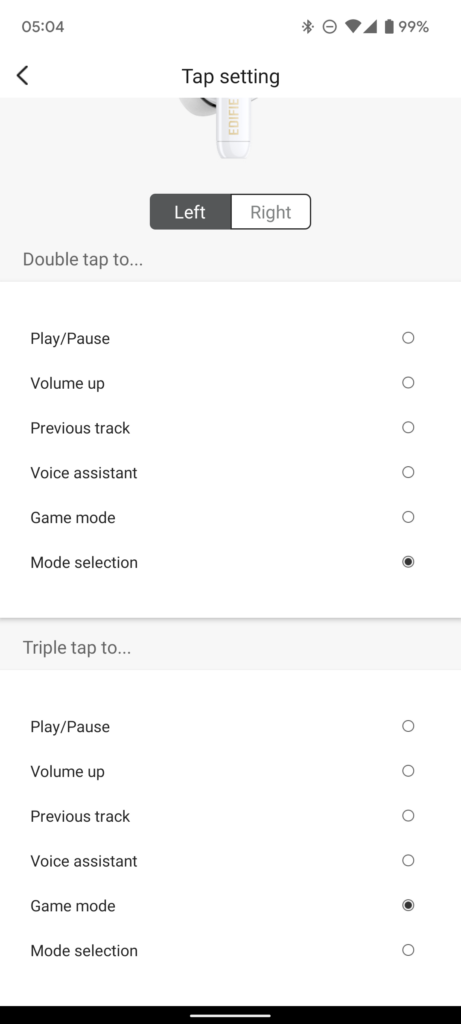 There are not many earbuds at this price that have a companion app.
I had one immediate issue with this, the app requires you to provide draw over permissions. I don't really know why this permission is needed. I assumed it was because of the settings banner that gets displayed on your pull-down notifications and on your lock screen. This then provides shortcuts for ANC, ambient and gives you battery life numbers. However, when I reset the permissions and refused to give it again, the notification bar still popped up.
The app itself is OK, it allows you to customise the touch controls as well as control the ANC. Sadly there are no EQ options which is the main thing I want from a companion app for earbuds.
Sound Quality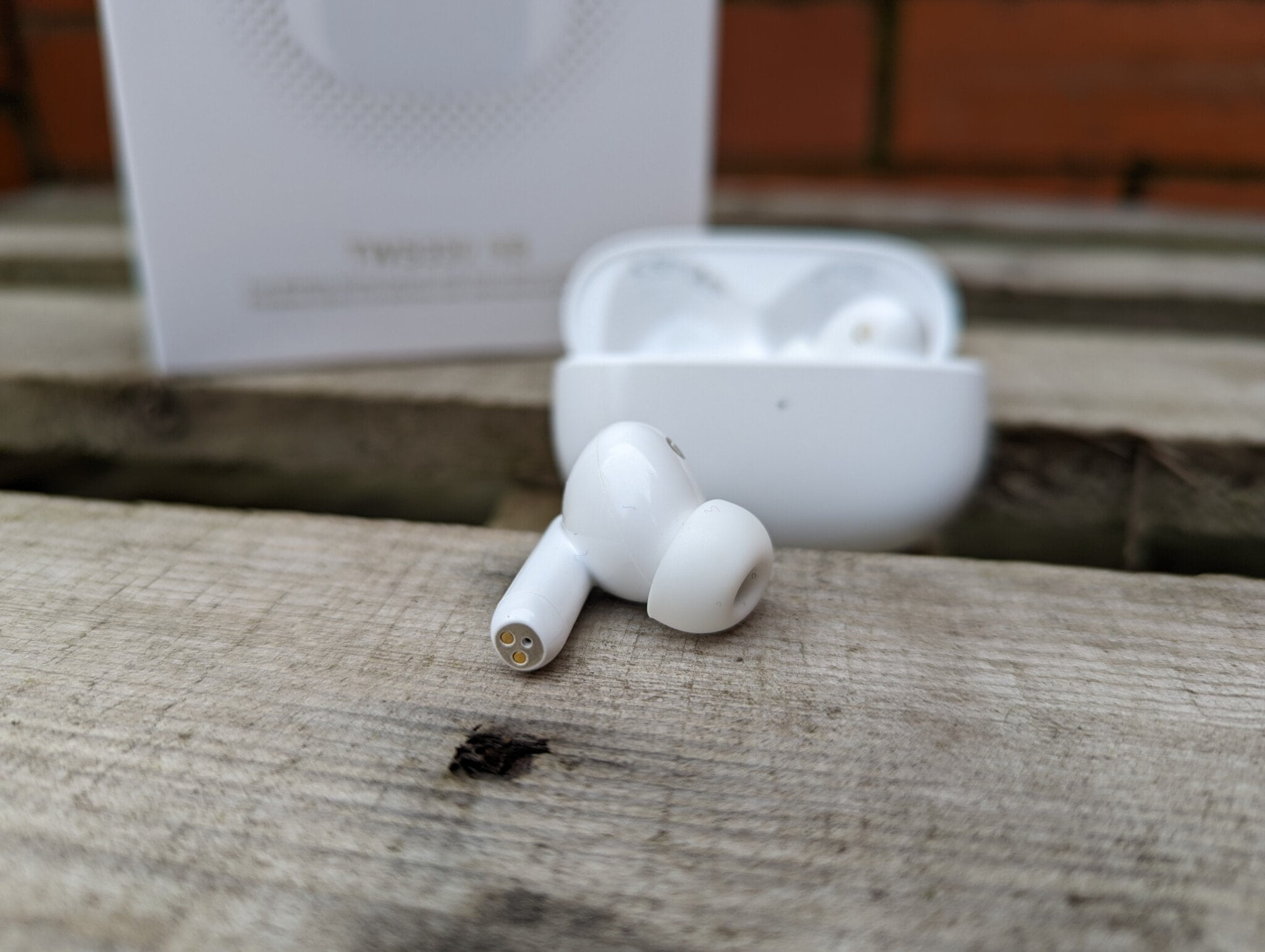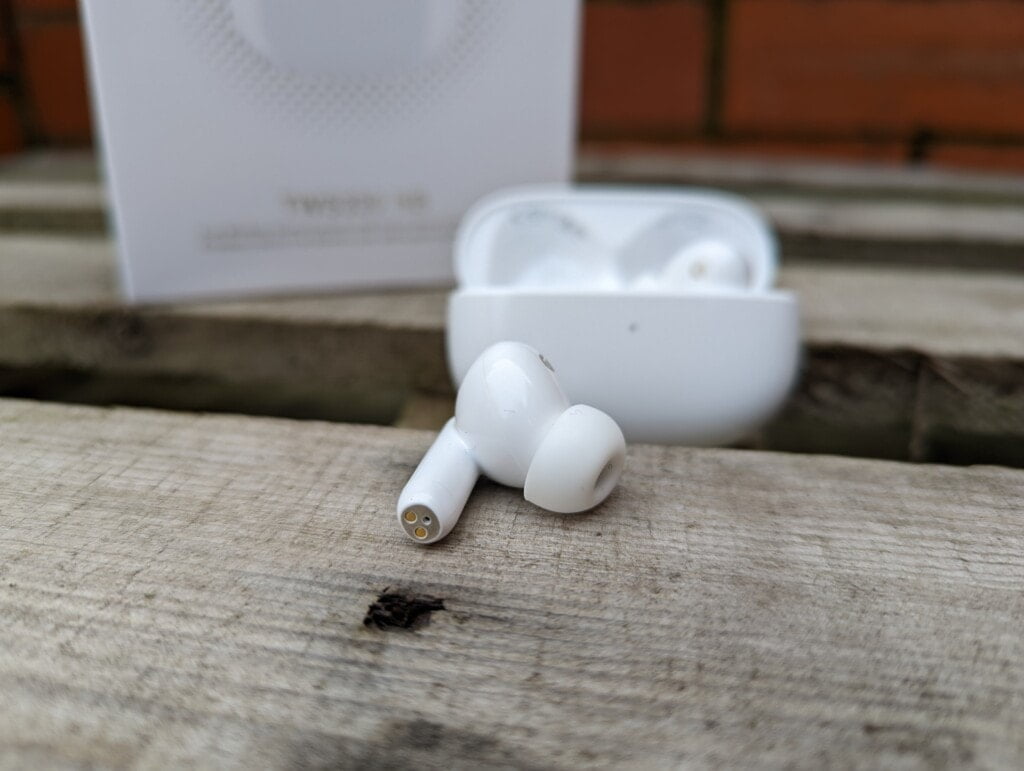 Sound quality is impressive for earbuds at this price.
They have a pleasant warm tone with pleasingly deep bass. They are certainly not a neutral sounding earbud, but there is a good level of balance, allowing rich lows without muddying the other frequencies. I found these work well across genres, including folk, blues, electronica, metal and hip hop.
Mids are rich with vocals, and instruments sound clear without being overwhelmed by the bass.
Highs seem to roll off in the upper end, which is preferable for me as it prevents fatigue.
These only support up to AAC for audio, which is to be expected considering the price. They are advertised as having a game mode that is enabled via a triple press, but there is not a significant difference in performance. Normally it is aptX-LL and aptX adaptive that are used when you want low latency for gaming.
Active Noise Cancelling
Edifier claims the TWS 330 NB can achieve a -38dB noise reduction which is quite a high level of reduction.
In my standard airplane cabin noise test, the earbuds perform reasonably well. Similar to a lot of in-ear options, these eliminate the majority of the low-end hum while retaining most of the high-end squeal/buzz.
Comparatively, they are not quite as good as the Lypertek PurePlay Z5, Anker Soundcore Liberty 3 Pro or Nothing Ear (1), but all of those cost between two and three times the price.
Battery
The battery life is rated as 4 hours with ANC on and 5 hours with it off.
In recent years we have started to see a trend of earbuds with impressive battery life. Seven hours is becoming increasingly normal, as seen on the Lypertek PurePlay Z5 I reviewed recently. The Sony WF-1000XM4 can do 8 hours with ANC on and 12 off. However, the AirPods Pro are only 4.5 and 5 hours.
I think 4/5 hours is forgivable at this price point, but it is not uncommon for me to use earbuds for 4 hours, which is normally during marathon training and there is nothing worse than your earbuds dying on you mid-run. So it is something you definitely need to consider.
Price and Alternative Options
You can't really complain about the price of the Edifier TWS 330 NB, they have an RRP of just £59.99, and there is currently a 20% off voucher on Amazon, taking them to £48.
The Nothing Ear (1) cost about double the price but you are not getting double the level of performance, I'd only say they are slightly better than the Edifier.
Anker Soundcore has the Life P3 and Life A2 NC, which are around the same price. I haven't personally used them, but they are well-reviewed on Amazon.
Edifier also has two earbuds that are priced a bit higher than these. The gaming focussed Edifier NeoBuds Pro at £120 and the Edifier NB2 Pro at £80. The Edifier NB2 Pro could be worth considering as they have a larger 10mm driver, 6-custom sound modes available via the app and significantly better battery life.
Overall
As usual for Edifier, these provide a superb level of performance for the price.
I have mostly given up reviewing earbuds at around £50 because they are all generally good but largely unremarkable. Everything is just a bit samey with an adequate sound bass-forward sound quality and not much else going for them. Most ANC at this price point is poor at best.
The Edifier TWS 330 NB are a bit different. I'd say the sound quality is better than average and the ANC performance plus inclusion of app control makes these stand out from the crowd.
Last update on 2022-05-22 / Affiliate links / Images from Amazon Product Advertising API