When Qualcomm launched their first Windows and ARM devices, the performance was a little lacklustre as well as compatibility issue with 64-bit applications. I still use my HP Envy X2, and things have improved with Windows updates, but it is not good enough as a main laptop.
The laptop used the Snapdragon 835 Mobile PC Platform and since then there has been the Snapdragon 850 and now the Snapdragon 8cx, where Windows on ARM now looks like a viable solution for your daily computing needs.
Qualcomm has teamed up with UL to develop a new PCMark10 benchmark that lets reviewers compare an ARM chip like the Snapdragon 8cx with a traditional x86 Intel platform under equal environments. The test was released a few months ago in PCMark10 along with the new Night Raid graphics test, but up until now, we have not seen the 8cx matched up against an Intel Core i5.
When placed against 8th generation Intel Core i5-8250U with a max turbo frequency of 3.40 GHz the Snapdragon 8cx did quite well, often beating the Core i5 in PowerPoint, Word, and Edge browser usage.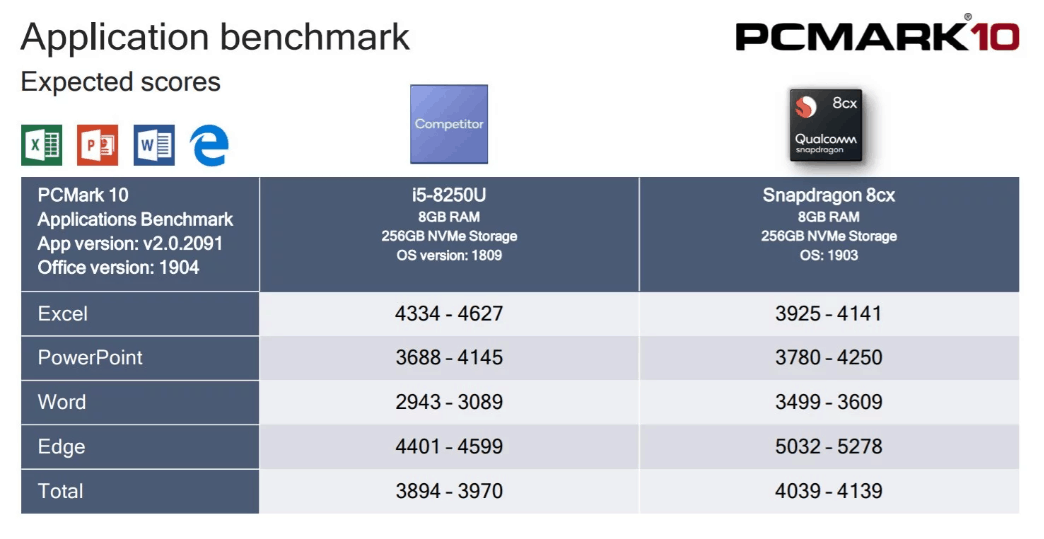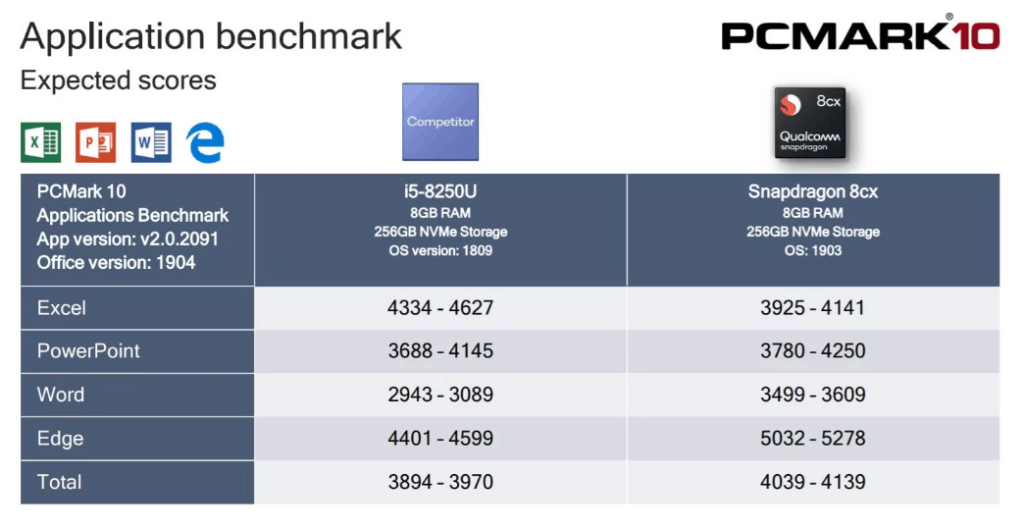 Similar results were found with the PCMark10 Night Raid graphics test with the Snapdragon 8cx edging out frames-per-second – 37.10 FPS versus 29.47 FPS.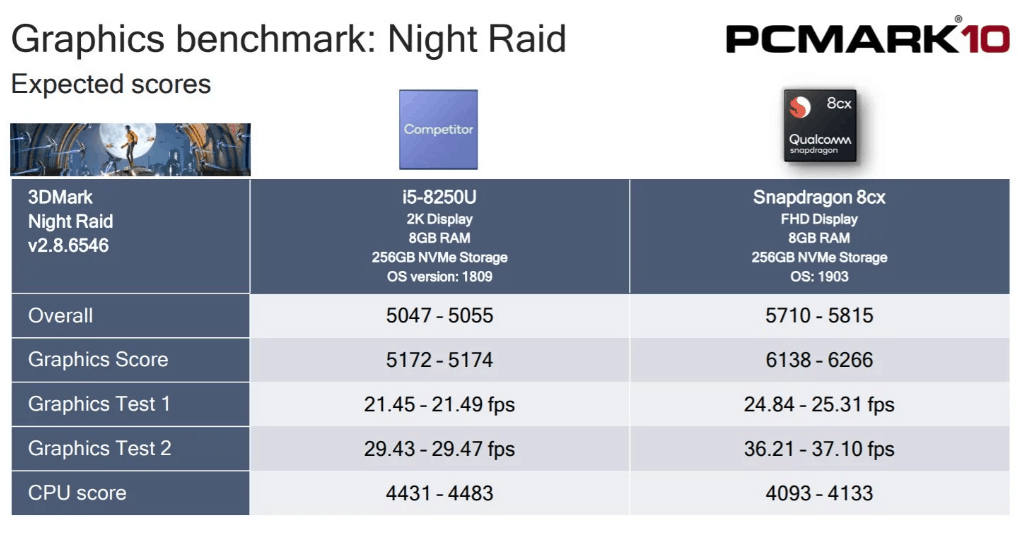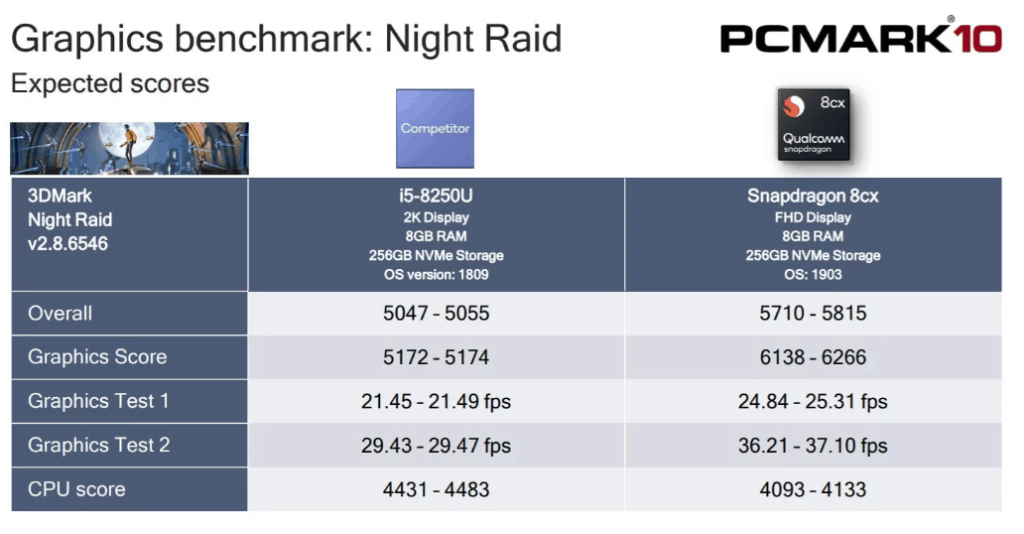 Battery tests comparing app usage with the Snapdragon 8cx to the Core i5-8250U resulted in the ARM chip lasting 17 hours at the upper limit with the Intel processor behind at just 10 hours and 21 minutes.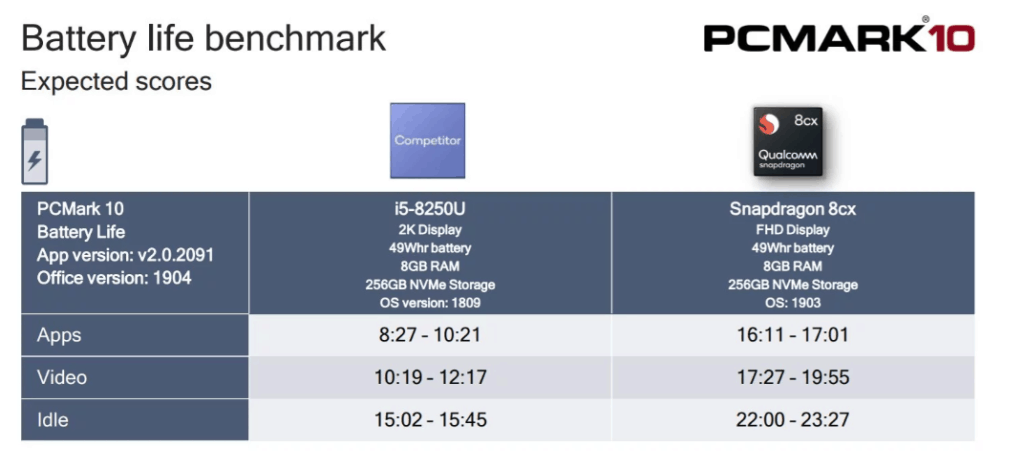 It is worth remembering that applications running on ARM-based laptops either have to be emulated or recompiled for ARM. So Intel-based systems will always have more reliable performance across the board. While emulated apps should run slower, that is not always the case, Microsoft Office is run in emulation mode and that still out performance the i5-8250U.
Electron – the cross-platform app development system – is also going to support Windows on ARM sometime in June. Companies developing on this platform will be able to recompile their apps to run on ARM quickly and easily.
Unity the widely used game engine, is also being recompiled for ARM. A working version of Unity's test demo was shown to press with framerates averaging 50 frames-per-second. Once Unity is native people using Windows 10 on ARM should be able to get many more games that run similar to Intel-based PCs.
During Computex, Qualcomm and Lenovo have been demoing a 5G prototype laptop that has been working on which uses the Snapdragon 8cx and X55 modem. It is expected that a version of this will be launched in early 2020.
Overall it is an exciting time for ultra portable laptops.