Nuki Smart Lock 2.0 Review
Summary
Pro:
Fits a variety of locks
Easy to install
Good app with lots of options
The possibility to still use a mechanical key if you get locked out
Con:
Expensive
Awkward placement on many doors
Lift and lock doors most UK homes have will need to be enabled before locking
Some issues with getting the hub to work
Four AA batteries will likely need replacing quite frequently
Smart door locks have been a little slow to take off in the UK. In the US they have had August for years, but that is only compatible with the less secure deadbolt style locks.
In the UK, with our multi-point locks, the best solution has been the Yale Conexis L1, which is excellent and surprisingly affordable. The problem is that it requires you to change the entire lock and handle.
Nuki launched a couple of years ago, but they are new to me, and recently they launched their Nuki Smart Lock 2.0 which aims to eliminate mounting incompatibilities. Their solution is both simple and ingenious at the same time. They realise that not all door locks are the same, there are various cylinder shapes, sizes and fittings. So rather than target just one style, or make dozens of options the best solution would be to allow the user to keep the existing lock and for their solution to simply mount around the lock and key, which can then turn the key automatically for you.
This solution means that their smart lock works on all locking mechanism apart from the American deadbolt or the secondary night latch style lock.
It also should make installing it far easier than competing options; there is no requirement to swap out your existing lock, this fits neatly over what you already have.
[content-egg module=Amazon template=list]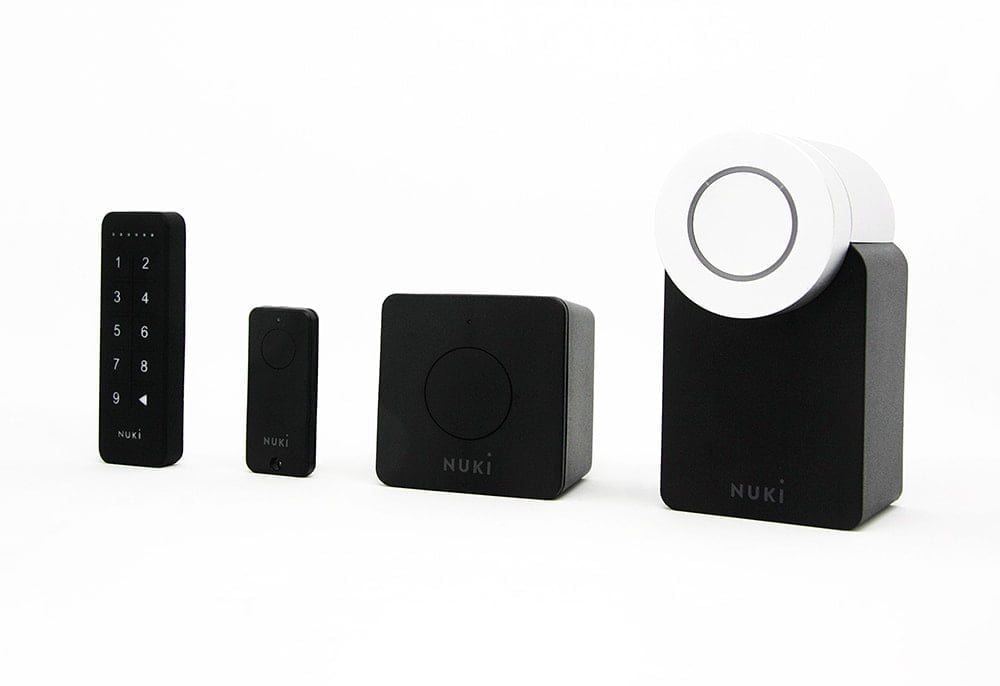 Physical Installation
While technically installing this should be simple, I quickly encountered a problem, that I didn't realise from the installation check.
For Nuki to be mounted properly the keyhole ideally needs to sit flush against the door frame, and with both the UPVC doors in my house, the door handles extend downwards covering the cylinder and making the cylinder sit away from the door. From what I can tell this is standard for many UK doors.
You can install it on these handles, but the Nuki sits there awkwardly floating over the doorframe, and I assume the fitting won't be the most secure as there is only a thin bit of metal to affix it to.
I'm no UPVC door expert but you could, in theory, replace the handle with one without the lock shroud, and install a new cylinder that sits flush. However, this would require drilling a new screw hole in the door, and exposing the old lower hole.
In my case, not only did I have a lack and handle raised from the doorframe, but whoever fitted the cylinder sued the wrong size, so the cylinder was extended away from the handle further, making it impossible for me to mount the Nuki to the handle.
For the sake of the review, I got it working by mounting the metal bracket to a piece of plywood then mounted that to the door handle. So my installation looks particularly ugly, and this is not the fault of Nuki.
Forgive the damp, our old lean to is being replaced when we get a new kitchen
With the mount in place, everything else is quite simple, you slot the Nuki over your key and onto the mount. Then set it up via the app.
It is worth noting that a lot of doors in the UK require you to lift and lock to enable the multi-point mechanism. So, with these doors, there is some limitation of functionality. Auto-locking will not work properly unless you lift the lock after closing the door each time. My old back door doesn't require this, but when I replace it soon, I can't see it being a huge issue, I naturally lift and lock my front door every time I open and close it, it is just a good habit to do.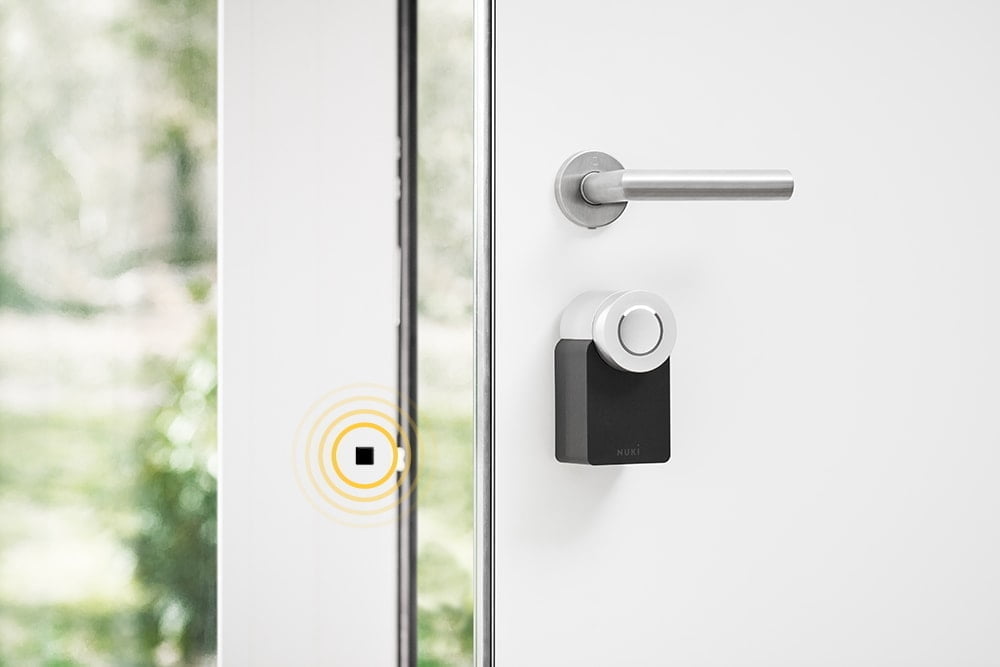 App
The smart lock can work independently with no hub, and you set it up via the app, it works via Bluetooth so you don't have to worry about passing WiFi credentials over.
Setting up the lock via the app is quite a simple process, with the lock mounted in place it needs to connect to your phone via Bluetooth, you will need to set the lock style and then auto-calibrate, where it will find the locked and unlocked positions.
You can then use the app to control the lock. There are quite a lot of different settings you can set up to optimise your experience. For example, you can use the optimise locking features to reduce the number of turns and speed up the lock/unlock process.
There is also an auto-lock feature that will identify if your door is closed and lock the door after a pre-determined time, so you never have to worry about leaving your door unlocked.
There is also lock n go, which is similar to the auto lock and immediately locks the door after a few seconds. At first, I thought this was a great idea, but I imagine it will be quite easy to lock yourself out if you don't have your phone on you. With this feature enabled, I would personally make sure to use the keypad accessory as a backup solution.
There are also auto-unlock settings which allows the door to auto unlock when you are near the door, and you can then have it lock shortly after this. This works by triggering when you exit your geo-fence and then re-enter. So it isn't going to auto unlock every time you get close to the lock as you walk around the house.
Smart Hub
While the lock works by itself via Bluetooth, to make the most out of it you want to use the hub which will then provide access to the lock remotely.
I had a lot of issues getting this to work, initially I was told the hub was faulty and to contact support, then other times the app would not find the hub at all. I gave the setup one last go and eventually, it worked. I am not too sure what went wrong and I can't find any references to other people having similar issues.
With the smart hub in place, you can use the web access, remote unlocking and Alexa.
In use
I have found the lock to perform well, even with my dodgy door. I like that you can manually turn the dial to lock or unlock, which is what I do most of the time when I want to go into the back garden. You can, of course, press the button, but I feel like turning the dial is quicker.
Being able to check the status of the lock is great too, and with the various auto lock features, you don't have to worry about if you locked the door or not.
I love the activity log, admittedly being in a household of two, and a bit antisocial, there is not really much for me to see that I don't already know, but I can see the potential. We do have a cleaner that comes to the house, she usually comes when I am here, so I physically let her in, but with this, I could monitor if and when she arrives and leaves if I am unable to be here. This is is also a perfect scenario for a smart lock as I can temporarily assign her a key, or alternatively remotely let her in when the Ring doorbell goes off.
My main issue with all smart locks is the fear of it failing or the battery dying when I am outside the house. With Yale, they have a basic solution, you use a 5v battery on the pins underneath the lock to provide backup power. It seems clumsy and awkward to do, but at least it is an option. With Nuki, at first I thought there was no solution, but you could use the knob cylinder option which would allow you to use the mechanical key still, Nuki supports a limited number of locks with this style. Then there are also anti-lockout cylinders which will enable key insertion at the time on both sides, from my research there are not many people making this style of lock and I can't vouch for how secure they are.
Alexa
The Alexa skill has quite a lot of bad reviews, and this appears to be due to the skill not allowing you to unlock the door, instead only lock it. Clearly, there is a security issue with the ability to unlock a device with your voice, so I am inclined to agree that you shouldn't be allowed to unlock the door by talking to Alexa.
However, the app does have a smart option here it can auto unlock when you are near the smart lock. So I would think you could combine this function with Alexa. Maybe geofencing the ability so I have to be home to issue the command. This would still obviously allow potential burglars to shout the command while I am at home though.
Anyway, the Alexa skill is there, it works to lock the door, or ask if it is locked, and that's it. You will need to sign up to the web service before you can enable Alexa, I think this is worth it anyway as you can via logs and manage users from this system.
Apple HomeKit
Thanks to the HomeKit integration, the Nuki Smart Lock 2.0 can now be conveniently controlled via Siri. You can manage your electronic door lock via the Apple Home app and easily integrate it into your Smart Home System.
As I use Android, I have not been able to test this part.
Overall
There is a lot to like about the Nuki, I have found it easy to use once set up and it has nearly every feature I could want from a smart lock. I am still paranoid about mechanical or battery failure, and if I were to install this on my main door I would ensure to use one of the solutions that still allows you to use a key.
I like the option of the keypads and fobs, and I would be inclined to go with this on my garden door that is secured via a locked gate. This way I can still gain access to the house easily if I lose or forget my keys.
This has the potential to be the best smart lock on the market, I think it is more of an appealing product than the Yale alternative, but with a price of around £260, I think it is a bit expensive. For some this may not be an issue, for example, if you have an AirBnB property it is probably well worth the investment.