**Update 20th October 2018** After leaving this in its box for a couple of months I have returned to it, updated Windows and now both Google and Spotify run fine**
Following on from my initial impressions I have spent some more time with the HP Envy X2 allowing me to see if ARM-based laptops are ready for the mainstream yet.
If you missed my initial impressions and don't fancy going back to read it, then the HP Envy X2 is one of the first devices on the market to use the Snapdragon 835 Mobile PC Platform as its processor and for other functions such as graphics, audio and networking.
The Snapdragon 835 Mobile PC Platform is essentially the same thing you had in a flagship phone last year, a device you can fit in your hand. So, this chip is considerably smaller than anything Intel has to offer, it also has a GPU built in, audio processing and can provide mobile network connectivity, something that is an added luxury with Intel laptops, while at the same time using a fraction of the power of any Intel chip on the market. The result is that you can have a laptop with true multi-day performance in an ultra-slim laptop.
Emulation
With all these benefits you may wonder why we were not using ARM for laptops in the first place. Intel uses x86 instruction set based chips, ARM-based chips use something called reduced instruction set computing (RISC) the two instruction sets are not natively compatible with each other. Windows was initially built on the x86 platform, so it has not been able to run on ARM until recently.
Qualcomm has worked closely with Microsoft to get Windows working natively on it, along with a certain number of other apps, while the rest of the x86 based apps are contained within an emulator that was developed by Microsoft specifically for this task.
Emulation is not a perfect solution; it is an added layer for things to go wrong and another piece of software that the processor has to run. It is not uncommon for apps not to work well in emulation and this can make them buggy or even unusable.
To mitigate the risks associated with emulation Microsoft ships the devices with Windows 10S, which is the version of Windows that only allows you to install software from the Windows Store. You can optionally upgrade to Windows 10 Pro free of charge, but you do so at your own risk.
One issue currently outstanding with emulation is that no 64-bit apps are compatible with this system and any applications that require kernel mode drivers will need to be re-compiled to ARM64.
Microsoft has launched new tools and SDKs for developers to bring 64-bit apps to Always Connected PCs, and it is possible to recompile apps for Arm compatibility allowing 64-bit apps to run natively. As the market for this niche grows so will the number of Apps compiled to run on it.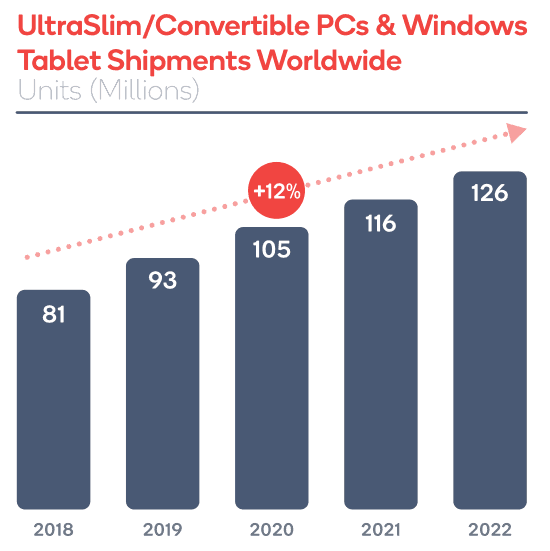 The 2-in-1 market is one of the only growth areas in the PC industry for the past few years, and this is forecast to grow by another 12% yearly over the next four years. 81-million units are expected to be shipped this year, with 93 next, and 126 by 2022. With the 2-in-1 market, the main activities people do by a long margin are general web browsing, social media, email, messaging and streaming. Therefore, the need for a high-powered processor is quite low while the demand for higher battery life and portability is much higher.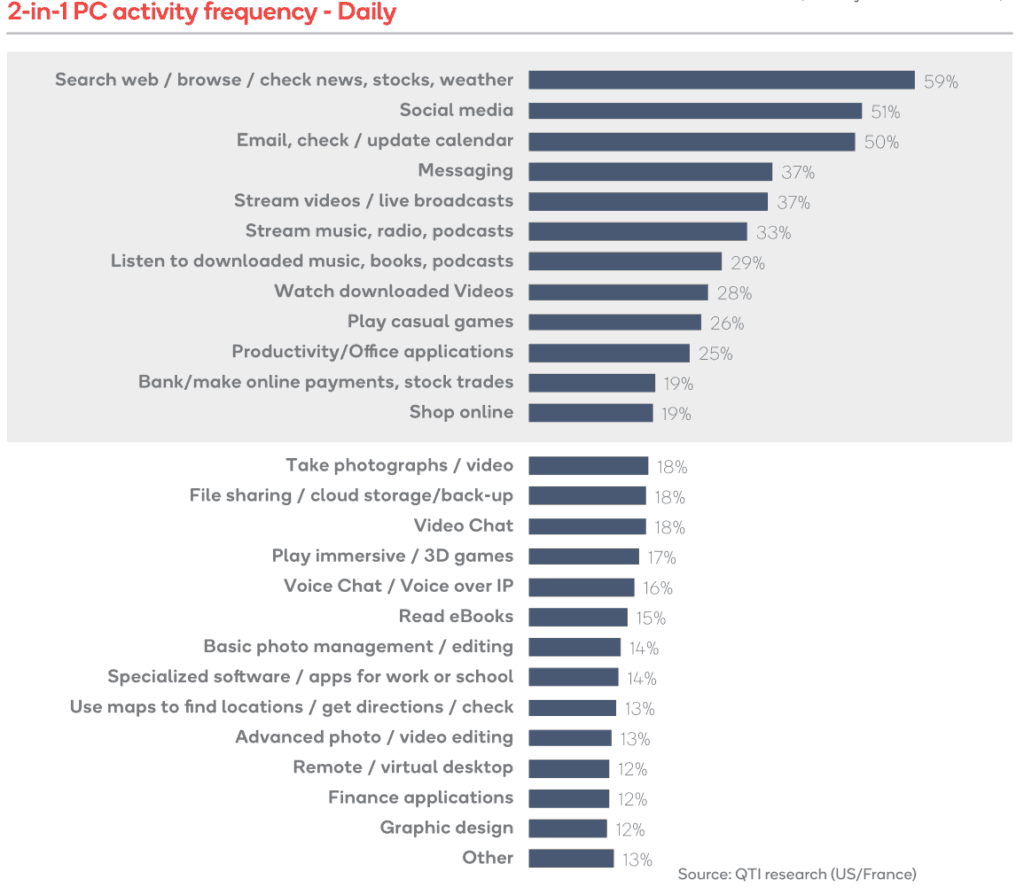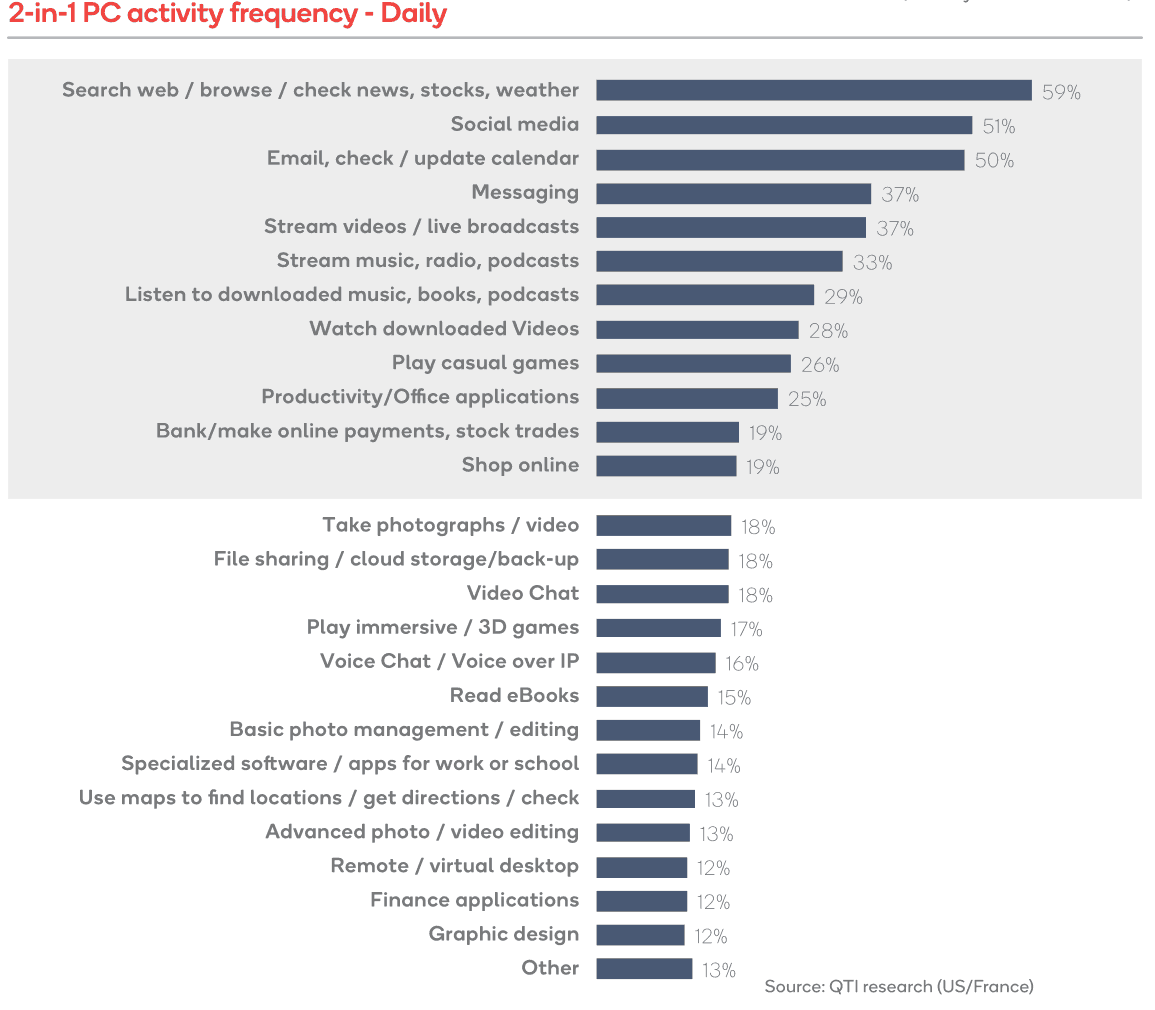 Qualcomm Snapdragon 850
The 835 is the first ARM processor that has been used for Windows and Qualcomm and its partners have already committed to releasing new devices later in the year using the Snapdragon 850. While the 835 is basically just the same chip you find in your Smartphone, the 850 has been customised from the 845 specifically for the use on Mobile PCs.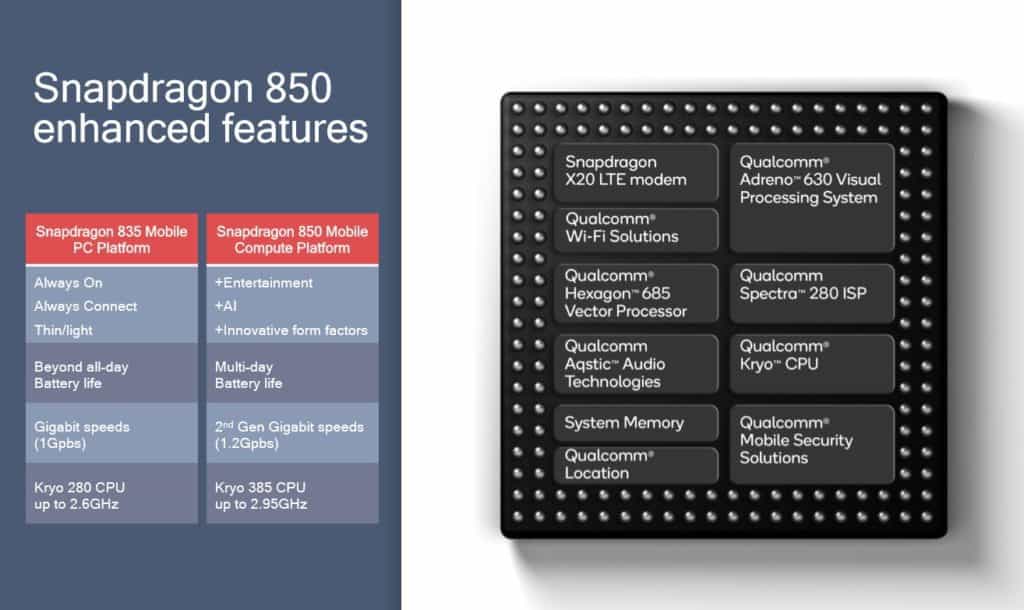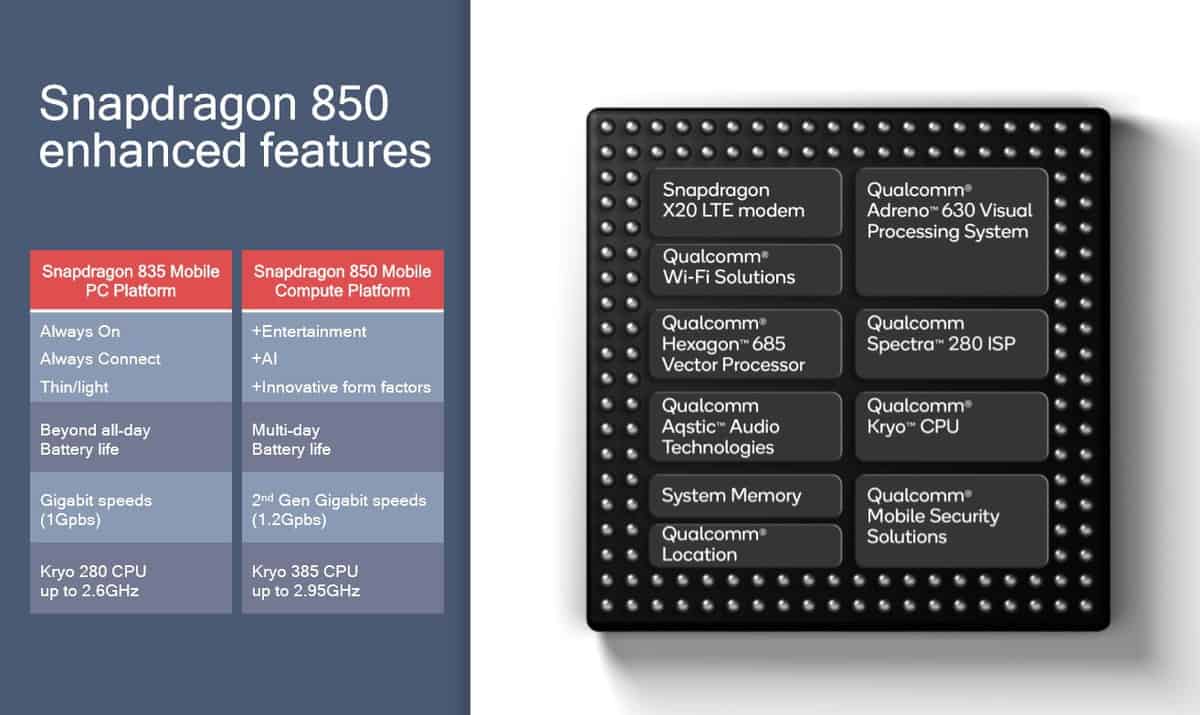 The Snapdragon 850 brings many advancements over the 835 platform including:
30 percent increase in performance.
20 percent increase in battery life and efficiency.
20 percent increase in Gigabit LTE speeds.
While the 850 is based on the 845, some of the improvements include faster clocks which are possible thanks to better cooling and larger batteries found on a laptop. For instance, the Kyro 385 CPU is the same as seen in the current Snapdragon 845, but instead of a 2.8GHz clock speed, it now goes up to 2.95GHz (the Snapdragon 835 was even lower at 2.6GHz).
It has also been rumoured that there is a 1000 platform which would be built from the ground up offering Intel levels of performance while keeping all the advantages of the ARM. As it currently stands there is not much evidence backing this r