With the Qualcomm Snapdragon 888 official and new phones launching within the next couple of months we will start to see a lot more leaked benchmarks.
The Qualcomm Snapdragon 888 is quite an existing chipset, being the first to introduce the brand new ARM Cortex-X1 CPU architecture, which is a performance-focused CPU, at the sacrifice of power efficiency.
The Snapdragon 888 has been caught out on Geekbench before, the Xiaomi Mi 11 is reported to have a single-core speed of 1105 and multi-core speed of 3512
Now it is the Samsung Galaxy S21 that has been tested. The phone carries a model number SM-G991U and is the chipset listed is "lahaina". This is the codename for the recently announced Qualcomm Snapdragon 888 chipset. The phone is also listed with 8GB of RAM and running Android 11.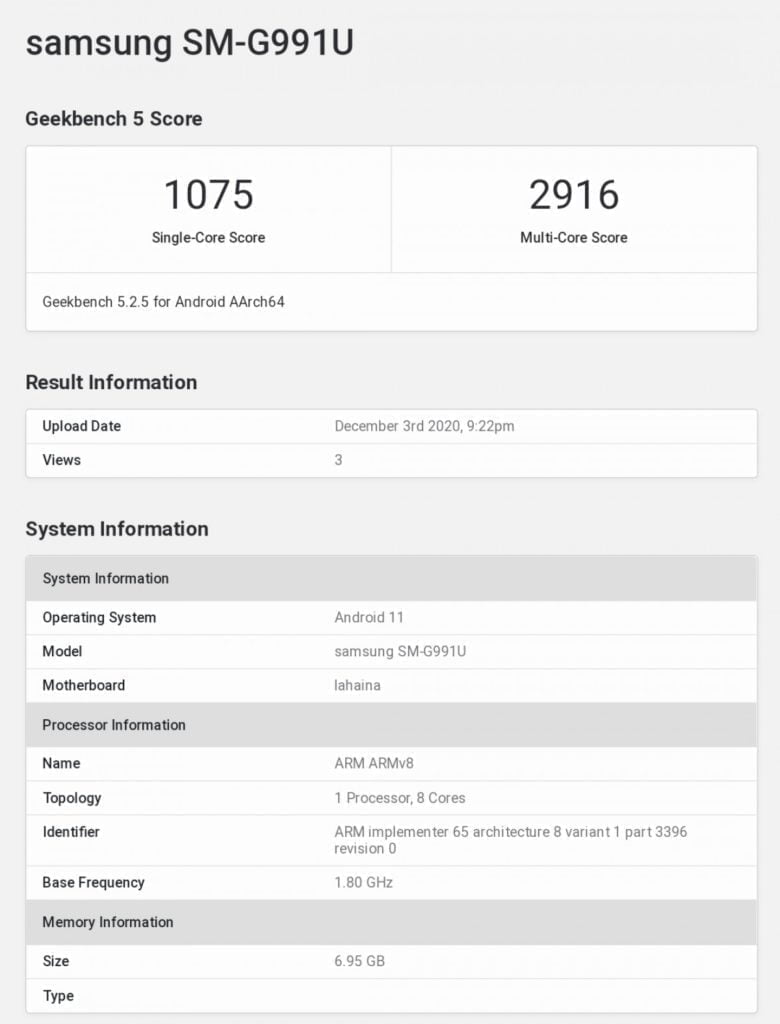 It scores slightly lower with a result of 1075 on the single-core and 2916 for multi-core.
This is a bit lower than you would expect, for the older Geekbench 5.1, Asus ROG Phone 3 has scored as high as 3352 for the multi-core score and 975 for the single-core. It is likely there will need to be some optimisation done to make the most of the chipset, before launch.
Currently, it looks like Xiaomi are trying to beat Samsung to release their phone first, and it is speculated that it could be as early as January. Traditionally, Samsung is the first to release, and I can't see this changing.
Recently, leaked renders of the Samsung Galaxy S21 were leaked by Coverpigtou, however, how authentic these renders are remains in question.