We have known that the Qualcomm Snapdragon 700 series was due to be released, Qualcomm mentioned it several times during our MWC press trip. The specifics of the SoC were never discussed apart from that it will offer high-end features at a lower price. When I was at MWC several people hinted that this chipset could be targetting the Asian market allowing them to get the high-end features at a lower price, I am not sure how true this is, or why it wouldn't appeal to the western market, but we will see.
Now the new chipset has become official and we have a lot more information about it. As the name suggests this new chip will site between the 600 and 845 series in terms of features, power and price.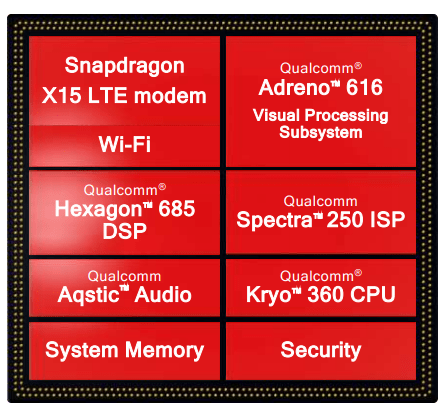 The official blurb states:
The Snapdragon 710 is designed with highly efficient architectures for artificial intelligence, featuring a multi-core AI Engine and neural network processing capabilities. The Snapdragon 710 is the first mobile platform in the new 700-tier portfolio, designed to exceed what is expected from today's high-tier mobile experiences by bringing select premium-tier features to a broader audience.
Qualcomm is using a 2+6 octa-core setup here with two high-performance 2.2GHz CPUs paired with six efficiency-focused 1.7GHz cores. Qualcomm says that the setup should be great with battery life and use of the Adreno 616 graphics should see improvements to games as well as 4K HDR video playback.
The platform's new architectures are engineered to deliver superior power efficiency, long-lasting battery life and an overall enhanced user experience. Due to enhancements to the Adreno 616 Visual Processing Subsystem architecture, Snapdragon 710-based devices can expect to see up to 40% reduction in power consumption for both gaming and 4K HDR video playback, as well as a 20% reduction in power consumption when streaming video, when compared to Snapdragon 660. Additionally, the new Kryo 360 architecture, built on ARM® Cortex™ technology, is optimized to support up to a 20% overall uplift in performance, 25% faster web browsing and 15% faster app launch times, compared to the Snapdragon 660.
The Snapdragon 710 also features X15 LTE which supports 800mbps download speeds and 4×4 MIMO for "up to 70% faster download speeds in weak signal conditions." The chipset also supports Quick Charge 4+.
As you would expect with a modern SoC there one of the key selling points is the AI
The new platform transforms the smartphone into a customized experience for users across camera and voice, powered by a multi-core AI Engine, delivering up to 2X overall performance improvements in AI applications, as compared to Snapdragon 660. Utilizing AI capabilities, the Snapdragon 710 makes it virtually effortless to capture and share contextually-aware photos and videos and personalize voice and speech patterns for more natural interactions. Through heterogeneous computing, the Snapdragon 710 Mobile Platform's newly enhanced architectures, including the Qualcomm® Hexagon™ DSP, Qualcomm® Adreno™ Visual Processing subsystem and Qualcomm® Kryo™ CPU, are engineered to work harmoniously to run on-device AI applications quickly, intuitively and efficiently.
There is no specific word on consumer availability, but OEMs will have access to the chipset from today, so it will likely be quite a while before we see the first range of devices using the new chip.