Acer Predator Triton 300 Review Rating
Summary
Acer consistently makes some of the best options on the market in terms of price/performance, and the Acer Predator Triton 300 is another option that achieves this.
It offers a superb balance of price, portability and performance, and I don't feel like it sacrifices too much to achieve the price.
Pros
Superb performance all round
The best-priced laptop with this spec I can find.
Not much sacrificed to achieve the price
Cons
Battery could be better
Lacks some advanced features such as biometrics, Gsync, USB-C charging
Gets quite hot and loud in-game
I have previously reviewed the Acer Predator Triton 500 and Triton 900 last year. Acer has now loaned me the attractively priced Acer Predator Triton 300 which has recently been updated with the latest i7-10750H and features the RTX 2070 MaxQ. It is about the cheapest laptop you can find with this specification, but have there been any sacrifices made to achieve this price point?
Features & Specification
Display – 15.6″ IPS Full HD 1920 x 1080p 144 Hz display
CPU – Intel® Core i7-10750H 6-core 2.6 GHz / 5 GHz
RAM – 16 GB DDR4 (2133 MHz)
GPU – NVIDIA GeForce RTX 2070 Max Q 8GB
Storage – 1 TB SSD
Connectivity – Killer AX1650 WiFi 6 & Killer Ethernet
USB – USB-C Type C x1, USB 3.1 x 2, USB 2.0 x 1
Dimensions – 22.9 x 363.3 x 259.14 mm (H x W x D)
Weight – 2.3 kg
Acer Predator Triton vs Helios vs Nitro
Having reviewed a lot of the Acer laptops now, I have realised the line up is a little confusing. The numbering system makes sense, the Triton 300 sits below the Triton 500, but the differences between Triton and Helios are confusing.
The Nitro series is easy enough, that's the affordable gaming option which tends to be a bit bigger all round as well as weighing more (typically over 2.5KG).
However, with Acer having both a Predator Helios 300 and Predator Triton 300 the lines start to get blurred. Currently, I can only find an RTX 2060 Helio 300 for £1299 whereas the Triton 300 is sold with either the GTX 1660 Ti for £1199.00 or the model I am reviewing with a RTX 2070 for £1499.00.
Argos and Currys list the different models at the same weight and the Triton has dimensions of 22.9 x 363.3 x 259.14 mm (H x W x D) vs 22.9mm 363.4mm x 25.5mm of the Helios
Design & Build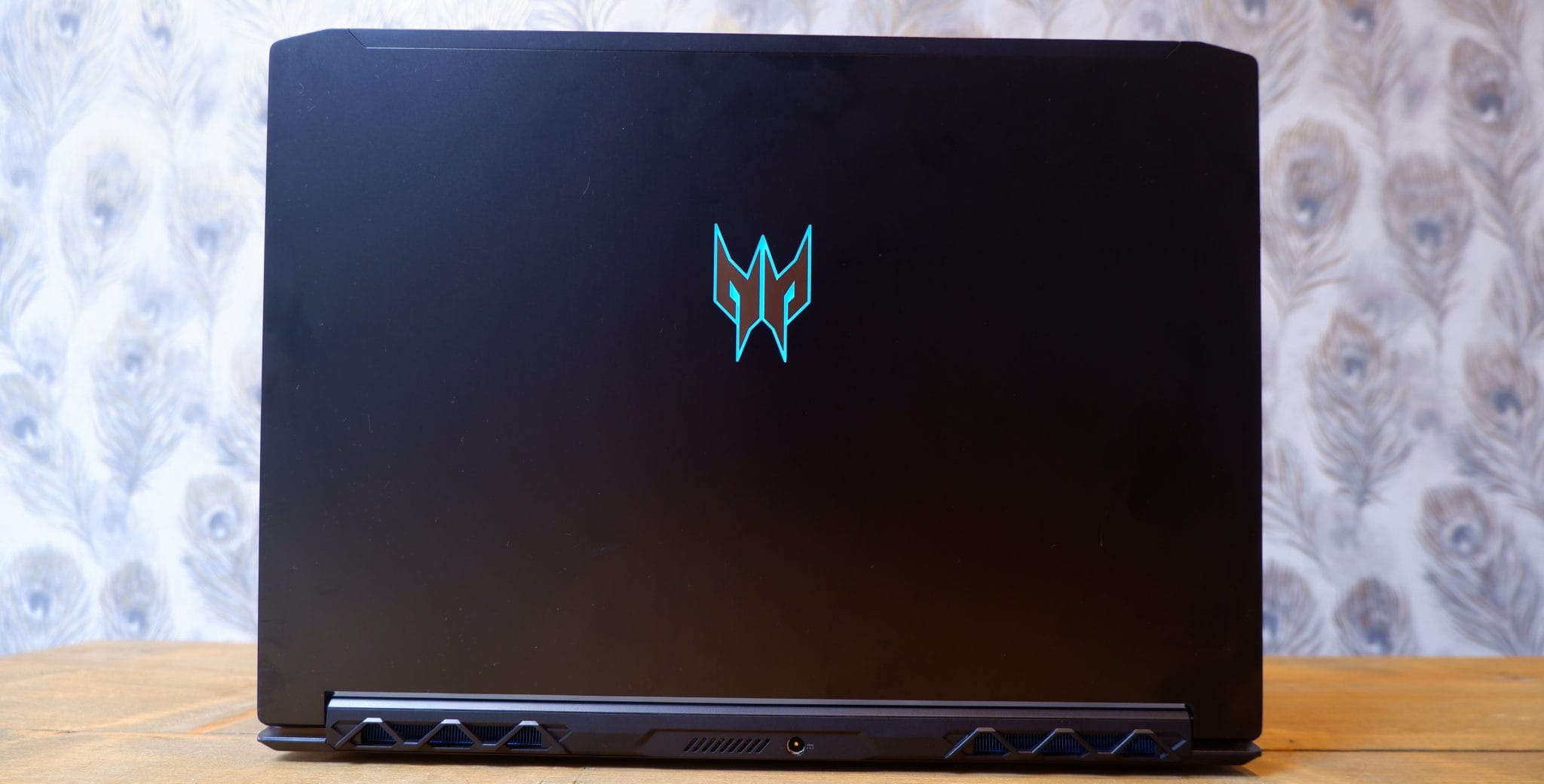 The overall design and build quality is good, not quite the same as some premium models, but it is priced accordingly. It is a touch bigger and heavier than the Acer Predator Helios 300 I reviewed towards the end of last year, but by all accounts the same as this year's model. Importantly I think it offers a good balance of power, portability and price. Both the Gigabyte AERO and Razer Blade 15 offer a more appealing form factor but cost over £400 more.
You get the usual gaming flourishes such as an RGB keyboard, panel-lit blue Predator Logo and lots of angular vents for cooling.
You get plenty of ports, this includes 3x USB-A 3.2 gen2, 1x USB-C, HDMI 2.0, miniDP 1.3 so it is easy to put this into a desktop style setup with keyboard/mouse/monitor. You even get ethernet, something missing on many none gaming slim laptops.
You have good upgrade options too, the laptop features three M.2 ports for increased storage.
Keyboard & Trackpad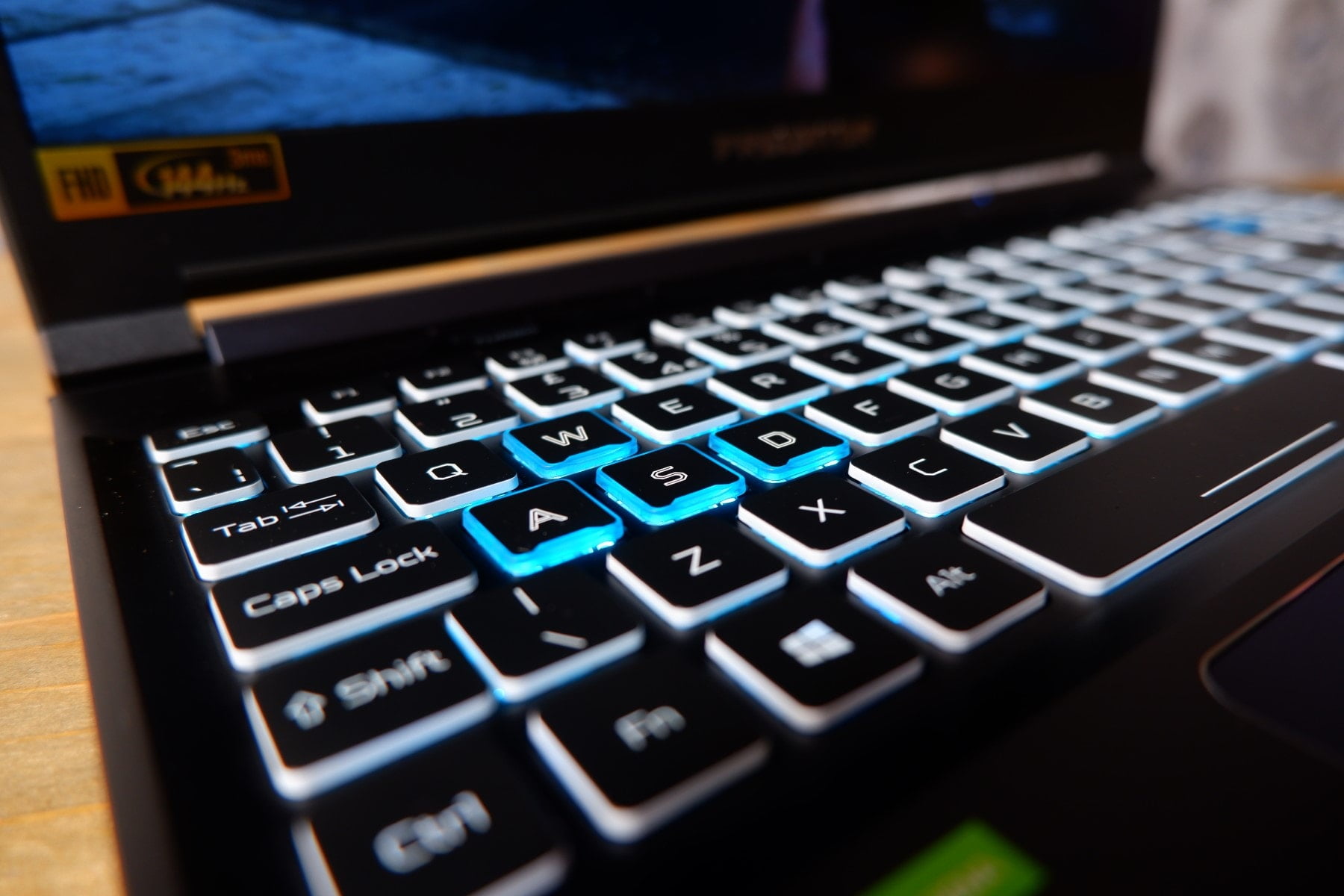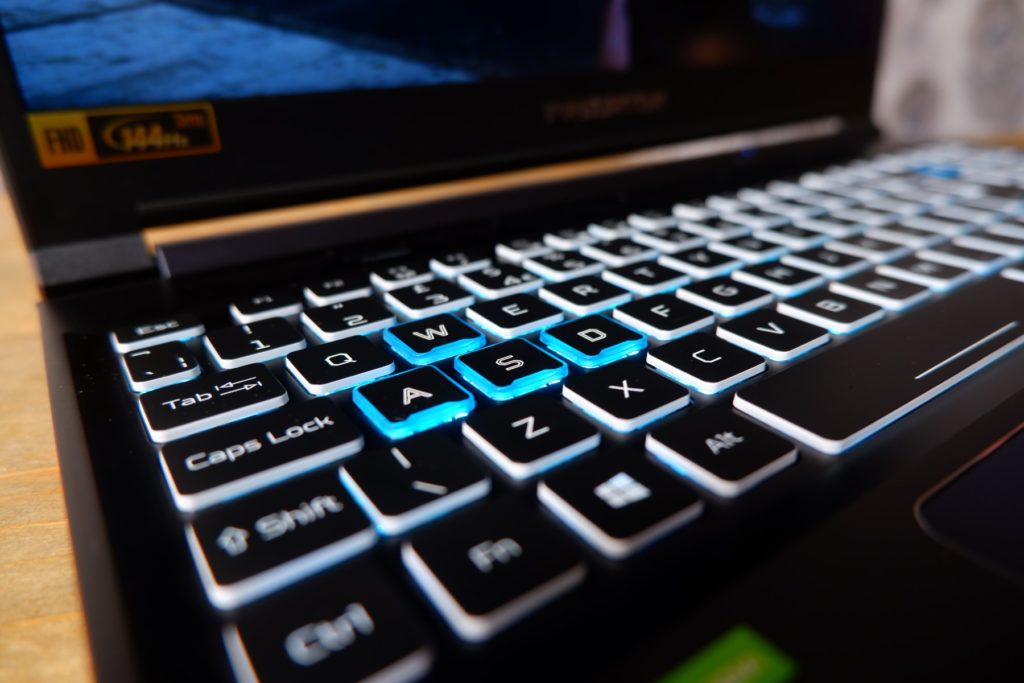 Impressively this comes with a full-size keyboard layout; this then means the keys cover the full width of the laptop. This did take a little bit of getting used to as your hand doesn't always rest fully on the laptop when typing. It also means that your hands are aligned to the left of the laptop while typing, not really an issue, but it just felt a little off at first.
The keys are well specced apart and there feels like a decent amount of travel as far as laptop keyboards go.
To keep costs down this has a 4-zone backlit keyboard rather than per-key RGB, you can then control this via the Predator software. Like most RGB hardware, you have various options for the lighting, including static or dynamic. Under dynamic, you have effects such as breathing, wave, zoom, and shifting.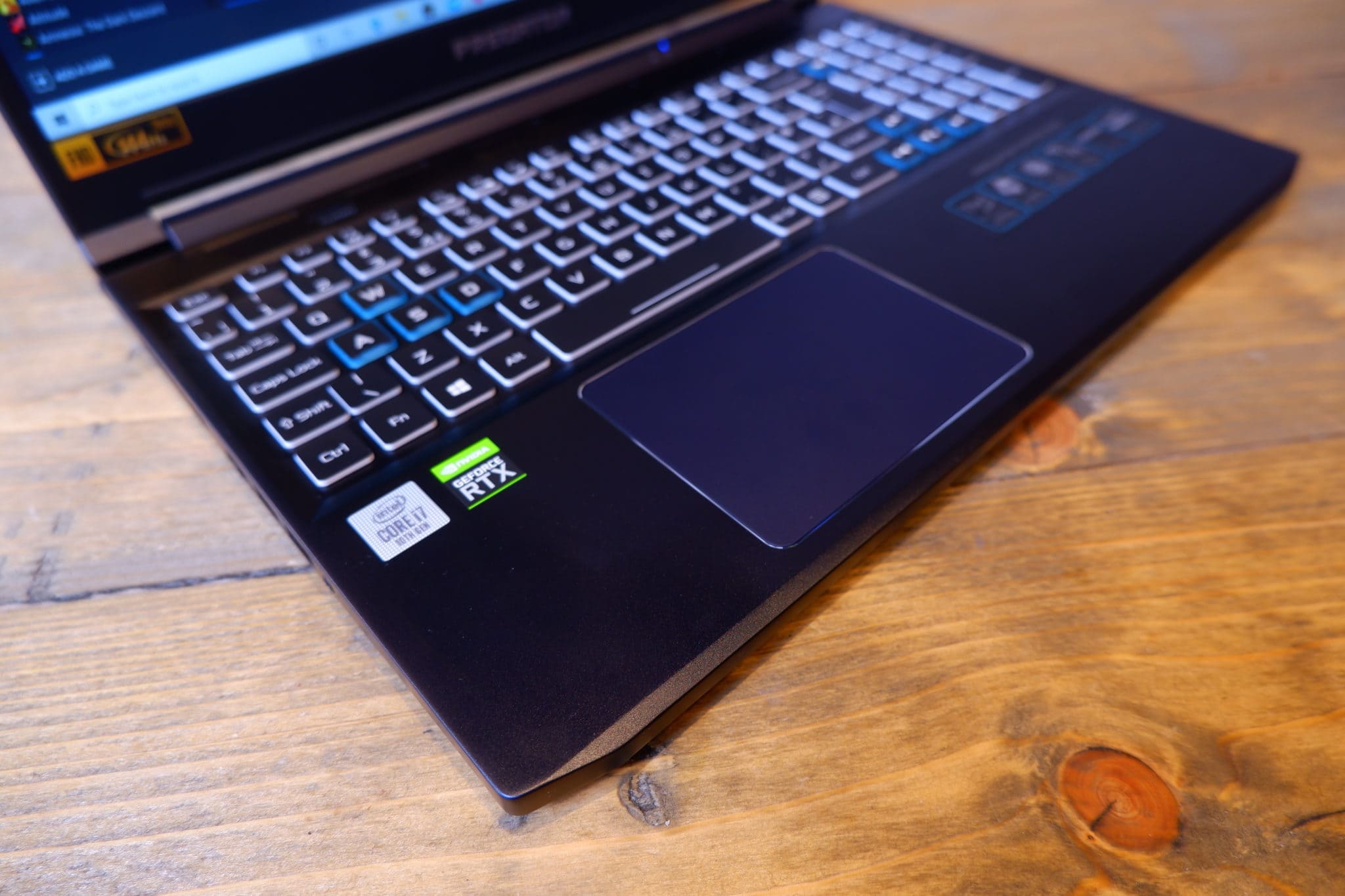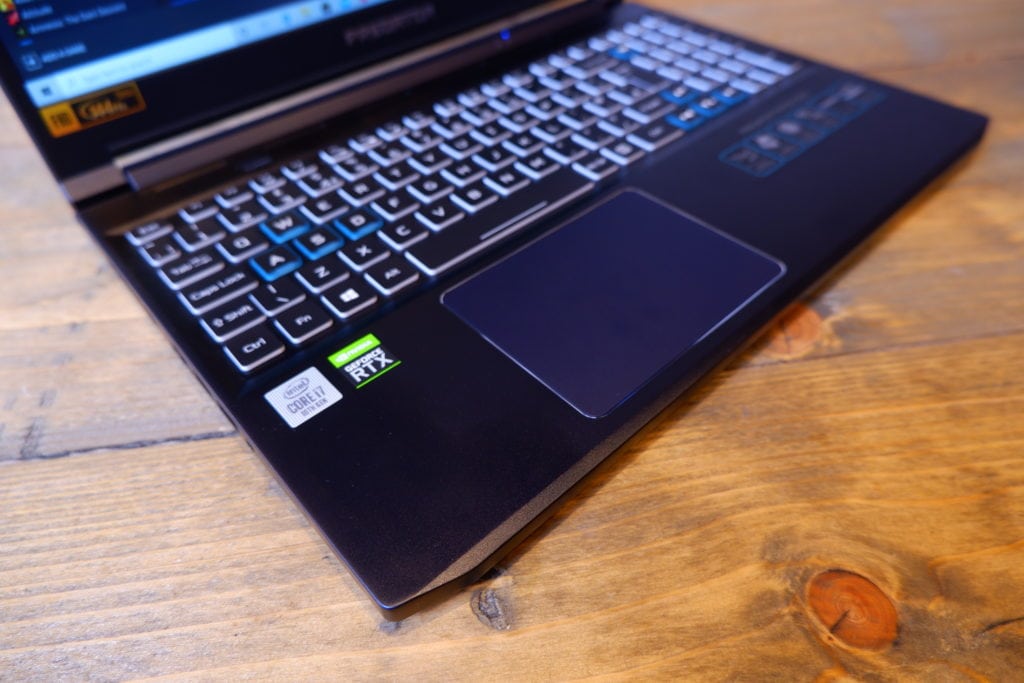 Screen
The IPS display runs at 1920×1080 with a 144Hz refresh rate that is none touch with a matte finish. I don't have the means to test the peak brightness, but it goes bright enough that I can only cope with it at around 50% most of the time.
It lacks Nvidia GSync which you will find on some of the more expensive models though I can't say I noticed it much, however, I don't play a large number of fast-paced games to make the most of it.
Overall the screen is good working well for both gaming and my general day to day office use and evening web browsing and Netflix.
Performance
Performance is superb across all usage scenarios. The six-core Intel i7-10750H and RTX 2070 offer ample performance for everything you want to do without breaking the bank.
In 3DMark the Triton scores 7461 which is a 27% improvement on the Helios 300 with a GTX 1660 Ti I previously reviewed which scored 5857.
Generally, this can run any game you want at ultra with easily playable framerates. It does get quite noisy during prolonged gaming, but this is a given with a gaming laptop. I also found this gets quite hot if you game directly on your lap.
3DMark 13 – Time Spy: 7461 (Graphics: 7591, CPU: 6805)
3DMark 13 – Fire Strike: 17406 (Graphics: 20278, Physics: 17570)
PassMark: Rating: 6507 (CPU mark: 15530, 3D Graphics Mark: 12367, Disk Mark: 25271)
PCMark 10: 4938 (Essentials: 8289 , Productivity: 8391 , Digital Content Creation: 4699)
Far Cry 5 Benchmark: 94fps average, 113fps max, 70fps minimum
Final Fantasy XV Benchmark: 7202
Battlefield V: 53 fps
Red Dead Redemption 2: 59 fps
Rise of Tomb Raider: 90 fps
Acer lists the storage as 1TB SSD, which is a little ambiguous about what you are getting, but thankfully this is an NVMe drive. It doesn't break any speed records but with read and write speeds over 2500MB/s you will unlikely notice the difference. Compared to the Helio 300 I reviewed in October, this is quite a big upgrade, that only had a 256GB NVMe combined with a 1TB hard drive.
Battery
Battery life is good enough; gaming laptops are never amazing, especially when you start to game. Amazon state this as having a 59 Wh battery, whereas Acer just says 4-cell up to 8-hours, the similarly sized and specced Helios 300 is rated for 6 hours.
For general use, I could get close to 5 hours for office work and web browsing, then for gaming this would quickly drop down to considerably lower than 2 hours. So you don't want to forget the power brick if you take this anywhere.
Like most gaming laptops, the power brick is massive and weighty; there is also no option for USB-C charging which some gaming laptops support for limited use.
Fan Noise
With this being a gaming laptop with an RTX 2070 GPU, fan noise is inevitable, and it can get loud. For general daily use, there is a slight hum, it is not too distracting generally, but it might be if I was working in a silent office. For gaming, the fans spin up to be easily heard of the TV, if you then enabled the extreme fan profile this is irritating even with loud background TV noise.
Other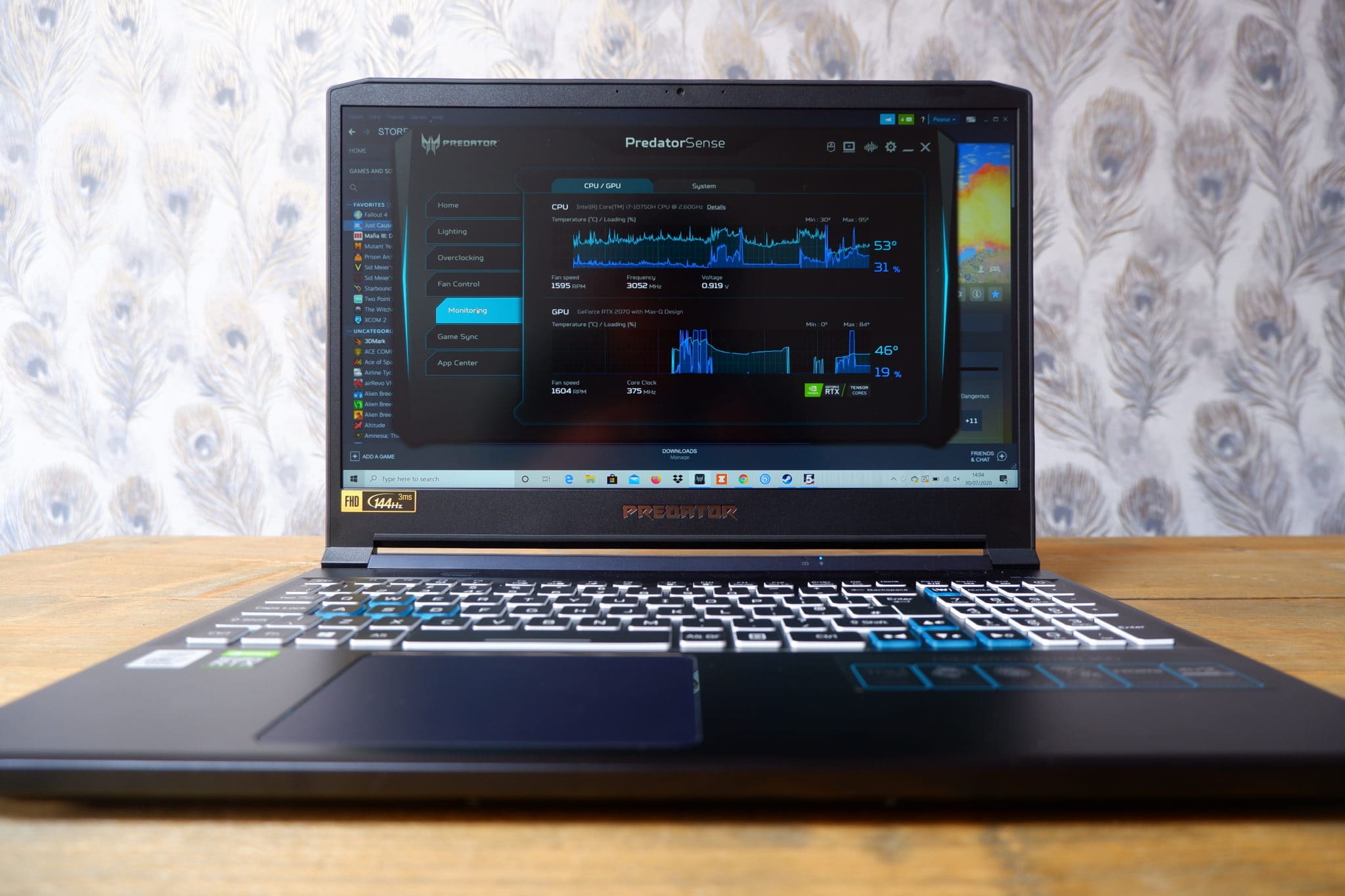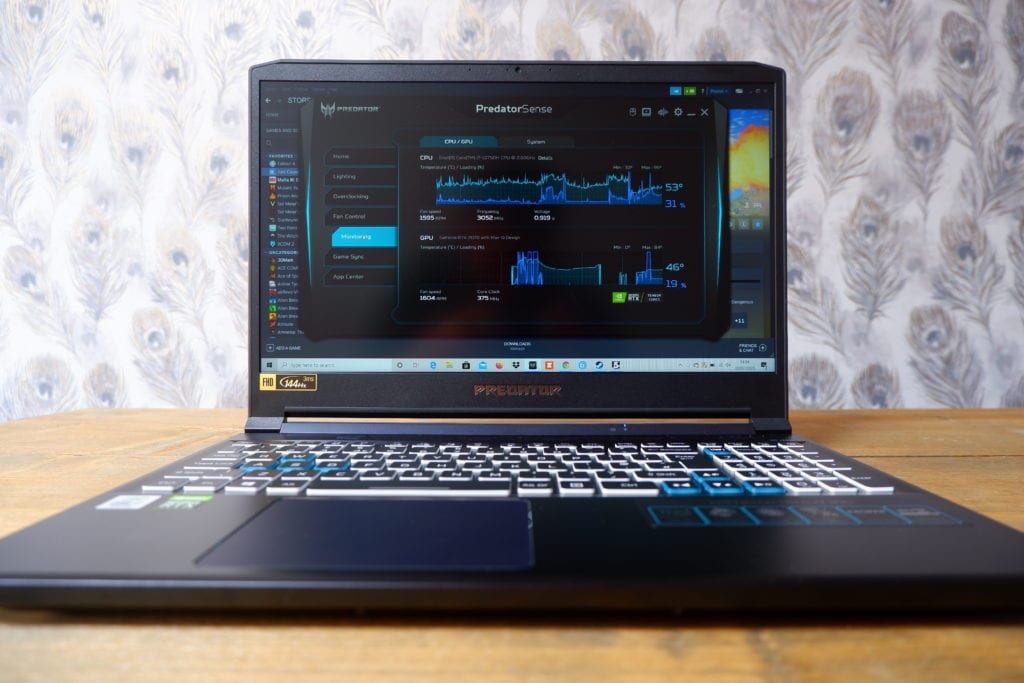 There felt like there was a little more bloatware than usual. One of the Acer applications prompts you to install other applications and games, and I think it also pestered me for browser extensions. This is quickly fixed by uninstalling the Acer software.
While I wasn't fond of some of the additional software, the Acer Predator software is good, offering you all the gaming orientated features in one place. This includes overclocking the GPU, controlling fan profiles and customising the RGB. With this using the i7-10750H CPU, there are no options to overclock the CPU, unlike the Triton 900 with its i7-9980HK.
Like most laptops recently, this includes Wi-Fi 6 via a Killer AX1650 module, this performs about the same as all the other laptops featuring this. Performance will mainly be dictated by your router; if you have a high-end option that offers 160MHz channel width, then you can easily get close to 1Gbps or even higher if you have a multi-gig port on the router.
Price and Competition
Looking at like for like laptops there are a few options, all of which are more expensive. The MSI GE66 Raider is the closest in price and has the advantage of a faster refresh rate. The Gigabyte and Razer options cost a lot more but with the benefit of a smaller and lighter build.
Even if you stepped down to the RTX 2060, you don't save a huge amount of money, the Triton 300 with that is only £100 cheaper, or the HP Omen 15-ek0503na 15.6″ is £1299.00
Conclusion
All of my reviews are very price-centric, and the Acer Predator Triton 300 offers the best spec for the price out of the current options I have found. Other options no doubt have their own benefits, in particular, I can see the appeal of the smaller and lighter Razer Blade 15 and Gigabyte Aero, but these both come with a large price premium. You basically pay over 25% more for less than 10% saving in weight.
In short, if you want the best bang for your buck the Acer Predator Triton 300 is the option to go for if you want a GeForce RTX 2070 based laptop.