Gioteck VX-4 Wireless PS4 Controller Review Score
Summary
A cheap and cheerful wireless Bluetooth controller that will work for the PS4 and PC. A perfect spare or secondary controller for split-screen two-player.
With the official PS4 controller being £45 it is not exactly cheap, and if you are looking for a replacement or spare then the Gioteck VX-4 is an appealing alternative.
Related Content
Priced at just £29.99 this comes in a 33% cheaper than the official model and has compatibility with all the current PS4 variations as well as the PC.
While the design and build of the controller are a little different, the overall layout is identical. There are symmetrical analogue sticks, a d-pad, four clickable face buttons, four triggers, the option and share buttons, home button, a turbo mode button as well as the touchpad.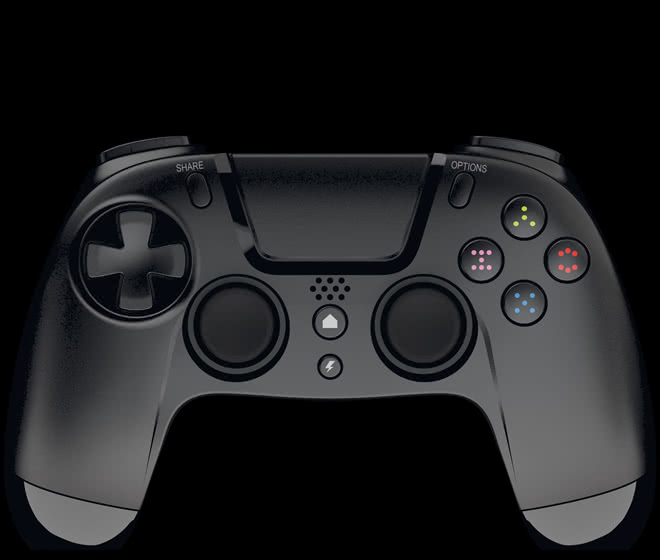 This does lack a stereo headset jack and the lightbar which is used in some games, neither of which I miss.
Build quality and hand feel are notably different, you can tell this is a cheaper controller. It is by no means bad, but switching between the two there is a clear difference in quality.
The D-pad uses joined up buttons rather than sperate of the DualShock, it is also a little firmer to press and has more of a retro feel about it.
The R2 and L2 triggers are firmer and feel a bit more squishy to press than the DualShock, they are still responsive, but it takes a little getting used to with the new feel.
Similarily the face buttons provide a more clicky feel to them providing a bit of audio feedback.
Overall
While the controller can't compete with the quality of the PS4 controller it is well made and functional, during my gaming sessions with it I never experienced any problems.
This is not something I am going to replace the original with but if I had kids I would certainly prefer them to use this over the much more expensive official controller.
It is also a perfect option if you ever play split-screen games with others allowing you to save a bit of cash for the less used controller.
While I don't have kids, and rarely play with others, I did find myself using this more of PC gaming. Previously I used an Xbox controller, but it was wired so a pain to use, whereas with this I was able to pair up with Bluetooth.
It is also possible to save another tenner if you don't mind having a wired-only controller.
Last update on 2022-06-19 / Affiliate links / Images from Amazon Product Advertising API