Medichecks Private Blood Test


Name: Medichecks Private Blood Test
I used to be an obese heavy drinker, and since getting fit, I always have obsessed with monitoring my health being paranoid that my previous lifestyle choices have caused chronic damage.
I love all fitness tech and love to keep track of stats, so keeping an eye on various health markers is something I find interesting, and helps alleviate my paranoia. I have previously reviewed 23andMe which showed no significant genetic defects, and Thriva a basic subscription-based blood test.
Long before Thriva and other companies popped up, Medichecks was about the only easily accessible blood sampling service around. In recent years they have expanded the number of tests they offer, reduced prices to be quite affordable and improved their online results system.
No that I am 36, and hoping to do my first marathon + a coast to coast bike ride this year, I decided it would be worth seeing if there is anything majorly wrong with my that will affect my sports performance.
I went for 2 tests the first being the Thyroid Check Plus which costs £59 if you do a finger prick test and tests TSH, FT4, TT4, FT3, TGAb, and TPOAb. Basically, lots of things to make sure my thyroid and metabolism are working OK.
The next test was the Health and Fitness Check Advanced test which costs £119 usually but is currently reduced to £99. This tests 34 different things so too many to list, but primarily my kidney and liver function, proteins, bone health, gout, diabetes, iron status, cholesterol, heart disease risk, vitamins, and last and most importantly for my hormones. The hormones section includes testosterone, oestradiol and cortisol. This blood test can be carried out via finger prick or venous by a professional.
If you want a professional to take your sample, the fee is £25 if you visit a clinic or £39 for a home visit, and I opted for the home visit.
Sample
Within a day of my order, I was contacted by a company called Square Health to make my sample appointment, and it was made within a week of me placing my order. My sample was taken on Monday morning as needed to be fasted, and the whole process was over in a few minutes. I then just logged into my account to record that the sample had been taken, and the rest was done for me.
When I have done a fingerprick test in the past, taking the sample Monday morning and posting it first thing meant I would get the results Thursday or Friday. In this case, my results came through Wednesday morning.
Results
Once you get your results, if you have selected to have a GP to read over them, you will get the PDF format as well as notes from the GP. In my case, the GP didn't really say anything that wasn't obvious from the PDF, but I guess if you have something very wrong this would be highlighted. The test results / summery isn't as friendly looking as the Thriva system; it is perhaps more tailored to a medical professional. The PDF you get is excellent though, if there is anything wrong you can print it off and take it to the doctor. It gives your results as well as the range of normal, and it is the same format lab report as a GP would get.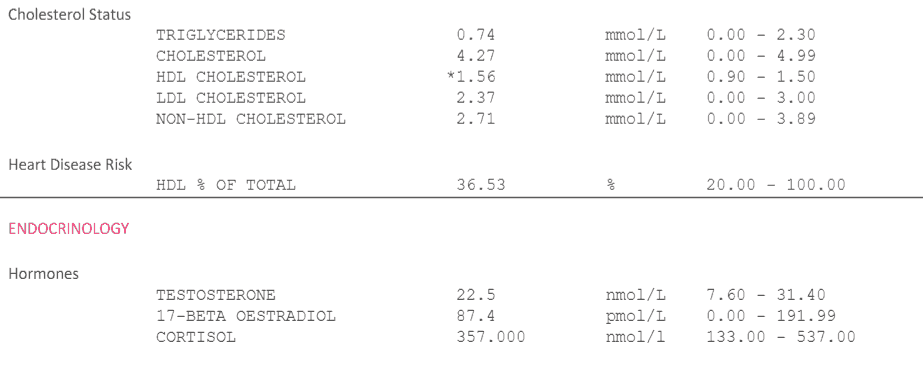 In recent months Medichecks have improved their online system, so if you go out for the main results in your dashboard, you get a more friendly view of your data in nice pie charts. Is test is broken down into its corresponding category, and you have an easy way to see what things fell out of normal range.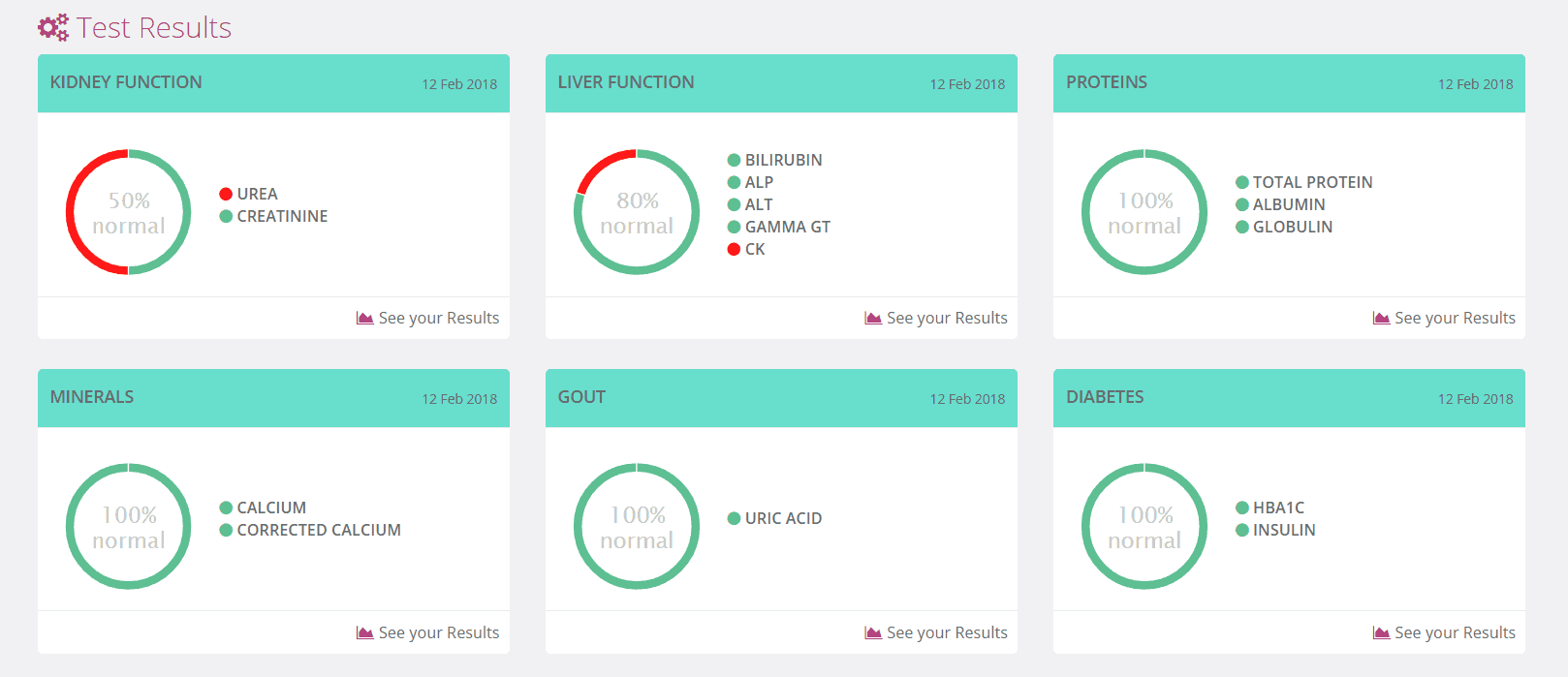 When you click on a specific chart, you get each result broken down with an explanation of what it means. I am relatively knowledgeable about health stats, but even I found it useful as all the tests can be a bit confusing as to what they mean.
If you have had previous tests, the results will show as a graph showing which direction things are moving in, and it is quite clear if things are out of range.
In my case nearly all my tests came back within range. I had slightly raised levels of urea, but this is likely due to being dehydrated after the night, and raised levels of CK (creatine kinase) which is likely due to regular strenuous gym sessions.
Thankfully my testosterone function came back fine; this is something I want to keep an eye on as I am getting older, it will start to drop.
Overall
This is an excellent service for anyone wanting to get blood results done privately. With the NHS you will only get bloods done when there is something wrong with you, whereas with this you can try and be preventative.
More competing companies are offering similar services nowadays, but I am not aware of any that offer the level of options of Medicheck.
As far as I can tell they are about the cheapest option available. Due to all the options out there, it is hard for an exact comparison, but for example, if you just want Testosterone checking that costs £29, the next cheapest place I can find is £31.
I personally think everyone could do with doing a yearly blood test to monitor things like hormones, cholesterol and diabetes. The standard Sports Hormone Check covers all these and costs just £89.
Medichecks have kindly provided me with a 20% discount code for any checks that are not already discounted. You can use the code MIGHTYGADGET20 to receive this discount, and this would bring the sports hormone check down to £71.20