Realme 5 Review Rating
Summary
Let down slightly by unnecessary bloatware, but overall you will be hard-pressed to find a phone that can compete with the Realme 5 at this price.
Realme had an amazing year in 2019, after becoming officially established in 2018 as of November 2019 they had a 14.3% share on the Indian smartphone market.
The brand officially launched in the EU with the launch of the Realme X2 Pro and all the devices I have reviewed from them have been superb, representing some of the best-valued phones at their respective price points.
The Realme 5 was launched back in August, and this is the most affordable option in the current range, priced at just 169-Euros or around £144 from Realme and Amazon for the 4GB/128GB model or  149-Euros/£127 from Amazon for the 3GB/64GB model.
As usual with Realme, not many other phones can compete with the 5 at this price, but how good is it?
Specification Overview
Body: Gorilla Glass 3+ front, polycarbonate back
Screen: 6.5-inch, 19:9, 720p+, LCD
Rear camera: Primary 12MP, f/1.8 lens; 119° ultrawide-angle 8MP camera; 2MP macro camera; 2MP portrait camera; LED flash; [email protected] video recording
Front camera: 13MP sensor
Chipset: Qualcomm Snapdragon 665
Memory: 3/32GB, 4/64GB or 4/128GB; dedicated microSD slot for up to 256GB expansion
OS: Android 9.0; Color OS 6.0 on top
Battery: 5,000mAh, 10W charging
Connectivity: Dual SIM (4G), Bluetooth 5.0, Wi-Fi a/b/g/n, Micro-USB, FM radio
Colours: Crystal Blue, Crystal Purple
Misc: Rear-mounted fingerprint reader
Design and Build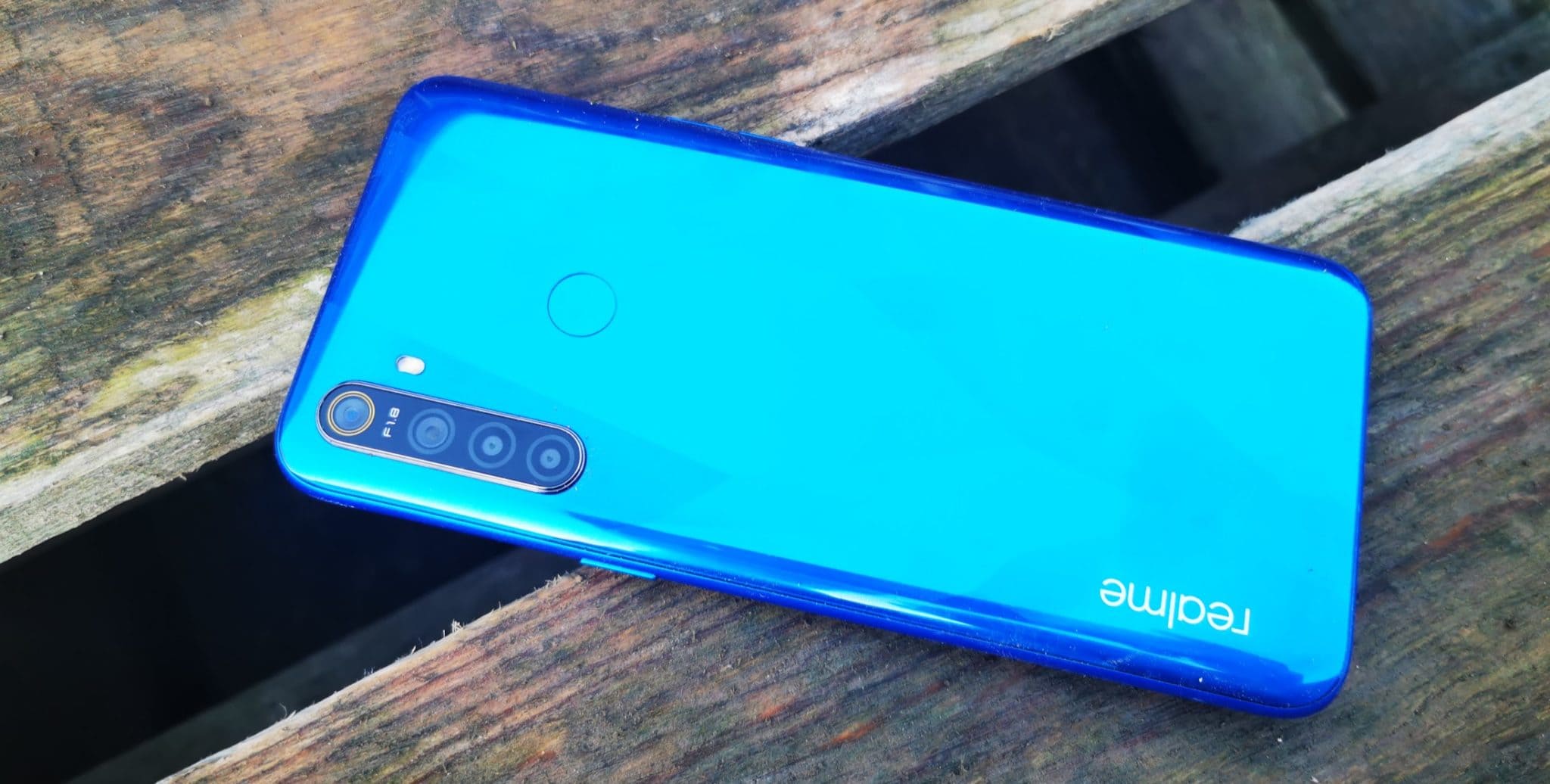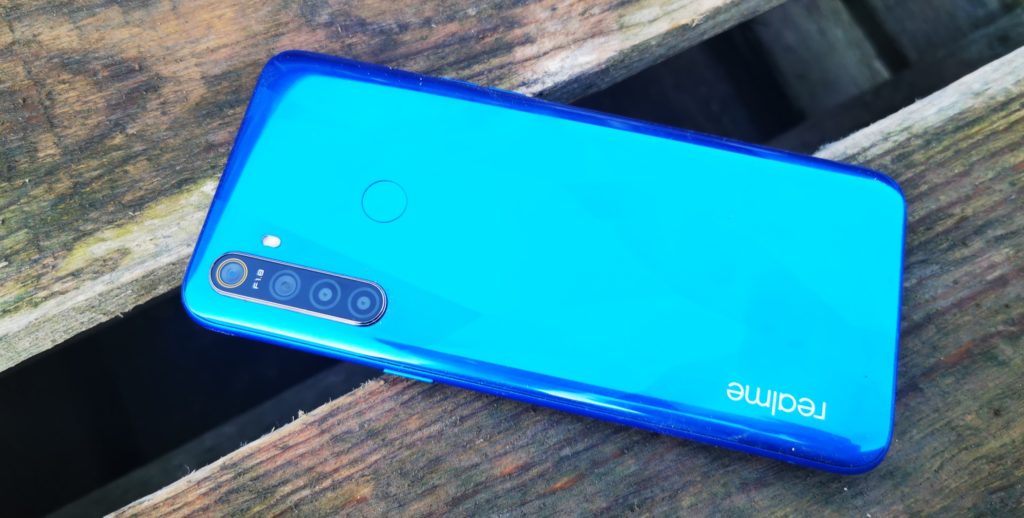 The Realme 5 is very similar to the Realme 5 Pro I have previously reviewed. You would think Realme would use the same shell and just tweak the internals, but the Real 5 is a 6.5-inch device vs 6.3 inches.
Ignoring the size difference, at passing glance you would think these are the same, with the same camera layout, fingerprint location and that attractive crystal design on the rear.
Both phones have a plastic body which makes them feel a bit cheap, but they look good, and the plastic will be more durable than glass.
Just like the 5 Pro, you get splash resistance, a 3.5mm headphone jack and microSD expansion. Neither phone has NFC.
Display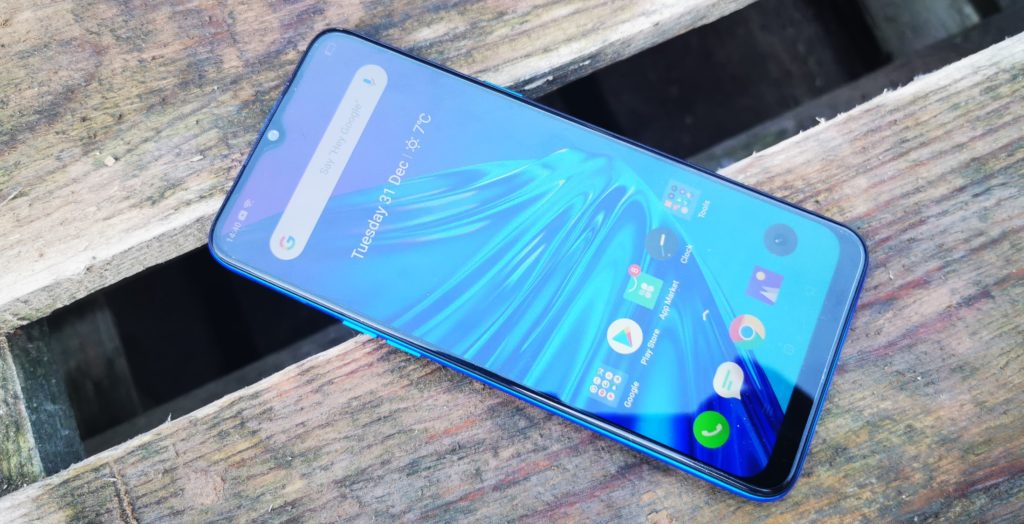 The display is of reasonable, running at 720 x 1600 pixels using an LCD panel it doesn't quite compete with the similarity priced and specced Xiaomi Redmi Note 8.
With a 269 ppi density, you do notice a lack of detail when you look closely, but for general use, I could barely tell.
The display is notably less bright than the Realme 5 Pro, I experienced no issues during my testing, but on a bright summers day, you may have visibility problems.
Camera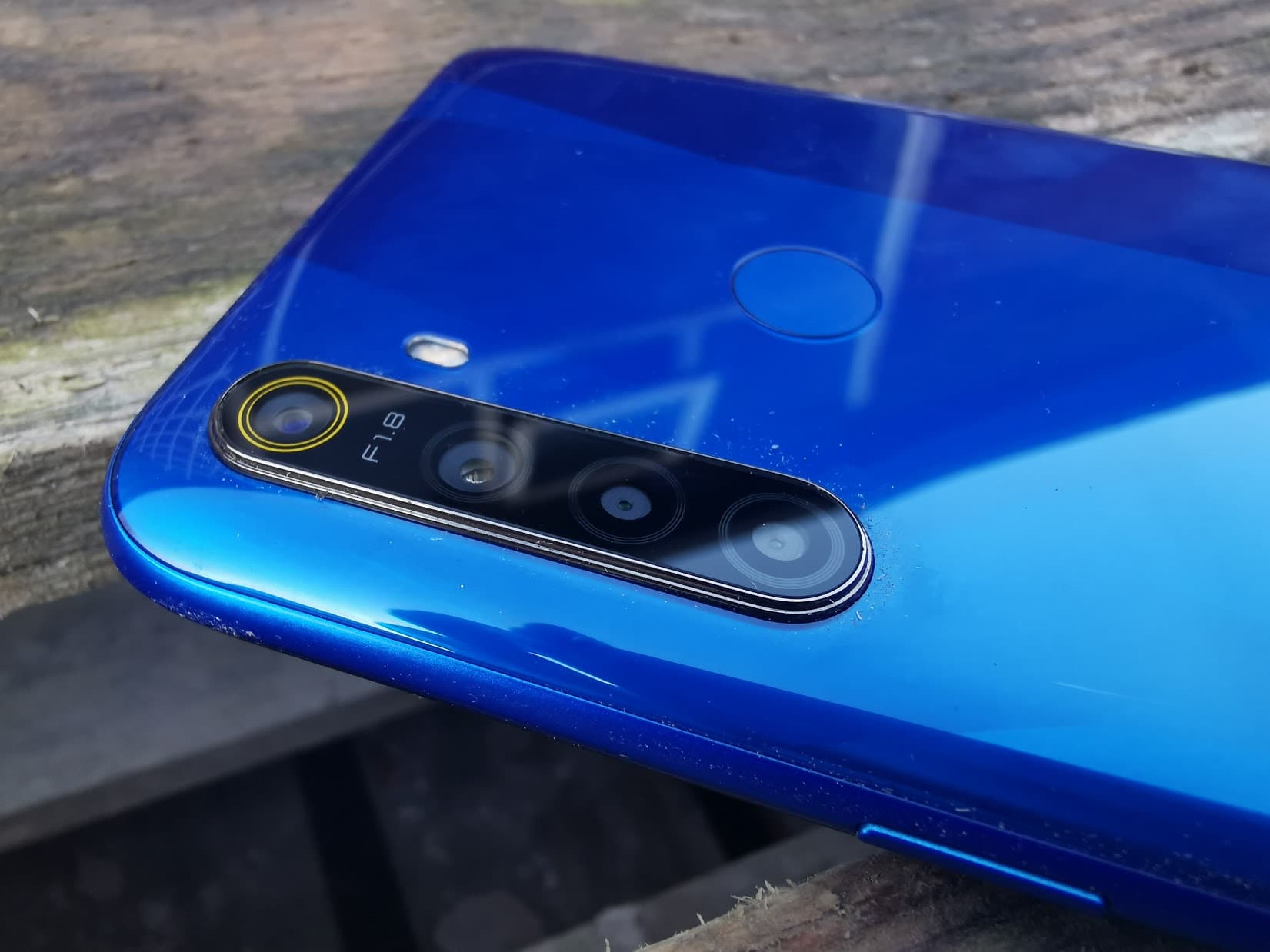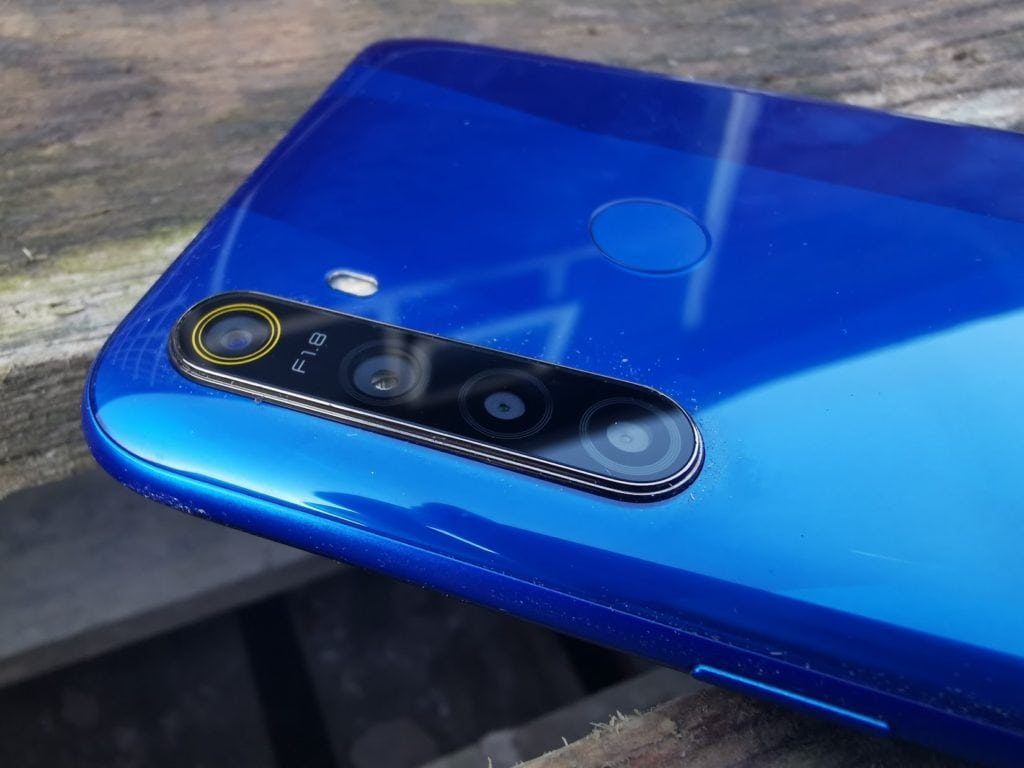 I have not reviewed a phone at this price point for some time, but the camera does well. You obviously make some sacrifices with quality, but overall for your casual users wanting decent quality snaps, this should easily fit the bill.
In terms of the specification, there are not many phones that can match this at this price with a standard 12MP wide-angle lens and 8MP ultra-wide you get a lot of versatility. These are complemented with a 2MP macro and 2MP depth sensor, neither are super useful but every little helps.
In good daylight, the phone will take excellent shots, and on a small screen and social media, I think people would struggle to tell the difference between the 12MP shot of this phone and the larger 48MP and 64MP shots of the more expensive Realme phones.
Like most phones, low light or night shots can struggle, a steady hand is required for the night mode or you will introduce a lot of blur.
The macro mode is actually very good, allowing the phone to take superior shots than the far more expensive Asus Zenfone 6 I recently reviewed.
Example Shots
Performance and Benchmarks
This phone drops the chipset down to the Qualcomm Snapdragon 665 which therefore makes it the lowest spec Realme phone I have reviewed. In reality, the SD665 performs well, only falling slightly short of the Realme 5 Pro with the Snapdragon 712 in Geekbench, and performing about the same as the much more expensive Honor 9X with the ageing Kirin 710F.
For Antutu the phone scores 167866 overall broken down by:
CPU: 71157
GPU:33489
MEM:36568
UX:26652
This places it a touch behind the Kirin 710F but about 20% behind the Snapdragon 712 of the Realme 5 Pro.
In 3Dmark the Snapdragon 665 outperforms the Kirin 710F with scores of 1090/1061 versus 864/973. However, it does fall quite a bit behind the Snapdragon 712 which managed nearly double the score with 2091/1979.
For day to day use the phone does well, for social media, web browsing, email, and photography, I never noticed any issues with performance. For serious graphically intense gaming you will probably want something beefier, but this will still happily play most games, especially less demanding ones.
Battery
The combination of the 5000 mAh battery, Snapdragon 665 and 720p display make this phone comfortably last a couple of days and is one of the stands out features of the phone.
Even when I spent quite a lot of time doing photos and playing PUBG Mobile the phone was still going strong by the end of the day.
Software
Things are less positive when it comes to the software aspects of the phone. Some people are not a fan of Color OS, personally I am indifferent, it has an app drawer, and that's the main thing that bothers me about some brands customisations.
However, this appears to have a significant amount of bloatware installed on it compared to the more expensive models such as the Realme X2 Pro. With a quick glance there is at least, App Market, clone phone, compass, games centre, game space, hot apps, hot games, Lazada, one tap lock screen, ORoaming, Theme Store and Webnovel. Facebook and Opera are also pre-installed.
Some of these can be uninstalled, such as Lazenda and Webnovel. Others can not, such as Hot Games and ORoaming. ORoaming is a roaming data app but the prices are still in Rupees rather than GBP. Lazada is an Asian ecommerce store which has no options for the English language. Theme store also pushes notifications at you, but you can switch them off within the app.
The Realme 5 Pro does have Game Space, and there is also AquaMail but it has no other bloatware I can find compared the 5.
Furthermore, ColorOS 6 devices and higher will start to push adverts, this can be disabled quite easily, but it is another mark against the OS. It is worth noting that Xiaomi also do this and they are the main competitor to Realme.
Assuming you can get past the above, everything else is fine, the OS is responsive with no lagging or issues with the interface.
Price and Competition
Similar to my other Realme reviews, the main competition here comes from Realme themselves. This is available from Realme for 169-Euros or around £145, the Realme 5 Pro is 199-Euros so just £25 more at £170. With that, you get a significant bump in screen resolution, chipset performance, camera specification, and much less bloatware. The battery size drops but you get faster charging.
Alternatively, there is the Xiaomi Redmi Note 8 which costs about £160 Amazon but will less storage, however a superior camera specification and a better screen resolution. Then there is the Redmi Note 8T which is identical to the 8 but has NFC and costs £10 more.
No products found.
There is also the Xiaomi Mi A3 but this costs £150 from Amazon, and has an even lower resolution screen, albeit an AMOLED panel.
Looking at other brands, at this price you could get the Samsung Galaxy A10 or Huawei P Smart 2019, both are excellent phones but struggle to compete with the specs of Realme. The P Smart 2019 does have NFC though.
Overall
For less than £150 you get an awful lot of phone here, it does a perfectly adequate job for everything you could want with almost no other phone offering this value for money.
While I have been quite happy with ColorOS on my previous reviews, I have some issues here. They don't slow down the phone or have any other negative impact, but some people will definitely not like the bloatware.
The two phones that do come close to this are the Redmi Note 8 for £15 more, or the Realme 5 Pro for £25 more, both of which are well worth your consideration and if you can stretch your budget I would recommend the Realme 5 Pro as the Snapdragon 712 chipset will keep the phone performing well for much longer, and it has less bloatware.
This phone seems to be a perfect choice for someone that just needs a phone that works. It ticks all the boxes you need, you don't have to worry about the battery at all, and it is incredibly affordable.
Last update on 2022-05-16 / Affiliate links / Images from Amazon Product Advertising API