TP-Link Deco X60 Mesh Wi-Fi 6 System Review Rating
Summary
An excellent dual-band Wi-Fi 6 system with the potential to be amazing value for money dependant on usage, however for many a tri-band Wi-Fi 5 system maybe a better buy
Router Wi-Fi 6 Performance -

90%

Satellite Performance -

70%

Price -

70%

Setup/usability -

84%
Pros
Near gigabit Wi-Fi 6 speeds from wired router or satellite
Perfectly usable speeds from mesh connected satellites
Easy to set up
Considerably more affordable than a tri-band system
Cons
50% drop in speed in speed with a hop back to the router
Tri-band Wi-Fi 5 will offer better value for money in many scenarios
This year Wi-Fi 6 has finally gained mainstream traction with all flagship phones launched this year featuring it, and most mid-range and higher laptops also featuring it.
I have reviewed quite a few routers now, but to date, only the painfully expensive Netgear Orbi RBK850 mesh W-Fi 6 system which costs £969.99 for the three-pack (RBK853) and £700 for the two-pack system I reviewed (RBK852).
The TP-Link Deco X60 cost just £400 for a three-pack, so is there any way this can compete?
Features & Hardware Specification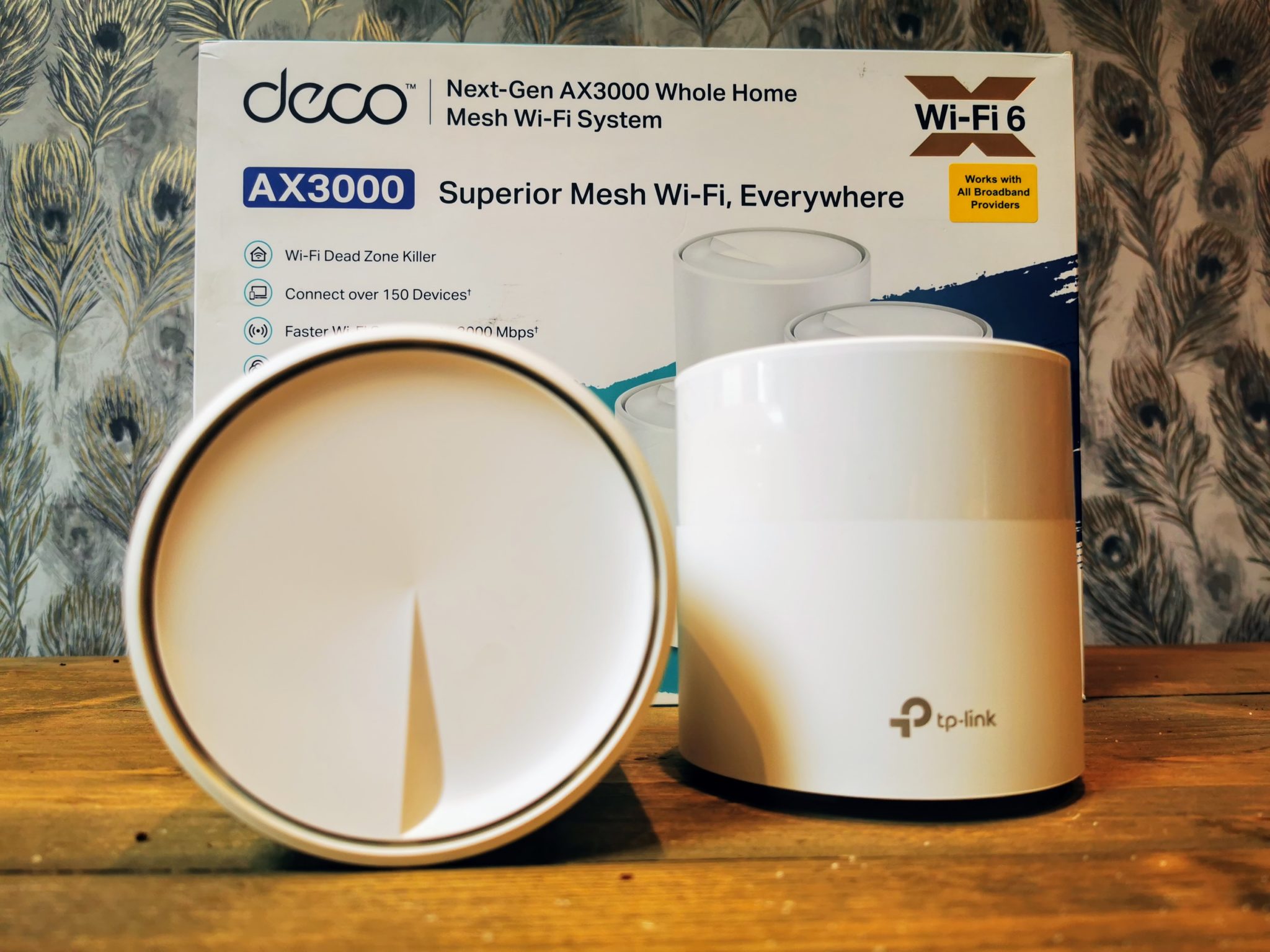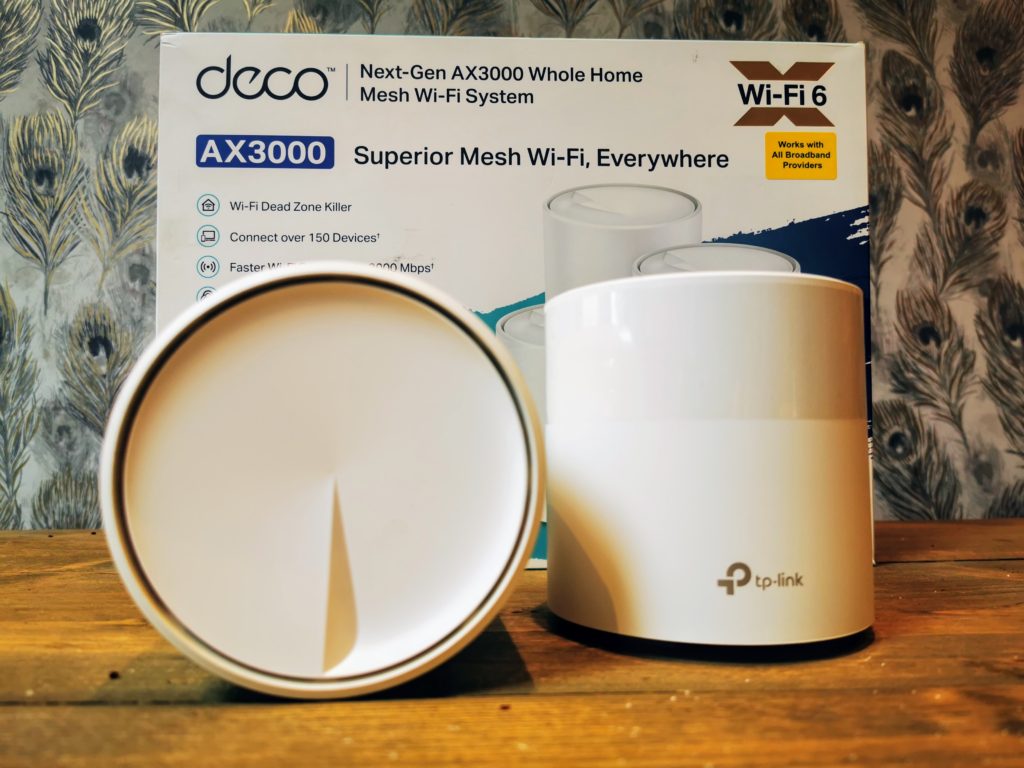 Wi-Fi Specification
Dual band Wi-Fi 6
Wi-Fi 6 with 2×2 up to 2,402 Mbps
Wi-fi 5 with 3×3 up to 1300Mbps
Wi-fi 5 with 2×2 up to 866Mbps
Up to 574 Mbps on 2.4 GHz.
No Dedicated wireless backhaul
Ethernet backhaul option
Other Features and Spec
Qualcomm 1 GHz Quad-core CPU
4 internal antennas per Deco unit
Connect More Devices: OFDMA and MU-MIMO technology quadruple capacity to enable simultaneous transmission to more devices.
Boosted Seamless Coverage: Achieve seamless whole-home coverage with a clearer and stronger whole-home Wi-Fi signal generated by Wi-Fi 6.
Ultra-Low Latency: Greater reduction in latency enables more responsive gaming and video chatting.
One Unified Network: Multiple units form a whole-home network that auto-selects the best connection as you move around your home.
Total Security: WPA3 encryption and TP-Link HomeCare provide personalized features, including Parental Controls, Antivirus, and Quality of Service (QoS) to ensure a safer online experience.
Setup Made Easier Than Ever: The Deco app walks you through the setup step-by-step.
Dual band Wi-Fi 6 (Deco X60 / Nighthawk MK63) vs Tri-band Wi-Fi 6 (X90 / RBK850) Mesh Sytems
The TP-Link Deco X60 is one of the first products in a new wave of more affordable Wi-Fi 6 mesh systems, joining the Netgear Nighthawk MK63, and both offer dual-band functionality to cut down on the cost.
With a dual-band system when you connect to a satellite, both the backhaul and data channel are shared effectively giving you half the bandwidth available for the client. TP-Link claims you can achieve speeds up to 2400Mbps which technically make it better than the Nighthawk MK63 which only claims 1200Mbs
For both the X60 and MK63 you can wire up the satellites and have ethernet as your backhaul giving you the full bandwidth available to the client. However, if you have bought a mesh system, wiring up the satellites is not likely something you wanted to do.
While the differences with dual-band and tri-band have been covered extensively in the past, what is important to take into account here is the cost of a dual-band Wi-Fi 6 mesh system vs tri-band Wi-Fi 5 system.
A three-pack TP-LINK Deco M9 Plus is £329.99 while this system is £399.99. The Deco M9 won't offer the same 2400Mbps(or 1200Mbs) speeds, but the satellites will likely offer superior performance.
Is there 160Mhz channel width and multi-gigabit speeds?
Yes, but no. TP-Link claim 2400Mbps speeds and 160 MHz channel width but I was not able to get this, and there are no settings to try and force it either.
Set-Up
With the TP-Link system, you need to have an account with them, whereas some systems work without accounts. Once you have downloaded the app and signed up, you just need to add the main router; it connects via Bluetooth, so there is no awkward switching between temporary Wi-Fi networks.
With the main router added, you can power up your satellites, and they should automatically add themselves to the system. Though, I am sure you used to have to manually add them with my other TP-Link reviews.
App & Settings
Settings are a little bit thin on the ground.
You get the usual networking settings including support for Dynamic DNS (including an option to use TP-Link's server), port-forwarding,
However, when it comes to the Wi-Fi settings themselves, things are much more limited. You have an option for the main network and a guest network, and you can change the SSID, password and also choose if you want to use 2.4Ghz and/or 5Ghz. I prefer to keep them separate, so for me I would have to use my guest network as a 2.4Ghz channel for IoT devices.
HomeCare / Antivirus
Like most brands now, TP-Link offer built-in anti-virus, parental controls and QoS powered by TrendNet. This used to have a monthly fee, but they have now made it free for the lifetime of the product, this, therefore, gives TP-Link a significant long term cost advantage over the likes of Netgear.
Wi-Fi 6 Performance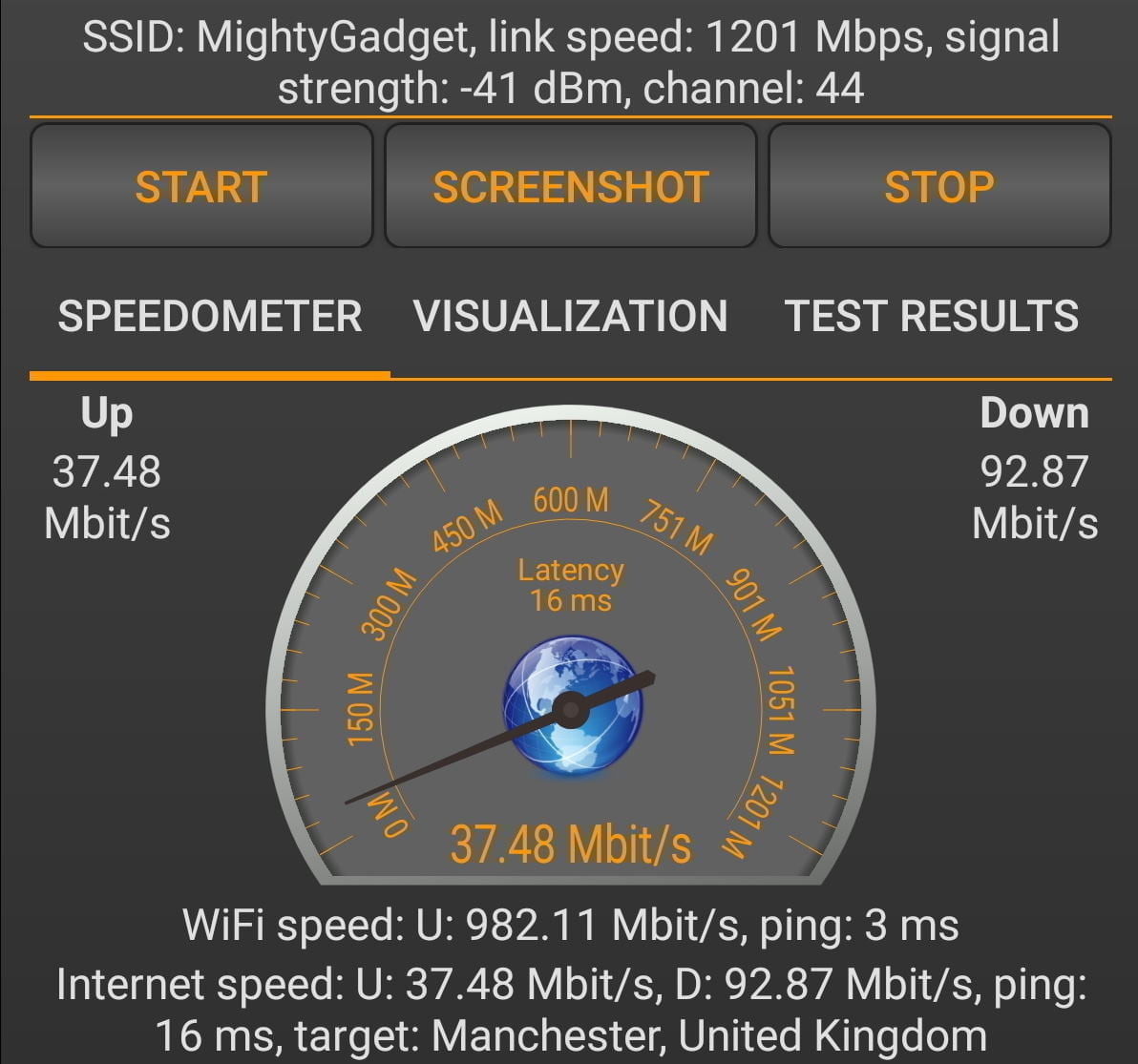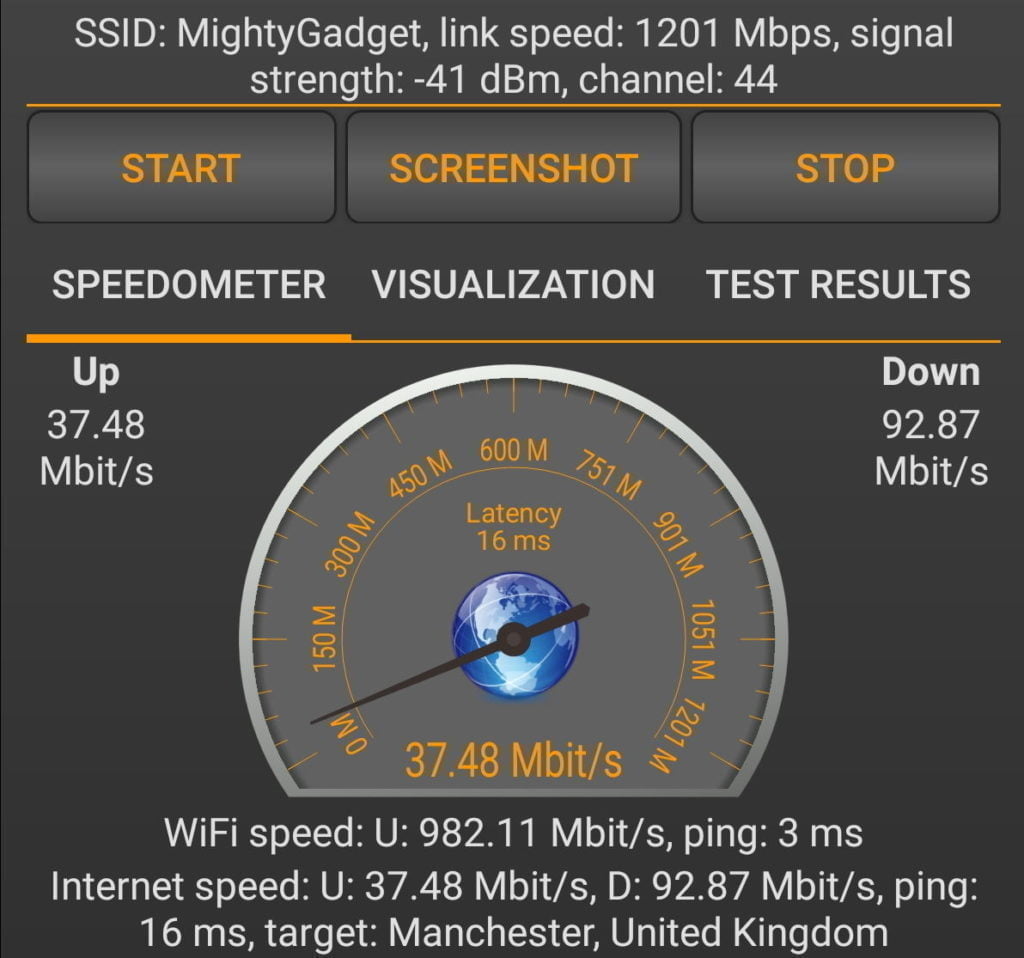 For the main router, this has the potential to perform the same as the much more expensive Netgear RBK850, I can connect with a data rate of 1200Mbps and achieve real-world speeds of up to 982Mbps when in close range. With file transfers, I did have some inconsistent results but all of these still exceeded what you are likely to achieve with a normal Wi-Fi 5 connection with speeds over 750Mbps.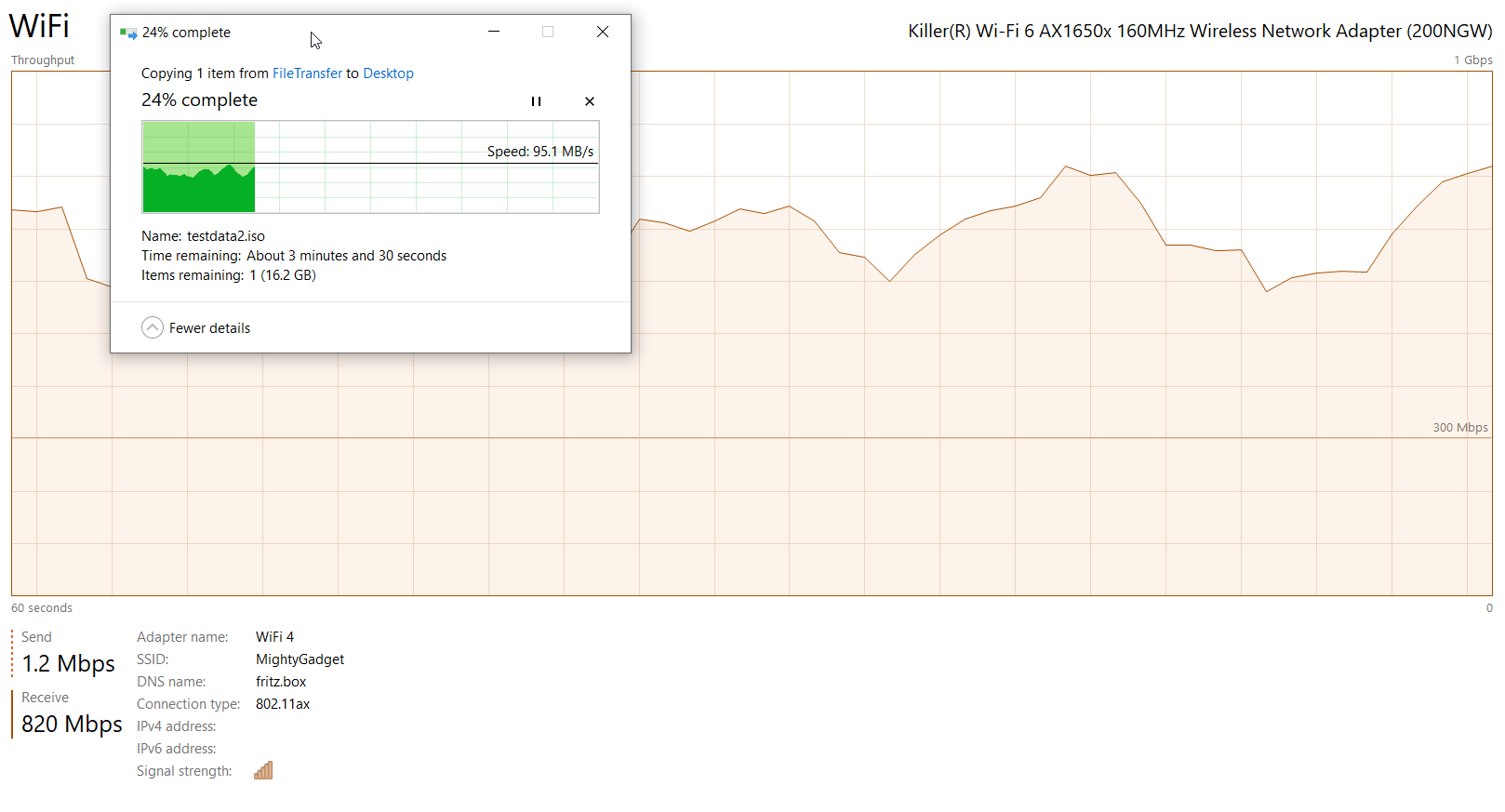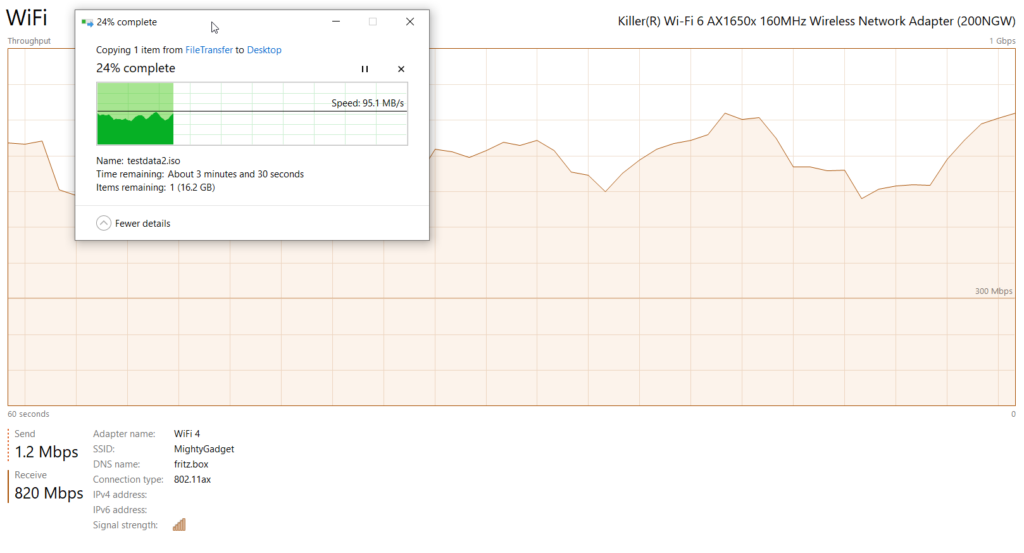 Satellite Performance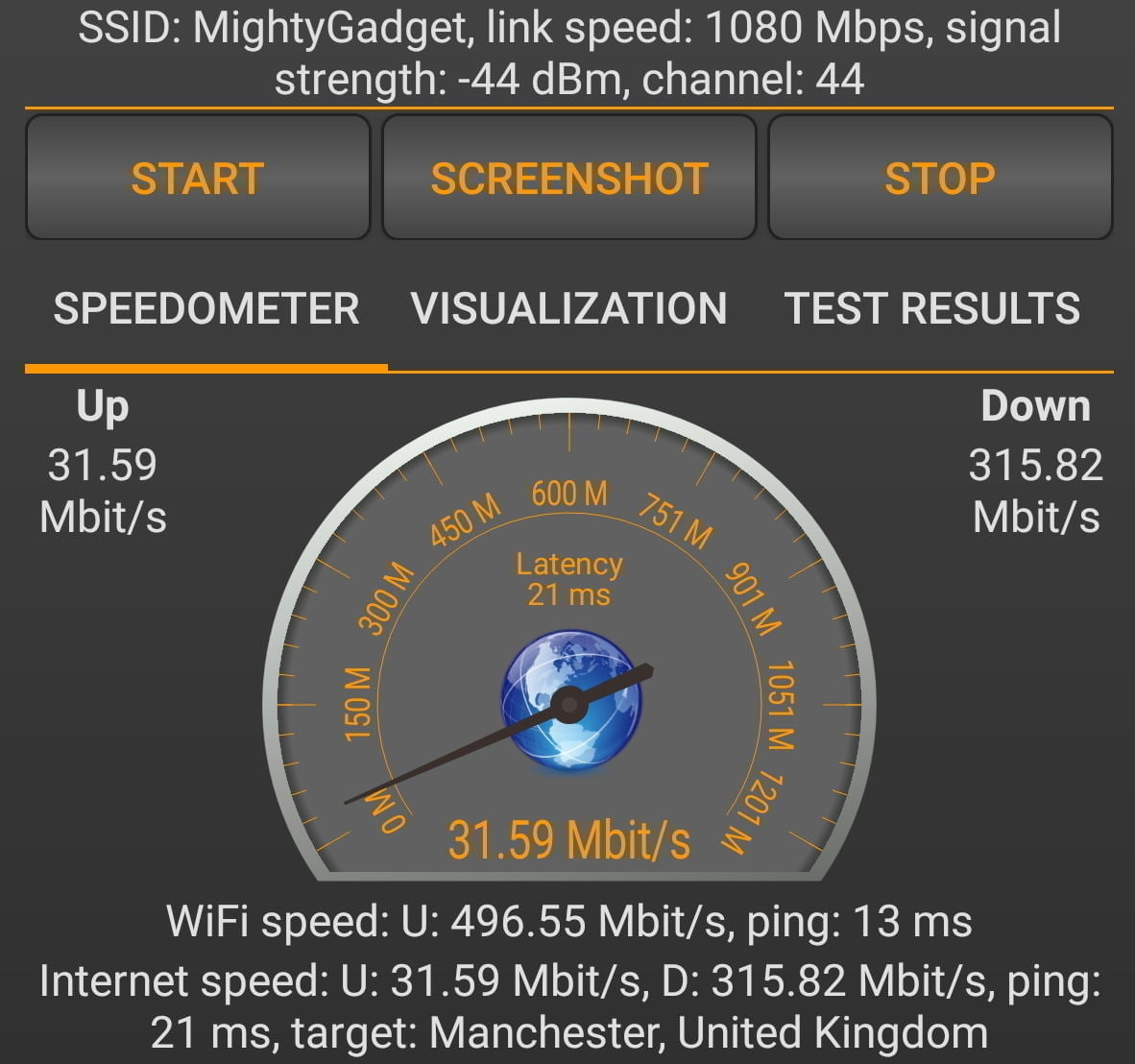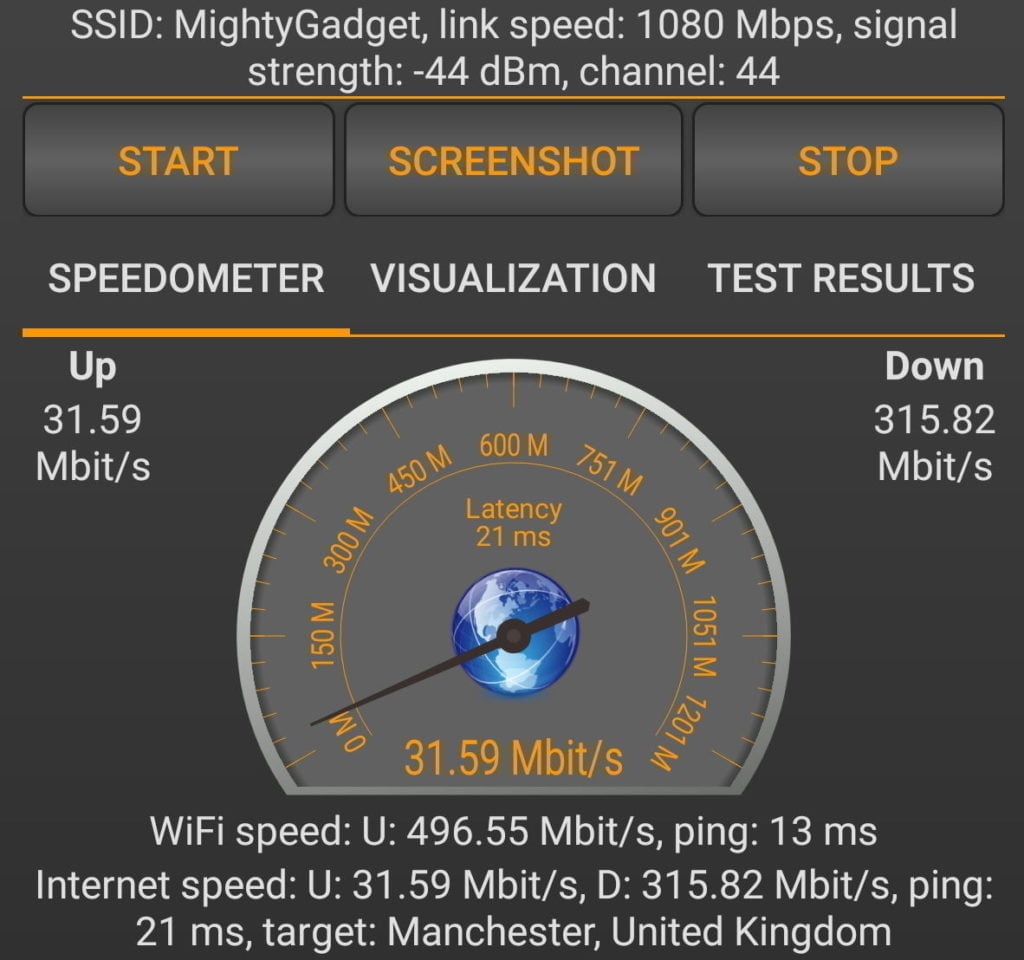 Unfortunately, when you move around the house and end up connecting to one of the satellites, things drop off quickly. You lose about half the speed with the shared backhaul/data channel, so close range results hit 496Mbps. A tri-band Wi-Fi 5 system could quite likely outperform that and many of these cost less than the £400 needed for this system.
Wi-Fi 5 Performance
With the Wi-Fi 6 connection rate at 1200Mbps you can technically connect faster with a Wi-Fi 5 device that greater than the 2×2 MIMO currently available for Wi-Fi 6. There are not many options for this, and generally require large adaptors or PCIe adapters for your PC.
Using the Asus USB-AC68 adaptor which has a 3×4 MIMO design, it is possible to connect at 1.3Gbps. With this speed, I am able to achieve speeds of over 980Mbps consistently with a file transfer basically capping out the gigabit connection at 113MB/s.
Most people won't be using a device such as that though, so a normal Wi-Fi 5 connection rate is 866Mbps, and with this, it was able to achieve an impressive (for 2×2 Wi-Fi 5) 649Mbps.
Ethernet Backhaul Performance
I always have problems gettings ethernet backhaul to work on my Netgear Orbi reviews, but not with TP-Link. I just plug in the cable, and away it goes. So if there is an option to wire up your satellites, you will be able to achieve the full data speeds of 1200mbps.
I did this in my garage/gym, and as expected, the results were identical to the main router with speeds getting close to 1Gbps.
Long Distance Performance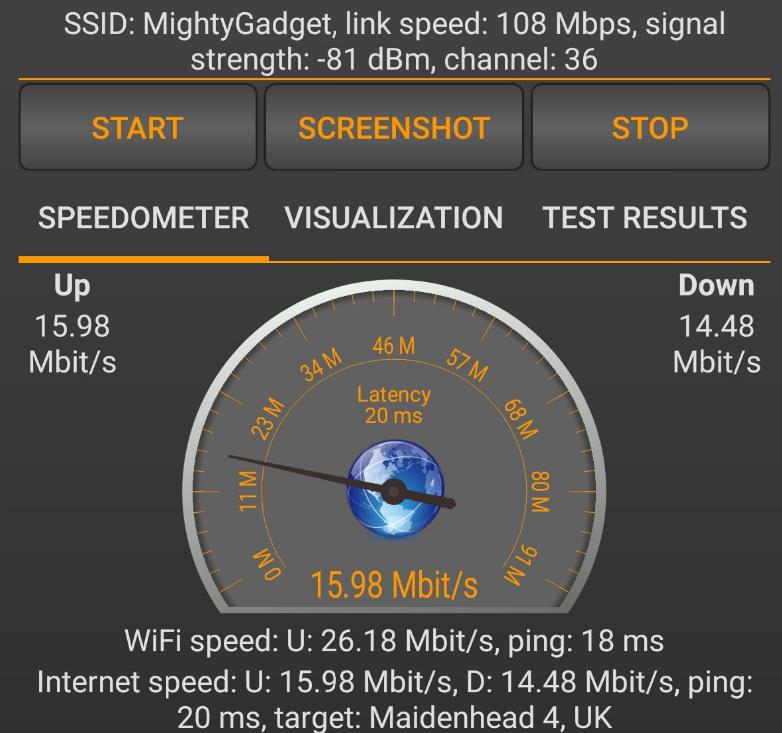 Switching off the satellites and moving around the house to test the range of the single router. Performance is about on par with most other systems may be slightly lower than average. Moving from my office which is upstairs in the centre of the house, testing it in the front room as far away as possible I can just about connect to 5Ghz. With this, I am able to achieve a speed of 26Mbps, the connection is weak enough that you will likely need to be reliant on 2.4Ghz.
With a three-pack system, only the largest of homes should have an issue with range.
Price and Competition
The Netgear Nighthawk MK63 is more attractively priced, it is technically lower specced with a connection rate of 1200Mbps vs 2400Mbps, but in reality, they are both likely to be identical. You can also buy it in a two-pack, though the three-pack seems to be unavailable. This system only has 1 port for the satellites, and then of course, if you want the security features, you will need to pay for the subscription.
Beyond that, there are no other dual-band mesh Wi-Fi systems I am away of.
If you can stretch your budget further, or only need two devices, the ASUS RT-AX92U AX6100 is the cheapest tri-band Wi-Fi 6 option I can find at £349 for two devices.
If you want consistent speed throughout the home, then a tri-band Wi-Fi 5 system is likely to be a better buy with the Deco M9 costing £329.99 or even the Deco P9 for £192 which uses powerline for the backhaul channel.
Overall
The TP-Link Deco X60 is an excellent system, but you get what you pay for, so in this case, you need to consider your usage before committing to a Wi-Fi 6 system vs Wi-Fi 5.
If you can locate the router where you primarily need the fastest connection, such as living room, or office, then you can have all the benefits of Wi-Fi 6 with a lower cost. You will lose a lot of speed with the satellites, but if these cover less important areas, then it shouldn't be an issue, they still provide more than enough performance for your average user.
Alternatively, if there is any possibility of wiring up the satellites, this offers incredible value for money over a tri-band mesh Wi-Fi 6 system or pricey access points.
However, for many users, there is a good chance you can get better all-round performance at a lower price point by opting for a tri-band mesh Wi-Fi 5 system such as the Deco M9.
Last update on 2022-05-19 / Affiliate links / Images from Amazon Product Advertising API