Samsung Electro-Mechanics have just started to mass-produce a 5x optical zoom camera module, the company revealed in a recent announcement. This means the module is ready to be featured in smartphones. The typical struggle in designing smartphone zoom lenses is getting them small enough. Manufacturers are constantly trying to make phones as slim and compact as possible, but zoom lenses require a lengthy distance between the sensor and the lens. Luckily, Samsung have managed to solve this problem.
A closer look at the module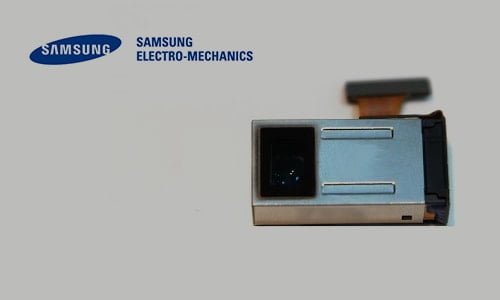 The 5x optical zoom model is a mere 5mm thick. It's much slimmer than the majority of the 2x zoom lenses currently featured on smartphones. In fact, it's so slim that it could be a drastic design improvement on the physical design of most smartphone models. This module would be able to sit flush with the smartphone rather than protruding from the back. The 5x optical zoom essentially works the same way a periscope does by making use of reflecting light. The sensors and lenses are positioned sideways to keep the model slim while light is reflected to capture the image. The resulting images are sharp and well-exposed. It's therefore easier than ever for people to capture their everyday moments in high-definition and put them on display in their homes — whether that's as a picture collage, simple print, or gallery wrap.
Where will we see Samsung's 5x zoom camera?
Although we're now aware Samsung is mass-producing these 5x optical zoom camera modules, one pressing question remains: What smartphone model are they being produced for? At the moment it's unclear if and when the camera module will arrive on consumer devices. There's been some talk about the possibility of the new Samsung Galaxy Note 10 featuring this module. The smartphone is soon to be released and rumored to have a vertical rather than horizontal camera layout. However, it's probably the case Samsung has already chosen a set design for this model. But since Samsung have a history of featuring new technologies on mid-range devices, we can possibly look forward to seeing the 5x optical zoom camera module on something like a future Galaxy S device.
The 5x optical zoom camera model is an exciting new development in Samsung's offerings. The powerful, slim design will be an asset to any smartphone. It'll be interesting to see when and how this sensor hits the market.