RevoNext QT5 Review
Product Name: RevoNext QT5
Offer price: 22.98
Currency: GBP
Availability: InStock
Summary
Superb sound for the price, dual drivers, replaceable cables, and the option to convert to Bluetooth make for an excellent pair of earphones.
It has been a long time since I reviewed any wired earphones, with the trend leaning towards Bluetooth. However, a lot of people still love wired earphones, they technically offer superior audio performance, require no charging, there are less things to go wrong, and they are cheaper than their wireless counterparts. But what if you could have both?
The RevoNext QT5 gives you the option to switch between wired and Bluetooth, while at the same time offering a pair of earphones well into the affordable category, with prices starting at £22.98. These earphones do that by using a detachable 0.78mm 2-pin audio cable allowing you to change your cable if you damage it, want an upgrade, or convert it to Bluetooth.
The Revonext B02 Bluetooth Cable will set you back £19.98 making the total cost of the earphones just over £40, which is still what I would class as affordable for Bluetooth earphones.
The affordable nature of these does not mean they have skimped elsewhere, the QT5 is a dual driver earphone with a balanced armature and dynamic driver which is housed in a weighty metal shell.
The model I was sent is the non-mic version, so there is no volume or mic control on the audio cable (though there is with the Bluetooth cable). If you want the mic option that will cost just £2 more at £24.98
[content-egg module=Amazon template=list]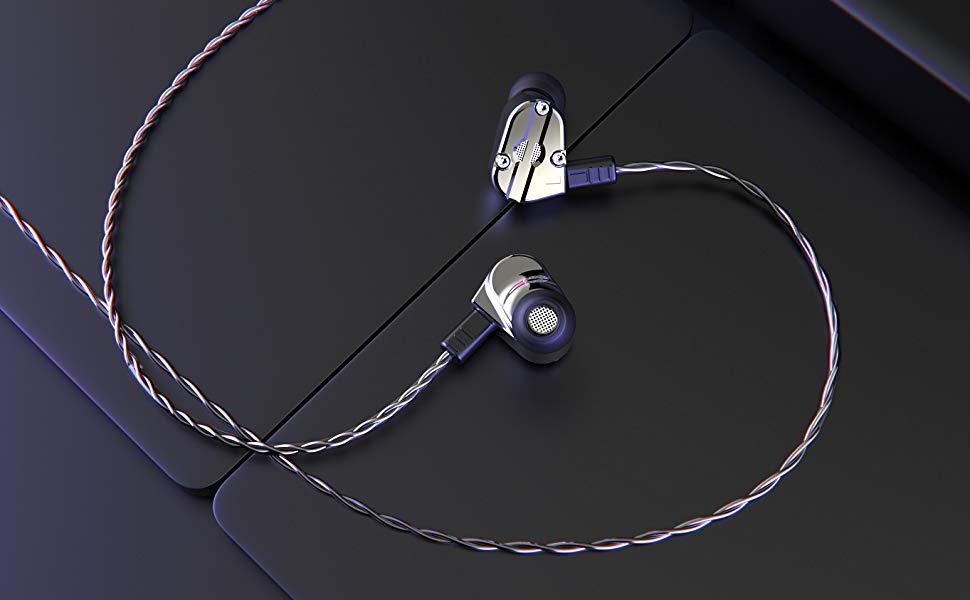 Design and Build
These are quite unique compared to many of the earphones I have reviewed. The biggest difference is the detachable cable which is attached via a two pin connector. With very expensive earphones that feature this design, a common recommendation is to upgrade the cable, and in theory, you can with these. However, as the earphones only cost £23 it is probably not worth buying an expensive cable. You can of course upgrade to Bluetooth which is well worth the £20.
The included braided cable feels like it is good quality and uses a pin size of 0.78mm if you are tempted with an upgrade.
The earphones use a CNC metal housing making them quite weighty compared to others, and it gives them a premium look and feel. The design of them means the cable should be wrapped over the top of your ear, rather than dangling loosely below it.
Due to the design of these, they have absolutely no IP rating, so I have not used them for the gym. I suspect, if you use the cable with no remote/mic, you could get away with using these in the gym, as the actual earphone bit won't have any sensitive electronics inside it, but it's not something I wanted to risk.
Fit
I struggle with fit a lot, which in turn affects the sound quality, I loved everything about the Rock Jaw T5 but found getting a good fit when walking around extremely difficult.
With these, I have had no such issues with these, their design to favours having the cable wrapped over your ear, which I prefer, as it gives a bit of support when you are walking around.
In both wired and Bluetooth modes, I had no issues when walking around, the earphones never needed adjustments. The Bluetooth cable is light enough that it doesn't tug down much, and with the over-ear design, any tugging shouldn't affect the earphones anyway.
Performance
Overall the sound quality is excellent, the dual driver design allows these to offer an excellent range with well-defined lows. They are not quite as bassy as the likes of the 1MORE Triple Driver, and for some that could be preferable, I personally like a little more bass, but I never felt it was lacking here.
Mids are exceptionally well presented and offer a bright fun sound with no harshness even at louder volumes. Vocals work equality well, and I found them to sound good across both the lower and upper register.
The treble has excellent detail and is clear with no apparent harshness to it.
Overall, these offer a well-balanced sound that far exceeds what you would expect from this price point.
Overall
I have come away very impressed with the RevoNext QT5 when you factor in the price, they offer superb sound quality and exceptional build quality while offering an interchangeable cable that is traditionally used on vastly more expensive earphones
They have good bass response but are not as much as 1MORE or SoundMagic that I have reviewed recently, I would say the audio quality is a little more neutral with strong mids. Personally, I prefer the sound from the 1MORE triple driver, but they are a lot more expensive, and the bassy-ness of them, which is preferable to me, may not be for others.
I love the option to switch between Bluetooth and wired, this makes them perfect when travelling, as I can use them wired on trains and planes but then switch to wireless when walking. Interchangeable wires also reduces the risk of completely ruining the earphones, in the past, all my wired earphones break due to wire issues, with these, you can just get a new cable for £8.
Overall, for the price, there is little to find negative about these, and they are a superb set of earphones.