1MORE Triple Driver BT In-Ear Headphones
Product Name: 1MORE Triple Driver BT In-Ear Headphones
Offer price: 119.99
Currency: GBP
Availability: InStock
Build & Design -

95%

Sound Quality -

95%

Price -

80%
Last week 1MORE announced their first set of triple driver Bluetooth headphones. The hardware inside the earpieces is fundamentally the same as you will find in the universally praised E1001 wired headphones though with some minor sound tweaks following user feedback.
Rather than focus on aesthetics or sports compatibility, 1MORE have designed these with one purpose, and that is the best possible audio quality.
They have skipped the trend to go completely wire-free, instead opting to go the other way and use a large neckband. There is no IP rating, so if like me, you sweat a lot in the gym you really want to avoid using these for exercise.
What they do have that many competing brands don't is a triple driver headphone and high-resolution Bluetooth chip with LDAC transmission technology that allows audio to be streamed at 990 kbps. It is also fully compatible with other transmission technologies, such as AAC that you find on Apple. With AAC you are limited at the max transmission speed of that technology which is just 250 kbps.
[button link="https://amzn.to/2QzDLAp"] Buy from Amazon[/button]
It is worth noting that there are some licenced technologies by Qualcomm including aptX, aptX LL, and aptX HD. They are regarded as excellent transmission technologies but they cap out at 576 kbps.
LDAC, on the other hand, was developed by Sony, previously it was only available on their Sony's Xperia phones but Android 8.0 Oreo has since included this codec so OEM can optionally include it if they wish. 1MORE obviously feel that this is a superior technology and that is why they have implemented it over an aptX alternative.
1MORE was one of the first companies to introduce triple drives to the mid-end of the market, originally selling for £99 you can now pick them up from Amazon for as little as £70. In comparison, prior to these, triple drivers were traditionally associated with companies such as Shure, Westone and Optoma NuForce, with the Westone AM-Pro 30 costing around £400.
The triple driver layout 1MORE uses is two dedicated balanced armatures and a patented triple layer, dynamic driver. This layout allows them to separate the audio frequencies across the three drivers allowing them to achieve a greater range of detail with less distortion.
The headphones also feature environmental noise cancellation which apparently uses an integrated microphone which coupled with the ENC technology filters out background noises up to 15 dB allowing you to talk even in loud environments. This appears to be a halfway implementation of ANC, I have not tested it extensively, I found that I don't really need ANC with these are the audio seal is good and volume levels excellent.
The earphones are rated for 7 hours of talk or music play, with just 1 hour of full charging via the USB-C port. Fast Charge enables 3 hours of use with only 10 minutes of charge time.
[button link="https://amzn.to/2QzDLAp"] Buy from Amazon[/button]
As usual with 1MORE the presentation and accessories are exemplary, they come in a beautiful presentation box and you get a total of 8 extra ear-tip sizes. I am not sure of any other headphones that come with some many ear-tips, I doubt it cost much for 1MORE to do, but getting a good fit with your earphones will make all the difference with the audio quality. In particular, I find if you have a fit that is too tight, or falling out of your ear, you will lose most of the bass frequencies.
The design of the headphones is somewhat contentious, the neckband makes them far larger than competing brands, especially if you compare them to AirPods or other wirefree alternatives. I was a fan of neck bands prior to these and this pair is possibly the best implementation yet.
The benefit of a neckband is that they keep all the weight of the controls, battery and other components on your neck, allowing the earphones to sit in your ear just as they would with a wired headphone. Quite often with other brands, you have the controls on the left-hand side, which pulls out the left ear, or all the components in the earpiece itself which can cause them to fall out of either side.
The neckband style is complemented by the fact that the earpieces are surprisingly light even though they use a metal-alloy surface. The cable between the neckband and earpiece is reasonably thin and light too, so I didn't find it catching on my clothes at all. Combined with the excellent fit from the earphones I was able to go on a 3-hour walk and not adjust them once. In comparison when I reviewed the RHA MA750, while I did love the neckband, the cable comes out at the tip of the band, and the movement of walking would occasionally pull them out.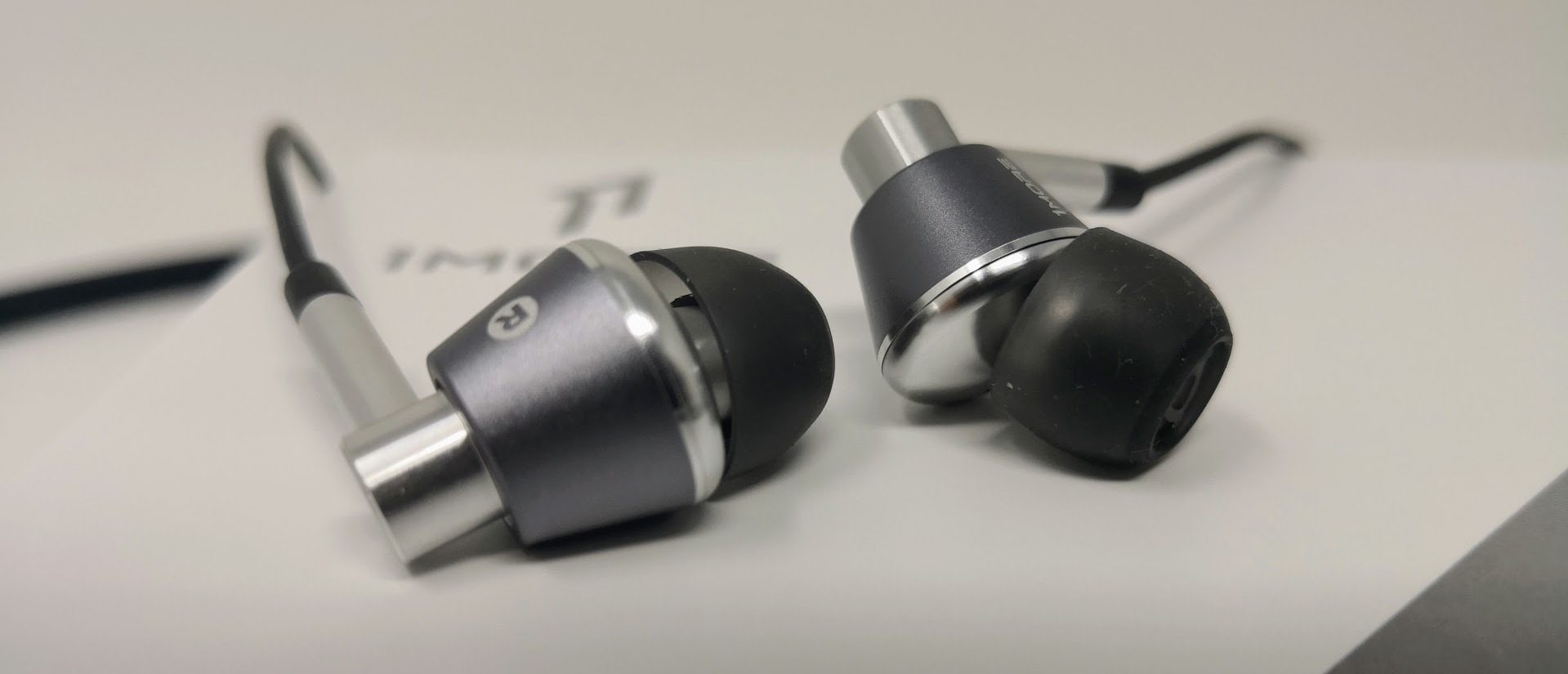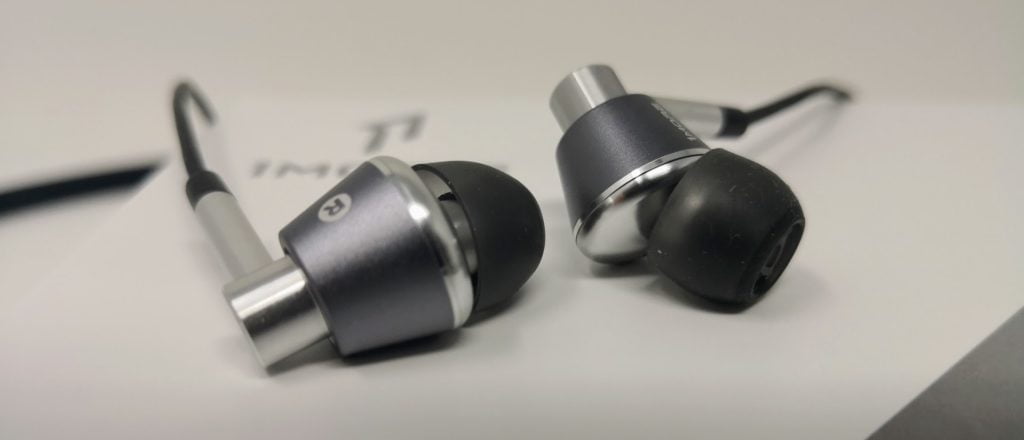 I should point out that while I have a strong preference for this design, and the fit is perfect for me, your mileage may vary. I think I have odd fitting ears, as it is not unusual for me to struggle with getting a decent fit, and therefore sound, with headphones that are well reviewed. Logically though, these should work with the widest group of people, you get more ear tips than any other brand, and the earpieces are light enough not to easily fall out.
Performance
With these being based on the original E1001 it comes as no surprise that performance is amazing.
With my Mate 10 Pro, and I assume any other phone with LDAC, you can go into the Bluetooth settings and set the audio quality, you have a choice of optimised for audio quality or balanced audio and connection.
When I switch to optimised for audio I did have a few seconds of issues where it sounded like it was losing connection, but after about 5 seconds everything cleared up. However, when I was wearing them during walking there would be the occasional pop and crackly, this cleared up switching back to the default profile. I do find the Mate 10 Pro is very temperamental with Bluetooth connections and on cheaper earphones, they will pop and crackle frequently, I think the Mate 10 Pro is known to be a bit temperamental with connections.
I mainly listen to Spotify, but I typically download my playlists in the highest setting, though to test these I also copied over some FLAC files.
Once you get a decent fit with the ear tip the headphones are capable of producing superbly deep bass with no distortion, while at the same time keeping the mids and highs clear. A lot of Bluetooth headphones struggle to get loud and when they do the sound profile starts to go very harsh but at max, these are uncomfortably loud, especially with tracks with deep bass. At high volume, they still manage to sound clear and accurate.
I tried them across a variety of music genres, as well as watching TV shows on my phone during a commute. My main concern was if the bass was going to interfere with tracks that don't require it, but during my testing, when the bass is low, the mids and highs shine without getting mudding with unnecessary low frequencies. These worked just as well with acoustic tracks and monologues in TV shows as it did with hip-hop and electronica.
I have not worn the battery out on these, but it is quite common for me to get a medium battery warning from the headphones. I think the LDAC has a larger battery drain than other standards, in comparison the RHA MA750 is rated for 12 hours battery life. Apart from a long haul flight, I can't think of any time I would listen to these 7 hours none stop, and they charge faster than standard Bluetooth headphones.
Conclusion
I have reviewed a lot of headphones in the past few years, the only two that have made a long-lasting impression have been the Bose SoundSport, and the original 1MORE E1001. I still use the E1001 which is both a testament to their sound quality and the build quality (I have had 2 warranty replacements with the Bose).
The E1001BT maintains all the aspects of the wired model adding Bluetooth. For me, the fit is perfect, the neckband allows me to listen to them for long periods of time without having to constantly adjust them.
LDAC in high-quality mode can occasionally have connection issues when moving around with my phone. So, depending on your environment you may need to switch profiles to get the best experience possible. They also don't have class-leading battery life, this is not a concern for me, but it may be for people that do long haul often.
In terms of pricing, I am not 100% sure where these sit. I was informed they were supposed to be £119.99 which at this price point I would say they are amazing value, just £20 more than the original RRP of the wired version.
However, Amazon has them for pre-order at £165.02 and the 1MORE US website has them at $199.99 so I will assume this pricing is the correct one. Based on this I would say they are still a great purchase, the RHA MA750 at £150 and these sounds considerably better.
**UPDATE** 1MORE has confirmed the price should be £119.99 and the Amazon listing will be updated in the new future. 
[button link="https://amzn.to/2QzDLAp"] Buy from Amazon[/button]