Sometimes you get things wrong. This was the case with my review of the Helium Network. When I first reviewed it, I was a little sceptical; a new crypto mining low powered WiFI network using lots of buzz words seemed a little sketchy when I first heard about it. I was wrong; we live and learn.
To be fair, I still stand by many of the assessments I made in the original Helium review. Altcoins and startups have a high risk of failure, so advising people to expect not to see a return on investment is sensible advice. Researching this post, this warning still stands true, but I am more confident in Helium being successful long term now.
I have a few issues with others sites scraping me at the moment this Helium HNT vs Bitcoin & Ethereum was posted on mightygadget.co.uk
Where to buy Helium Hotspots / HNT Miners
Some shameless affiliate links for you. Pi Supply seems to be the best source for Helium hardware in the UK and further a field. The hotspots are in short supply globally, so you will be waiting a while.
Helium Hotspot numbers grow 200% in 3 months – UK sees exponential growth
My original review had 7300 hotspots online, and the UK showed less than 20. This was the basis behind my words of caution.
Today, that figure stands at 21,851, with 1,270 online in the UK. So a three-fold increase globally, and the UK has increased by something like 6250%
HNT sees over 5-fold growth in 3 months – better than Bitcoin & Ethereum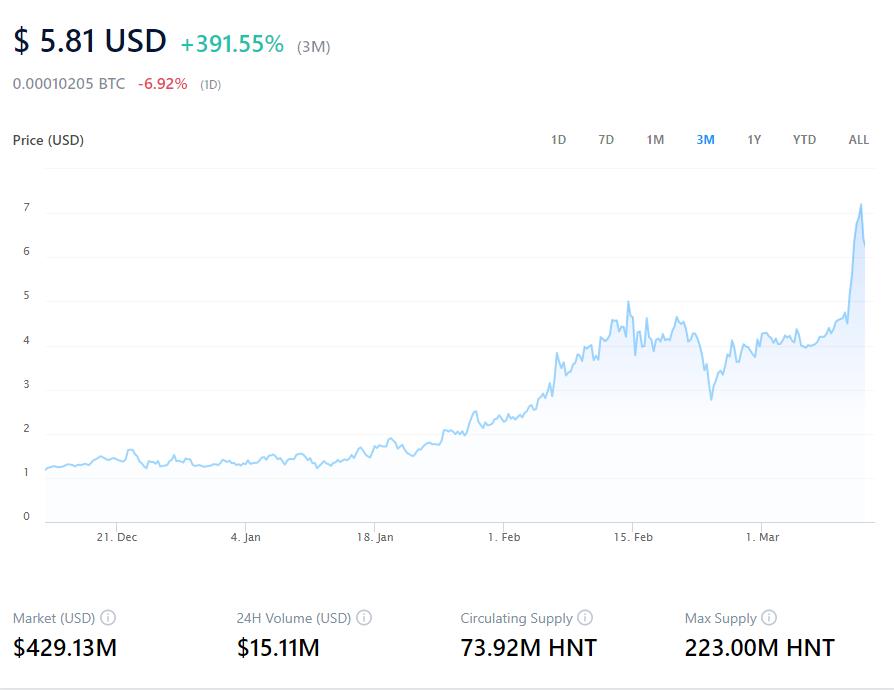 At the time of the review, HNT was trading at a little less than £1 and I was generating less than 0.5 HNT per day. So, about 50p.
Today, HNT is worth $5.76/£4.14 but hit a peak on Thursday at $7.76 / £5.57. So you are looking at a four-fold increase in price based on today's price vs December.
Things have gone a little crazy since, not just with HNT but with the overall crypto market and the entire financial trading market as a whole. Everyone seems to be desperate to invest in the next big thing, and it is.
Since my review Bitcoin has gone from £14.5k to £40.7K, a 180% growth. We have seen GME go from $16 to $347 (2068% growth) and back down to $40 (-$88) and now back up. So these are particularly unusual times.
As soon as you start witnessing other hotspots, your HNT rewards go up a lot, so it should be reasonably easy to make one or two HNT per day. With a few hotspots that should go above 5HNT per day. That wouldn't be much money at under £1 per HNT but at £4+ offers a very quick return on investment.
Helium Network vs Bitcoin & Ethereum
If you are interested in mining crypto then HNT does represent a highly appealing alternative to the big players like Bitcoin & Ethereum. Apart from Bitcoin and Ethereum pissing gamers off due to GPU shortages, there is a growing ethical concern over the power it takes to mine them. With people and governments finally waking up to climate change, mining Bitcoin and Ethereum goes completely against this.
When I briefly experimented with mining Ethereum on the RTX3080, I was burning through 300W+ of electricity with my PC on for a net profit of around £7 per day.
Unlike Bitcoin and Ethereum, the Helium Hotspots use barely any electricity, and they actually provide a service that will provide connectivity for certain IoT devices as they become more popular. So not only can you mine HNT guilt-free but you are facilitating the growth of a new low powered WiFi network.
This could work out very advantageous for HNT; as people become more concerned about the viability of Bitcoin, they may look to more sustainable long term solutions.
Growth of Helium Network is skewed by big players gaming the system
The growth of Helium seems to be fuelled by small numbers of big players. In particular, in my town, one user owns 50 hotspots out of the 65 online.
Wales also has a big player with one user owner 135 hotspots where the user appears to own every single hotspot in Cardiff.
Oddly, looking at some of the top owners of hotspots, many of them are running hotspots that are generating very little to no HNT per day.
A lot of these owners have deployed multiple hotspots to game the system. You don't really earn much HNT if you have a hotspot sat there with no others around it. So many people have deployed multiple hotspots to have their own network that can provide challenges to each other. Some have even gone to the extent of placing them at perfect distances apart.
Large parts of the UK uncovered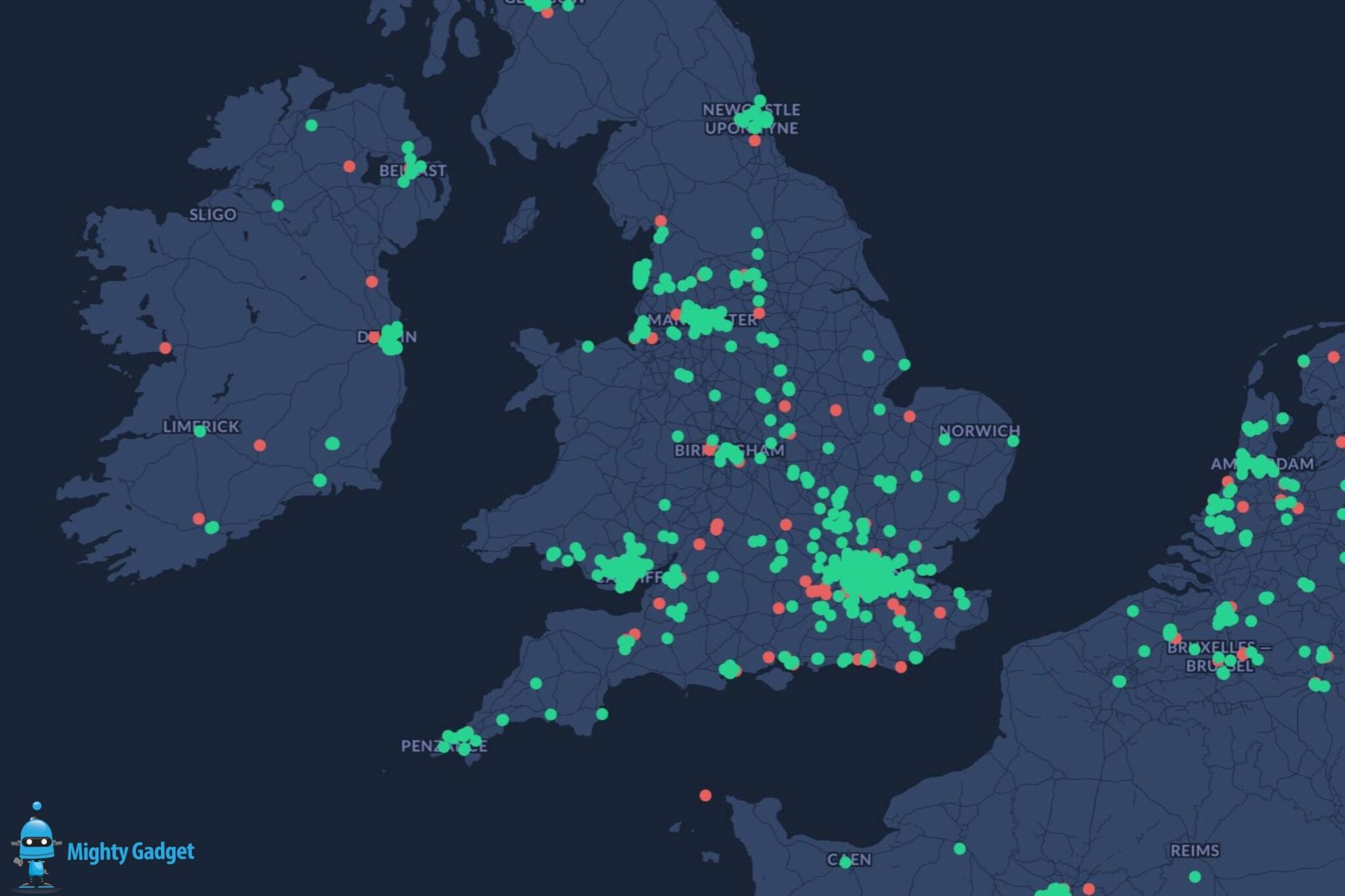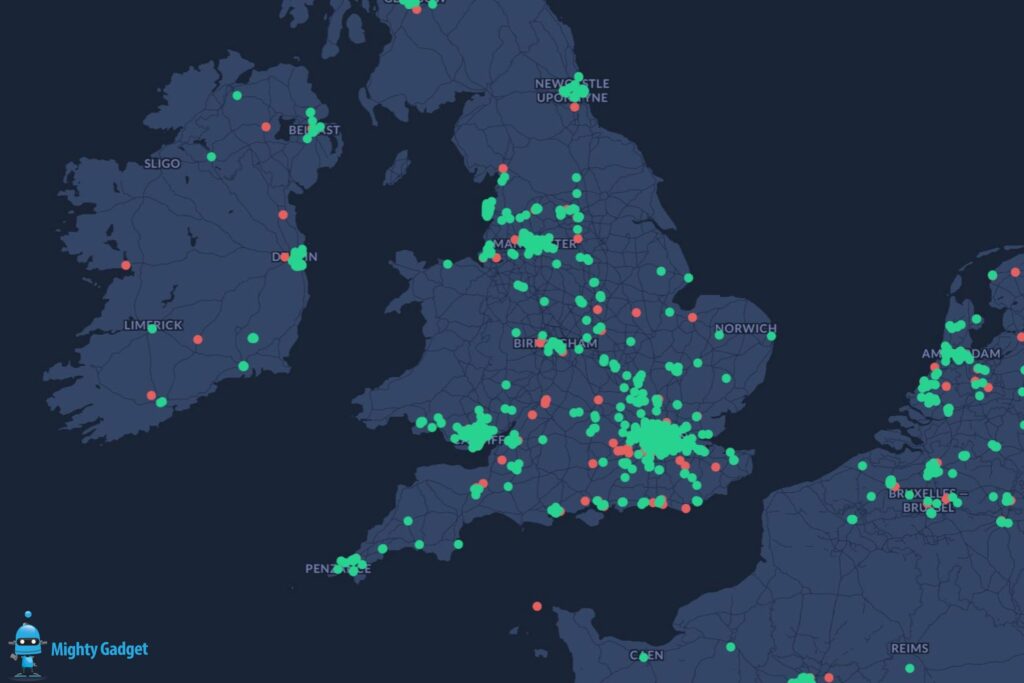 Due to this small number of individuals overwhelming some towns, these still leave large parts of the UK completely uncovered. All of Scotland but Glasgow is empty. It looks like Yorkshire haven't caught the crypto bug. Even most of the sound outside of London is empty.
If anything, this small number of users gaming the system make my original review conclusions still valid. If you were to buy a single hotspot and deploy it in Hull, you would be waiting a long time for a positive return on investment.
HNT / Helium Mining Hotspot Price and Availability – Short supply
The availability of Helium miners is slim. The original Helium Hotspot I reviewed appears to be unavailable now. RAK and Nebra seem to be the two main companies offering Hotspot Miners now
In the UK, Pi Supply is your best bet, with the Nebra HNT Indoor Hotspot Miner being £300 and Nebra HNT Outdoor Hotspot Miner being £420.
However, there are massive shipping delays. Any order placed now won't get shipped until May for the indoor model and June for the outdoor model.
Overall
I have become increasingly obsessed with Helium. I am not massively into crypto, so I am not aware of all the random altcoins and how they work, but I like that Helium is more than just cryptocurrency. It is not burdened with the ever-growing power requirements of Bitcoin and the ethical (and investor) dilemma it faces long term because of this.
Clearly, some people are gaming the system, but it is likely that those people will also be fueling the growth.
The viability of the Helium LongFi & LoRaWAN as an alternative wireless network for IoT devices remains to be seen. The success of this will be critical to the long term profitability of HNT. HNT will quickly devalue if companies decide LoRaWAN has no future. Conversely, if LoRaWAN is successful, HNT will likely shoot up in value much more.
Helium is still a bit of a gamble, but it is a fun and interesting project that you can feel guilt-free about investing in.