Creative BT-W3 aptX LL and aptX HD Bluetooth 5.0 USB-C Audio Transmitter Review Rating
Summary
Reasonably priced with little to no direct competition. With compatible headphones, aptX LL providers a significant boost in latency performance for both gaming and watching TV/movies. Similarly, for audiophiles, aptX HD allows you to make the most of high-quality tracks.
Pros
Well priced
Mostly plug and play
Cons
Additional steps to get the mic to work
This shouldn't need to exist in the first place
If you wear a headset while gaming, wireless options are the way to go, avoiding long wires getting in your way. The problem is that some consoles, such as the Nintendo Switch, don't natively support them. Then with Bluetooth, you introduce latency which can cause sounds to be out of sync with what is happening on the display. Latency issues are also particularly annoying when watching movies or TV on headphones, causing lip-syncing issues.
The Creative BT-W3 aims to solve these problems acting as a Bluetooth transmitter that supports 4 different codecs: aptX LL, aptX HD, aptX, and SBC. In particular, the aptX LL is ideal for gaming and watching TV or movies, but aptX HD is ideal for anyone wanting to listen to high-quality music with aptX HD compatible headphones.
The Creative BT-W3 is a small USB-C dongle and should work with any device supporting audio out from the USB. So this will include the Sony PS4, Nintendo Switch, PC, Mac and it should work with most phones (it does with my Huawei P40 Pro).
You also get a small dongle to use on the 3.5mm headphone jack as an analog mic.
aptX LL vs aptX HD vs aptX vs SBC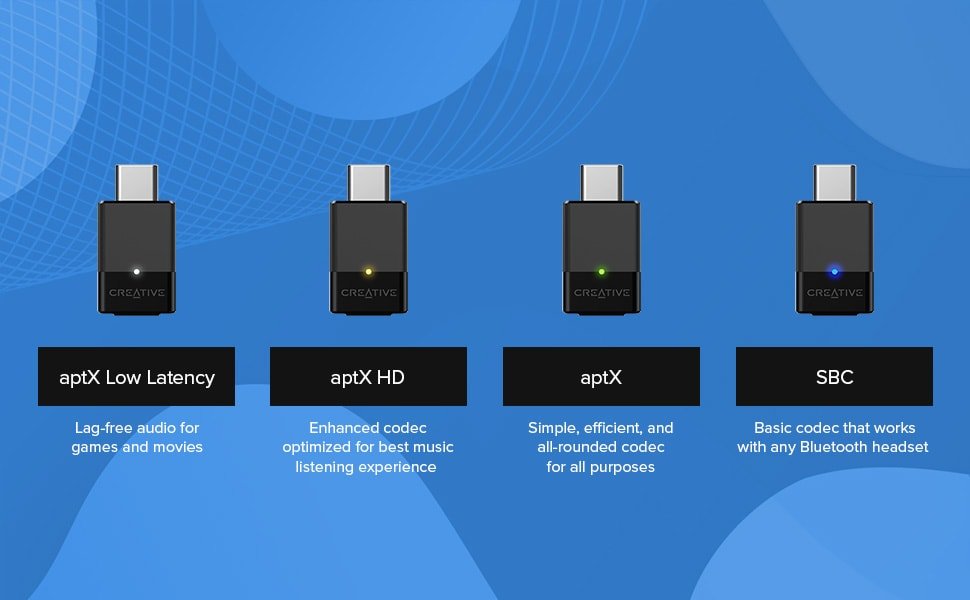 SBC (Low Complexity Sub-band Coding) is the basic coding standard for most Bluetooth devices. It has a maximum bit rate of around 328 kbps (198 kbps for mono streams) with a sampling rate of up to 48 kHz. It then suffers from latency of around 100-150 milliseconds.
aptX is developed by Qualcomm, with the basic aptX offer superior performance to SBC with a
aptX (lower latency) has a bit rate of 352 kbps so doesn't offer much in the way of improved audio but it has a latency of just 40ms. In comparison, a wired pair of headphones will have a latency of under 10ms.
aptX HD transfers audio at up to 576 kbps providing a bit improvement in audio quality if the source music can match it, but it has the same sort of latency as SBC around 200ms.
There are also other codecs including AAC, which is often sued with Apple devices and LDAC, which is a proprietary codec from Sony.
| | | | | |
| --- | --- | --- | --- | --- |
| | Maximum Bit rate | Latency | Max Sampling Rate | Max Bit depth |
| SBC | 328 kbps | 170 – 270 ms | 48 kHz | 16-bit |
| aptX | 352 kbps | 120 ms | 48 kHz | 16-bit |
| aptX LL | 352 kbps | 40 ms | 48 kHz | 16-bit |
| aptX HD | 576 kbps | 200 ms | 48 kHz | 24-bit |
| LDAC | 990 kbps | 160-210ms | 96 kHz | 24-bit |
Set-Up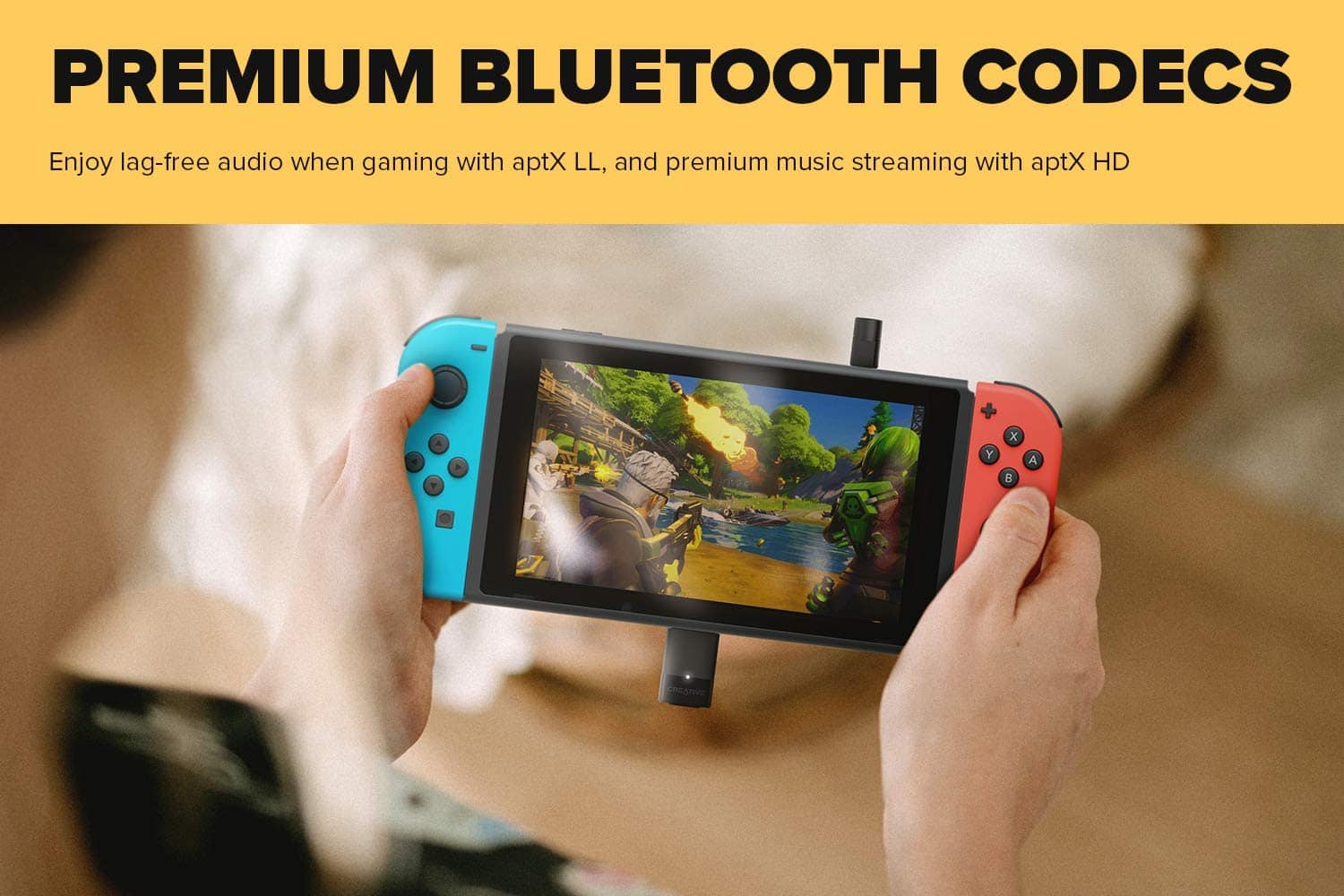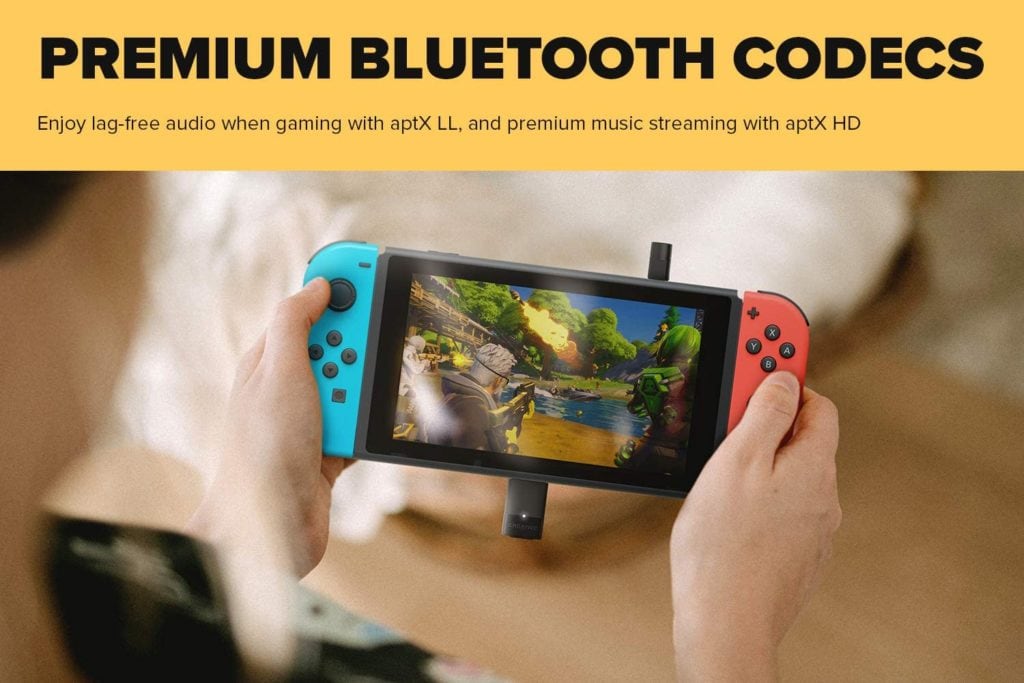 Set up is simple, in short, you just plug the adaptor into your chosen device, hold the button to start pairing then put your headphones into pairing mode. It should then auto-connect. The Bluetooth dongle is what pairs with the headphones, not the console or PC. So if you switch between devices, the headphones stay connected to the same dongle.
There are some caveats, though. For the analog microphone to work with Nintendo Switch, you'd have to download the HFP-off firmware to enable the function. Do note that enabling the analog mic for Nintendo Switch will turn off the HFP mode on your Creative BT-W3. This is necessary because the Nintendo Switch does not allow for input and output audio to be from different devices.
Performance
During my testing, I used the BT-W3 with the Creative Aurvana Trio Wireless earphones that recently launched. These are triple driver earphones with a dedicated tweeter, mid-range driver then dynamic woofer for deep, accurate bass. They are compatible with both aptX HD and aptX Low Latency so a perfect companion with this dongle.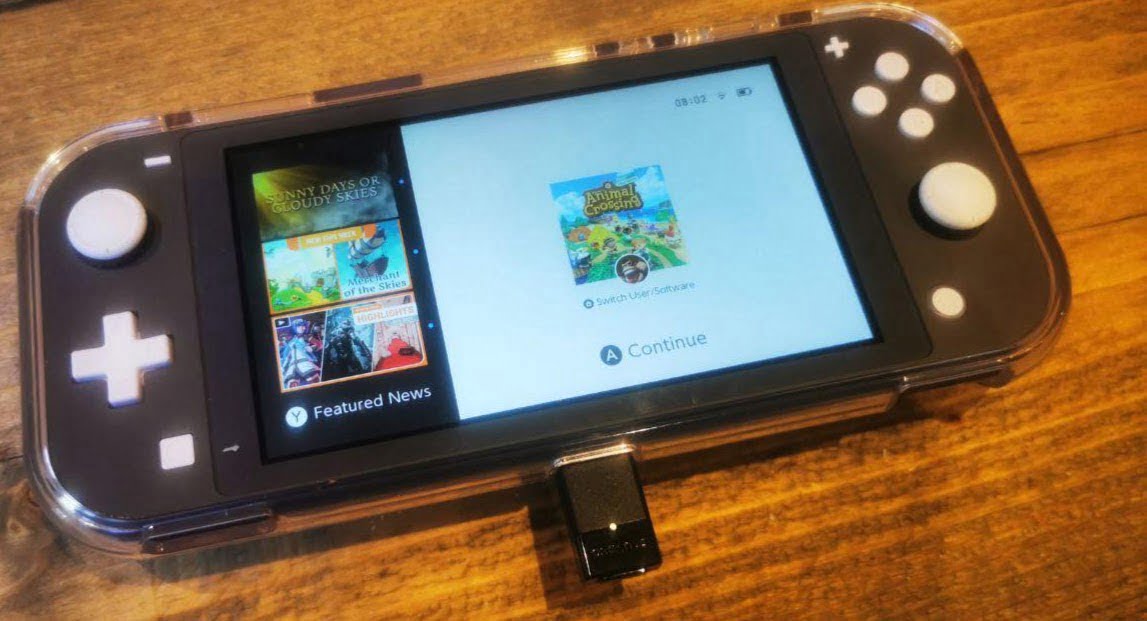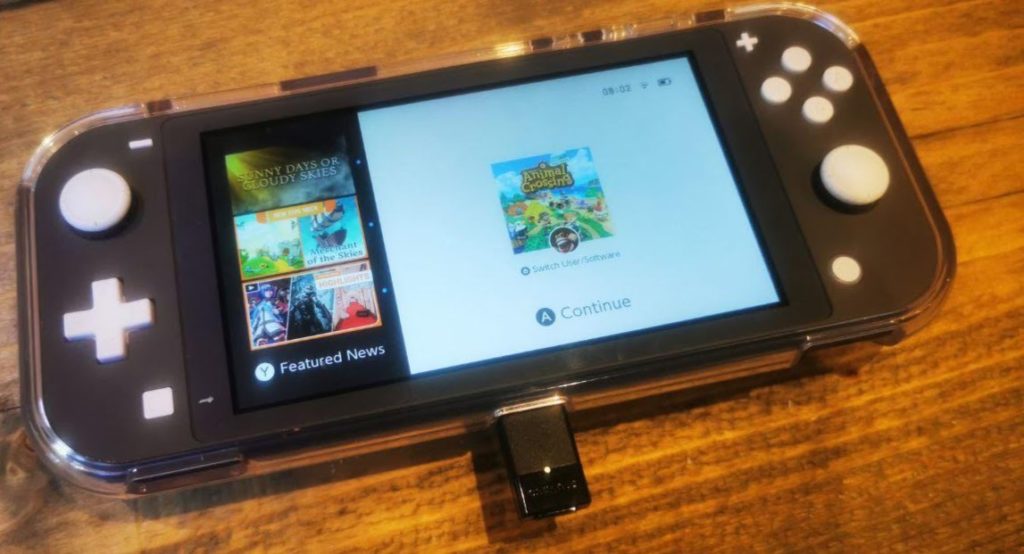 Most of my gaming recently has been Zelda on the Switch, so the benefits of the low latency audio were not always that obvious during most of my gaming. With the Switch Lite being handheld it is arguably easier just to opt for wired headphones.
Moving to the PS4, the benefits were more clear. I sit around 4 meters away from the console, so a wired option is not ideal. Playing FPS games like COD, there was a noticeable improvement in the latency compared to pairing up with the PS4 directly. I can't say if it improved by gaming that much, but it definitely helps. I am sure more serious gamers will appreciate the benefits this provides more than I do.
The biggest benefit comes from watching TV and Movies, avoiding having to deal with lip-sync issues. I watch a lot of TV, and I can't watch anything that is slightly out of sync, it is incredibly annoying.
With the Creative Aurvana Trio Wireless also supporting aptX HD I have been listening to most of my music via this. Pressing the button on the dongle switches the codec, with aptX HD being an orange colour LED. Most of my testing has been via Tidal using the Masters tracks. These are typically 96 kHz / 24 bit with the highest possible resolution.
The benefits of aptX HD and Master quality can sometimes be quite subtle, and I would often have to switch between codecs to see if I can really tell the difference. It is noticeable though, especially when you concentrate on what you are listening too. There is better clarity between all the different elements of a track, with audio sounding less flat. Normally, any form of rock or metal, all the elements blur into one for me, but with this, I feel like I can distinguish between all the instruments being played. However, for me, the difference is subtle enough that I wouldn't pay the £19.99pcm Tidal wants. However, it is significant enough that I would opt for aptX HD devices if the price is reasonable (as is the case for both the BT-W3 and Creative Aurvana Trio).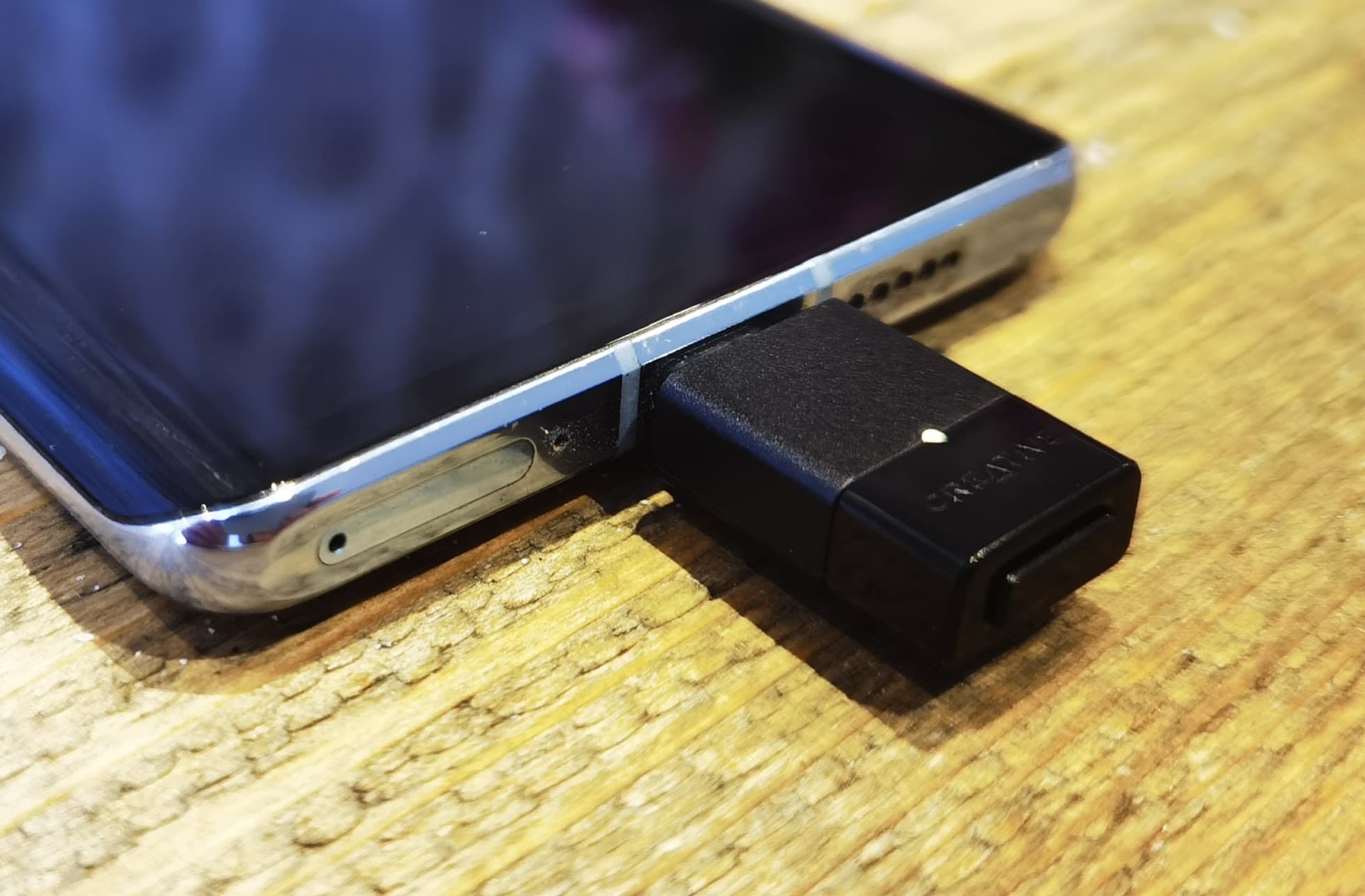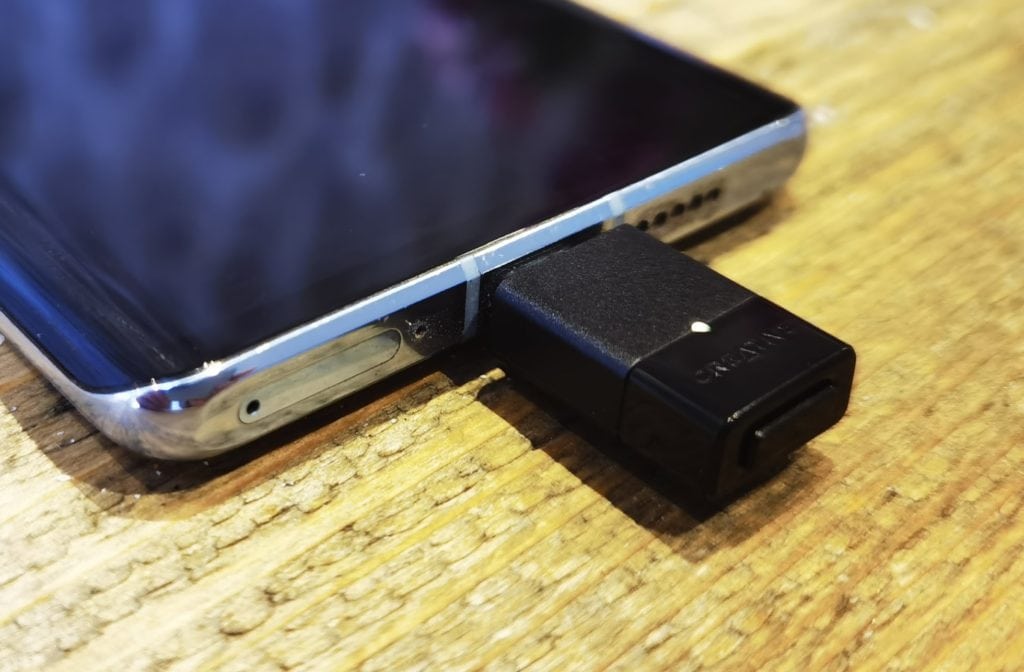 Price and Competition
From my limited research, there is little to no direct competition. Most similar products do Bluetooth transmission via the 3.5mm headphone jack which then also require either a battery or external power.
The Trond BT Duo S looks like the best alternative at £27.99, but it is not really like for like.
There is also the 1mii USB Bluetooth Audio Adapter. It is USB-A only with no mic compatibility. With it being less than a tenner cheaper than the Creative at £26.99 I would say the Creative dongle is a better buy.
Overall
With a price of just £34.99, this small dongle is a good investment for anyone wanting the low latency benefits from Bluetooth headphones, though you will, of course, need headphones that are compatible with these advanced audio codecs.
The plug and play nature of it makes it very easy to use in most scenarios. Though getting some features to work on the Switch can be a little more tricky.
With the popularity of both gaming and Bluetooth headphones, you have to wonder why low latency and HD codecs are not built into many devices as default. I can forgive a cheap pair of Bluetooth earphones not supporting aptX HD, but both Sony and Nintendo should be supporting this in their hardware.
Until these companies decide to pull their finger out and implement these technologies directly into their hardware, the Creative BT-W3 appears to be one of the best solutions on the market.
Last update on 2022-05-20 / Affiliate links / Images from Amazon Product Advertising API