With the launch of the new Nintendo Switch Lite, Nvidia has updated their four-year-old Tegra X1 chipset on a new smaller fabrication process, but what differences are there? And does it offer any performance improvements?
Related Posts:
[content-egg module=Amazon template=list]
The original Tegra X1 T210 specification
The Nvidia Tegra X1 was launched back in 2015, with the yearly upgrade cycle of mobile chipsets, this makes in positively ancient, but chipsets for everything other than mobiles moves at a much slower pace.
Fabricated on the TSMC 20nm process this is much smaller and efficient than many of the chipsets you will find in TVs and set-top boxes, most of which still use 28nm.
CPU
Nvidia's Tegra X1 (codenamed "Erista") features four ARM Cortex-A57 cores and four ARM Cortex-A53 cores, as well as a Maxwell-based graphics processing unit.
What is interesting about the CPU layout is that it does not work like an eight-core in ARM big.LITTLE configuration. For all intents and purposes, this is a four-core CPU, the other four ARM Cortex-A53 cores can not be accessed by the operating system and are used automatically in very low power scenarios determined by the CPU itself.
GPU
It is the Maxwell-based 256 core GPU that has allowed the Tegra to stand the test of time, outperforming any other chipset used in set-top boxes by a comfortable margin.
Maxwell is the codename for a GPU microarchitecture developed by Nvidia as the successor to the Kepler microarchitecture. The Maxwell architecture was introduced in later models of the GeForce 700 series and is also used in the GeForce 800M series, and GeForce 900 series
This offers the same features as the laptop and desktop Maxwell-based products like OpenGL 4.5, CUDA 6.0, OpenGL ES 3.1 and DirectX 11.2. The GPU offers 256 shader cores (2 SMMs) and clocks at up to 1000 MHz. The memory interface offers a maximum bandwidth of 25.6 GB/s (2x 32 Bit LPDDR4-3200), and it is rated at 512 GFLOPS.
In 3DMark running Ice Storm, this achieved a score of around 56K.
Differences between Tegra X1 T210B01 vs T210
The chipset design remains mostly the same, it still uses the four ARM Cortex-A57 cores and four ARM Cortex-A53 cores, as well as a Maxwell-based graphics processing unit.
However, the chipset has been upgraded to the TSMC 16nm fabrication process, which in theory, should offer much lower power consumption.
Furthermore, the GM20B Maxwell CGP has had the memory clock increased by over 26% to 1267 MHz. This allows the GFLOPS to increase from 512 to 649 which is (unsurprisingly) around a 26% increase too.
Power Consumption Differences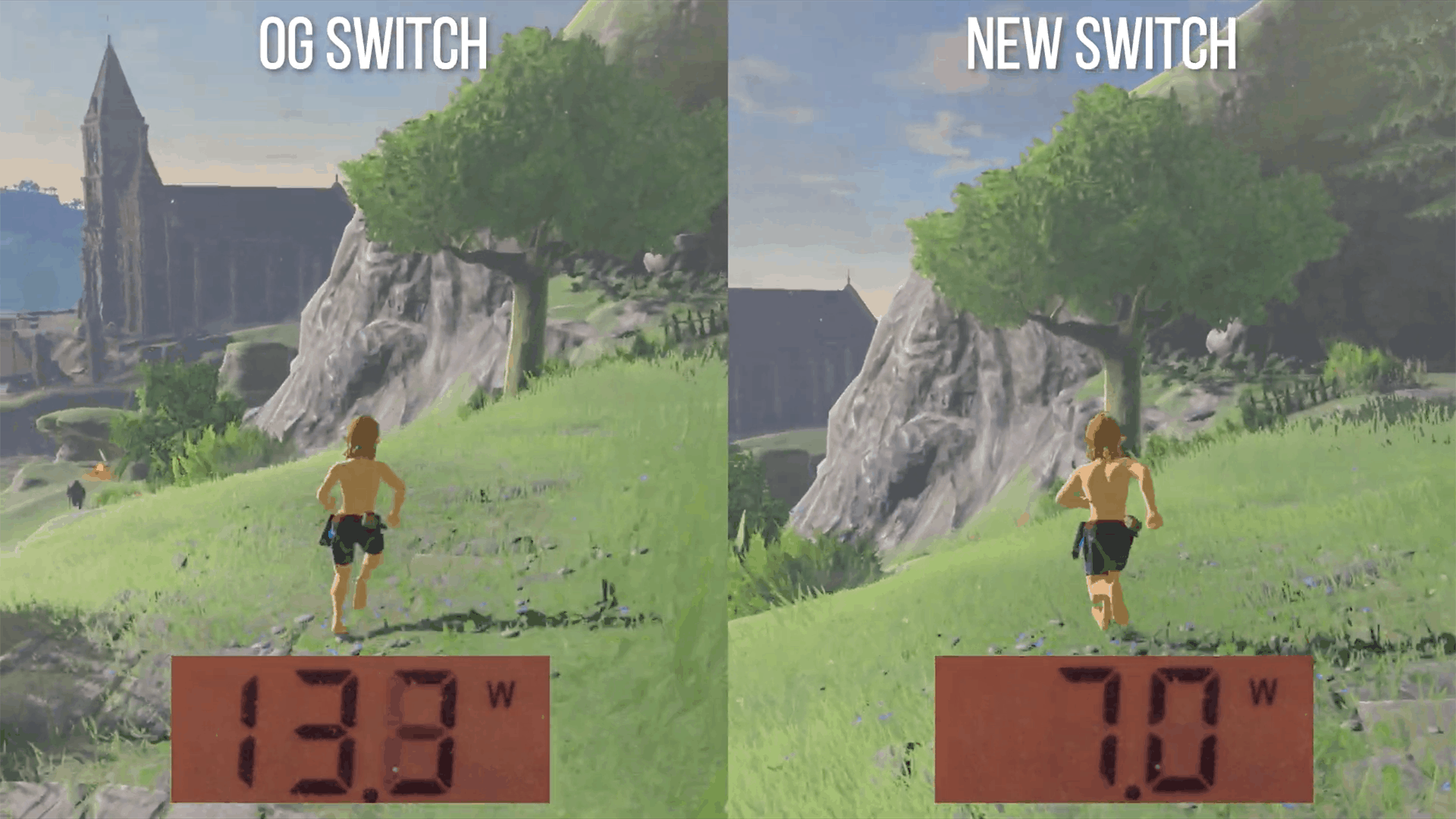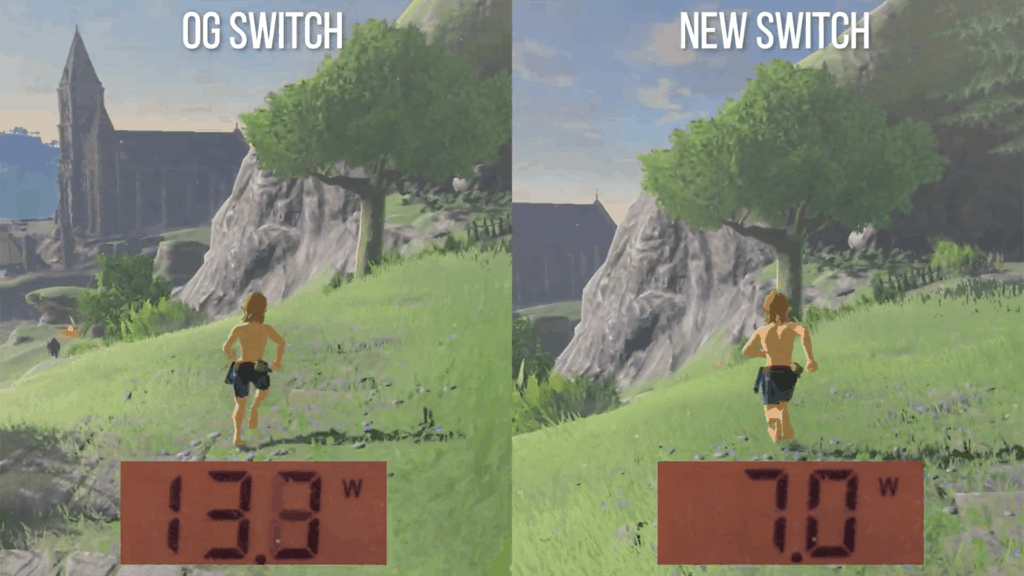 Eurogamer has managed to do some preliminary tests on the new Nintendo Switch, this was the updated switch, not the Switch Lite, but they should offer similar results, and the results were impressive.
Using The Legend of Zelda: Breath of the Wild and Fast RMX for testing like-for-like gaming scenarios, they typically observed a 40 to 50 per cent reduction in power consumption, depending on the content. Typically this meant that the new switch was pulling just 7W of power.
At 50% brightness this allowed them to increase the battery life from 3hrs, 5mins (185 mins) to 5hrs, 2mins (302 mins), or a 63% improvement.
At full brightness, they increased from 2hrs, 25mins (145 mins) to 4hrs, 18.5mins (258.5 mins) or a 78% improvement!
This obviously also reduces thermals. The Max Skin Temperature (Undocked) remained the same, but the vent temperature dropped from 48-degrees to 46-degrees. Docked temps went from 54-degrees to 50-degrees.
Has the performance improved?
The improved memory speeds offer some marginal improvements. In most of their tests, everything was identical, but testing out the classic Korok Forest bottleneck in Zelda: Breath of the Wild – a known memory bandwidth issue they managed to increase the frame rate from 20FPS to 29FPS.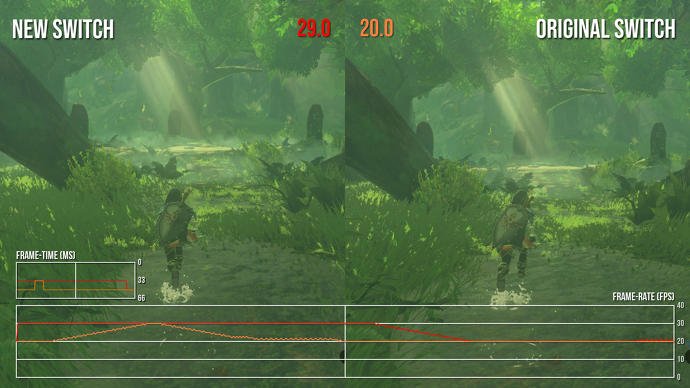 Buy the Nintendo Switch