Yesterday, Apple held its annual WWDC event, the first streamed event they have done with no in-person attendance due to coronavirus. Many people are claiming it is one of the most successful virtual announcements this year, and with it have been some massive announcements from Apple.
So what's new with iOS and when will you be able to get it and install it?
New Arm chipsets will allow cross-compatibility between Mac and iPhone
Without a doubt, the biggest announcement for me is that Apple is planning to ditch Intel CPUs in favour of their own ARM-based chipsets.
This will effectively mean any Mac computer will be running similar hardware to the iPad and iPhone.
The benefit of this is that iPhone, and iPad apps will be able to be run on the computers. Developers will also have a much easier time developing specific apps for Mac, iPad and iPhone. So you should be able to transition from your phone to laptop more seamlessly than ever.
There is a caveat to that though, software not developed for ARM chipsets will need to be emulated via Rosetta 2. As good as they say it is, it will not be as good as native code. We have seen this problem with Windows on Arm laptops for the past few years. iOS 13 vs iOS 14.
This dramatic shift in architecture will not be immediate, and Arm-based A12Z Bionic Mac Mini will launch this year strictly for developers. Then the transition will take a couple of years.
iOS 14 vs iOS 13 what is new?
Home Screen now has app library and widgets (similar to Android widgets and app drawer)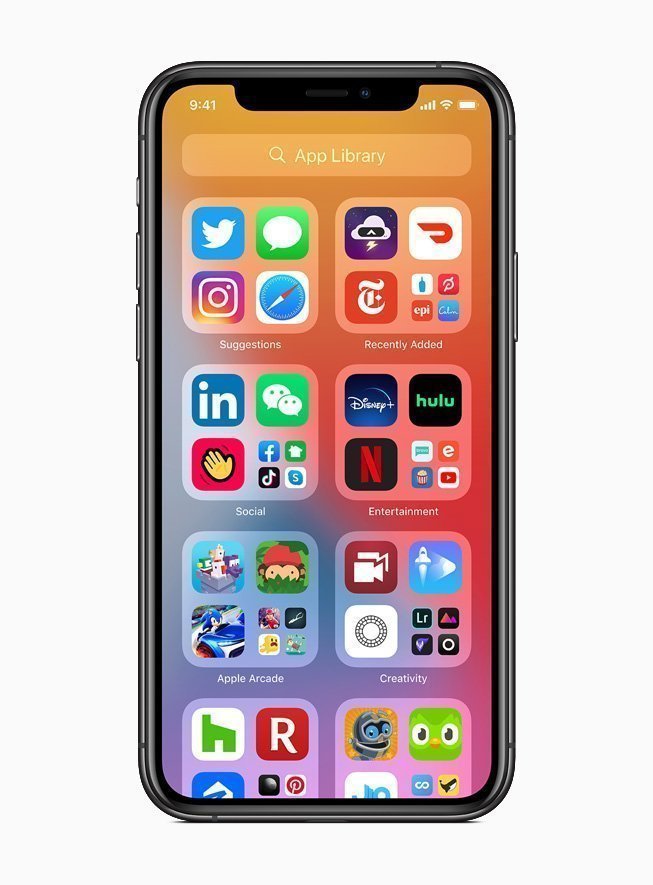 In the yearly who did this first fight, the biggest change to iOS in years is something that has been on Android for as long as I can remember.
Widgets and the app drawer have been two of the UI features that have defined Android vs iOS; now they are more similar than ever. I am sure the Apple Widgets will be better quality than many of the Android ones though.
If you are not aware of these functions:
App Library – an extra page where the launcher will organise your applications by groups defined by their application type. You can also call up a linear alphabetical list of all applications. It sounds like you won't be able to remove apps from your home screen though, so not exactly like Android, but it should make finding apps easier.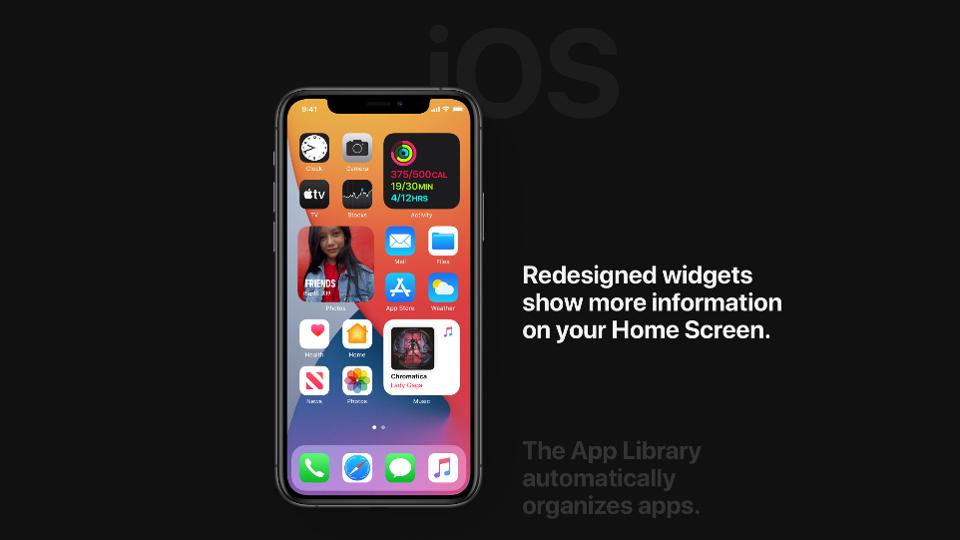 Widgets – Your home screen is about to get messier; you can now have customisable widgets directly on the home screen. These can take up more space than an app icon and can offer the information directly from an app, or act as a shortcut to a specific function within an app.
Compact Calls – Calls don't take over what you are doing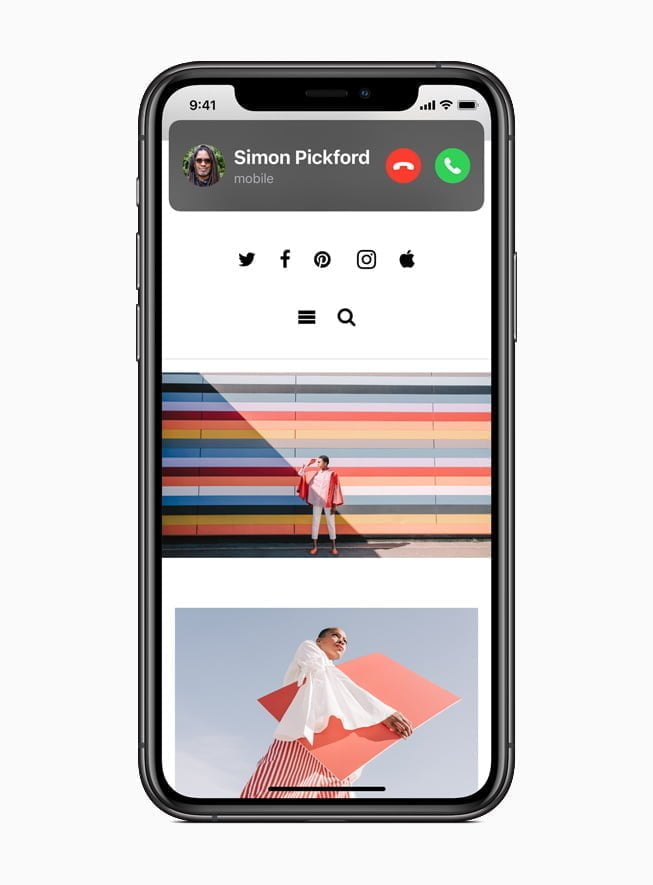 Many people complain that phone calls interrupt what you are doing, this will now no longer be a thing. When you get a call you will get a new compact notification at the top of your screen allowing you to accept or ignore it.
iMessage has better group chats and user tagging
One thing Android does not have is iMessage. This has now been improved further with a general focus on usability. Group conversations can now be pinned at the top of the app, up to 9 of the most frequent chats can now be favourited with quick access to them instead of having to search through the list.
Users will now also be able to tag people in the chats. Which I assume works like Whatsapp and can bypass mute settings on conversations.
There are also in-line replies which create a conversation thread from a specific message. This should avoid confusion when replying to a comment late in a group chat.
App Clips – similar to Progressive Apps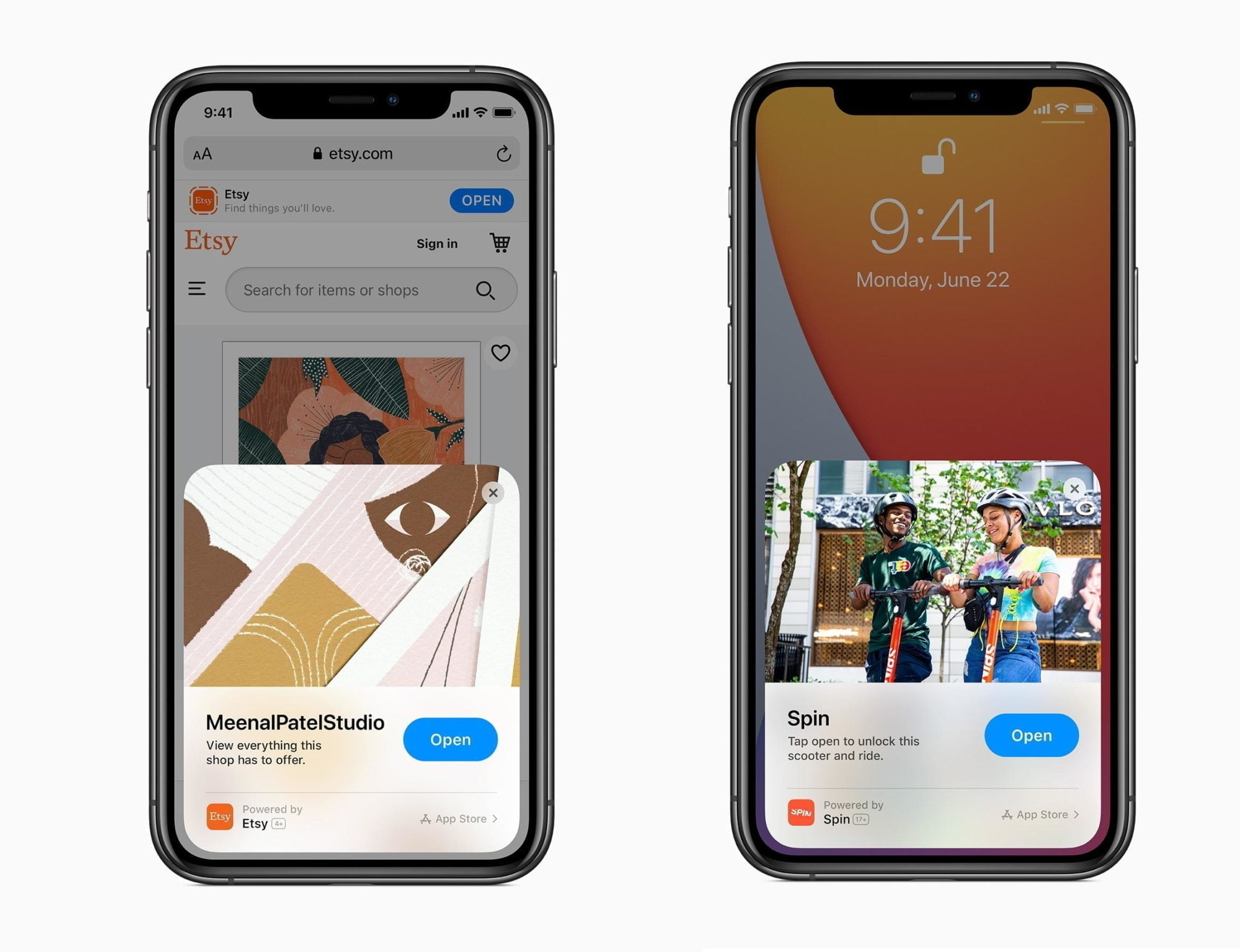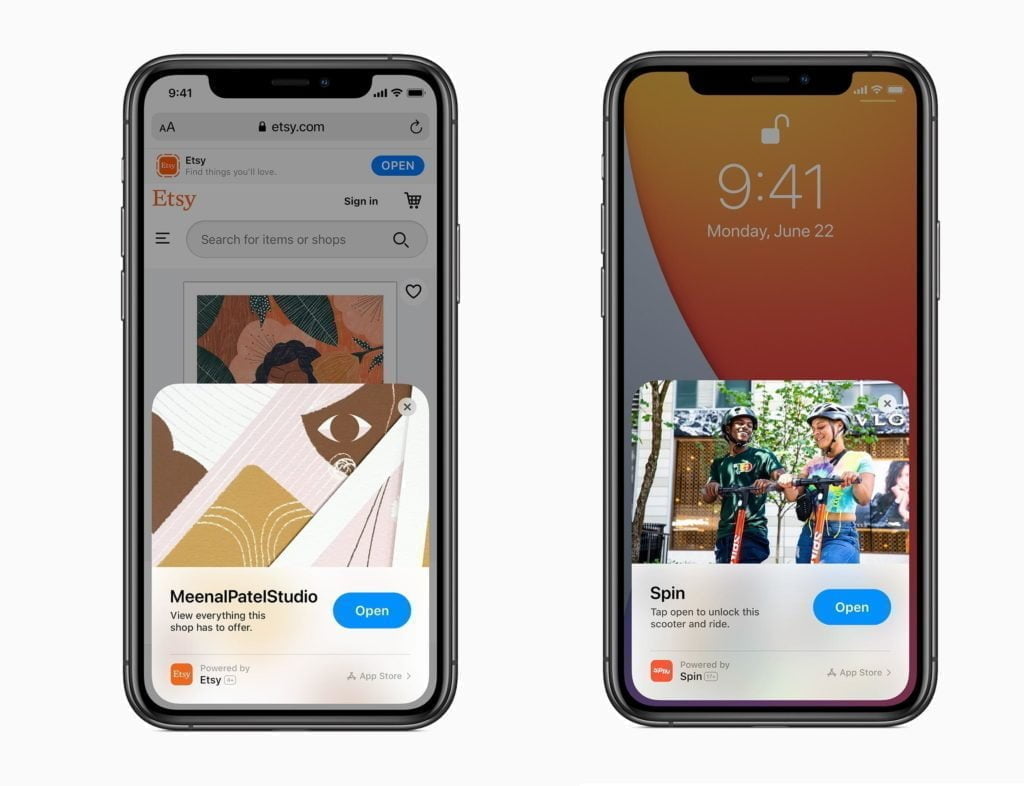 Something else similar to both Android and Windows. Progressive Web Applications have been around for a while now allowing people to install a lightweight app on their phone or computer; these are quite often identical to the mobile web page of a site but with the added benefit of offline features. It means you can download and access an app almost instantaneously and gives you an option to use these smaller apps for less important things. Apple here has strict restrictions as to the complexity of the app, such as not allowing anything exceeding 10MB in size.
Use your phone as an NFC card key
Apple will be partnering with BMW to allow your phone to act as the car's keys. It is similar to what Audi has already done with their Audi connect. Using the NFC connectivity of the phone, iOS 14 will now be able to securely store a digital car key within your wallet. I would imagine this is the long term future of car keys.
Apple Maps has been updated with cycling directions
With the recent boom in people cycling, Apple has wisely updated its Maps app to offer cycling directions, with the ability for navigation not only through roads but any cyclable path up to your destination. There's extra information such as elevation changes, any obstacles in the way such a stairway you'd have to take that are accounted into your computed route.
There are also updates for electric car routing, so it will now take into account range and charging stations.
Offline Translation
Apple now offers a new translation app that using machine learning to translate things offline magically. They have now also introduced in-line webpage translation (similar to the Chrome translate feature).
More privacy
Privacy has been a big issue in recent years, and iOS is arguably the better OS for it. Apple now have an option to show latest permissions management, showcasing what permission each app is requesting. iOS14 goes further in that it also showcases data it uses to track you for identifications as well as data that is linked to you.
Applications which for example use the phone's microphone will now have a red recording light in the notification bar show up, letting the user know that the mic is active.
When can I get iOS 14 for my iPhone?
Apple will make developer releases available soon with a public beta in July followed by widespread final releases of iOS 14 and iPadOS 14 later this fall.
How do I install iOS 14 on my iPhone?
If you wait for the final release, the update will be pushed over the air.
How do I install iOS 14 beta/developer on my iPhone?
First of all, you shouldn't really do this on your main phone; these are pre-release versions. Things can and will break; many apps will not be officially iOS 14 compatible yet so individual apps may not work properly.
When the developer beta becomes available, you will need a developer licence to gain access to it. Then can go to developer.apple.com/download using the device on which they wish to run the iOS 14 beta. Download the beta profile, then open Settings > General > Profile and activate it.
If you're not a registered developer and want to take part in the beta test, go to beta.apple.com using the device upon which you wish to run the beta. Tap on "Sign up" and then follow the instructions to download the beta profile. Go to Settings > General > Profile to activate it. Then update your device as usual: go to Settings > General > Software Updates.
Can I upgrade my phone to iOS 14? What devices are supported?
Apple is keeping the list of supported iPhone and iPad models the same as iOS 13. Here's the complete list:
| Apple iOS 14 supported devices | iPadOS 14 supported devices |
| --- | --- |
| iPhone 11, 11 Pro, 11 Pro Max | 12.9-inch iPad Pro |
| iPhone XS and XS Max | 11-inch iPad Pro |
| iPhone XR | 10.5-inch iPad Pro |
| iPhone X | 9.7-inch iPad Pro |
| iPhone 8 | iPad (6th gen) |
| iPhone 8 Plus | iPad (5th gen) |
| iPhone 7 | iPad Mini (5th gen) |
| iPhone 7 Plus | iPad Mini 4 |
| iPhone 6S | iPad Air (3rd gen) |
| iPhone 6S Plus | iPad Air 2 |
| iPhone SE (2020) | |
| iPhone SE (2016) | |
| iPod Touch (7th gen) | |