[Update 27/08/2019] HDR specs confirmed by OnePlus
With the smartphone market saturated, it appears the next trend is to move into the TV market with both Honor and OnePlus are launching new TVs.
Both Honor and OnePlus have defined themselves as affordable alternatives, and it looks like this trend will continue with their TVs. OnePlus have said they are not being budget-friendly but will be offering will be slightly cheaper than that of Samsung and Sony's TVs (not dissimilar to their phones),
We already know that the Honor will launch with the HarmonyOS and feature the Huawei Honghu 818 SoC with pricing of 3499 Yuan (£415.65) and 4799 Yuan (£570.07).
It has now been revealed that the OnePlus TV will feature a 55-inch QLED display. Which is likely no surprise to anyone.
A screenshot of what appears to be a Google Play Developer Console listing reveals that OnePlus TV, codenamed "Dosa" (a South Indian dish), will be powered by a yet-unknown MediaTek MT5670 SoC and have a Mali-G51 GPU.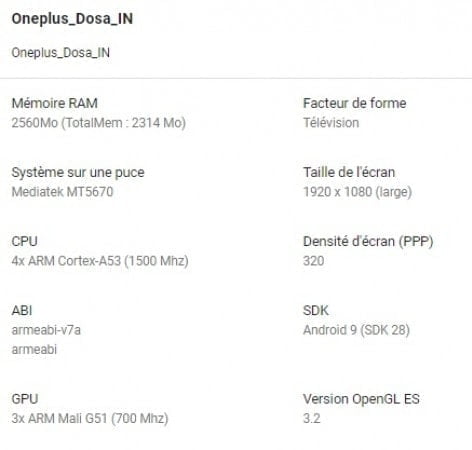 The Huawei Honghu 818 SoC uses two ARM Cortex-A72 cores with two ARM Cortex-A53 cores combined with a Mali-G51 GPU. So I would expect to see a similar layout with the MT5670.
Currently, the top of the range Mediatek chipset is the MT5597 which is featured in the 2019 Sony TVs and many other Android-based TVs. This uses a quad-core Arm Cortex-A53 and unnamed ARM Mali GPU, with the overall specification being quite poor for what you would expect in 2019. So it will be interesting to see what the new MT5670 offers. The older MT5596 uses a Mali-T860 and is featured on TVs such as the Sony AF8.
The OnePlus TV will have 3GB RAM and will run Android Pie.  The screenshot lists the resolution as 1080p, but this is likely just the menu screen, and it will certainly be 4K. Again, it will almost certainly have some form of HDR, though the exact specification and what standards it supports is anyone's guess.
It has now been revealed, by OnePlus, that the TV will use Dolby Vision HDR, which is generally regarded as the best HDR format.
OnePlus CEO Pete Lau revealed that the TV will run an "improved UI" atop Android TV and that it will provide an enhanced experience to OnePlus smartphone users, like offering a "seamless" way to enter a text on the OnePlus TV using a OnePlus phone.
The OnePlus TV will make its debut in India first, with the company planning to expand its availability to North America, China, and Europe at a later date.