Sony KD-65AF8 OLED TV
Product Name: Sony KD-65AF8 OLED TV
Offer price: 2999
Currency: GBP
Availability: InStock
Features -

90%

Software Performance -

50%

Image Performance -

90%

Price -

80%
After coming away impressed with the Panasonic FX50 range, I was hoping to pick up one of the new FZ802B OLED models, but sadly at the time there was no immediate availability and then I was offered a great deal for the Sony Bravia KD65AF8.
This year seems to be the year that OLED starts to become semi-affordable to the masses. As it currently stands the Sony Bravia KD65AF8 is just £2999 on John Lewis, as is the Panasonic 65FZ802B and if you are happy to go with a model from last year, LG has had panels available for as low as £2000.
Sony OLEDs launched with very favourable reviews last year with the A1, and this year the AF8 is the same panel, but with some minor differences elsewhere. The AF8 sits bolt upright which is a design decision I am happy about, I never really understood why you would want a TV to lean backwards. Due to the design change and price reduction, there is no bass speaker so you are reliant on the acoustic panel for all the sound. Though if you are spending £3K on a TV you would be mad not to have a soundbar or proper AV system. I believe the remote is also different, but that's about it when you compare the sets.
[button link="https://mightygadget.co.uk/sony-af8″] Buy the Sony AF8 from Currys[/button]
Features
There is not a great deal of variety between OLED TVs in terms of features. They all offer premium features and the panels are all made by LG.
The stand out features for the Sony that differentiate it from the competing brands is the Sony X1 Extreme 4k HDR processor for picture processing. It accepts HDR10, HLG (Hybrid Log-Gamma) and Dolby Vision HDR standards whereas competing brands don't always support Dolby Vision. Then there is the Acoustic Surface Technology. This uses two sound actuators to create the stereo channels of sound, by vibrating the screen from behind.
In terms of the OS, Sony uses Android TV which includes all the catch-up services plus Netflix and Amazon 4K HDR viewing. Using the apps on the TV both Netflix and Amazon will use Dolby Vision when a show has it, but I will cover this more later.
The set uses built-in YouView with seven-day scroll back TV guide brings together to catch up TV from across BBC iPlayer, ITV Hub, All 4 and Demand 5 and one of the USB ports can be used for recording.
Design
Sony has adopted a unique design for the AF8, in particular, its stand is just a flat base with no legs meaning the TV sits almost flush with a TV cabinet.
They were able to achieve this because it does not have a speaker on the base so when set up it is just one massive screen. I like my TV sat low down so it is level with my eyes and this configuration works with me, but if you are swapping out an old 65-inch TV with this then you will need to consider that this will likely sit a lot lower.
The rear of the TV is equally as minimalist and the bulge at the back of the TV for the woofers and all the components is only 400m thick. All the ports are on the left hand side of the TV as you look at it.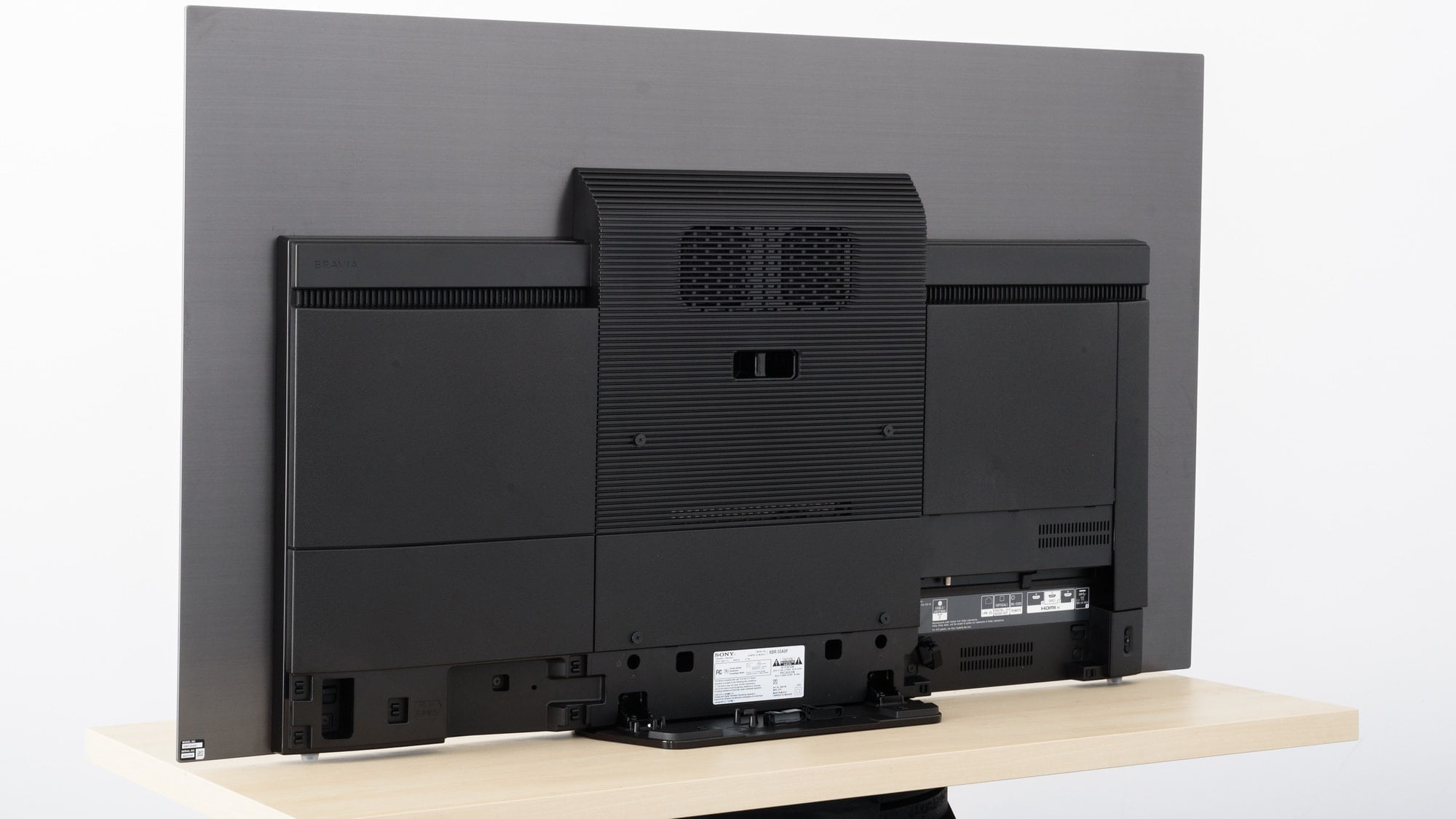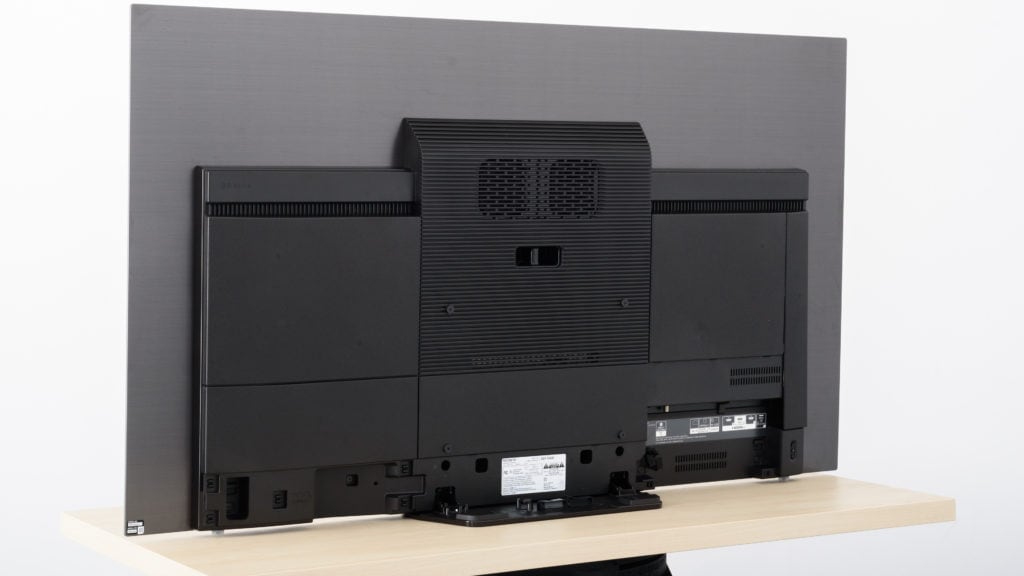 Connectivity
Connectivity is pretty much standard across TVs nowadays and you get everything you could want.
On the side of the panel, you have a CI slot, 3.5mm AV in, and Dual 3.5mm audio out including headphone, an IR blaster slot, two USB ports and the first of four HDMI inputs.
On the lower panel, there are three further HDMI inputs, a USB input for HDD recording, optical digital output as well as digital and satellite tuners. All the HDMI inputs are 4K HDCP 2.2 compliant, but only HDMI 2 and 3 are full 4K/60P 4:4:4 capable and need to be switched on within the HDMI signal format menu under Enhanced format.
You also get Wi-Fi on-board as well as Bluetooth with smartphone connectivity with Chromecast built-in, Miracast for screen mirroring and the TV slideshow app (iOS and Android).
Operating System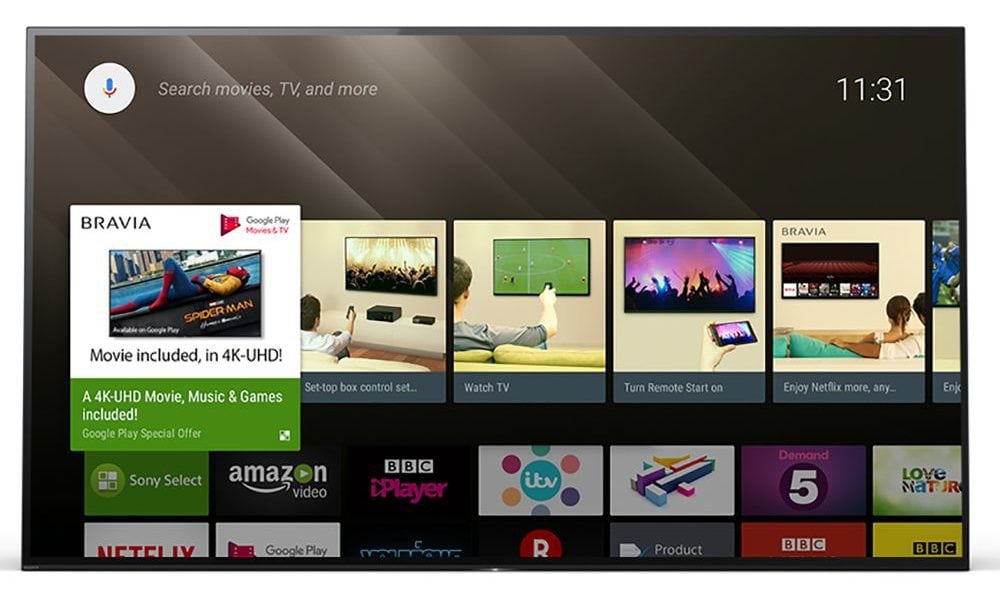 The OS Sony uses is Android TV, it has many excellent features and it is generally OK, but as people have been commenting for years it is slow.
The issue isn't the software but the fact that Sony has paired up their £3k TV with a MediaTek MT5891 system on chip which is the same chip they used 3 years ago and has a lower specification than phones costing under £100.
It is not terrible or anything, but it is frustrating to have an expensive TV with software performance that doesn't match the performance of the panel.
There are some positives though, setting up the TV was extremely simple, if you already have a Google account you can connect it with your phone and transfer a lot of the data over. Following this approach, I didn't need to login to Netflix as it used Google Smart Lock. More security conscious people may not approve, but for the sake of convenience, I like it.
You can also install a lot more app with a Sony TV than other brands. For example, Kodi is available on the app store, which is what I normally use for locally stored movies. I only stream from Netflix and Amazon. There is also Plex, but the Play Store does have a limited selection of apps compared to a mobile. I have tried, but I assume there will be no issues sideloading any apps you may want.
The OS itself is sometimes a little hard to navigate and you get random suggestions for things all over the place, it is certainly not as user-friendly as the Panasonic Home Screen but it is usable.
What I was not aware of prior to buying this was that you get 2 free 4K movies via the play store. I picked up Baby Driver and Spiderman Homecoming, it was a nice bonus after setting the TV up.
For me, the only time I ever really use the OS is to watch Netflix, and the remote has a direct access button, so you rarely need to delve deep into the menus.
I have read many reviews of older Sony TVs crashing frequently, during my use this has never happened but I have had some issues with the Amazon App.
Overall, the OS is ok, it lets the TV down a little, but it doesn't break it.
[button link="https://mightygadget.co.uk/sony-af8″] Buy the Sony AF8 from Currys[/button]
Dolby Vision
I am covering the Dolby Vision before the general performance because I feel like it sits best between the OS section and performance due to the fact there appears to be software/firmware issues with it.
When I got the TV I followed many of the recommended settings that were found on AV Forums.
I first started encountering issues with Tom Clancy's Jack Ryan within the Amazon app, when there were dark scenes there would be a lot of blotchiness. In particular with clothing where there were moving textures, there would be obvious grey/black blocks. This made me very concerned that I had a bad panel. Going back into the settings and messing around with things, I think enabled some of the processing features appeared to eliminate some of the issues. The problem is that the Amazon app then became stuttery as if it was struggling to process the images or buffering.
The Netflix app also currently has issues with blotchiness but I am sure it didn't prior to messing with the settings to fix the Amazon problem.
Looking at AV Forums it appears the TV is plagued with issues related to Dolby Vision, with many people highlighting the same problem with blacks. Some people have claimed to fix this issue by dropping the peak luminescence and increasing the gamma. Personally, I have just fallen back to using my Nvidia Shield, it can only do HDR10 but it just works, and it works well, the interface is ultra-fast and I love everything about it.
Performance & HDR10
If we ignore the ongoing issues with Dolby Vision, which I am sure will get fixed sooner or later, the performance is exemplary just like every other OLED screen on the market. I use the Cinema Pro setting which reduces the background processing, and it is what is generally recommended by others. Though I did tweak these settings following my Dolby Vision issues. With motion flow, I now use True Cinema mode and using this setting the picture is smooth and natural.
I don't have the equipment to test the panel in detail and objectively as some specialist sites do, but from a subjective point of view, the TV, when used with HDR10, performs amazingly.
OLEDs don't get as bright as LED, but they offer much better blacks with no backlight bleeding. This suits me ideally, I typically watch in a dimmed room with no direct light, and my eyes are very sensitive to light, so I would prefer not to stare at something that burns my retinas.
The Sony AF8 achieves a peak of about 700 nits, which is consistent with last year's A1, whereas this year's LG C8 offers around 100 nits more. Both a long way off the Samsung Q9FN with 2000 nits.
I found the TV does a good job of 1080p none HDR content too. Everything looks super crisp and detailed, I think moving from LED to OLED helps though, having them perfect blacks helps to improve picture quality considerably. 720p content is starting to feel grainy, or maybe I am just being deliberately snobby. I have moved from 55-inch to 65-inch though, so this does make sense.
Sound
To be honest, I used a 5.1 system so my testing with the sound was limited. The concept of Acoustic Surfaces great, and it does work. If you are just watching daytime TV then it will be more than adequate. The lack of the dedicated bass module means it is lacking in the low notes, especially for movies.
I use ARC and my receiver switches on with the TV so even if I watched daytime TV all the sound would go through my speakers.
Conclusion
If you are looking for the best affordable 2018 OLED then the Sony AF8 makes an appealing case, it has dropped £300 since launch to £3000 for the 65-inch model. It is a hell of a lot of money but at the same time not ridiculous.
Android OS lets it down a little, and Dolby Vision is a major problem. You could pick up the Panasonic 65FZ802B which has a better OS but that will never have Dolby Vision so you wouldn't really be getting a much better TV. The Panasonic will have HDR10+ but by the time content is readily available in this format I suspect the Dolby Vision issues will be fixed on this TV.
Due to the issues with Dolby Vision, deciding on the scores for this TV were difficult. I decided to ignore DV for the image quality score with the assumption it is a software issue.
[button link="https://mightygadget.co.uk/sony-af8″] Buy the Sony AF8 from Currys[/button]