OPPO RX17 Pro Review
Summary
A premium priced upper mid-range phone, with a superb camera and industry leading battery charge speeds, let down slightly by very slow updates
Oppo has been a big player in the Chinese market for years, with UK users having to resort to grey import sites for their phones in the past. However back in January they officially launched in the UK and we now have access to some of their superb phones.
The Oppo RX17 Pro has been out since the UK launch, and at the moment is perhaps a little eclipsed by the Oppo Reno launch, but this is still a well specced upper mid-range phone with a strong focus on the camera.
It launched in the UK at £549 which quite frankly is far too expensive, but it is now available for £449 which is much more reasonable.
Specification
Display – 6.4 inches AMOLED, 1080 x 2340 pixels, 19.5:9 ratio 85.9% screen-to-body ratio
SoC – Qualcomm Snapdragon 710
RAM – 6GB
Storage –128 GB
Rear Camera

12 MP, f/1.5-2.4, 26mm (wide), 1/2.55″, 1.4µm, Dual Pixel PDAF, OIS
20 MP, f/2.6, AF
TOF 3D camera

Front Camera – 25 MP, f/2.0, 1/2.8″, 0.9µm
Battery – 3700 mAh battery, 50W fast charge
The RX17 Pro doesn't come with a flagship chipset, instead, it uses Snapdragon 710, which while current, is starting to look long in the tooth. However the phone was launched before the Snapdragon 730, and the slightly newer SD712 offers little improvement over this.
Most of the other specs are in the realm of flagship devices, which justifies its slightly higher price for a SD710 based phone.
Design
This looks as good as any other flagship device on the market because they all look about the same. Build quality is excellent, you get Gorilla Glass 6 protecting your screen and it has a glass rear too, though this has no functional purpose, it is just for looks.
The lenses are centrally located with a reasonably large camera bump which flattens out once you add the clear protective case to the phone.
The main difference with phones nowadays is the colourway you can get them in. With this phone you have the choice of two finishes; radiant mist or emerald green. I was sent emerald green and it love fantastic, albeit a fingerprint magnet.
As with many phones at this price point, you don't get 3.5mm.
Display
With a 6.4 inches AMOLED display running at 1080 x 2340 pixels and an 85.9% screen-to-body ratio this is very similar to the considerably more expensive Huawei P30 Pro, though not quite as impressive as the notch less Oppo Reno which costs the same. It is also the same spec as the OnePlus 6T, with the same holding company owning Oppo and OnePlus the panel is likely identical between phones.
The display itself performs well, as do most AMOLED based phones. Colours are bright and accurate, and with the brightness turned up the phone work well outside. In comparison, the cheaper SD710 based Nokia 8.1 uses an IPS LCD and has a huge notch.
The display hides the fingerprint sensor making this one of the more affordable phones with this feature. As always, I have mixed feelings towards it, I much prefer having a fingerprint reader on the front of my phone, but in-display still is not as accurate as a dedicated rear placement. However, it is not bad, and if you enable face unlock I find you rarely have to rely on it.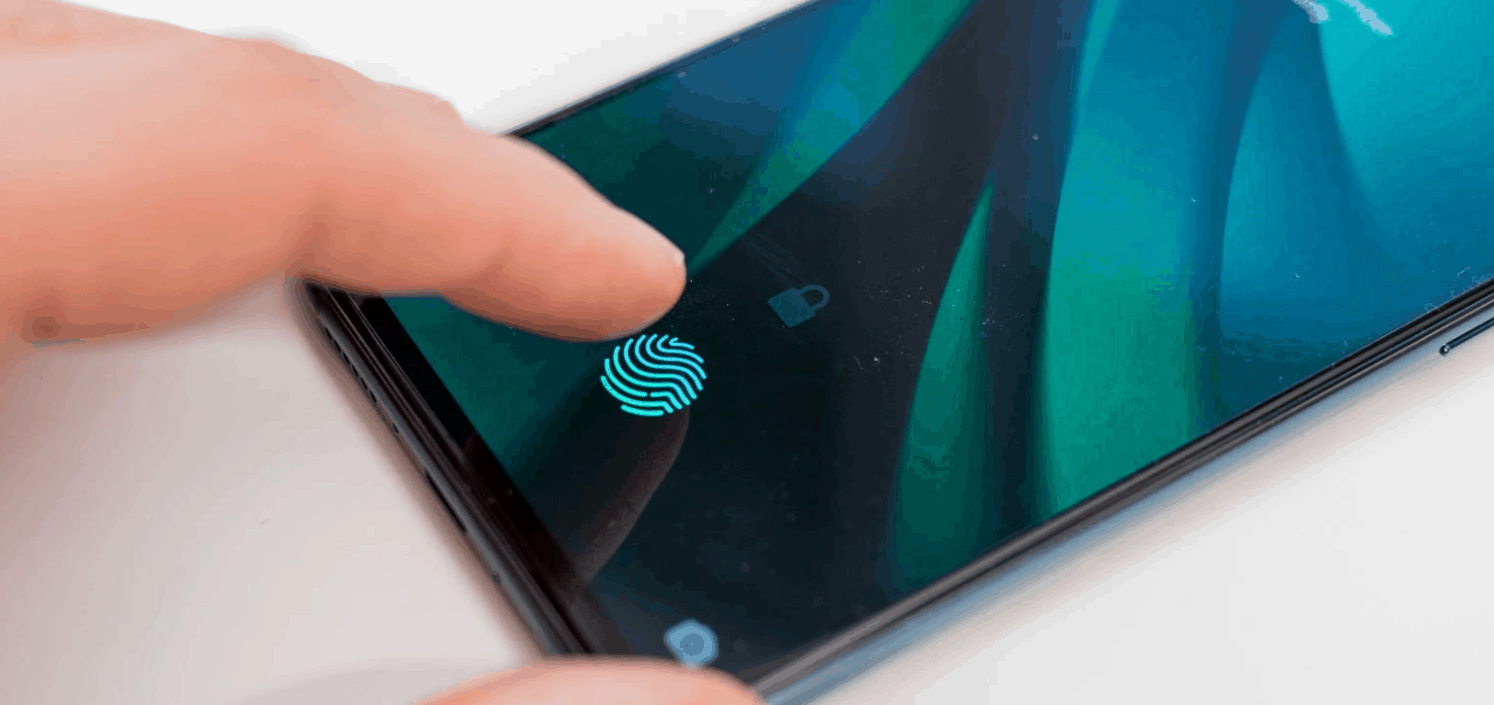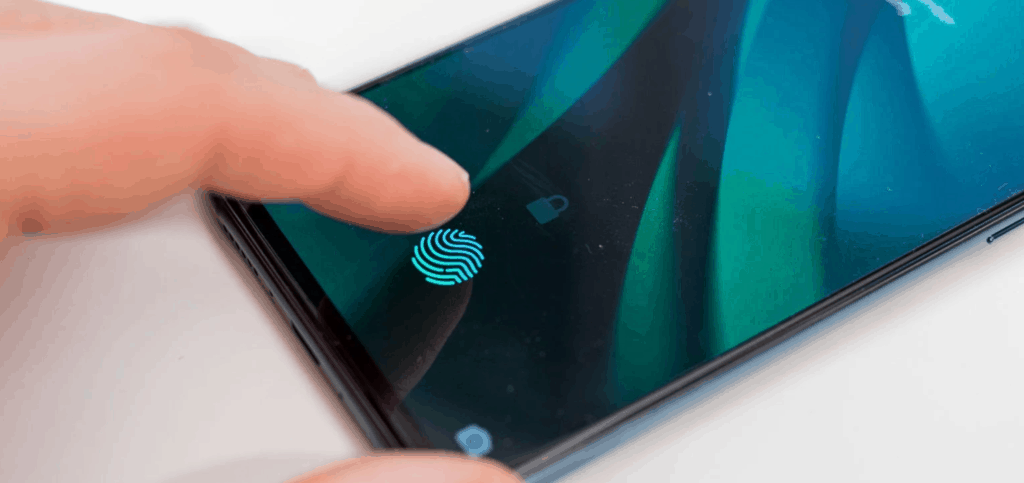 Camera
The 12MP lens has an f/1.5-2.4 variable aperture, which is quite rare for phones and something generally found on the Samsung Galaxy range. The second lens is a 20Mp to allow for portrait mode shots and 2x zoom.
Results are excellent and certainly perform well for a phone at this price point. The optical image stabilisation (OIS) of the primary sensor helps reduce blur on a lot of shots, something I am particularly bad for. To further improve my shoddy photography skills, there is a verity of AI features such as scene detection which will optimise the shot based on what it detects.
There is a function called 'Dazzle Colour' that boosts the saturation in many scenes, but never by so much that it makes the photos look overly processed.
Oppo is another company that has introduced low light improvements, and while it can't compete with a P30 Pro or Pixel 3, it does do a very good job.
The TOF sensor could be used for depth sensing to improve the bokeh effect, but I am not sure if this is used for photos at all, instead just 3D scanning.
Battery
The 3700mAH battery with no wireless charging may not seem overly impressive at first, and similar to many other phones. Oppo has a trick up their sleeve, this is the fastest charging phone available to consumers that I am aware of, or at least that I have used. The RX17 Pro actually features two batteries (each is 1,850mAh) instead of one. Together with Oppo's proprietary charging system (OPPO SuperVOOC Flash Charge) it can charge from 0% to 40% in just 10 minutes and well over 50% in just 15 mins.
The 3700mAH is big enough that you are rarely desperate to charge your phone, but I find quick charging to be particularly useful on holidays or press trips, where you may nip back to your hotel for an hour to get showered and dressed for the evening. With this phone, I could spend all day photographing the sites, come back to get ready and leave for the night with a fully charged phone, saving me having to carry around a power pack all day and night.
It is also worth noting that the SD710 in this phone will be less of a drain than the SD845 & SD855 found in the OnePlus 6T and OP7.
Performance
Day to day performance you won't notice that this is running a chipset that is one rung down from the flagship SD8xx series. Android and the ColorOS skin work flawlessly with quick, smooth transitions between screens and no lag with loading apps or carrying out functions.
If you are an avid gamer this won't perform quite as well as the likes of the Black Shark 2, however, this will still comfortably play games, and during my testing, it had no issues. There was hardly any stutter or lag on high-end games like Asphalt 9, loading times may have been a bit slower, but I think this phone will cope with most peoples demands.
The phones score a 159081 on the AnTuTu benchmark, which the app states 'defeats 46% of users' and ranks the phone in the top 50 of many thousands of different handsets. Benchmarks don't provide an accurate representation of real-world performance but at least gives you some perspective of how this device compares to others.
Software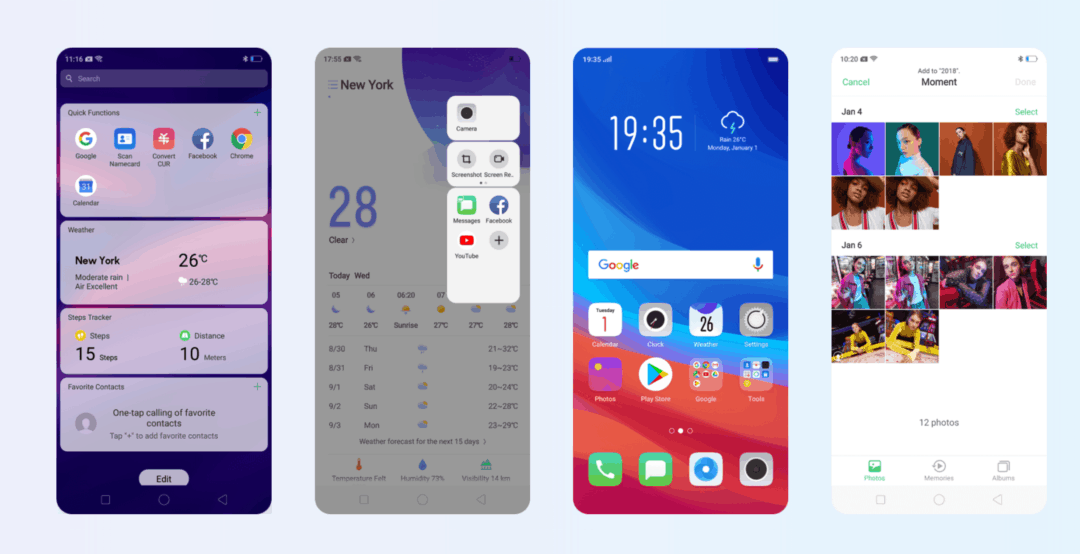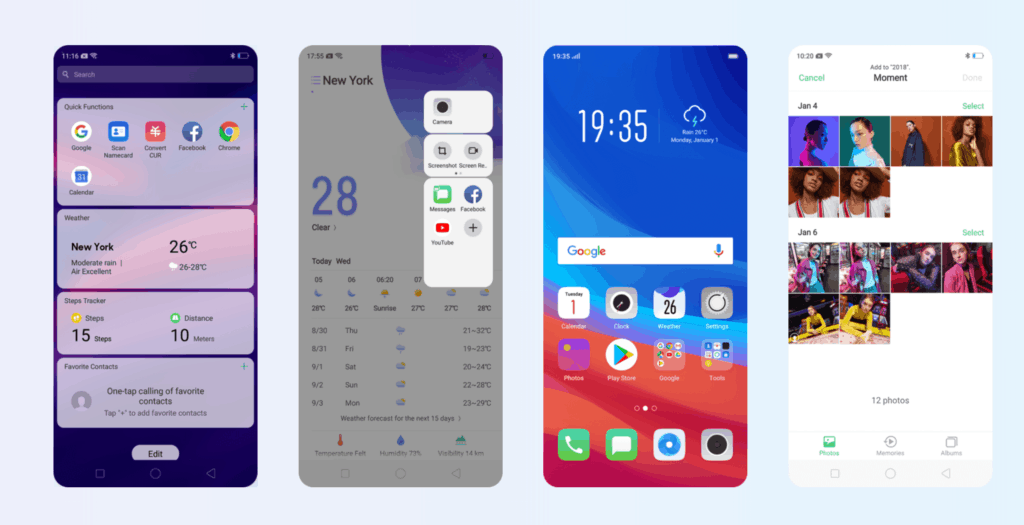 As with many phones, this comes heavily moded with its own skin, namely ColorOS. In general, it is perfectly usable, you get an app drawer, and everything works as Android should. The settings menu can be a little confusing, with things move around from standard, though I use a Huawei device as my main phone and they also mess about with the layout, so it is easy to forget what should be where.
The big issue here is that the phone is still running Android 8.1 and hasn't had a security update since January 2019. I have not found this to be an issue in terms of usability, no features are missing that I am particularly bothered about, but this is still a poor update schedule.
ColorOS 6, which is based on Android 9, is due to be launched and from what I can tell it is expected in August for the RX17 Pro.
Pricing & Comparisons.
At the time of writing the OPPO RX17 Pro is available from Carphone Warehouse for £449.00 which coincidentally is the launch price of the OPPO Reno. With the Reno launching 5 months later you would assume it is the better phone, and in some ways it is. However, they are very similar phones, both with their strengths and weaknesses.
The Reno has the impressive pop-out camera which leaves the screen free from any notches, it also has a 48 MP f/1.7 primary camera with a 5MP secondary and arrives with Android 9.0.
However, the RX17 Pro uses three lenses including a 12 MP, f/1.5-2.4 wide lenses, 20 MP, f/2.6 and then a time of flight sensor for depth sensing. So the camera is technically more rounded the Reno. The front-facing camera, hidden behind a small notch is also technically better at 25 MP, f/2.0 vs 16 MP, f/2.0. Then there is the ultra-fast charging of this phone, which I think is the fastest of any phone currently on the market. It is rare that you need to charge your phone so quickly, but having that option is fantastic, when you are short on battery and only have 10 mins, you will really appreciate it.
Personally, I think £450 is a touch pricy for a SD710 phone, it is a little too close to flagship pricing I think. However, it is hardly the only phone to hit this price point, the Pixel 3a which uses the much lower specced Snapdragon 660 will set you back £399. The argument for this pricing is that both phones have a superb camera, whereas lower priced SD855 phones will often have inferior cameras or other areas cut back to save money.
Conclusion
This is an excellent phone with well-rounded features and industry-leading charge speeds, that represents a good starting point for Oppo in the UK.
The 3700 mAh battery with that insane 50w charge speed is probably the stand out feature for me, this makes this phone particularly suitable for heavy users and people on the move a lot.
While the pricing isn't too unreasonable, it faces stiff competition. The obvious choice over this is the newer Oppo Reno which has that shark fin popup wow factor giving you a notch less display and the 48MP primary lens. It also arrives with Android 9, whereas this phone is using the outdated 8.1.
Overall, this phone has a better camera than many phones at this price, while being more powerful than the likes of the Pixel 3A, while also having an unrivalled charge speed.