As much as I love Qualcomm, their upper mid-range system on chip product range is starting to become quite confusing, to say the least.
Today they announced two more products with the Snapdragon 665 and Snapdragon 730 system on chips. Now to be fair, these two new chips are replacing the older models which I assume includes the newly announced SD712 the slightly less new 710, then the 660.
This should then leave the Snapdragon 675 and the SD670 existing in the weird position where the SD675 has a superior processor but not quite as good GPU compared to the older 670.
If you are a little confused by the vast number of options, I don't blame you, I am a little. It doesn't help with HiSilicon having the Kirin 710 in comparison.
The following table gives you an overview of the current Qualcomm product line up and the Huawei / Hisilicon Kirin 710.
Qualcomm Snapdragon SoC Comparison for 600 & 700 series
HiSilicon Kirin 710
Snapdragon 660
Snapdragon 665
Snapdragon 670
Snapdragon 675
Snapdragon 710
Snapdragon 730
Process
12 nm
14nm LPP
11nm LPP
10nm LPP
11nm LPP
10nm LPP
8nm LPP
CPU Cores
Octa-Core, 64-bit
Octa-Core, 64-bit
Octa-Core, 64-bit
Octa-Core, 64-bit
Octa-Core, 64-bit
Octa-Core, 64-bit
Octa-Core, 64-bit
CPU
4x Cortex-A73 @ 2.2 GHz
4x Cortex-A53 @ 1.7 GHz
4x Kryo 260 (CA73)
@ 2.2GHz

4x Kryo 260 (CA53)
@ 1.8GHz
4x Kryo 260 (CA73)
@ 2.0GHz

4x Kryo 260 (CA53)
@ 1.8GHz
4x Kryo 260 (CA73)
@ 2.2GHz
4x Kryo 260 (CA53)
@ 1.8GHz
2x Kryo 460 (CA76)
@ 2.0GHz
256KB L2
6x Kryo 460 (CA55)
@ 1.8GHz
64KB L2
2x Kryo 360 (CA75)
@ 2.2GHz
6x Kryo 360 (CA55)
@ 1.7GHz
2x Kryo 470 (CA76)
@ 2.2GHz

6x Kryo 470 (CA55)
@ 1.8GHz
GPU
ARM Mali-G51 MP4
Adreno 512
Adreno 610
Adreno 615
Adreno 612
Adreno 616
Adreno 618
RAM
Max 6GB LPDDR4
2x 16-bit @ 1866MHz
LPDDR4
14.9GB/s
2x 16-bit @ 1866MHz
LPDDR4
14.9GB/s

2x 16-bit @ 1866MHz LPDDR4X 14.9GB/s with 1MB system cache

Camera
16MP + 24MP
Spectra 160
24MP
Spectra 165
Dual 16 MP, MFNR, ZSL, 30 fps
Single25 MP, MFNR, ZSL, 30 fps
Single 48 MP

Spectra 250 ISP
Dual:16 MP, MFNR, ZSL, 30 fps
Single:25 MP, MFNR, ZSL, 30 fps
Single:48 MP, MFNR
Single:192 MP

Spectra 350
Dual: 22 MP, MFNR, ZSL,30 fps
Single:36 MP, MFNR, ZSL,30 fps
Single: 48 MP, MFNR
Single: 92 MP
Video Encode/Decode
Decode: 1080p @ 60fps
Encode: 1080p @ 30fps

2160p30, 1080p120
H.264 & H.265

2160p30, 1080p120
H.264 & H.265

10-bit HDR pipelines
Camera support
With the camera support, it is a little confusing the Spectra 250 used to get listed as 25MP single / 16MP dual, but this appears to be a soft number, and now Qualcomm advertise 48MP hwoever, the Snapdragon 670, 675, 710, 845 and 855 models now all support 192MP
There are some limitations, however. In order to process such a large image, the camera cannot use any multi-frame processing, for example for HDR or noise reduction, or a zero-shutter-lag. The 192MP limit is also only valid for single-camera setups and not for multi-camera devices. Not even a front-camera would be supported.
So the 48MP number used by Qualcomm allows you to have all the other features you would expect from a smartphone camera.
Some of the older products have not had their product briefs updated, but I would assume all Spectra 250 have similar support.
Snapdragon 665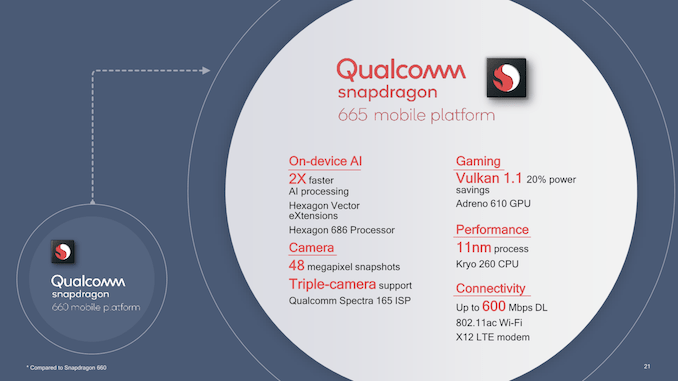 The Snapdragon 665 is the replacement for the SD660 which was released way back in 2017, so it is unlikely many if any new phones will be launched with the SD660, which will simplify the product line-up a little.
However, due to all the other options sitting above it, it has had limited upgrades from the previous generation. Specifically, there are still 4x Kryo 260's based on Cortex A73's plus 4x Cortex A53 based cores. In fact, it is now clocked lower than the old SD660, which is odd, but probably to position this chip further down the ladder, and spacing out the products.
Most of the other main bits have been upgraded, the GPU has jumped up to Adreno 610 from Adreno 512, the DSP goes from Hexagon 680 to 686, and the camera goes from Spectra 160 to Spectra 165.
With the camera, the big thing will be that it now supports either 48MP single / 16MP dual to accommodate the popularity of dual lenses on the rear.
The fabrication process has been dropped from 14nm to 11nm which should help improve power efficiency considerably. Memory controller, media capabilities as well as the modem remain the same.
Snapdragon 730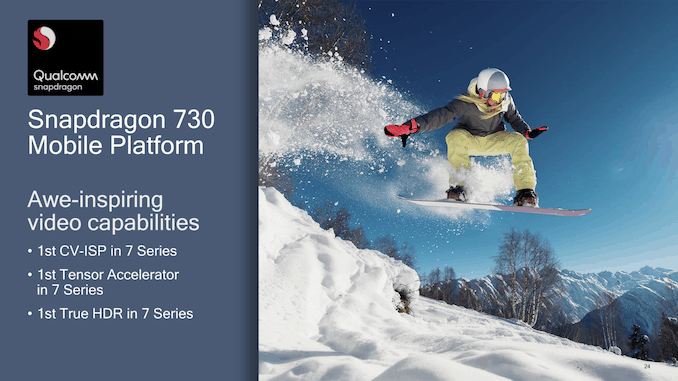 This is the most exciting of the two products and will sit at the top of the upper-middle line-up giving you many flagship features without the expensive of a Snapdragon 855 phone.
The chips will replace the Snapdragon 710, and I assume the SD712. The 712 was an odd release it was essentially the same as the 710 but with a tiny bump in processor performance and from what I can gather is only used by the Xiaomi Mi 9 SE.
It is also worth noting that the Qualcomm SD675 was announced in October, which has a much better processor than the SD710 but a not as good GPU. So the product line-up should start making a little more sense once the SD710 is gone.
So, the new Snapdragon 730 has received lots of upgrades differentiating it from the pack properly. This has now been bumped up to an 8-core Kryo 470 with 2 big cores running a Cortex A76 at 2.2GHz and 6 small cores running Cortex A55 at 1.8GHz. According to the product brief, this provides a 35% performance uplift compared the the SD710
The GPU has gone up to the Adreno 618. This promises 25% increased performance over its predecessor.
The digital signal processor is now Hexagon 688 which now includes Qualcomm's new Tensor Accelerator units for machine learning inferencing, and an important aspect of all the AI enhancements companies are keen to tell us about. Qualcomm state that this chipset packs twice the power of its predecessor for AI.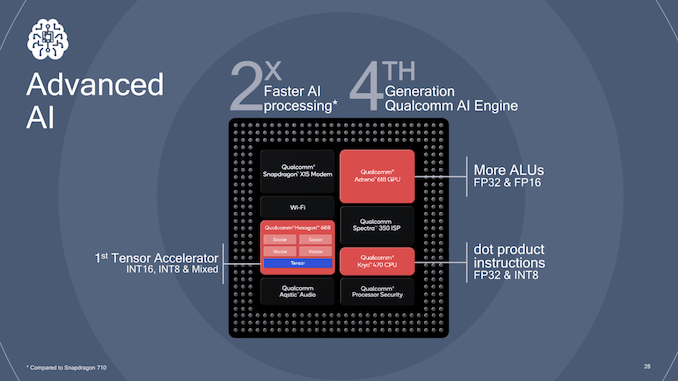 The ISP and camera support are now Spectra 350 with 48MP support. This also has CV (computer vision) acceleration delivers up to 4x power savings, alongside features such as 4K HDR video capture with Portrait Mode and photo and video capture in HEIF format for reduced file sizes.
This chipset is also 802.11ax-ready which will I assume will require phone manufacturers to choose if they want to use it, similar to the Galaxy S10 with the Snapdragon 855 having it while some others don't.
It is now made on the brand spanking new 8nm LPP fabrication process which should make this much more power efficient.
Qualcomm will also deliver a Snapdragon 730G variant of the chipset promising 15% greater graphics performance, a bin variant of the Snapdragon 730 with higher clock speeds.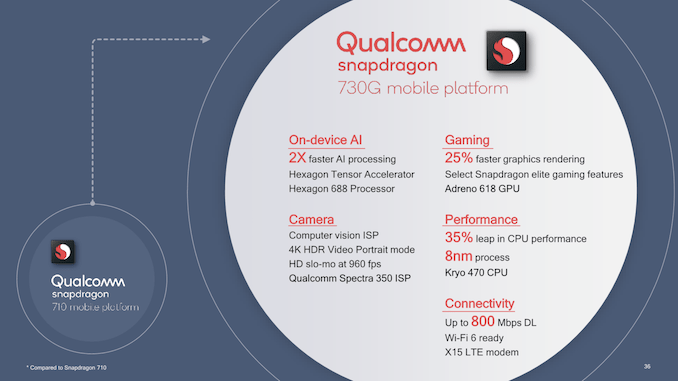 Last Updated on