Mesh Wi-Fi is the best thing to happen to Wi-Fi in years and solves most of the issues consumers have with their Wi-Fi, and that is poor range or black spots around the home.
I have reviewed several Mesh Wi-Fi systems now including Netgear Orbi and Zyxel Multy, though I have not reviewed a TP-Link Deco yet.
One of the issues with Mesh Wi Fi is that it can be a little expensive, the TP-Link Deco M5 3 pack has an RRP of £240 but is available for £180 while the Netgear Orbi RBK50 is £268.99 just for a two pack.
TP-Link is expanding their Deco range to be more affordable with the new Deco M4 while still offering all the functionality that you would want from a mesh Wi-Fi system.
The Deco M4 is already listed on Argos for £129.99 but there is currently no stock. This is for a two pack and makes it about £25 cheaper than the M5 equivalent.
The immediate difference between the two models is the new design, the M4 adopt a column shape while the M5 is a disk.
It is a dual-band AC1200 system is capable of throughput speeds of 300Mbps on the 2.4GHz band and 867Mbps on the 5GHz band and it supports MU-MIMO data streaming. The M5 has 2.4GHz up to 400 Mbps) and the same
5GHz speeds. Coverage is almost identical with up to 2,800 sq. ft.
Both models features a dedicated wireless backhaul and optional Ethernet backhaul.
It looks like the M4 lacks the Antivirus Powered by HomeCare but it still features the advanced parental controls
[content-egg module=Amazon template=list]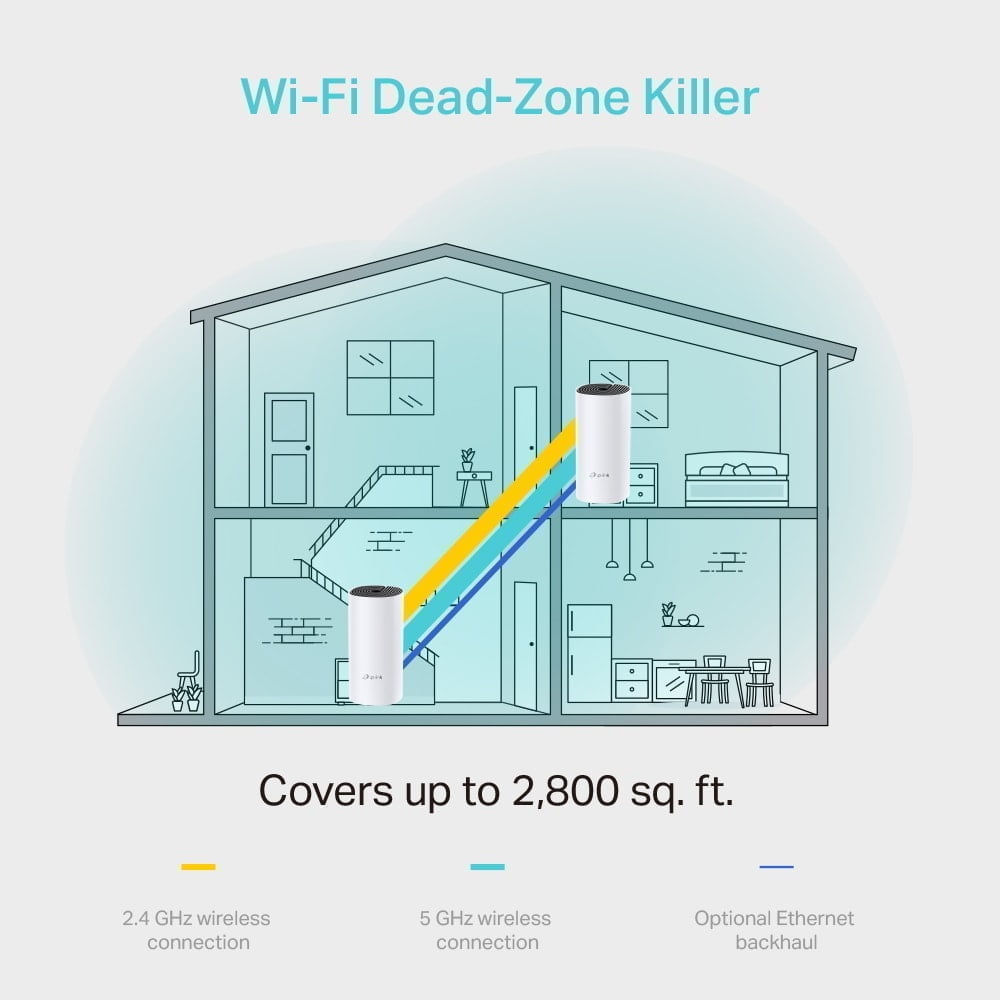 Full press release details:
Multiple units work together to create a seamless home wireless network where phones and tablets automatically switch to the fastest Deco as you move through your home, creating a disconnection free environment. Currently available as a two-unit multi-pack, the Deco M4 Whole Home Mesh Wi-Fi system will launch first in Argos.
Goodbye Wi-Fi Dead Zones
Deco M4 is comprised of two units that can be customised to fit Wi-Fi coverage needs to up to 2,800 square feet. With additional units, and compatibility with Deco M5, Deco P7 and Deco M9 Plus, the Deco M4 system can be easily scaled up to accommodate even larger spaces.
Up to 100 Connected Devices
The dual-band AC1200 system is capable of throughput speeds of 300Mbps on the 2.4GHz band and 867Mbps on the 5GHz band and it supports MU-MIMO data streaming. Deco M4 utilises Adaptive Path Selection (APS) to ensure the network is always operating at top speeds, quickly identifying and selecting the fastest path for devices to connect to the network. With network speeds three times faster than the previous generation routers, thanks to 802.11ac wireless technology, Deco can provide lag-free connections to up to 100 devices.
Easy-to-Use App
The Deco app walks you through the setup with clear directions and simple visuals, making it quick and easy. From the Deco app, you have total control of your network, giving you the power to limit and monitor internet use and even pause the internet for an individual family member or the entire home.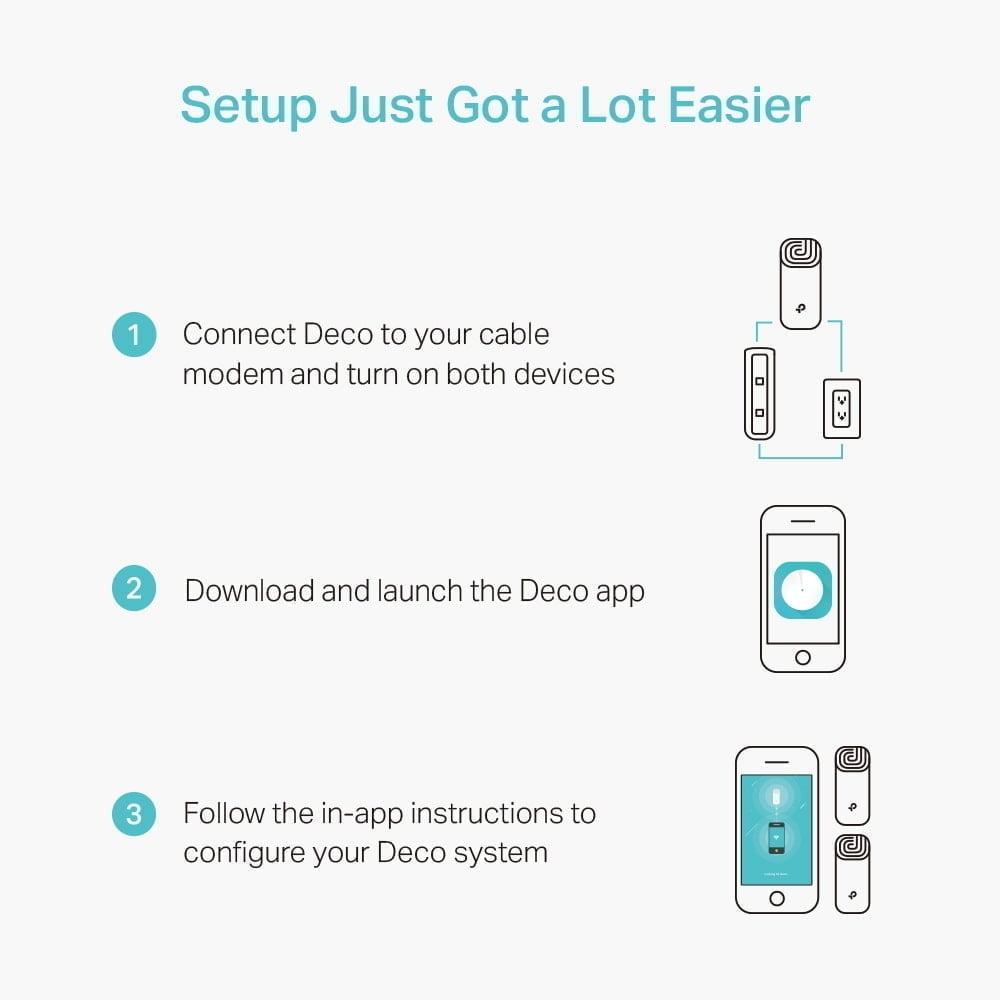 Robust Parental Controls
Simple, intuitive parental controls allow you to manage and monitor who accesses which network services and for how long. Give each member of your family their own profile so you have control over how long children, for example, spend online each day even when you're not home. Monthly usage reports are automatically sent to your phone to keep you apprised of activity on your network.
More Features Coming Soon
In the near future TP-LInk will also include the following functionality:
1. IPTV function
2. WPS
3. 2.4GHz and 5GHz Wi-Fi band switches
Key Features:
Maximum Speeds: 300Mbps on 2.4GHz band and 867Mbps on 5GHz band. *
Maximised Range: Seamless coverage up to 2,800 sq. ft. (two-pack). *
Seamless Coverage: Wireless connections and optional Ethernet backhaul work together to link Deco units, providing even faster network speeds and truly seamless coverage.
Expand Coverage: Add more Deco units to expand Wi-Fi coverage to match the size of your home.
Simple Setup and Management: The Deco app (iOS and Android) makes network setup and management a breeze.
More Devices: Supports connection of up to 100 devices.*
Parental Controls: Block inappropriate websites, restrict time spent online, and get monthly reports.
QoS: Prioritises devices when necessary for the fastest connections.
IPv6: Supports the latest Internet Protocol Version 6.
2 Gigabit Ports: Dual Wan/Lan functionality
Extensive Compatibility: Works with Amazon Alexa and IFTTT and is compatible with all Deco models.
[content-egg module=Amazon template=list]