Zyxel Multy X Tri-Band Review
Product Name: Zyxel Multy X Tri-Band
Offer price: 249.99
Currency: GBP
Availability: InStock
Features -

70%

Wi-Fi Performance -

85%

Ease of use -

80%

Price -

80%
Mesh Wi-Fi is the best thing to happen to Wi-Fi in years. While it is great that some manufacturers are pushing the speeds of Wi-Fi further and further, in practice, these speeds are rarely achieved, with performance degradation over distance being severe. It is not an uncommon scenario to get great Wi-Fi in one room and terrible in another, in the past, we have alleviated this problem using Wi-Fi repeaters, powerline, or just running multiple routers in the same house.
The issue with multiple routers is that you generally need to use different SSIDs for reliable connections. You can try and share the SSID, but your mobile won't intelligently switch between routers, meaning you could be sat next to one router, but still connected to one on the other side of the building causing slow speeds.
A wireless mesh router solves multiple issues; they are generally simple to set up, you add multiple routers all within the same setup process, rather than manually set-up each device. They then boost the Wi-Fi around your house effectively, and they should automatically pass off connections to the closest router
In general Mesh, systems don't offer the best peak performance, but they will offer reliable Wi-Fi over a much greater area. For most people this is the essential feature, our internet connections in the UK rarely go above 350Mbps so unless you do a lot of local file transfers it is unlikely you need multi-gigabit Wi-Fi
[button link="https://amzn.to/2AHoYzW"] Buy the Zyxel Multy X Tri-Band from Amazon[/button]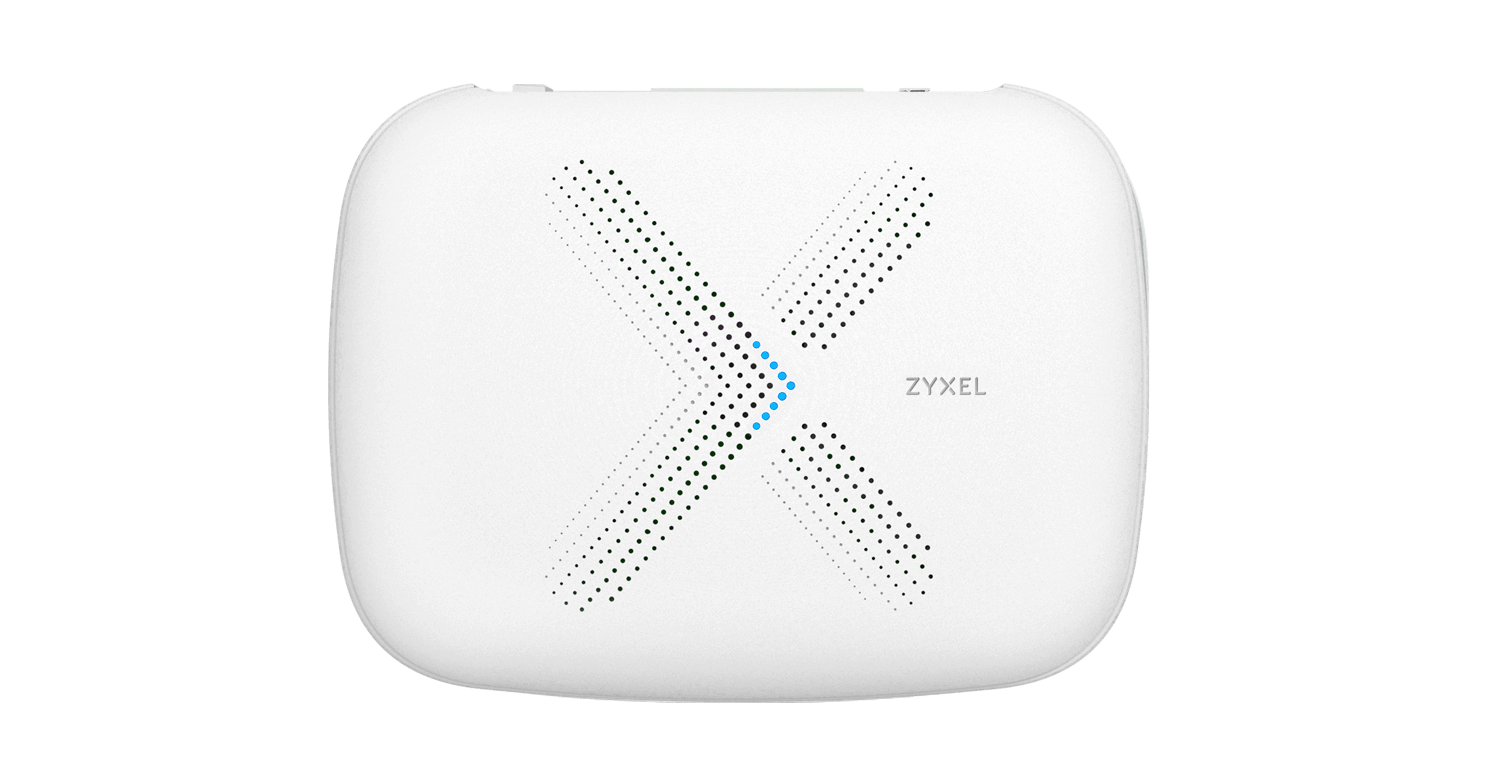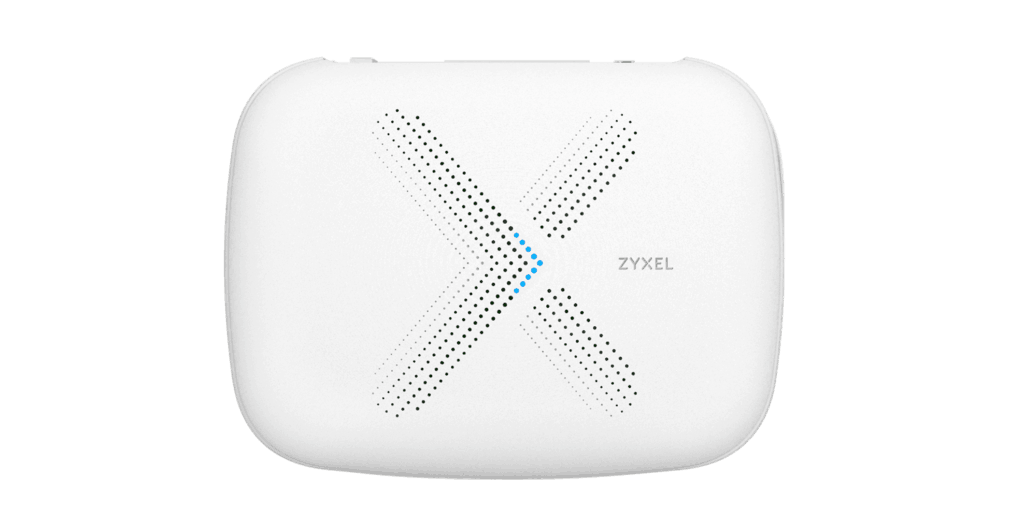 Zyxel Multy X Tri-Band Mesh Wi-Fi Specification
The Zyxel Multy X Tri-Band is one of the newer models to the market, and it already appears to be receiving favourable user reviews on Amazon.
It costs £249.99 for a 2-node system with additional module costing £129.99. The Multy X adopts a slightly different approach from others, each module in the system is identical, so it makes no difference which one you use as the base unit or satellite.
Each module has four Gigabit Ethernet ports (one for WAN, three for LAN), a power port and a USB 2.0 port on the rear. As it currently stands the USB is not operational at the moment.
The tri-band system uses a dedicated 5 GHz (dedicated backhaul) which sacrifices a little speed due to you losing a channel, but should provide a more reliable connection. The system then can achieve 866Mbps for 5 GHz  400Mbps for 2.4 GHz.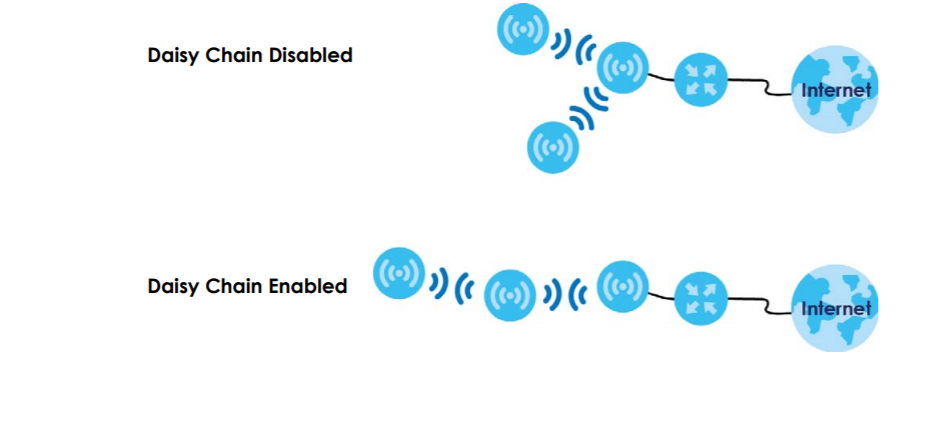 Recent firmware improvements have enabled the daisy chain feature; this allows each module to act as a relay for the next one, allowing you to cover a much greater distance. Without daisy chain, each module needs to connect to the base unit which limits the expansion.
Even though each module has 4 ethernet ports, there are no options to enable ethernet backhaul currently supported. For most people this should not be an issue, the daisy chain and dedicated backhaul will provide a reliable connection.
The system can be used in standard mode, or you can switch it to bridge. This disables all the router features and makes the modules work just as access points. This is what you would do if you want to keep your existing router.
[button link="https://amzn.to/2AHoYzW"] Buy the Zyxel Multy X Tri-Band from Amazon[/button]
Set-up and App
You manage everything via the app; I use Android, so my experience was all via that app.
The set-up is straightforward, the app guides you through the process step by step, it uses Bluetooth to establish the initial connection to the router which then passes the settings over.
With the Wi-Fi, you can optionally combine the SSID or split them up into 2.4GHz and 5GHz bands. One network is more convenient, but some devices can have issues with this setup hence why it is good to have the option to split them.
Once the first module is set up, you follow a similar procedure with the second. I was able to complete the set-up within 10 minutes, and it required little to no technical skills.
With everything else you can play around with the different settings. While the management features will be adequate for most people, it is limited compared to more advanced dedicated routers such as the FritzBox. The only management options are port forwarding, DMZ, parental controls as well as UPnP.
There are some useful diagnostic utilities including a Wi-Fi signal test which will allow you to place the satellite modules in optimal positions.
The app is functional, and the UI is user-friendly, but it is very slow, selecting any option often requires waiting for several seconds for it to load up which can be frustrating.
The Multy X system works with Alexa, so if you have an Amazon Echo device, you can verbally instruct it to disable the guest network, test your internet speed or temporarily suspend internet access. I found this works, but I don't really see the need for it, it just seems to be the trend having everything Alexa enabled.
Performance
The only thing that is important with a Mesh system is its Wi-Fi performance, and thankfully the Zyxel performs as advertised. Using one module in our front room where we watch TV and the 2nd upstairs in my office, I was able to get a strong signal throughout my home. Furthermore, the mesh system appears to hand off connections as it is supposed to, and my phone and other devices indicated a strong connection throughout the house, even when moving around. There were no noticeable dropouts during my testing period which is essential with a system like this.
To provide to perspective, my house is moderately sized with 4 bedrooms and thick Accrington brick walls. I have had to run ethernet cable throughout the house to provide reliable connections to my various devices, so anything that can give a solid Wi-Fi signal across the house is a blessing.
Close range performance I was able to transfer local files at around 90MB/s which equates to 720MBps. LAN to LAN transfers using hard drives typically only hit around 110MB/s so you are not losing out on much performance by using a system such as this.
The four ports per module is a useful addition allowing you to create a wired connection to anything that requires as much speed as possible. Things like consoles and streaming devices will benefit from this setup.
Overall
This is my first Mesh Wi-Fi system review, so I don't have much to compare it to. However, I have come away very impressed with the Zyxel Multy X; what it lacks in software features it makes up for in Wi-Fi reliability. I experience no dropouts, with fast and stable Wi-Fi throughout my moderately sized home with thick walls.
Price at £249.99 it is almost the same as the popular Netgear Orbi which offers similar features. Looking at user reviews online it appears that people that have used both systems favour the Zyxel for its reliability.
The slow app and lack of settings such as manually assigning IP addresses to devices means I would be tempted to use a more advanced router to handle the networking of my home while using the Multy X in bridge mode to handle all the Wi-Fi
[button link="https://amzn.to/2AHoYzW"] Buy the Zyxel Multy X Tri-Band from Amazon[/button]