I recently had the opportunity to test the incredibly small and portable Sony MP-CD1 projector. And I have to say that when I first got it, I was quite confused. Who is it even meant for and why would I possibly even need it?
Great, it's a tiny projector that's the size of a 6-inch smartphone. Yeah, it looks super nice but is it really necessary to have?
Especially for £400.  You can buy a decent 40 inch TV for that. Sure you won't get the best screen but surely it will have a better image than a portable projector.
[button link="https://amzn.to/2AEs5bQ"] Buy the Sony MP-CD1 Mobile projector from Amazon[/button]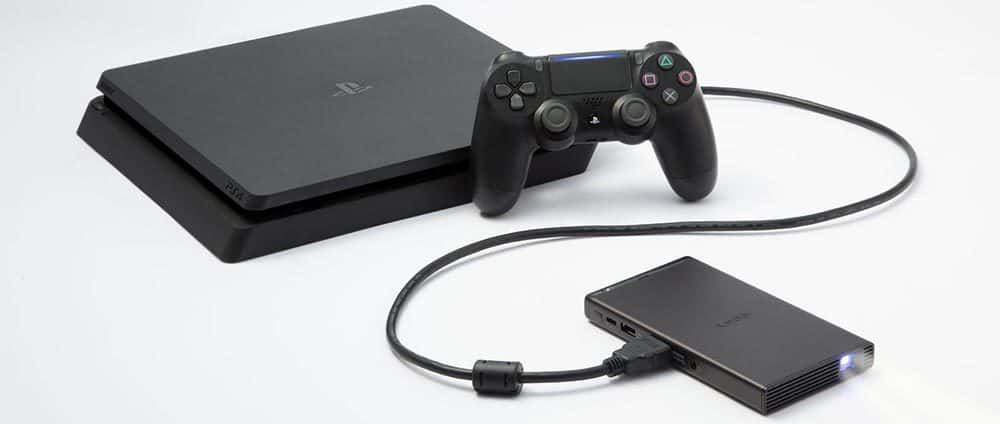 Technical Specifications
Dimension: 150 x 83 x 16 mm / 5.9 x 3.3 x 0.6 inches

Weight: 280 g / 0.6 lbs

Screen size: 40" at 3.8ft; 120" at 14.3ft

Contrast: 400:1

Brightness: 105 lumens

Resolution: 854 x 480 pixels

Battery: 5000 mAh

Connections: 3.5 mm, HDMI, USB-C
Easy To Use

After using it for a week, I discovered quite fast who this projector is designed for. First of all, it's really easy to use the Sony MP-CD1 projector.
You just grab an HDMI cable, connect it to your computer and within 5 seconds you'll have an image on the wall. Two seconds to adjust the focus and you are ready to show whatever you want.
I also hooked it up to my Playstation 4 and played "God of War". It was manageable, definitely not as bad as I had expected. There was no noticeable delay but the resolution wasn't that great. Which also had its effect on the image quality. That's why I recommend using it at night. A darker environment definitely improves the image quality.
My biggest issue about the Sony MP-CD1 was the audio connection. To be exact, the projector has a 3.5mm headphone port. Which is great, but I don't get it why they couldn't had added Bluetooth to it. I'd much rather connect it to my Bluetooth speakers than use headphones.
You can also connect the projector to a smartphone. However, your phone needs to have a USB-C port for that. Plus you also need a USB-C to HDMI cable.
The Perfect Solution For A Summer Cottage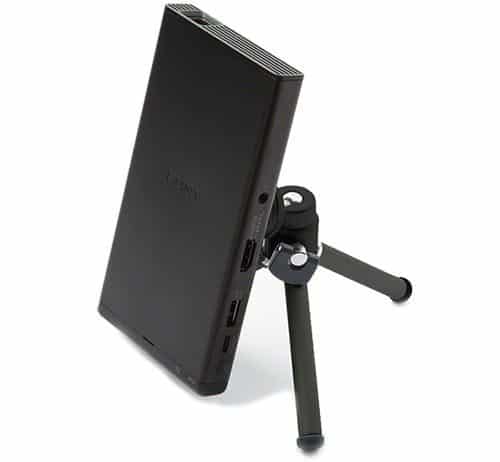 A small portable projector can't obviously replace a large TV at your home. But could it replace it at a cottage? In my opinion yes. While it costs as much as a TV, you can still fit the projector into your bag and take it anywhere with you. Which means that you don't need to leave it at your house and worry about it get it stolen. And imagine how hard it would be to do that with a large screen TV.
There are of course problems that come with using a projector. For example, you need to position it well. Sure there's a tripod mount underneath the projector as well, but most of the time you'll still end up using books to get the right angle.
According to the technical specs as well, the projector can display a 120 inch image. Which in my opinion is pretty hard to achieve. You just lose in the quality. In my opinion the best image quality was when the size was around 60 inches. At that size, the image was clear and sharp enough to be viewed in a slightly brighter room as well. At least it didn't require a fully dark environment. Plus the pixels weren't the size of fingers.
This projectors image quality isn't anything amazing, at the very best it is okay. It most definitely doesn't compete with the bigger, more powerful and expensive projectors. The Sony MP-CD1 is more of a social gadget.
The Sony projector also has a built-in battery. It lasts for around 2 to 3 hours and it takes around the same amount of time to charge it. Which is why I recommend having it attached to a power source while using it.

Conclusion
All portable projectors have these negative sides and that's fine. If it was possible to make a high-end projector that not only has an amazing image quality but can also fit inside your pocket, then we wouldn't even have those large projectors. Still, the Sony MP-CD1 is the best of the bunch and I can definitely see it being viable in a summer cottage. I'd much rather have it over a large screen TV if I know that I'll only be using it for a couple times a year. Plus, I'll be able to use the portable projector much more often.
[button link="https://amzn.to/2AEs5bQ"] Buy the Sony MP-CD1 Mobile projector from Amazon[/button]
About Author
Sven Von Fawkes is a freelance writer and is currently studying journalism at USC. He is passionate about technology and has previous experience from being a Product Manager at BestBuy. He currently manages a product comparison blog called Tenpire.