It's no secret that every iPhone owner is always hungry for more memory. That's why the company itself is now offering massive memory on its 2017 iPhone X, iPhone 8 and iPhone 8 Plus. The problem is, when you have upgraded to a device with higher memory, your memory requirements magically seem to escalate alongside it. The only way to solve that problem is to be frugal with the available memory and constantly think of ways to maximize that space. Let's look at 5 different ways to free up memory on your iPhone without compromising on mobility or access.
Use iCloud As Much As You Can
Apple's iCloud service is a highly underutilized feature. The whole idea of iCloud is to give iDevice users access to unlimited storage at a reasonable price. The best part about cloud storage is that it can be accessed from anywhere, and the only person who can access your information is you.
In addition to the 5GB of free space that iCloud users have by default, you can easily upgrade to higher plans for a few dollars each month. The advantage is that all this data can be removed from your device, but is still accessible on the cloud over an internet connection. It is also highly secure because the information resides in Apple's servers.
Memory Management Apps
You can also consider using one of many iPhone cleaner apps that will optimise your memory usage and help you make the most of every GB of available space. Some of the better ones out there such as TunesBro iOS Data Eraser. These are all desktop applications that are simple to use and powerful in functionality.  You will get a lot of free storage after a clicks. Simply head over to the app store and search using the term 'memory'. You are bound to find something useful for your needs.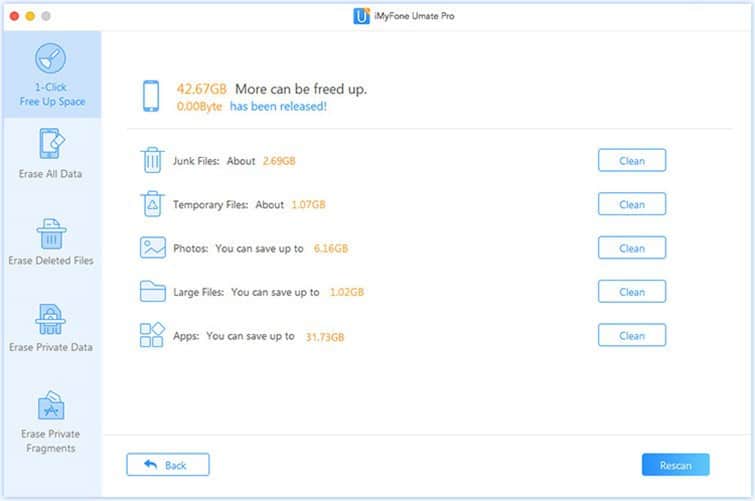 Go on an App Diet
Most iPhone users have a lot of apps on their phone that they have never really used. Some of these can take up a lot of space without you realising it. You can consider removing some of those that you will probably never use. But more importantly, make sure that you only download apps that you will definitely be using. If you put yourself on an app diet, you will soon realise that you can save a lot of space by only having the necessary apps on your iPhone.
Regularly Backup Your Device
It is always prudent to have a recent backup of your device at all times. This really helps when you want to delete media or files without running the risk of losing them forever. Of course, there are several wonderful utilities for data recovery, but you can avoid that situation by automatically doing backups to iCloud or to your computer via iTunes.
Use the Google Photos App
The camera systems on iPhones are some of the best in the world, so it's always tempting to keep shooting photos. What this does is clutter up your memory with a lot of photos that you may never use again or even view again. The best thing to do in such situations is to link your device to a Google account and download the Photos App so that all your snapshots can be automatically archived to that Google account. You will then be able to delete everything from your camera roll and keep your device memory in good shape. All of the images that you archive are perpetually available to you on Google's Cloud servers, so you never have to worry about losing a valuable photo.
These 5 tips will allow you to enjoy more space on your iPhone than ever before. There's no need to rush in and do everything at once. Consider each one carefully and assess its suitability for your specific needs. For example, if you only need additional space for more photos in your camera roll, then the Google account tip is sufficient, but if you want to attack the problem from multiple directions, then you are welcome to use all of these tips to optimise your iPhone's memory.