Netgear 5-Port Gigabit Ethernet Smart Managed Plus Network Switch (GS305E) Review Rating
Summary
The  Netgear GS305E is a cheap way to expand your Ethernet ports and provide basic QoS & VLAN management giving you more control over your network traffic 
Pros
Affordable
Netgear reliability (+ 3-year warranty)
Easy to manage 
Cons
Not quite the cheapest on the market
As much as I love cloud-managed networking, it is a bit over the top for many users. While a lot of our devices use wireless, the best performance will be via Ethernet; this is particularly useful for streaming content, gaming or work from home situations where desktops and phones may not have Wi-Fi.
With a lot of mesh systems, the more affordable options only have two ports, so using an affordable switch is a cost-efficient way of increasing your wired connectivity.
In our house, we have used the Netgear GS305E for my partners work set up, which includes a SIP IP Phone and desktop PC. Spending lots of money on a fancy switch would be pointless in this scenario.
Priced at a touch less than £24 you are not going to get much cheaper.
Why get a smart-managed switch vs unmanaged?
Most people won't notice much difference, but if you live in a busy household with a lot of people using bandwidth-heavy applications, you may struggle with drops in network performance.
With the launch of the PS5 and Xbox Series X, as well as the growth of PC gaming, many gamers want to guarantee bandwidth during gaming sessions to avoid dropping out or lags in performance.
With the QoS and VLAN options, you can prioritise and segregate traffic, allowing you to guarantee performance on the network for specific devices.
ProSAFE Plus Configuration Utility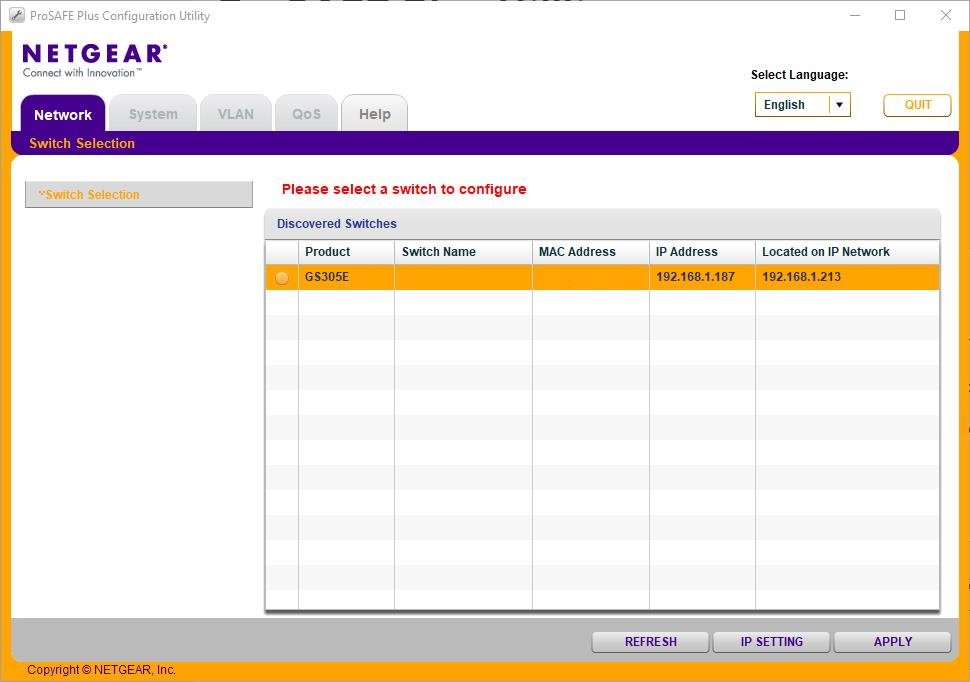 You can manage this switch via the web or using the ProSAFE Plus Configuration Utility. Installing an app to manage a 5-port switch seems excessive, and I find the interface a little clunky vs the web interface. You also need to login via the web first and enable ProSAFE management, so for most SOHO users, it is probably not worth the effort.
However, for small businesses, if you have committed to Netgear ProSAFE gear for your entire network, it gives you a handy single interface to manage the network.
Web Management
Password Policy
One thing I don't like about the locally managed Netgear hardware is the password policy. It is good that they force you to change the default password, but it has to be 6-20 characters, must have a capital letter, small letter, and can only have specific characters. It needs to be a bit more flexible making randomly generated passwords work easier. I am also not overly concerned about someone hacking my 5-port smart switch, which would require them to be on my internal network in the first place.
VLAN and QoS
These are the two selling points of a smart switch allowing you to separate off ports into separate VLANs and prioritise traffic either port-based or 802.1p/DSCP-based.
Port-based is handy for an easy-to-use solution, this could be handy for consoles or other demanding applications.
Loop detection is something I find quite useful normally, my cable management is bad and has all too often plugged things in the wrong place when moving hardware around.
Price and Alternatives
This is currently priced at £23.99 on Amazon so not worth stressing about price differences too much in my opinion.
TP-Link has a smart switch for around £20, and Zyxel has one for around £22.50.
If you want the cheapest solution possible, then you may as well go unmanaged, which will work perfectly well for most scenarios. The unmanaged version of this is just £17.
Or if you have more devices on the network, you can move up to an 8-port switch which is £31.99 for the Netgear GS308E
Overall
It's a gigabit switch with some basic smart management features. It does exactly as advertised and I have not noticed any stability issues, or links dropping connection speeds.
For £25, it is an incredibly affordable way to expand ethernet connectivity. The VLANs and QoS could be useful for all those lucky people with a brand new PS5 this year wanting to avoid dips in networking performance.
Last update on 2022-05-22 / Affiliate links / Images from Amazon Product Advertising API