Amazfit GTS 2 Smartwatch Review Rating
Summary
This is a superb smartwatch with excellent sports tracking features. It's ability to sync to Strava allows it to stand out from other stylish smartwatches at this price point. Conversely, its aesthetics are superior to more fitness focussed brands.
It's not perfect, but it is very good.
Pros
GPS & Strava support
Similar design to Zepp E but cheaper 
Cons
Steep price rise vs original GTS
Build quality is not as nice as Zepp E
Wrist-based HR accuracy is OK at best
When I reviewed the Zepp E, I made a lot of comparisons to the just-announced Amazfit GTS 2, which on paper looked like a more compelling option.
The GTS 2 watch has now landed in the UK for £159.99 placing it around £40 less than the Zepp E and £60 more than original GTS.
Specification and Features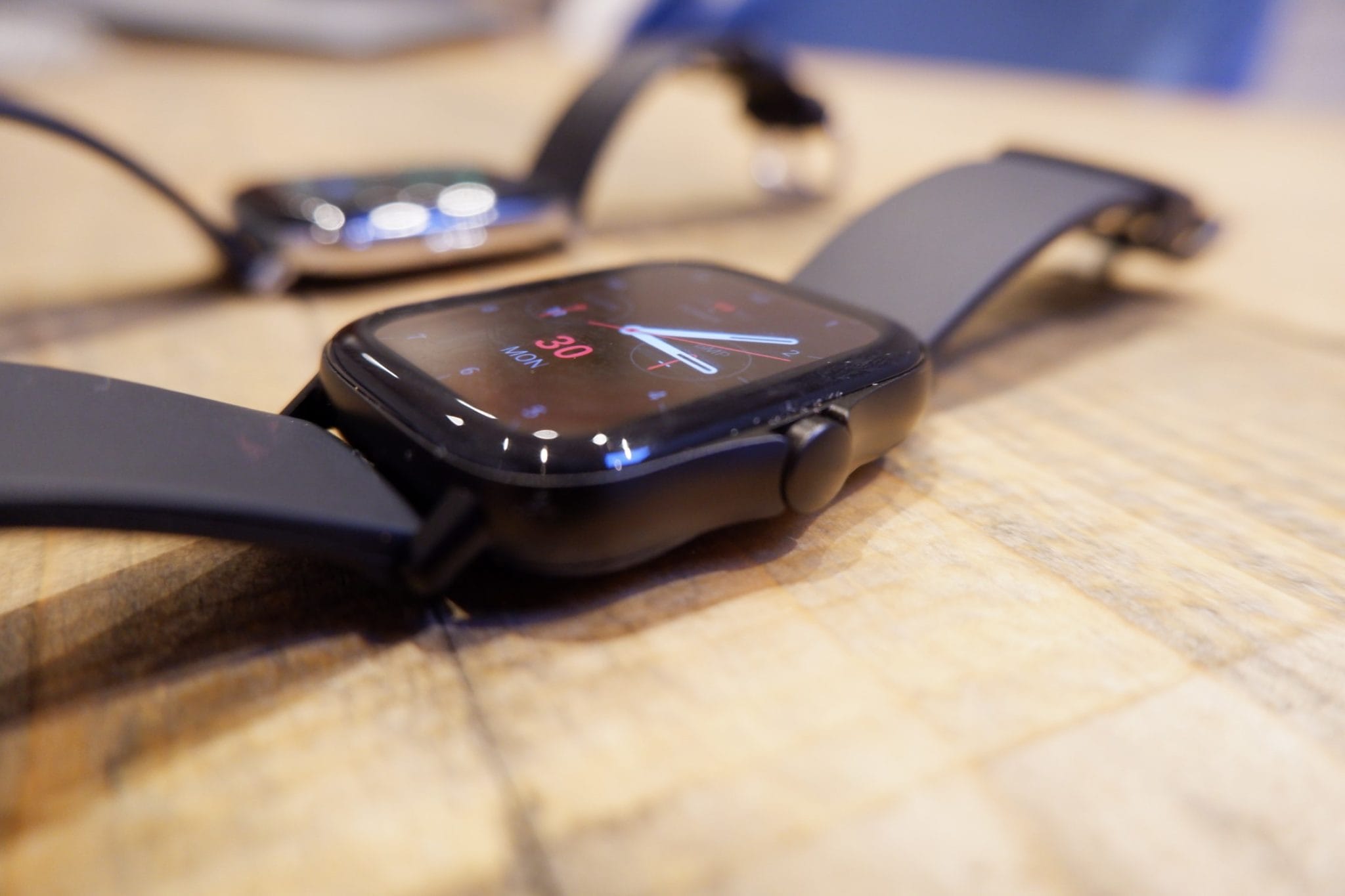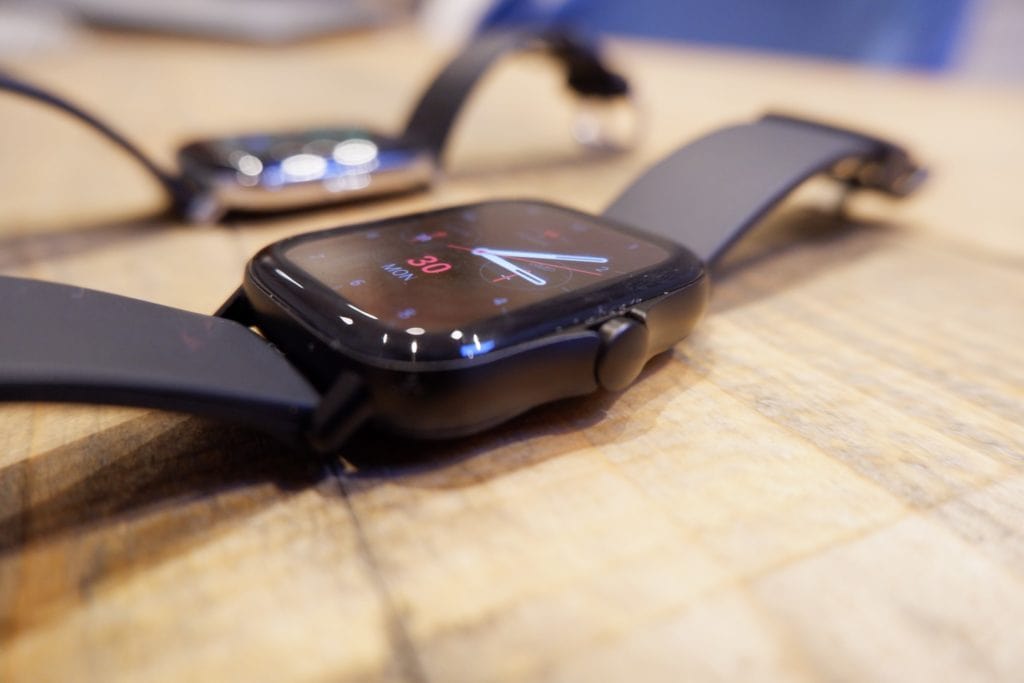 1.65 inches AMOLED Display at 348 x 442
Aluminium body with a plastic bottom shell
Silicone strap
GPS
BioTracker 2 PPG (supports blood oxygen)
Air pressure, acceleration, gyroscope, geomagnetic and ambient light sensors.
Built in speaker and microphone
246 mAh with 7 days battery life typical
5ATM waterproofing
Amazfit GTS 2 vs Zepp E Design and Build Quality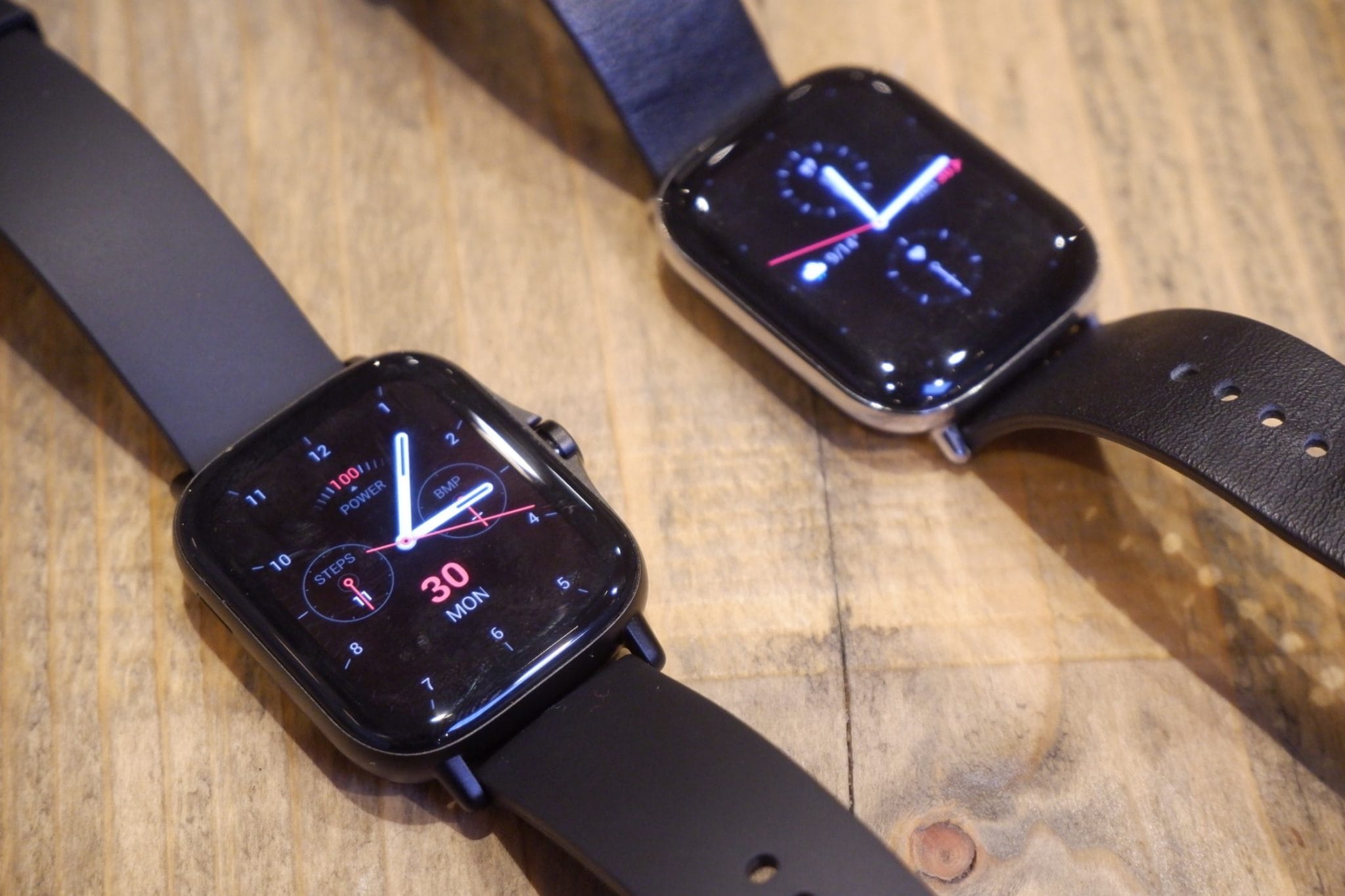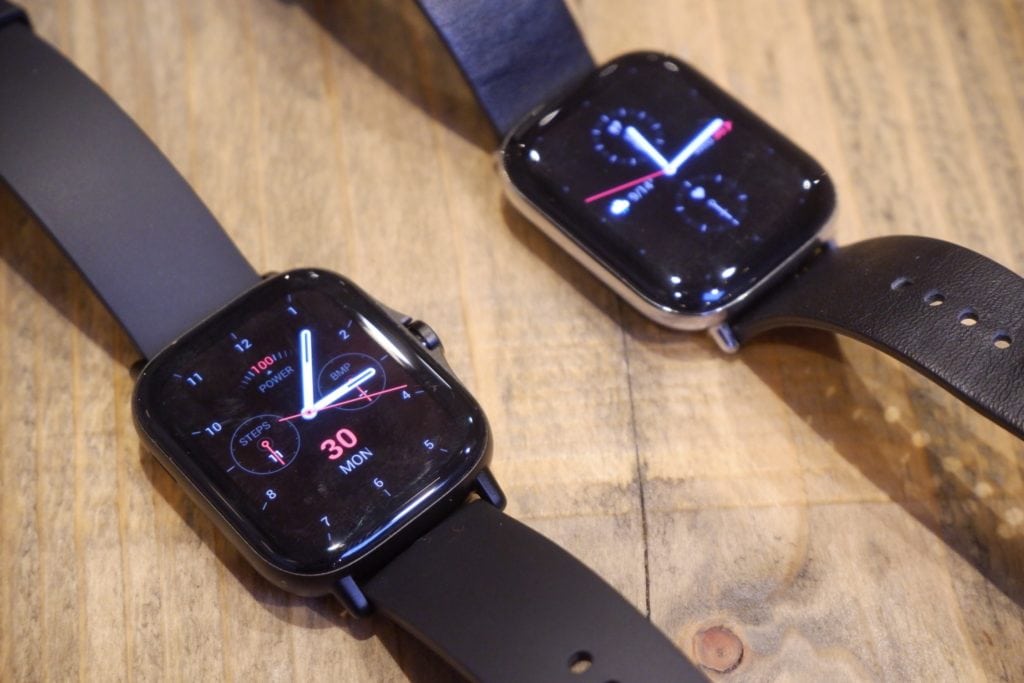 I was a bit critical of the Zepp E in my review, saying there wasn't much point getting that when the Amazfit GTS 2 was on the horizon.
Now I have them both in hand, my opinion has changed a little. The Amazfit GTS 2 does look fantastic and is similar to the Zepp E, but the Zepp E has a superior build quality and the minor differences in design give it a more premium look and feel.
Both watches are listed as having a 3D curve display however the curve appears to go far deeper on the Zepp than the Amazfit giving it a more striking appearance.
Currently, the Amazfit GTS 2 is £159.99 while the Zepp E is £189 on Amazon(when using the £20 voucher on the page).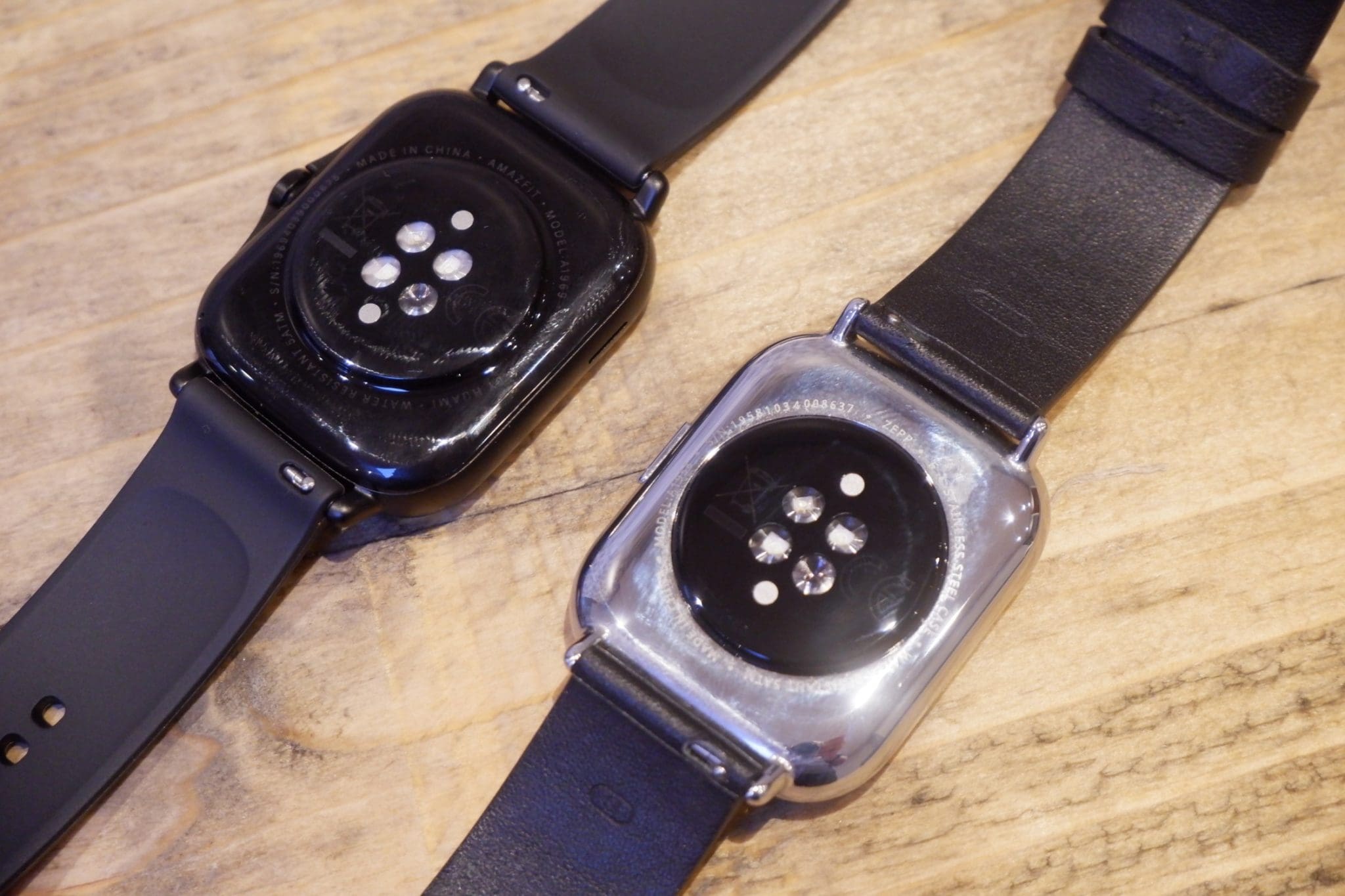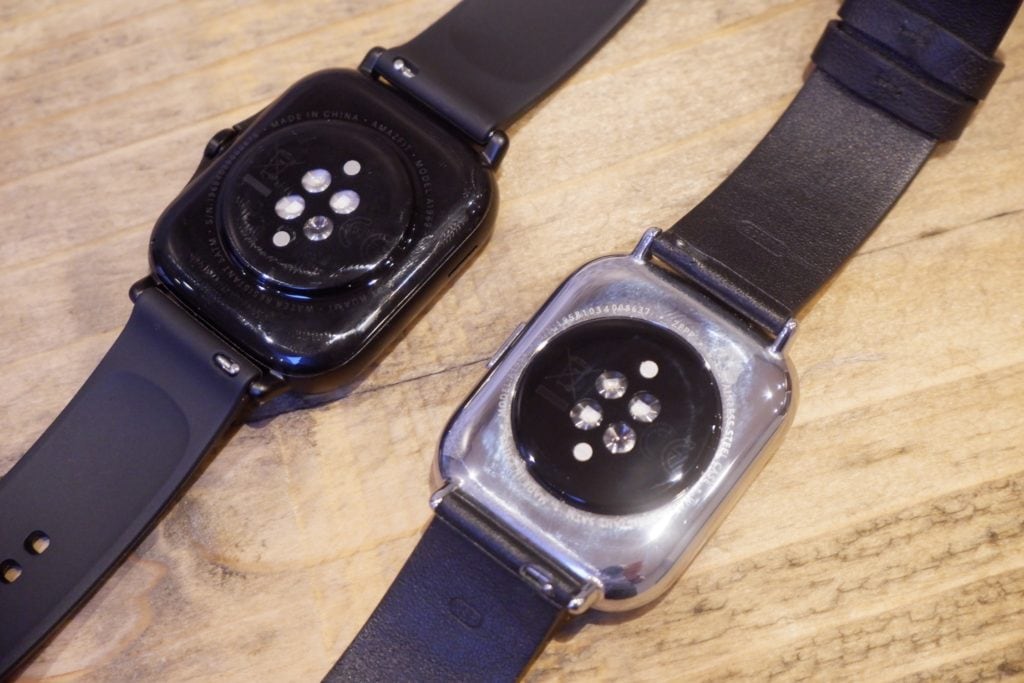 Amazfit GTS 2 vs GTS 2 Mini vs GTS
Just to make your decision to choose a watch even harder, Amazfit announced the GTS 2 Mini shortly after the GTS 2 launch. It should be coming to the UK soon.
It is basically the same as the GTS 2, but mini. The GTS 2 Mini's screen is now 1.55-inch, down from 1.65-inch. It now boasts a 354 x 306 panel with a 301 PPI density. Battery size reduced to 220mAh but this should be good for 7 days.
The big difference should be price; the Mini launched at 40% cheaper than the GTS 2. Hopefully, this will be similar for UK pricing.
Amazfit GTS 2 vs Huawei Watch Series
Amazfit and Huawei/Honor have taken a similar approach to their wearables such as the Watch GT2 and GT 2 Pro. The watches are more a feature watch than a smartwatch. You get what you get given, and that's it, no installable apps at all. Both companies lack any form of NFC payments, Spotify or offline playlist syncing, no maps, and there is no way to pair up things like heart rate sensors.
This allows them not only to be more affordable than WearOS counterparts but have incredible battery life.
The two brands do a lot that's the same, but also, they are incredibly different.
For me, the Huawei/Honor watch OS and app have a far better design and quality overall. It could be that I am more used to Huawei devices, but their software just feels a little more refined.
A lot of the features within the two apps are suspiciously similar. The data you get on sleep, for example, looks like a carbon copy but with a few design tweaks and changing of wording.
For the GPS enabled Amazfit devices, they offer the ability to export your data. This may seem like a small difference, but for anyone that is remotely interested in fitness such as running, cycling, hiking, there is a good chance you will want to use Strava or some other app. Huawei locks you into their system, which rules all of there watches out for any semi-serious fitness enthusiast.
Fitness Tracking and Strava
The stand out feature of this watch (in my opinion), is the built-in GPS and the ability to either sync to Strava or export your data into a GPX file to upload to whatever service you want.
For fitness enthusiasts, this, therefore, makes this a viable alternative to Garmin, WearOS and the Apple Watch. It is a simple feature that I can not comprehend why Huawei/Honor would choose to omit from their watches. It is what it is, and in this case, it works out well for Amazfit.
Annoyingly, there are some caveats here. I didn't connect to Strava to avoid me uploading duplicates. While you can manually download the data, it is just a GPX file, so the information you get is very limited. There is no heart rate data, no cadence. You get a basic plotted map, the time it took and some basic pace data.
Thankfully, when automatically syncing to Strava, you do get HR data.
Heart rate accuracy appears to be OK, being about as accurate as most wrist-based optical heart rate monitoring. This, therefore, can be hit or miss, in my most recent run, using the Polar OH1 with my Garmin Fenix 6 Pro I recorded 147 bpm Avg HR with a max of 155bpm whereas The GTS2 was 136/158bpm.
To make it as accurate as possibly you need to wear the watch higher up your arm and reasonably tight.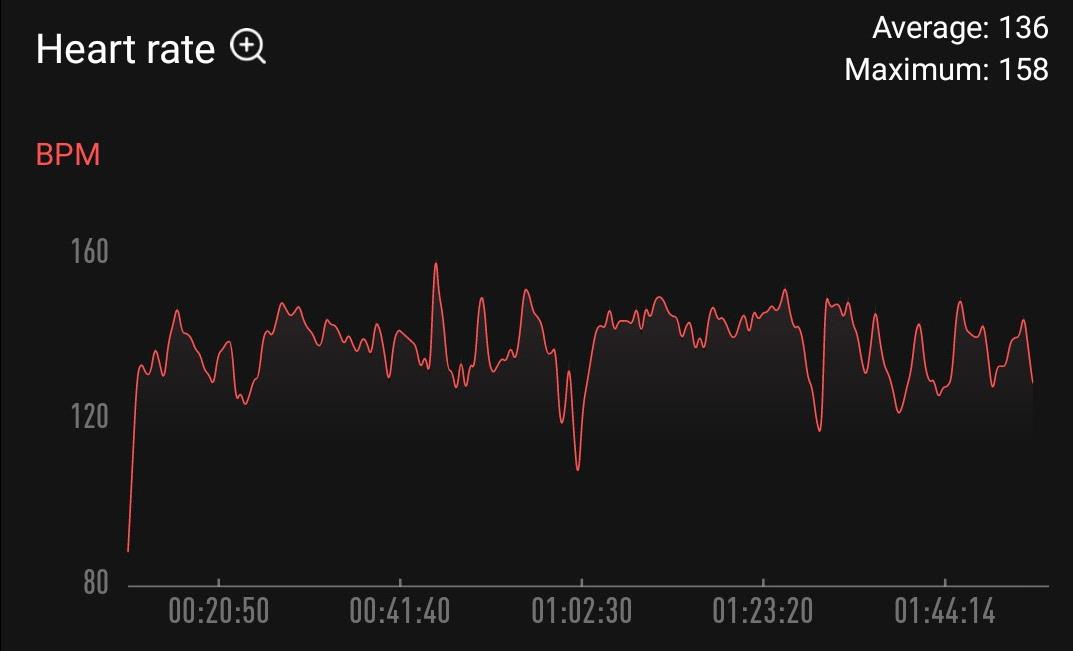 GPS acquisition can be quite slow (6+ mins in some cases), but I have found starting an activity early still provides a reasonably accurate start place. If it is a race you will want to make sure the GPS is locked on prior to the start.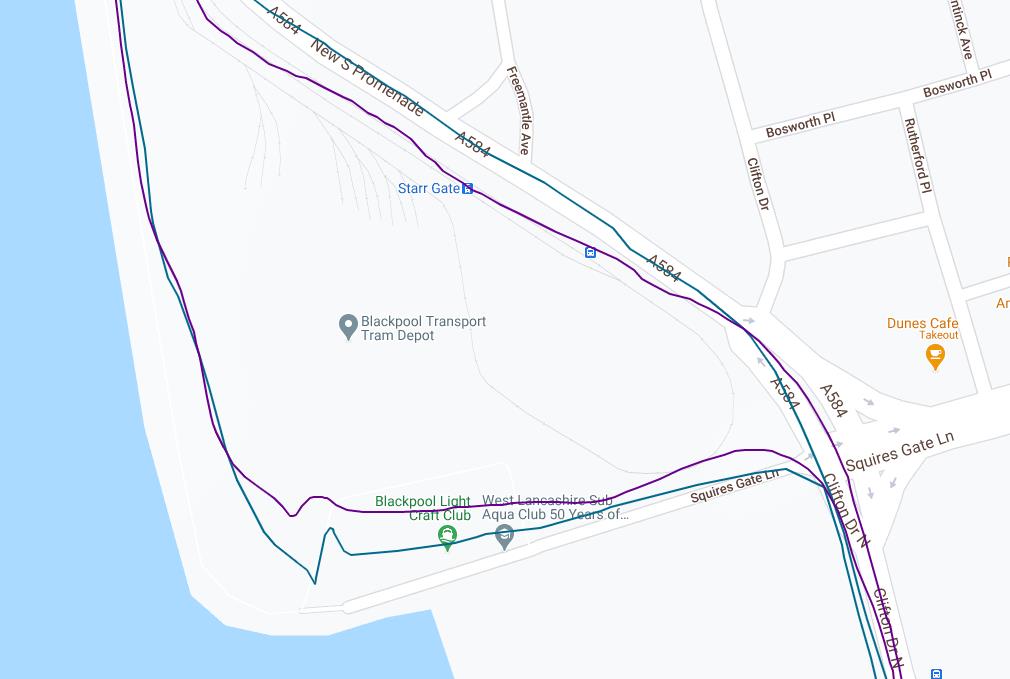 All the other data correlates well with Garmin, cadence and distance both look good. The GPS plotted route is mostly accurate, I'd say Garmin is more accurate, there were a couple of points where the Amazfit drifted off, but not by much.
When tracking an activity cycling in Zwift, things generally didn't go so well. This is a common problem with wrist-based HR for many watches. In a Zwift race on the Alpe du Zwift route, it had my average HR at 124 bpm and max at 169bpm. Garmin and a chest strap were 162/171bpm.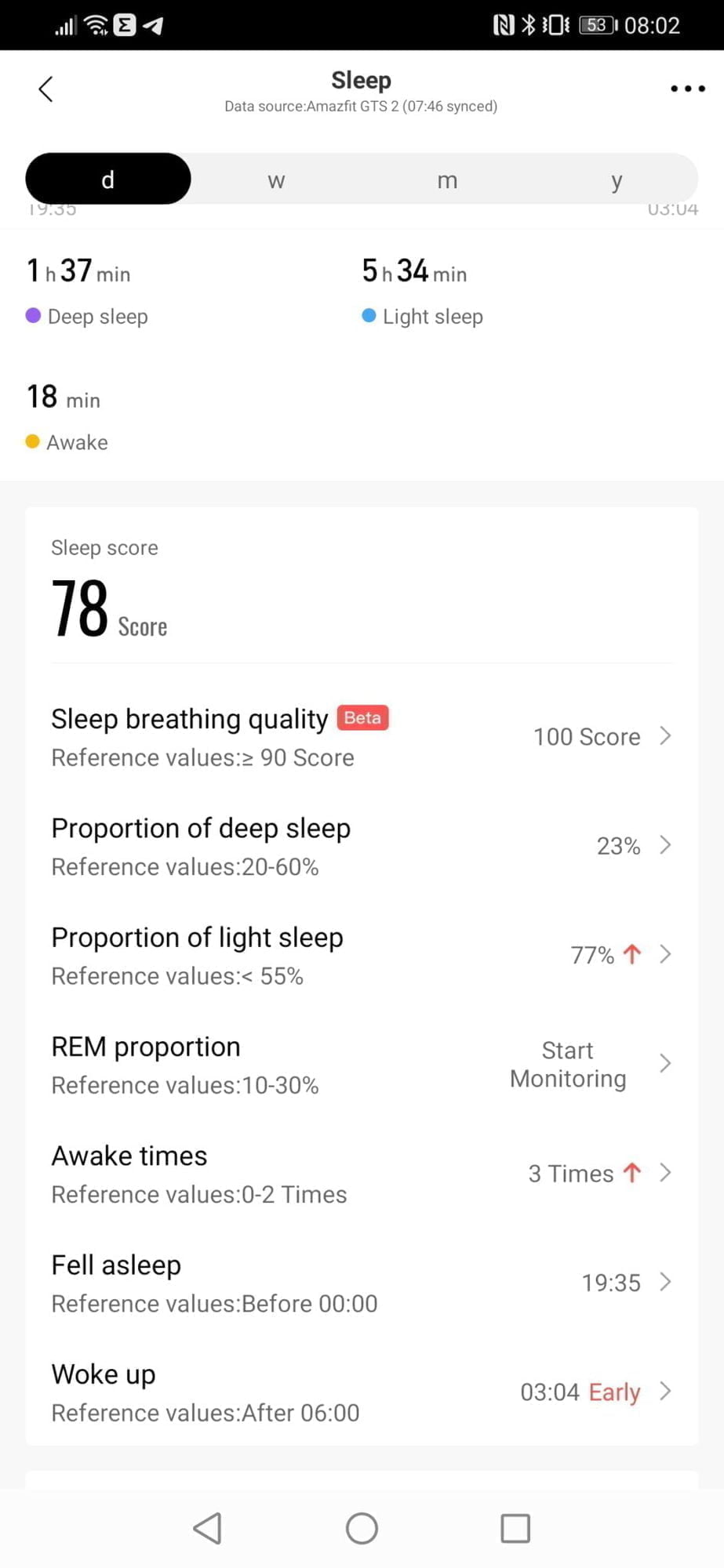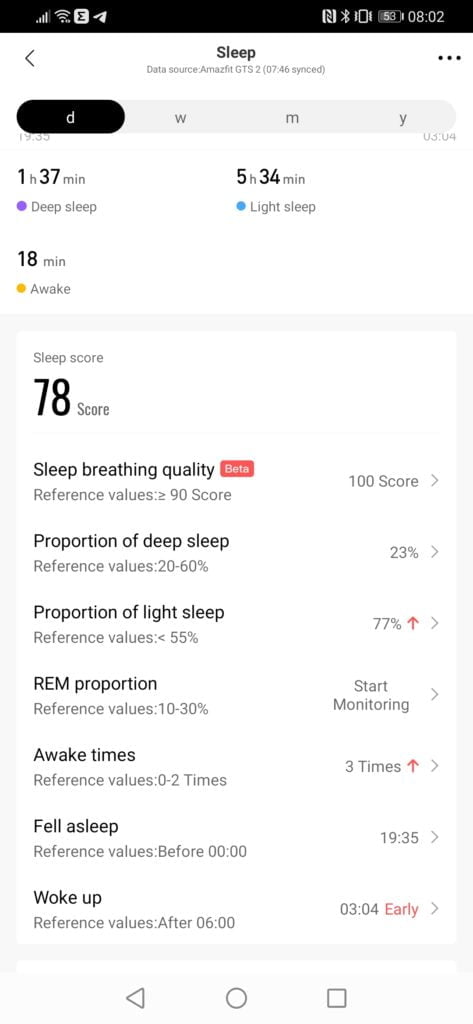 Sleep tracking is good, as stated previously, it seems suspiciously similar to Huawei. It is, however, superior to Garmin
Smart Features
While this may not strictly be a smartwatch due to no apps, it does all the stuff I want a smartwatch to do.
Even though there are no apps as such, features of the watch can be toggled on or off.
Notifications are the big thing for me, you can customise what comes through, so you are not spammed by push notifications all day long. I limit it to Whatsapp/Telegram and notifications for the Eufy Doorbell.
This has offline voice control too, once enabled, you can have it react to commands when the screen is awake. So, for example, you can say "start run". Often, it didn't work the way I wanted it to, my northern accent must confuse it, however, I did find issue the end workout command useful. I often would forget you need to swipe left to end a workout, then combined with my sweat, it wasn't always that easy, so saying "end workout" works well.
You can store music on the watch and listen offline with a pair of Bluetooth headphones. This is a similar scenario to Huawei, and something I haven't really used because all my music is now via streaming. There is no way to sync offline Spotify playlists.
Battery Life
Amazfit quotes 20 days of basic use for the GTS 2, but that's using the watch in its most basic mode.
I do not have always-on display switch on, but I do have things like all-day stress, advanced sleep monitoring.
I track about 90 minutes worth of activity every day, most of that is indoors so no GPS.
I would estimate around 4 days of battery life. This is about on par with the likes of similarly priced Garmin watches, and superior to WearOS watches, but quite a long way off Huawei.
Price and Alternative Options
The wearable market is saturated with lots of amazing alternative options. This is priced at £159.99, and you can pick up the circular GTR 2 for £152.83.
The original Amazfit GTS is still an excellent option, and at well under £100 it is a tempting alternative to this.
If you are not bothered about Strava, then the Huawei Watch Fit looks like a fantastic option at £87. Alternatively, all the other Huawei Watch GT2 models are superb, including the GT2, GT2E and the new GT2 Pro.
If you do want Strava/data export, then either the Garmin Forerunner 45S at £140 or Garmin Vivoactive 3 at £150 are about the best/only two options from Garmin at this price point. The none music Garmin Venu Sq is £180, so not far off in price.
Then there is the Polar Ignite which is £154
Last but not least, not a smartwatch but the Fitbit Charge 4 with GPS is a viable option for someone wanting to track fitness.
Overall
Depending on what you want from a smartwatch, this is a fantastic affordable and good looking option.
GPS equipped watches that can sync with third party services are hard to come by at this price point, and the Amazfit makes a compelling choice vs the less stylish models from Garmin and Polar.
If you are not that bothered about Strava, then your options open up with a lot of attractive options from Huawei and Honor. However, I still think the GTS 2 fares well against these watches.
There has been a big price hike between this and the last GTS, it would have been good if it had launched at a bit lower pricing, but even at this price, it is well worth it.
Last update on 2022-05-20 / Affiliate links / Images from Amazon Product Advertising API