Eufy Battery Powered Video Doorbell 2K Review Rating
Summary
Eufy has taken all the things I love from the EufyCams and shoved it in a smart video doorbell. With a claimed 6-month battery life, this offers exceptional motion alerts, and responsive notifications from the doorbell with superb video quality and no ongoing costs.
Pros
Local storage/Zero re-occurring costs
2K video and superb night time footage
Fast/Instant doorbell alerts
Superb smart human detection 
Homebase is a Chime too
6 months of battery life
Cons
Mount feels a bit insecure and cheap
Need to remove the camera to charge 
Local storage is not expandable (yet)
Chimes not currently sold separately
Can't pair up home bases to work as one seamless system (but multiple bases can be within your app)
I have been a big fan of smart video doorbells ever since getting the Ring Doorbell 2. I receive a huge number of parcels as well as regular pickups, and it is a genuine cause of stress for me (first world problem). Ring massively alleviated that, and I now rarely miss the door when I am at home.
Even though Ring has been around for years, and many companies have come along offer similar functionality. Very few have made a decent battery-powered doorbell, all the good options require wiring up to existing doorbell wiring.
This changed with the launch of the battery-powered version of the Video Doorbell 2K a few months ago. I have been very impressed with the Eufy range of cameras in the past, the EufyCam 2C and EufCam 2 are amazing, so I was eager to try out this doorbell with the aim of replacing my Ring to converge my cameras and doorbell into one system.
Features
Eufy currently have a 20% voucher available on page taking the price down to just £143.99
Battery-powered doorbell (one of the few on the market)
No ongoing fees, all videos are stored locally (cloud recording options too)
Claimed 6-month battery life (probably accurate depending on notification frequency)
Optional wired power
Smart human detection for improved motion alerts
4:3 Aspect Ratio ensures you get a head-to-toe view of anyone who approaches and gives you the perfect viewing angle every time.
Alexa and Google Assistant
Apple HomeKit
I previously reported this had Apple Homekit, which a reader pointed out was wrong. While there is a HomeKit link within the Eufy app, this is to set up other Eufy products.
I asked Anker/Eufy about this, and sadly the Doorbell will not be supported. Their response was:
Disappointing news from Anker I am afraid:
Unfortunately, we won't have HomeKit support on this device, because the HomeKit does not support some key features of our products, such as the 2K resolution, AI, HDT, etc.. sometimes users don't know it and are quite disappointed when they find it out. We encourage users to use the eufy app to experience the full features of the device.
This would therefore leave the recently launched Netatmo Doorbell as the best HomeKit compatible doorbell.
Set-Up
App & Wifi
Set up is relatively straightforward, there are two options you can buy, one with and one without the HomeBase. Mine came with, but as I already have two cameras in place, I just paired the doorbell up to my existing system.
To do this, you need to have the doorbell close to the HomeBase and follow the setup procedure, which includes holding the sync button on the back. The doorbell will make some beeping noises and which the base will hear and allow them to connect.
The doorbell itself does not connect to your Wi-Fi, rather the HomeBase itself. So ideally you want to locate the Homebase relatively close to the doorbell. The HomeBase can connect via Ethernet or 2.4Ghz Wi-Fi, I used Ethernet.
Ring connects directly to the Wi-Fi, with the doorbell being outside and I assume not the best Wi-Fi antenna, getting a good signal on the Ring doorbell can be hard. With Eufy, you have the advantage of being able to place the Homebase indoors and somewhere between the router and doorbell itself. So it should suffer less from Wi-Fi issues.
The Homebase also acts as a chime, so I have mine located in my living room hidden behind my TV.
Physical Installation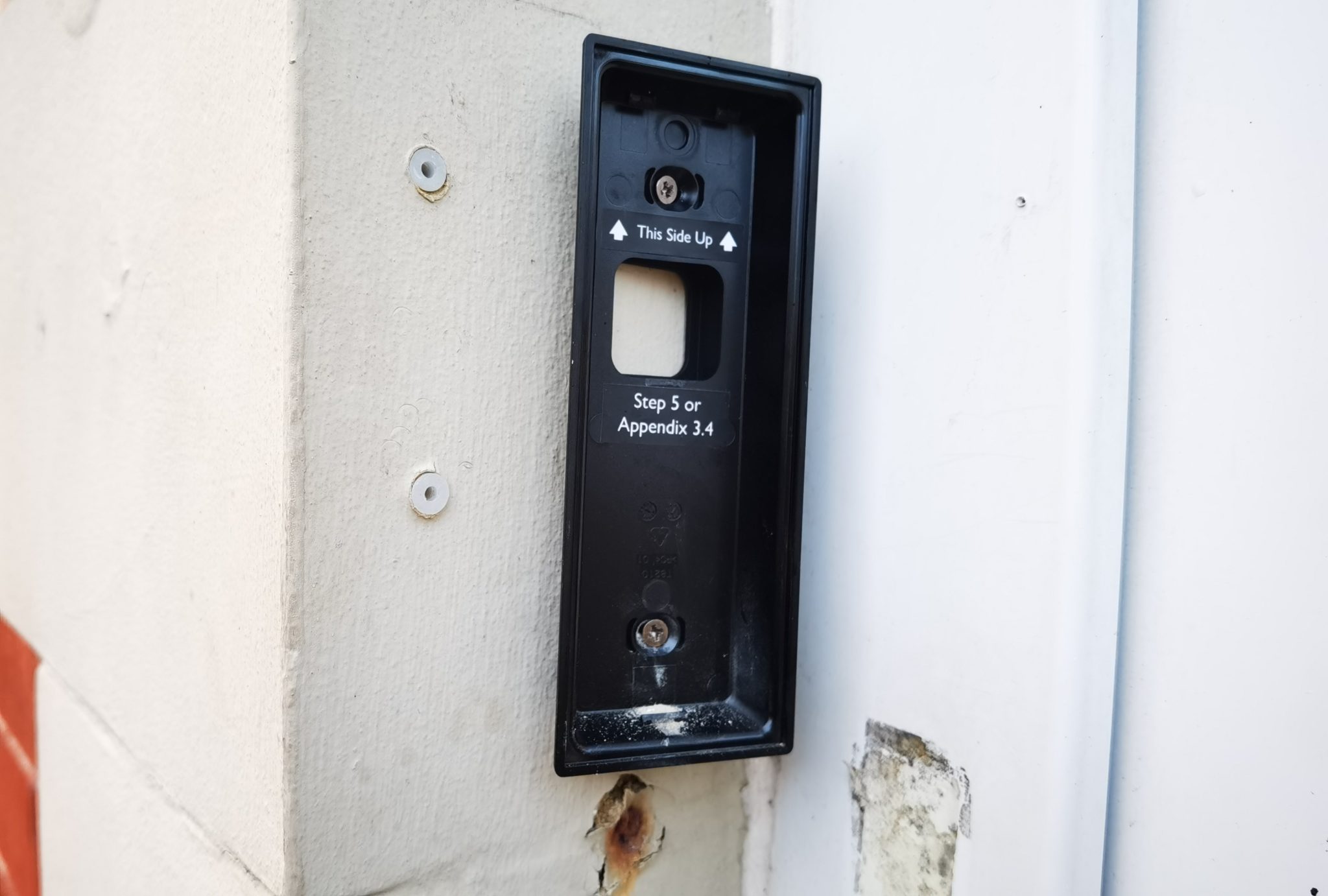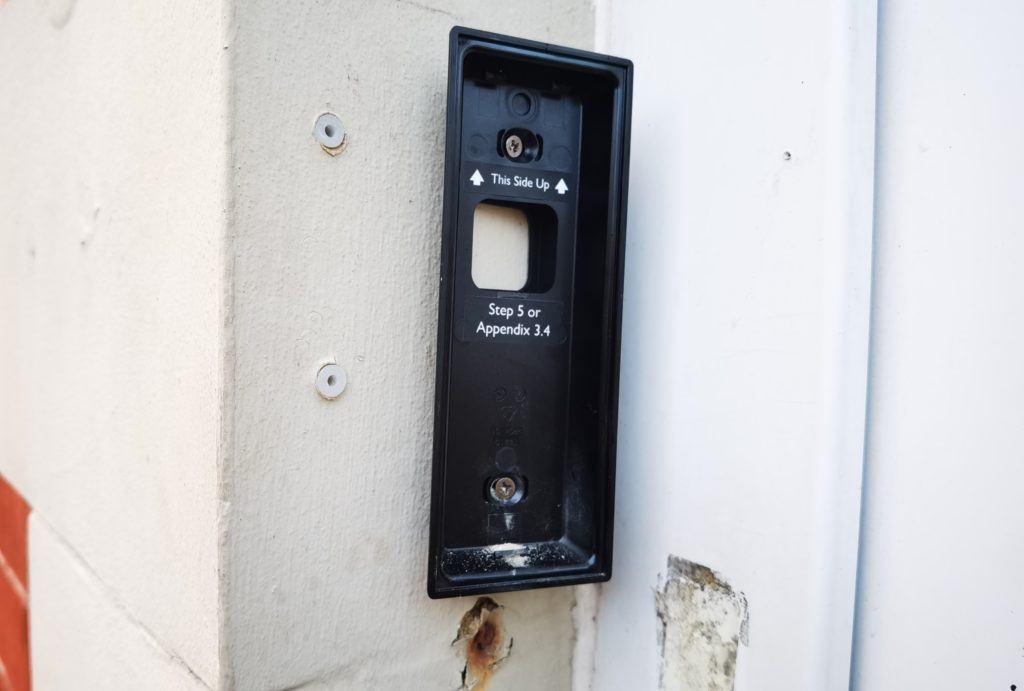 With this being a battery-powered doorbell, the physical installation was also quite easy, but worth noting that it is nowhere near as good as Ring.
The doorbell uses two mount points which don't feel as secure as the Ring 4 point system; the mounting case doesn't feel quite as solid as Ring either. Ring also provide you with a drill bit and screwdriver, so you don't need to go rooting around for the exact size bit you need.
With the mount in place, the doorbell clips easily into place. One issue I have is that you charge the doorbell directly, so you will need to completely remove it to charge. Eufy claim 6-months battery life, so it shouldn't be too much of an issue.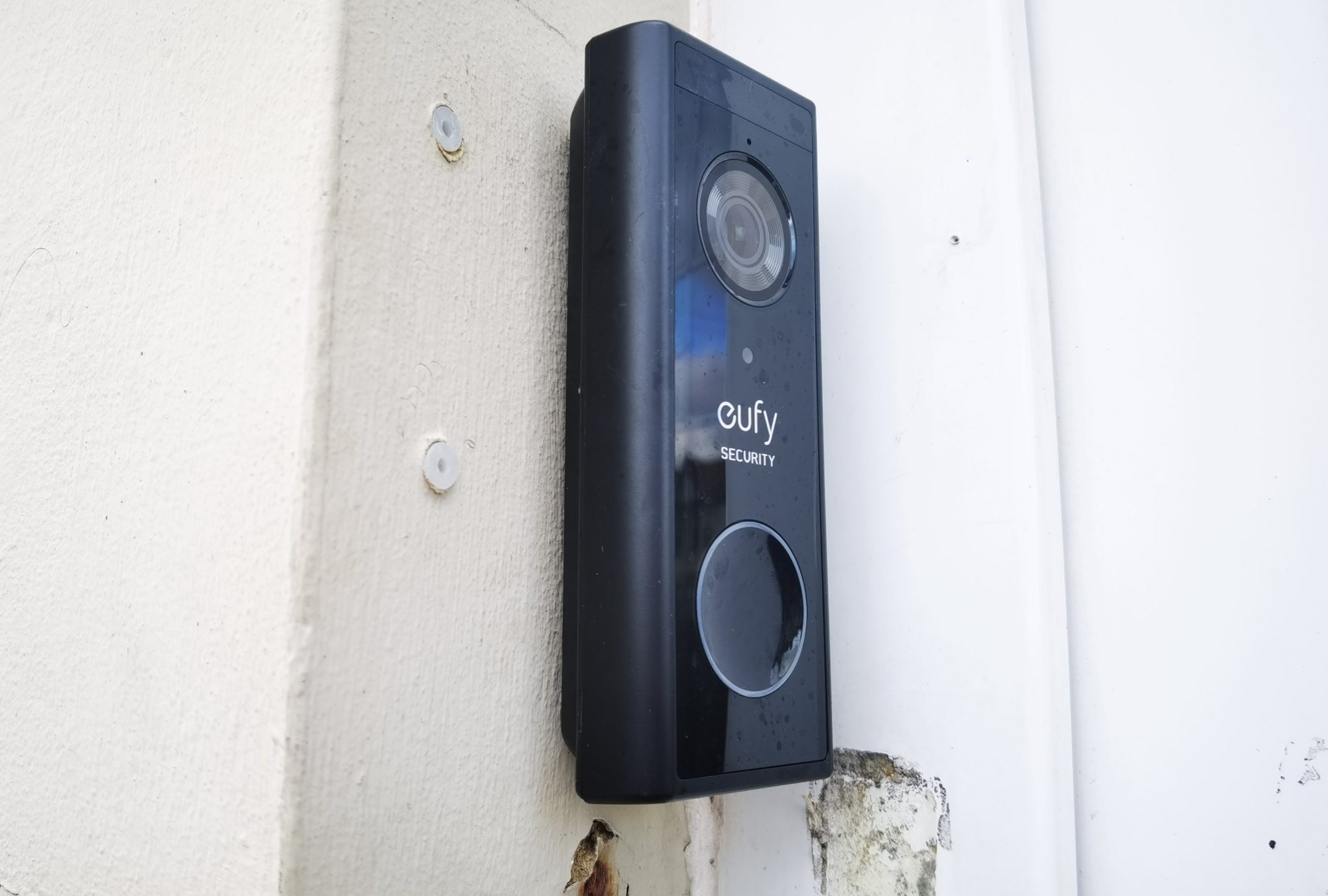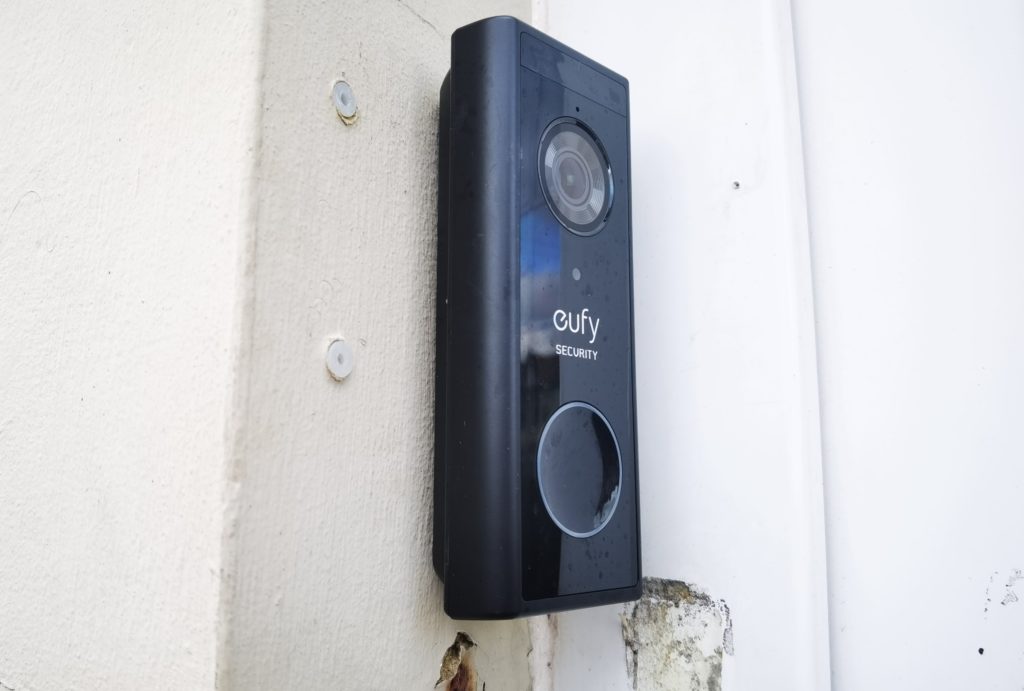 Chimes and Amazon Alexa
While Eufy sells some of its doorbells with a chime, you can't buy them separately. I have been told they are coming soon.
The Homebase itself acts as an effective chime, which is a nice bonus as you have to buy chimes separately with Ring.
However, if you want to extend the system, you will have to use devices such as the Echo Dot. Thankfully, just like Ring, these work very well.
At the moment, all the Echo products are full price, so quite expensive, but you can normally get an Echo Dot (3rd Gen) for under £30.
To get Alexa to work, you need to get the Eufy Security skill, then allow Alexa to find your devices. By default, it should then use your speakers for notifications, I would recommend double-checking.
In Use
With everything installed the Eufy Video Doorbell has been excellent.
Notifications
Eufy has content-rich notifications, so when it pushes through a notification, it sends a thumbnail too, allowing you to quickly see who is there. At first, I thought this was a big advantage over Ring, but it turns out they have it too (it's a new feature).
I find the notifications from the Homebase are not quite as loud as Ring, and it took me a little while to get things working the way I wanted. I swear the Echo notifications were not as loud too.
Motion Detection
Ring was always a little notification happy with the motion alerts. Eufy is not the same, the smart detection Eufy has developed for their surveillance products is far superior to other brands in my opinion. So I only really get notifications when someone is at my door, and no more.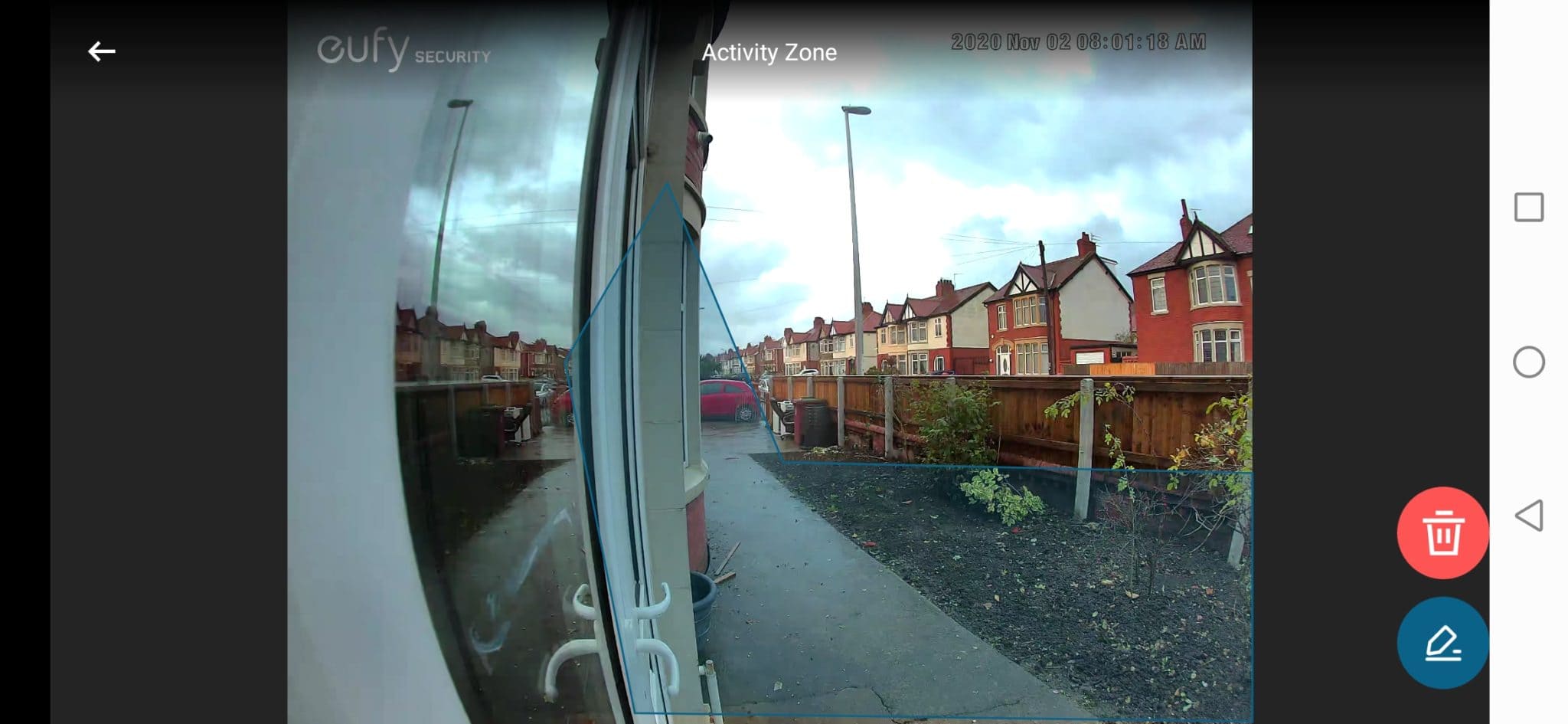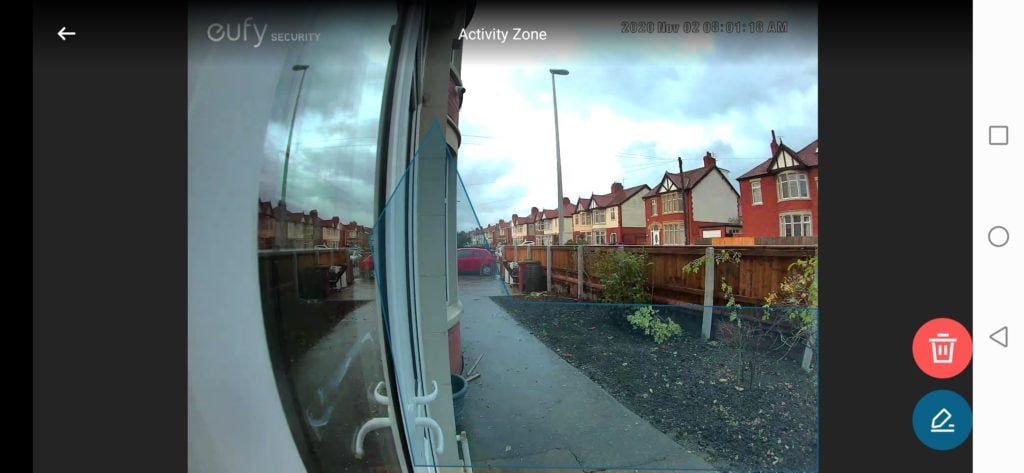 Doorbell Presses – Responsiveness
One of the issues I had with Ring was a lag with notifications. This was largely due to WI-Fi issues and fixing it was not always easy. The Chime Pro helps, but I found a Wi-Fi extender or mesh Wi-Fi system offers superior performance.
With Eufy I have had no issues, the doorbell connects to the HomeBase and responsiveness is considerably faster.
While the HomeBase is quite close to the door, the other cameras I have are on completely different sides of the house, and I have never felt I had issues with notifications with them either. The one issue I do sometimes have is a slow connection to the live feeds (which I rarely use).
One advantage Ring has here, if you are committed to their ecosystem and you have a mesh Wi-Fi system, they will connect to the closest mesh satellite node. With Eufy, everything goes back to that single Homebase. You can have multiple Homebase's within the app, but these all work independently.
Video Quality
For me, the recording are the least important aspect of a video doorbell, which may seem odd. However, I have comprehensive surveillance coverage of my home thanks to a Blue Iris NVR server pair up with lots of cameras from Hikvision, Reolink, Annke and H.View. Plus I have a couple of the EufyCams too.
Video footage is good though, it doesn't have the pre-roll the Ring Doorbell 3 Plus has, so if you need the doorbell for security reasons, that has a big advantage.
Daytime footage is excellent. Like most cameras nowadays.
I was concerned why the Eufy video files were so much smaller than Ring, but Eufy records in HEVC to make the most of your local storage.
So for the one Eufy video I checked, it recorded in 2560×1920 (4:3) at 15fps with MPED-4/HEVC and 8-bit colour depth with a bit rate of 1.2MB/s
Ring shoots in 1920×1080 (19:9) at 15fps with MPEG-4/AVC and 8-bit colour depth with a bit rate of around 1MB/S (according to the single file I checked)
The 4:3 aspect ration of Eufy captures a little bit more vertical footage than Ring, and the quality of footage appears to be better.
Nighttime footage is different, though. The Sony sensor that Eufy uses is arguably a lot better. We have quite bright street lights, so the Eufy shoots in colour most of the time, whereas Ring drops down to Black and White. With Ring, my fences become barely visible in the dark, but the actual footage of the person at the door is acceptable.
Alexa Show Video Streaming
This is not a feature I use, but I did test it, and it wasn't great. This depends on the setting of your doorbell, though. Alexa can't stream the default footage natively, so it needs to be transcoded, the issue here is the massively delay you get before the video shows. If someone is at the door, they won't be there by the time the video decides to load.
Price and Alternative Options
The eufy Security Wireless Video Doorbell (Battery-Powered) with 2K HD has an RRP of £189, but you can currently buy it for £179.
As I post this on 03-11-2020, you can apply a 20% voucher taking this down to just £144 which is an amazing deal

Eufy also has another battery-powered model that does 1080P, lacks a HomeBase so records direct to microSD and includes a chime for £129.99. While this is an excellent price, I think the extra for the 2K model will be well worth it, you also need to factor in the cost of a microSD card.
If it wasn't already clear, Ring is the best alternative option. They have the older 1080P 2nd Gen model for just £89, so if you want the lowest upfront cost possible this is the best bet (but you should factor in the £25 per year ongoing fees).
Then the Ring Doorbell 3 is £179 RRP while the Doorbell 3 Plus (with the 3-second pre-roll and 5Ghz connectivity) is £199, the lowest price was £159 back in August, so worth keeping an eye on for Black Friday Deals.
Recently, Natatmo announced their doorbell. The main selling points of it were that it does not require a subscription and is HomeKit compatible. It records in 1080p (16:9) uses microSD for storage on the device itself (8GB included). This retails for £269.99.
If you have a wired doorbell, there are lots more options from the likes of Nest and Arlo, as well as more options from Ring and Eufy.
Pros and Cons of Eufy Doorbell vs Ring Doorbell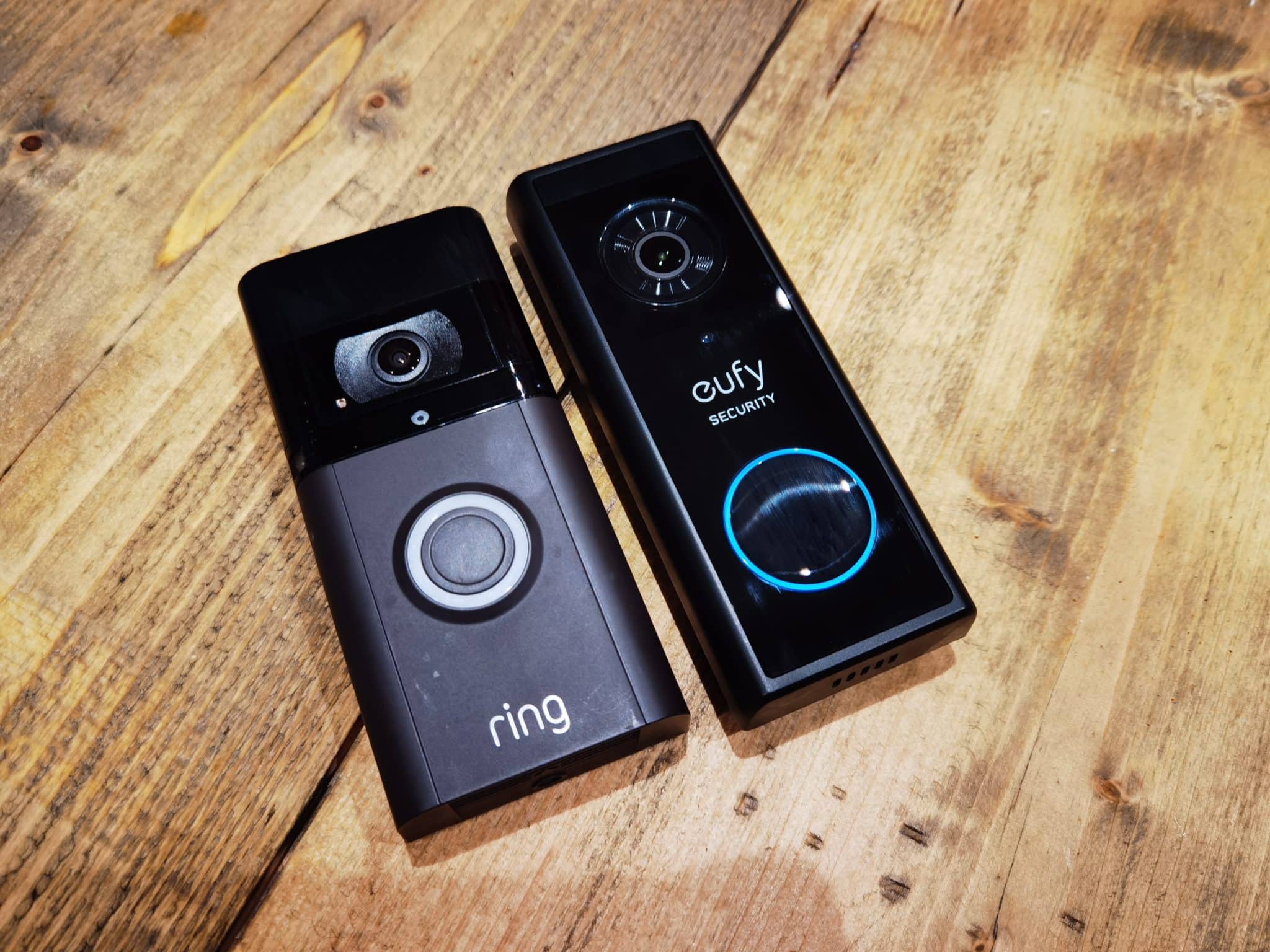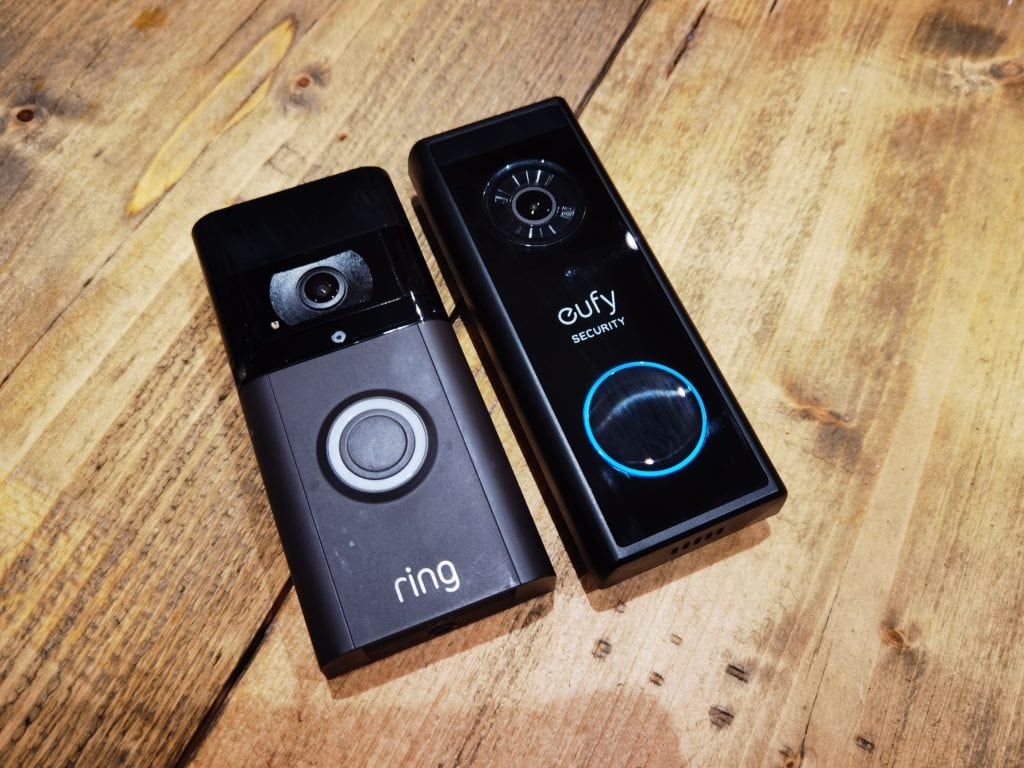 I love both products, but each has its own pros and cons. I will list the differences that affect me personally, which means I may miss off minor details – I am sure someone will try and correct me.
As I have not used the Eufy for a very long time, I won't say much about the battery life overall. So far, it has been excellent. With Ring having swappable batteries, I don't feel like they have an issue with battery life at all, even if you have to swap them more than your charge the Eufy.
What I like about the Video Doorbell 2K (Battery-Powered) vs Eufy?
Same upfront price as the standard Ring Doorbell 3 with regular discounts from Anker
Arguably cheaper upfront cost because the HomeBase acts as a Chime
Zero ongoing costs vs a minimum £25 per year with Ring which is the main selling point of this doorbell in my opinion.
Fewer issues with WI-Fi signal in general (and reduced latency for notifications because of this)
Superior night time footage
Superior human detection
Proper motion zones
Local storage of video (and the benefits this has for privacy)
The longer thinner design may be better for some people.
What I like about Ring vs Eufy?
I much prefer the way the camera mounts, with four screws.
I think I prefer the Ring form factor (though I could just be used to the design after years of use)
Ring supply a drill bit and screwdriver making the installation as simple as possible.
Ring has a removable battery allowing you to keep and spare and swap them over with no downtime. This is a massive advantage, in my opinion.
Ring Doorbell 3 Plus has the black and white pre-roll for improved surveillance
Cheap and decent Chimes
What I dislike about Eufy vs Ring
The mounting mechanism is very poor in comparison. The two screw approach doesn't feel very secure.
Having to remove your doorbell to charge it is a major downside for me (thankfully this shouldn't need to be done too often).
This may apply to Ring too, but I want more control over which devices can send push notifications. I don't particularly want them from my cameras which will trigger any time I go in my back garden.
Annoyingly, Eufy has promised USB expandable storage for months, but it is still not available, so the local storage is limited to 16GB.
What I dislike about Ring vs Eufy
Ongoing yearly costs
The doorbell itself is a nightmare to get a strong Wi-Fi signal too, this can be fixed with The Pro Chimes or Wi-Fi extenders, but it's one of the main issues Ring seems to suffer from.
Wi-Fi issues can cause a huge delay in notifications
Motion notifications are harder to optimise. The app has lots of options to dial down false positives, but it is not as good as the AI human detection of Eufy
Not an issue for me, but Ring is Alexa only vs Alexa/Google
Overall
The Ring Doorbell 2 was one of my favourite pieces of tech in recent years, I just love the idea of a smart doorbell.
So I was already favourable towards smart doorbells approaching this, and the end result is that I love the Eufy Video Doorbell.
While it has a few quirks I dislike compared to Ring, none of these are enough to put me off it, and the lack of a yearly subscription more than makes up for any minor negatives it has.
Overall, the Eufy does everything I need from a battery-powered doorbell, it does it well, and it does it without ongoing costs.
Is this better than Ring?
I would say it is too close to call. It is extremely likely that I will replace Ring permenalty with Eufy, but that's because I already have Eufy cameras and makes sense to have one app vs two.
While I won't commit to saying if this is better than Ring or not. I will say that it is the best alternative to Ring for a battery-powered doorbell on the market.
Last update on 2022-06-19 / Affiliate links / Images from Amazon Product Advertising API